The 2021 Toyota Venza brings an upscale flair to the compact crossover class to go with its efficient and reasonably powerful hybrid powertrain. The Venza is a hybrid crossover SUV that seats up to five, and is largely based on the RAV4. Smaller than the three-row Highlander, the Venza revives an older Toyota nameplate that was previously applied to a wagon/crossover version of the Camry. The Venza nameplate is revived this year after a long hiatus. Only offered as a hybrid with all-wheel drive, the 2021 Toyota Venza delivers excellent fuel economy and decent power with an upscale look inside and out. Rivals include Toyota's own RAV4, Ford Edge, and Honda Passport. The Venza earns a high rating within our crossover-SUV rankings.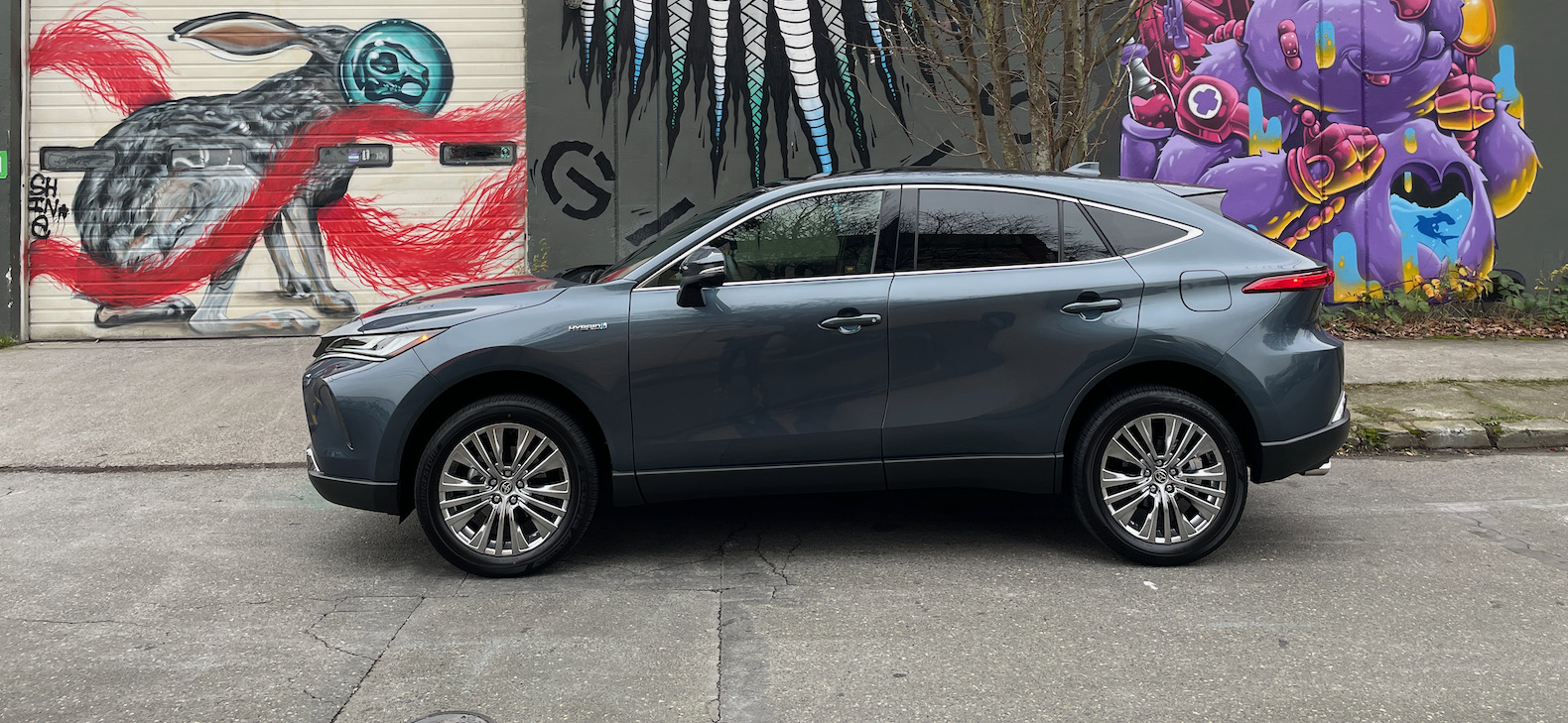 Toyota offers the Venza in LE, XLE, and Limited trim levels and equips the Venza much like the Highlander. Though it shares its platform with the RAV4, the Venza looks very different. A coupe-like roofline, sculpted lines, and chrome trim make it look like a Lexus (even better than most of today's Lexus SUVs), while the RAV4 is more angular, more upright, and more off-road oriented. The luxury feel continues inside where Toyota wraps most of the surfaces in either real leather (the steering wheel and shift knob) or synthetic leather (the door panels, dash, center console, and, on all but the base model, the seats).

A hybrid powertrain borrowed from the RAV4 teams a 2.5-liter inline-4 with three motors and a lithium-ion hybrid battery pack (the RAV4 Hybrid has a nickel-metal hydride pack) to generate 219 net horsepower and return 39 mpg combined, according to Toyota. The hybrid system provides plenty of power for everyday driving. The rear motor gives all Venzas all-wheel drive that can send up to to 80 percent of the available torque to the rear wheels. A two-row crossover, the Venza is geared toward small families or shoppers looking for extra space, but not three rows of seats. It seats up to five just like the RAV4, but its sleeker top means it has less cargo space at 28.8 cubic feet with the rear seats up.

The base $33,590 Venza is well-equipped with an 8.0-inch touchscreen for infotainment, Apple CarPlay and Android Auto compatibility, a 4.2-inch digital information center, a six-speaker audio system, satellite radio, a hands-free power liftgate, a power tilt/telescoping steering column, automatic climate control, and 18-inch wheels. Other notable features include a 12.3-inch touchscreen, 7.0-inch digital information center, 10.0-inch head-up display, navigation, nine-speaker JBL audio, a digital rearview mirror, and an electrochromatic sunroof that can switch between transparent and frosted. Leather upholstery and lots of seat adjustments aren't available. The Venza comes equipped with Toyota's latest suite of active safety features, including automatic emergency braking with pedestrian and bicyclist detection, adaptive cruise control, active lane control, and automatic high beams.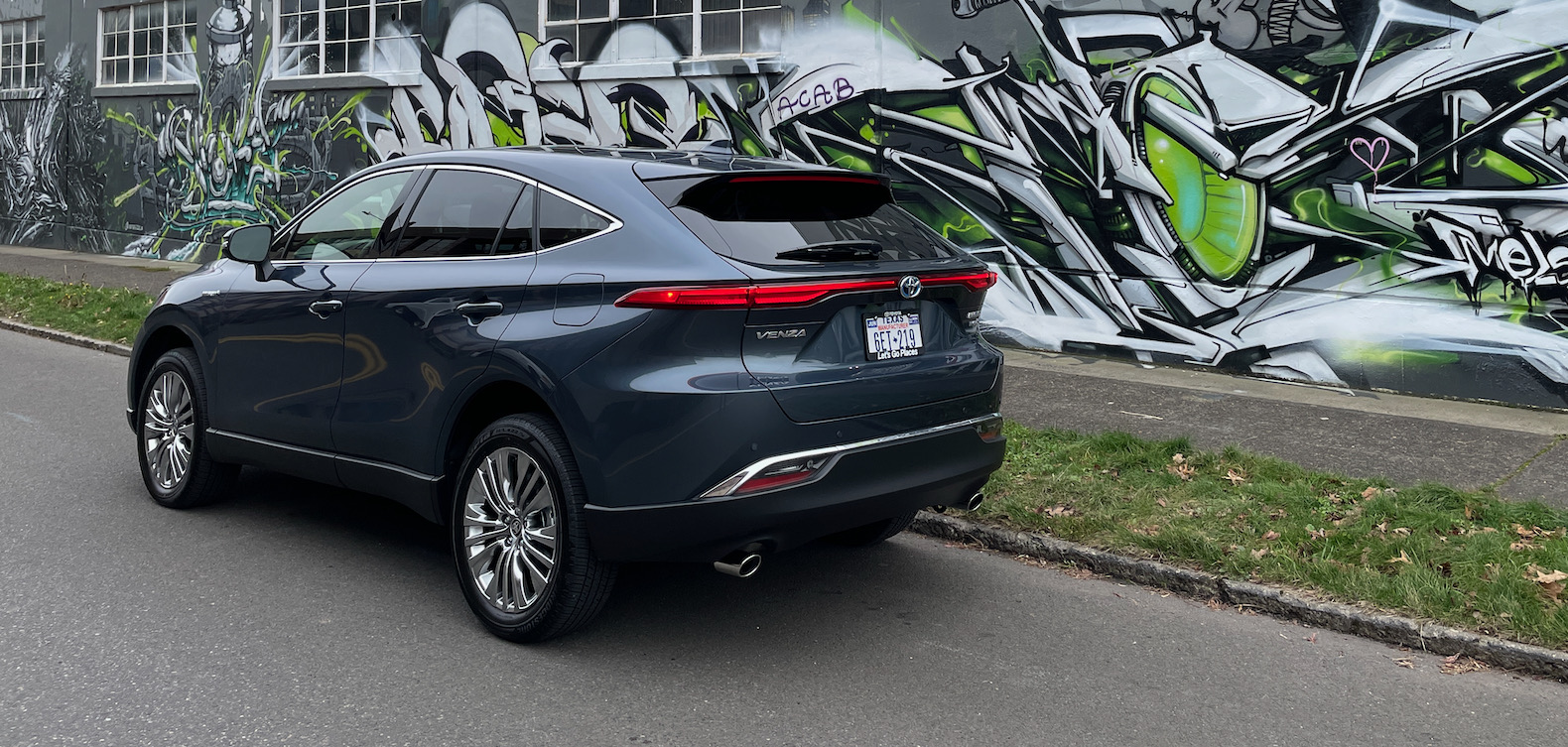 The 2021 Toyota Venza has an upscale look that bests current Lexus styling. The Venza's quite handsome. It skips the RAV4's angular, upright, macho looks for a more sculpted, softer, and more upscale look with a flowing coupe-like roofline. Highlighted by chrome trim on the outside and wrapped surfaces on the inside, the 2021 Toyota Venza channels its inner Lexus in a way even current Lexus crossovers can't match. The roofline features a coupe-like rake at the rear that gives it a racier look compared to the last Venza and the current RAV4 and Highlander. It combines standard chrome trim and either chrome or polished aluminum wheels to create an upscale appearance. Around back, the Venza skips the taller Highlander taillights for a sculpted tail with thinner LEDs that span the width of the hatch.

The Venza's shape aligns closer to the Highlander (and even perhaps the hydrogen-powered Mirai sedan) than the smaller crossovers in the Toyota portfolio, including the RAV4 on which it's based. Its front bumpers and body sides are largely missing most of the right angles and hard shadows cast by the RAV4 and 4Runner in favor of smoother surfaces and a nearly blanked upper grille, which is in line with the rest of Toyota's hybrids. Along the sides, the Venza is free of many creases and sharp edges, similar to the Highlander and some of Mazda's latest efforts, too.
The 2021 Toyota Venza has a hybrid powertrain with decent power and a soft suspension for a smooth ride. The Venza aims for smooth and comfortable and hits the mark, but that doesn't make it fun to drive. Toyota tunes the Venza's suspension like it's a Lexus. It's essentially the same setup as used in the RAV4, but softer shock and spring rates allow more body lean and less control while improving ride quality. While there's little excitement here, the result is the Venza is pleasant all the time.
A standard hybrid powertrain provides great fuel economy and decent power. The Venza teams a 2.5-liter inline-4 with three electric motors powered by a lithium-ion hybrid battery pack. Total output is 219 hp, and the rear motor provides all-wheel drive. Up to 80 percent of the available torque can go to the rear. The hybrid system provides a fine combination of power and fuel economy. The 0-60 mph sprint should take about seven seconds, which is par for the class, and the powertrain has plenty of power for highway passing. The engine stays in the background most of the time but can make itself known during acceleration and only gets louder during quicker sprints. The continuously variable automatic transmission lacks fixed gear ratios, so acceleration often feels slushy, but the transmission kicks down its ratios quickly enough to tap into more power. 

While regenerative braking is standard to help charge the hybrid battery, the brake pedal doesn't have a grabby feel that often plagues other hybrids. The Venza uses a similar predictive driving system to the Highlander Hybrid to eke out more miles per gallon. The Venza's system uses navigation information to learn repeated routes and frequent stops to more efficiently travel along that route. An Eco score screen in the instrument cluster also encourages drivers to optimize their braking, accelerating, and cruising techniques. Predictably, it encourages slow acceleration.
The Venza is very fuel-efficient. The 2021 Toyota Venza is offered only as a hybrid, which is a boon for fuel economy. According to its EPA ratings, it earns 40 mpg city, 37 highway, 39 combined. That's one 1 mpg shy of the RAV4 in its combined rating. After a week of driving a Limited test vehicle in 70% highway and 30% city driving, we averaged 36.7 mpg.
The Venza already gets an above-average safety score, and crash tests aren't complete. The Venza has earned a five-star overall rating from the NHTSA, a Top Safety Pick from the IIHS, and has excellent standard safety equipment. Toyota equips the 2021 Venza with plenty of safety equipment right out of the box. Standard features consist of automatic emergency braking, active lane control, blind-spot monitors with rear cross-traffic alerts, adaptive cruise control, automatic high beams, and road-sign recognition. Front and rear parking sensors and a surround-view camera system are also available, as is a head-up display. The XLE and Limited models feature LED projector headlights that would have helped qualify the Venza for a Top Safety Pick+ honor from the IIHS, but the base lights on the LE trim held it back due to inadequate illumination on curves.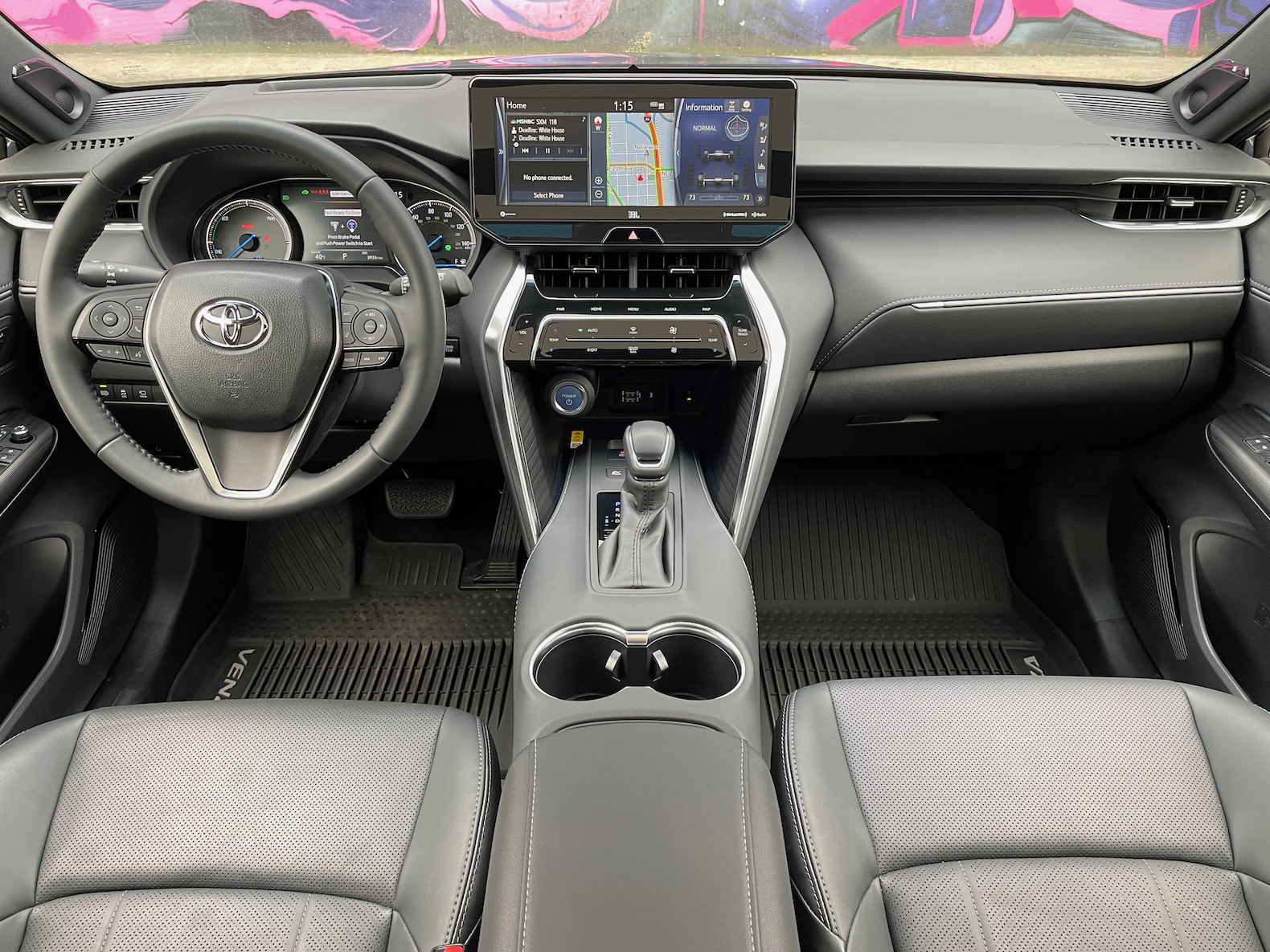 The 2021 Toyota Venza's cabin looks like it could wear a Lexus badge. Inside, the Venza's center stack and console are angular, dramatic, and tech-laden. An 8.0-inch touchscreen is standard, but a 12.3-inch screen is available on XLE and standard on Limited, and Toyota provides capacitive touch controls for the climate, volume, and radio tuning. Eyes will gravitate toward the touchscreen, but they'll also notice the standard wrapped surfaces and contrast stitching that impart a luxury look and feel. The wrapped and soft-touch surfaces combine with useful space for people and cargo. Toyota wraps the door panels, dash, and center console in synthetic leather, and the shift knob and steering wheel in real leather, and tops it all off with contrast stitching and piping on the seats.

While the cabin looks and feels upscale, not everything is luxury level. The seats are upholstered in either cloth or synthetic leather, no leather option is available, and the front seats start and top out at eight-way power adjustments. A standard power tilt/telescoping steering column helps tailor a natural seating position for any driver. Front room head and leg room are plentiful. Rear passengers get a generous 37.8 inches of leg room, but head room will be tight for anyone 6-feet and taller. Three across in back is possible, but it will be a tight fit.

The Venza's design features a fast, coupe-like roofline as opposed to the related RAV4's upright look. That cuts out some cargo space, but the Venza still has 28.8 cubic feet of cargo space with the rear seats up compared to 37.5 for the RAV4 and 55.1 cubic feet with the seats down versus 69.8 cubic feet in the Venza. That's decent for the class, despite the shorter roof height.
The 2021 Toyota Venza is well-equipped at its base level and offers a simple three-trim lineup. The Venza's lineup is simplified and it offers few options, but it comes well-equipped at its base and top levels and it offers a pair of large infotainment screens. Toyota offers the Venza in LE, XLE, and Limited models. All come with all-wheel drive and a hybrid powertrain. We recommend the $33,590 Venza LE. It gets power features, LED headlights, a hands-free liftgate, wireless smartphone charging, an 8.0-inch infotainment touchscreen with Apple CarPlay and Android Auto compatibility, an eight-way power driver seat, cloth upholstery, keyless start, and 18-inch alloy wheels.

The $37,120 Venza XLE adds roof rails, memory for the driver's seat, synthetic leather bolsters for the front seats, and heated front seats. More options can also be chosen with the XLE. The $40,920 Venza Limited adds a digital rearview mirror, a surround-view camera system, synthetic leather upholstery, a 12.3-inch touchscreen, navigation, and a nine-speaker JBL audio system. Notable options include a 10.0-inch head-up display and a two-panel electrochromic sunroof with transparent and frosted settings.
The 2021 Toyota Venza is definitely not your father's Camry wagon anymore. With svelte styling, an efficient hybrid powertrain with standard all-wheel-drive, and cutting edge technology; the new Venza leaves its namesake in the dust. The Venza makes a unique case against its own stablemate the RAV4. While the Venza impresses with its upscale looks and refined driving demeanor, the RAV4 enjoys a butcher rough and tumble style with slightly more space. Regardless which you choose you can't go wrong and Toyota has you covered.
For all your new car shopping needs, check out: drivevise.com Vehicle shopping made simple!