Rolls-Royce has unveiled the second of three Boat Tail convertibles ahead of its debut at Concorso d'Eleganza Villa d'Este this weekend. The three Boat Tail convertibles are being created by the Rolls-Royce Coachbuild division.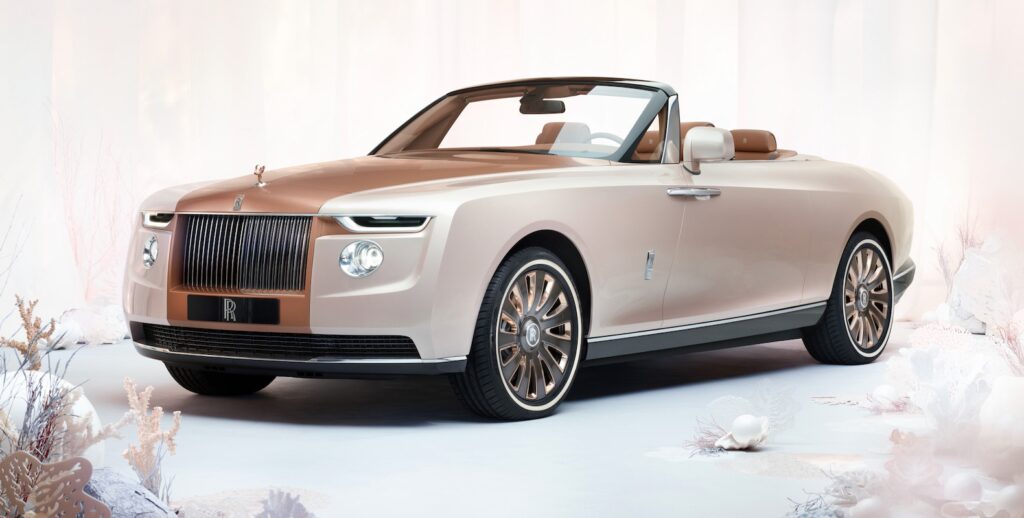 The three convertibles are being built for special buyers that liked the one-off Sweptail that debuted in 2017. Each Boat Tail is hand-built, with the body panels made from single sheets of aluminum that are inspired by the racing yachts of the early 20th century. The second lucky buyer has a family history in the pearling industry. At the start, the buyer presented a selection of four pearl shells that provided inspiration for the exterior color, which Rolls-Royce says is one of the most complex Bespoke finishes it's ever created.
The foundation of the color is a blend of oyster and soft rose with large white and bronze mica flakes.
Just like the first Boat Tail convertible, the rear deck has a nautical wood finish, which in this instance is Royal Walnut with rose gold pinstripes. The two halves of the deck open to reveal a hosting suite that has everything you need for fancy picnic, including a refrigerator and champagne flutes.
The interior features cognac and oyster-colored leather and Royal Walnut veneer, with rose gold and mother-of-pearl accents.