Maserati has released the first teasers of the 2024 GranCabrio, which is the convertible version of the GranTurismo. We're already seen the 2024 GranTurismo, so not much is surprising here, although the GranCabrio is wearing a lot of camouflage in these teaser photos.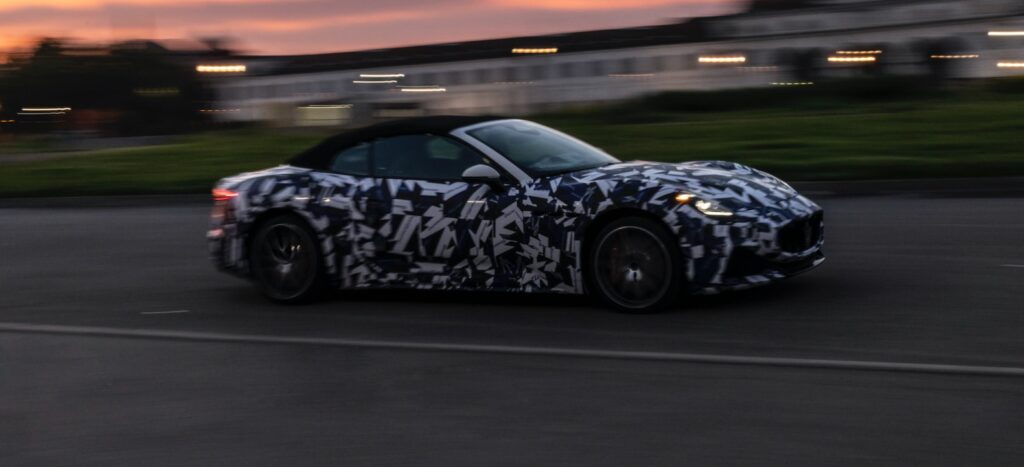 The GranCabrio you see here is powered by an internal combustion, since we see its tailpipes, but a fully electric version is planned. The GranCarbio is likely to get the same powertrains as the GranTurismo, which means that the gas powered version will be powered by a slightly less powerful version of the MC20's twin-turbo 3.0-liter V6 engine. The V6 generates 483 horsepower and 443 pound-feet of torque. The GranTurismo can accelerate from 0-62 mph in 3.9 seconds, but the slightly heavier convertible will likely be a little slower.
A more powerful version of the V6 generates 543 hp and 479 lb-ft. of torque, that accelerates the GranTurismo from 0-62 mph in 3.3 seconds.
If zero emissions is on your wish list, there's the fully electric GranTurismo Folgore with 751 hp and 996 pound-feet of torque.