Kia has released more details about the 2024 Kia EV9, which will easily be at the top of any list with families looking for a three-row electric SUV. The EV9 is based on the same e-GMP platform as the Kia EV6 and is about the same size as the Kia Telluride.
The EV9 measures 197.2-inches long, 78.0-inches wide and 69.1-inches tall, which is close to the Telluride. But the big difference is that the EV9 has a much longer wheelbase that stretches 7.8-inches longer at a total 122-inches. What we still don't know are the interior dimensions for the EV9, but those specs will likely be released next week at the New York Auto Show. But with a longer wheelbase and a flat floor, we expect the EV9 to be more spacious than the Telluride.
The EV9 will be available in either six- or seven-passenger versions.
There several powertrains to choose from. A 76.1-kWh battery is offered exclusively with the single-motor rear-wheel drive Standard model, while a 99.8-kWh battery powers both the RWD Long Range and dual-motor All Wheel Drive variants. The RWD Long Range model features a 201 horsepower electric motor, which accelerates the EV9 from 0-62 mph in 9.4 seconds. There's also a 214 hp single electric motor the The Standard RWD EV9 is powered by a 214 hp single electric motor and can accelerate from 0-62 mph in 8.2 seconds.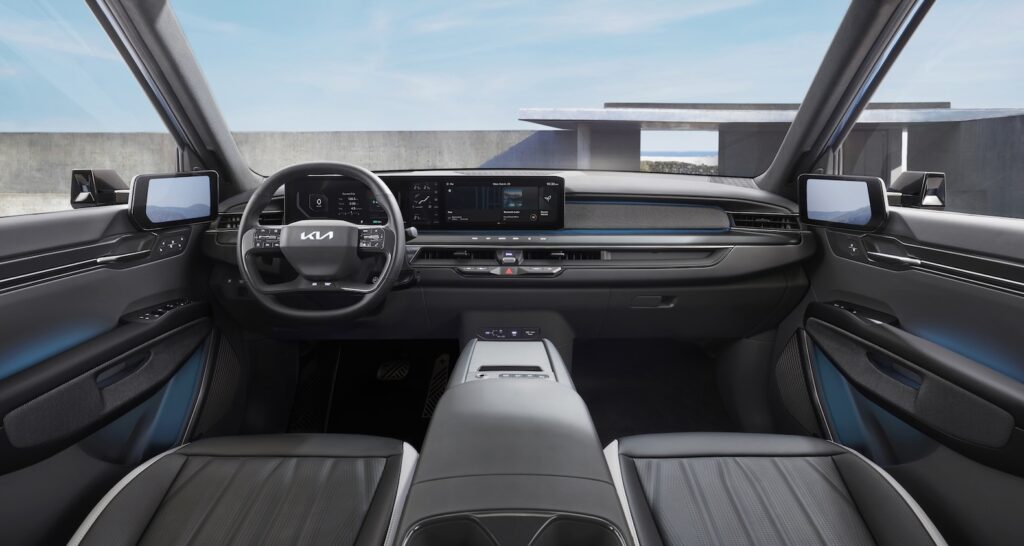 The AWD version has two electric motors that generate a combined 379 hp and 442 pound-feet of torque. The AWD EV9 can accelerate from 0-62 mph in 6.0 seconds. For more power there's also an optional Boost feature that increases the torque rating to 516 lb-ft., dropping the 0-62 mph time to 5.3 seconds. the EV9 has a 5,000 pound towing capacity.
Thanks to its 800-volt architecture, Kia says that the 148 miles of range can be added in only 15 minutes. Kia has not announced the EPA-estimated range, but it will likely have just under or around 300 miles of range.