Dodge has officially unveiled the last of its "Last Call" models, the 2023 Dodge Challenger SRT Demon 170. Dodge clearly saved the best for last, since the Challenger SRT Demon 170′ has 's supercharged 6.2-liter V8 generates 1,025 horsepower and 945 pound-feet of torque running on E85 fuel.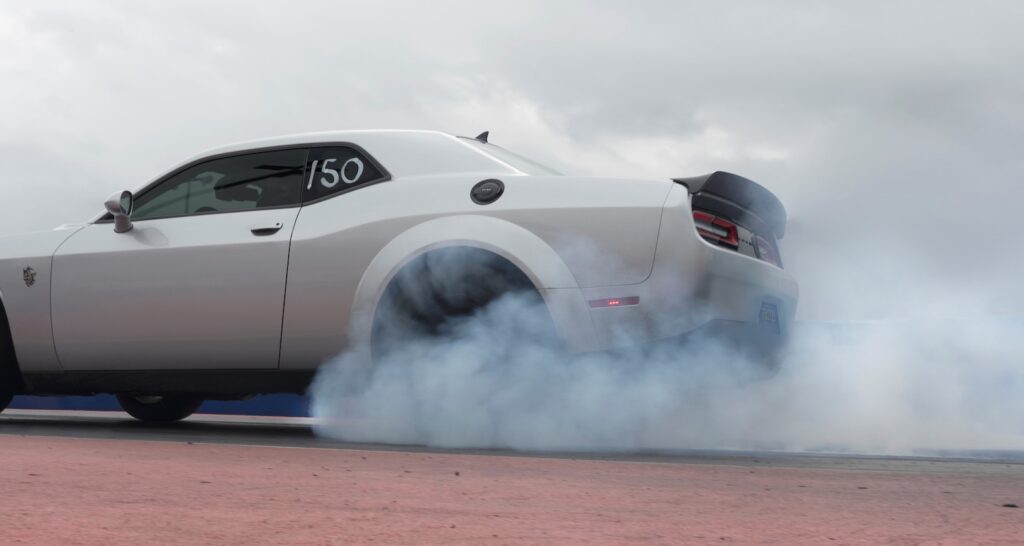 Running it on E10 fuel still has some shocking specs at 900 hp and 810 lb-ft. On E85 fuel it can accelerate from 0-60 mph in only 1.66 seconds and it  runs the quarter-mile in an NHRA-certified 8.91 seconds at 151.17 mph.
Where does the "170" name come from? First it comes from E85 ethanol being 170 proof and the second reason is that it's V8 shares DNA with the Direct Connection Hellephant C170 crate engine. With that much power on tap, Dodge had to redo basically everything under the hood with the camshaft being the only thing that carries over from the Demon. The supercharger displacement has increased to 3.0-liters vs 2.7 in the Demon and the throttle body is 105 millimeters compared to 92 mm. The boost has also increased to 21.3 psi.
The engine can also detect what percentage of ethanol is in the gasoline and adjusts the fueling and spark timing for both premium and high ethanol-blended fuel. Ethanol percentage is automatically shown in the vehicle instrument cluster, and a gas pump icon appears in the cluster when a significant percentage of ethanol is detected in the fuel. When the ethanol percentage is over 65 percent, the full 1,025 hp is available.
The V8 is mated to an eight-speed automatic and an upgraded TransBrake 2.0 system. TransBrake allows engine throttle to be increased up to 2,350 rpm and generates greater powertrain energy with maximum torque converter multiplication, an up to 110% increase in engine stall torque compared to brake torque, and produces up to 15% more torque at the rear tires during launch.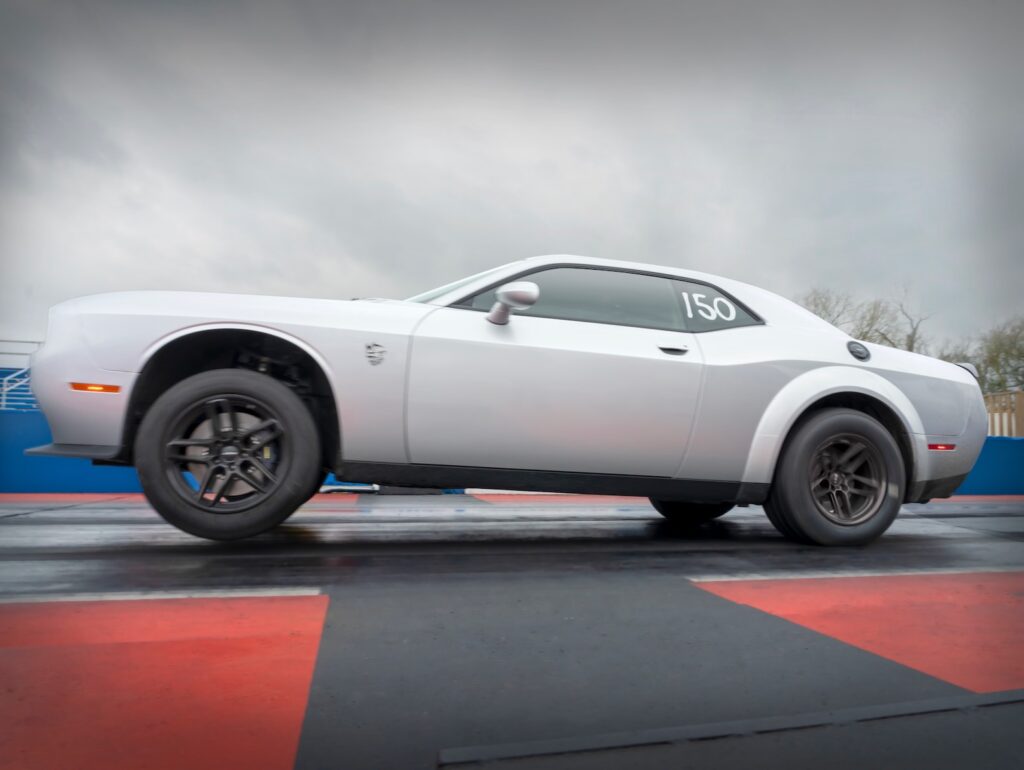 It rides on 315/50R17 Mickey Thompson ET Street R drag radials at the rear and Mickey Thompson 245/55R18 ET Street tires at the front.
Producing full performance at the drag strip results in the Challenger SRT Demon 170 receiving an NHRA violation letter "ban" for running a sub-nine-second quarter-mile without a safety cage and parachute. Fortunately Direct Connection, the Dodge performance parts brand, a parachute mounting system is available.
Production of the 2023 Dodge Challenger SRT Demon 170 will begin this summer and will be limited to 3,300 units, with 3,000 for the U.S. and 300 for Canada. The pricing starts at $96,666 before the destination fees. Dealers will start taking orders on March 27, 2023. and ordering will close on May 15, 2023.