The Audi e-tron has a new name – Q8 e-tron and now we have all the details about the updated electric SUV. Just like before, the Q8 e-tron is available in regular and Sportback versions.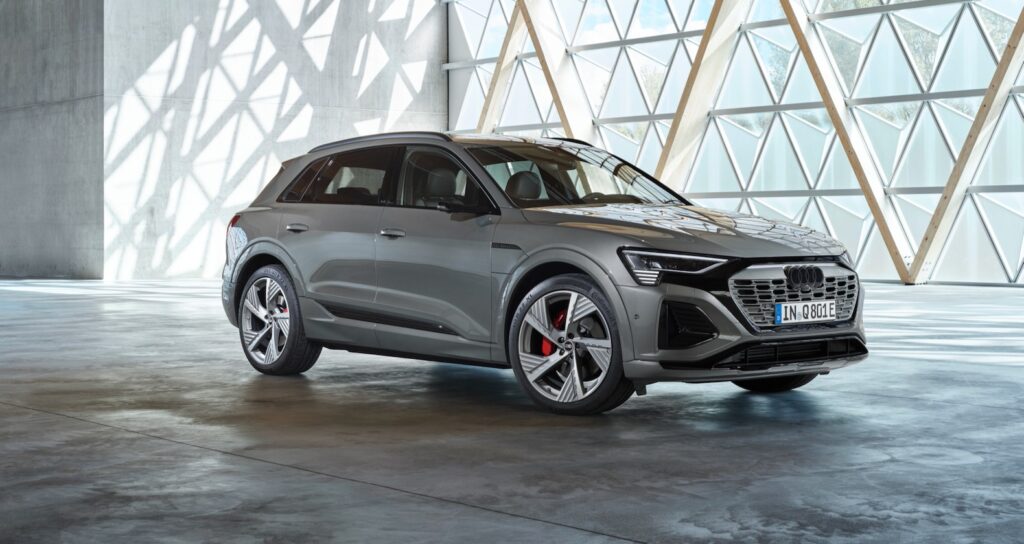 On the outside the Q8 e-tron has received a facelift with a new grille and headlights. The rear has also been updated with a new diffuser.
The Q8 e-tron is available with two battery pack options and three powertrain choices. The Q8 50 E-Tron and Sportback are powered by two electric motors that generate a combined 335 horsepower in Boost mode and 490 pound-feet of torque. Its battery has a capacity of 89 kilowatt-hours and in Europe's WLTP test it has a range up to 305 miles, while the sleeker Sportback has a 314 mile range.
The Q8 55 E-Tron and Sportback models arrive with 402 hp in Boost mode and 490 lb-ft. of torque. The 55 version gets a bigger 104 killowatt-hours battery that gives the standard version a 362 mile range, while the Sportback has a 373 mile range.
For the sportier buyers, the SQ8 e-tron arrives with three electric motors – one at the front axle and two at the rear. The powertrain generates a combined 495 hp and 718 lb-ft. The SQ8 e-tron has a driving range up to 306 miles, while the Sportback has a 318 mile range, based on the WLTP cycle.
Charging the Q8 e-tron will also be a bit faster, since the peak charging rate has increased from 150 to 170 kW. It can now be charged from 10 to 80 percent in about 31 minutes.
Audi is expected to start taking orders for the 2023 Audi Q8 E-Tron and SQ8 E-Tron soon, with the first deliveries destined for Europe. The Q8 e-tron models will arrive in the US in April.