The Hyundai Santa Fe was all new for the 2019 model year, but just two years later, Hyundai has already given its popular SUV a facelift. The big news is that the facelift is more than just skin deep, since the 2022 Santa Fe also gets new powertrains and a more luxurious trim level called Calligraphy.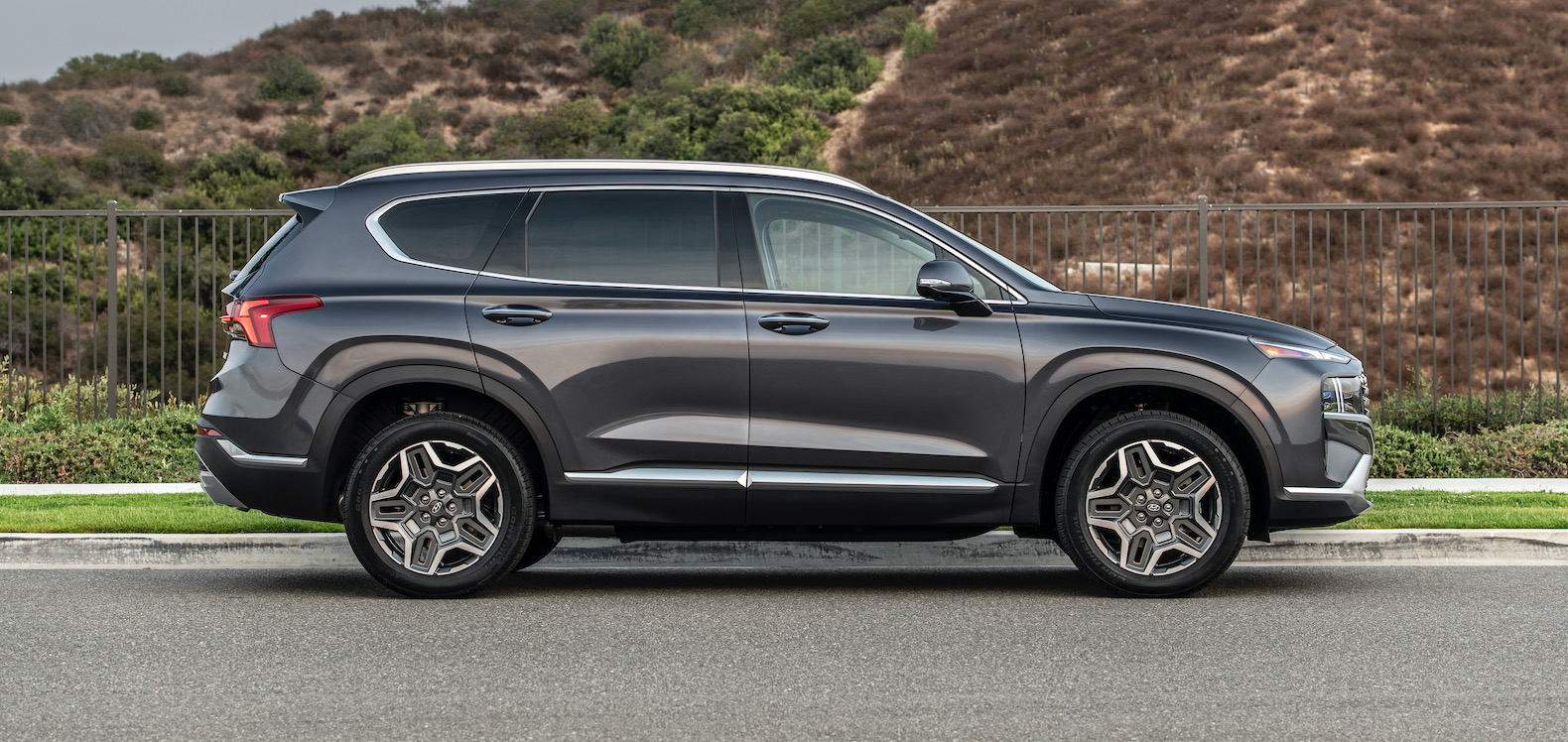 On the outside the biggest change you'll notice is at the front, where the 2022 Santa Fe gets a completely different fascia. This includes a new wider grille, updated headlights and new T-shaped LED daytime running lights. There are also new wheel designs and new taillights.
Under the skin, the 2021 Santa Fe switches to a new platform, which is shared with the new Kia Sorento. The engines have also been updated, since the old 2.4-liter four-cylinder has been replaced by a 2.5-liter four-cylinder with 191 horsepower and 182 pound-feet of torque. If you want more power, the old 2.0-liter turbocharged four-cylinder has been replaced by a new 2.5-liter turbocharged four-cylinder engine that generates 277 hp and 311 lb-ft. of torque.
For green car buyers, the 2021 Santa Fe hybrid has been added, which is powered by a 1.6-liter hybrid powertrain with a combined 225 hp and 195 lb-ft of torque. The Santa Fe hybrid gets up to 36 mpg city, 31 mpg highway and 34 mpg combined. That's a big improvement over the base 2.5-liter with front-wheel drive that's rated at 25/28/26 mpg.
The new 2.5-liter engine is a welcome addition to the Santa Fe, since it's super refined and packs a nice punch. The engine spools up fast to get you moving down the road. The good news is that the more powerful engine is also pretty efficient with its 22/28/25 mpg rating with front-wheel drive. We can attribute those specs to the eight-speed dual-clutch transmission, which shifts fast. The naturally aspirated 2.5-liter gets a regular eight-speed automatic.
On the road, we wouldn't call the Santa Fe sporty, but it is comfortable and easy to drive. The steering could be improved a bit, but most drivers won't even notice it.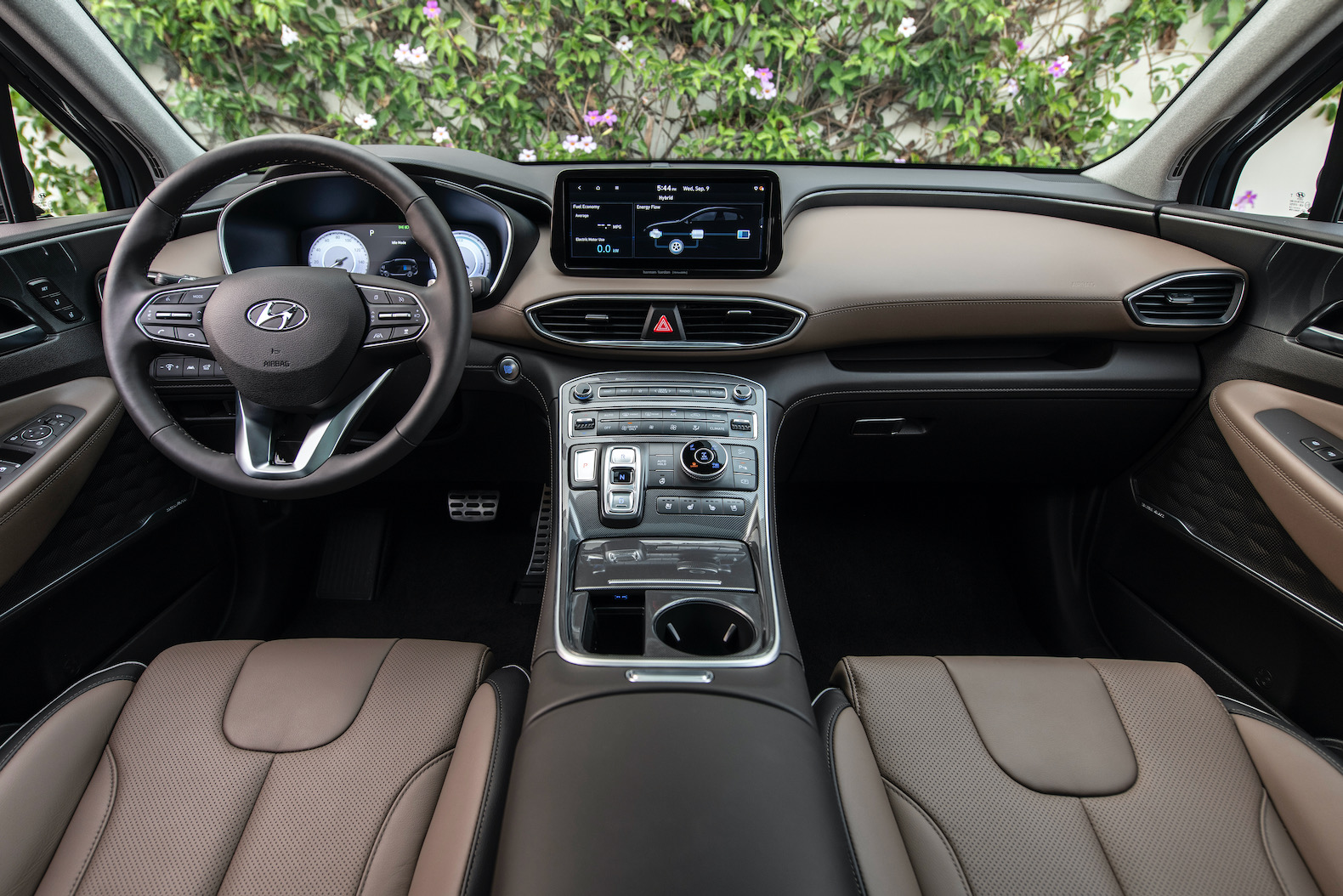 The 2021 Santa Fe now enters near luxury status with the addition of the new Calligraphy trim level. it adds luxurious Nappa leather, a suede-like material for the headliner and roof pillars, a head-up display, ambient lighting and 20-inch wheels. There are still some hard plastic materials, but the Calligraphy trim level makes the Santa Fe feel a lot more luxurious than its rivals.
Our Santa Fe Calligraphy tester rides and feels like a luxury vehicle. Inside the nice Nappa leather seats are extremely comfortable and there's plenty of room for five to stretch out. There's also 36.4 cubic feet of cargo space, which expands to 72.1 cubic feet if you fold the rear seats.
On the tech front, the Santa Fe now comes standard with an 8-inch infotainment screen, which is 1 inch larger than before. Upper trim levels get a 10.3-inch screen with navigation, plus the Limited and Calligraphy trim levels get a 12.3-inch digital instrument cluster. The digital instrument cluster is optional on the midline SEL trim level. Apple CarPlay and Android Auto are standard, but what's weird is that only the lower trim levels get wireless connectivity.
The Santa Fe is available with a long list of advanced driver aids, but we wish more of them were standard. The base SE gets automatic emergency braking and lane-keeping assist. If you opt for the SEL trim, then you get a blind-spot monitor and rear-cross traffic alert. The Limited and Calligraphy trims come with lane centering, adaptive cruise control and Remote Parking Assist.
The 2021 Santa Fe starts at $28,185, including destination, while the top of the line Calligraphy starts just over $43k.
With its updated front fascia, more powerful engines and new Calligraphy trim, the 2021 Hyundai Santa Fe is a great midsize SUV.