The 2021 Chrysler Pacifica is ready for anything your friends and family can throw at it, from camping to strollers to winter travel. The Pacifica becomes an even better choice over SUVs with available all-wheel drive. The Pacifica comes in Touring, Touring L, Limited, and new Pinnacle trims, each of which can be had with all-wheel drive or a plug-in hybrid engine option that delivers 30 miles of gas-free driving on a full charge. The Plug-In Hybrid was our test vehicle and is also our favorite version.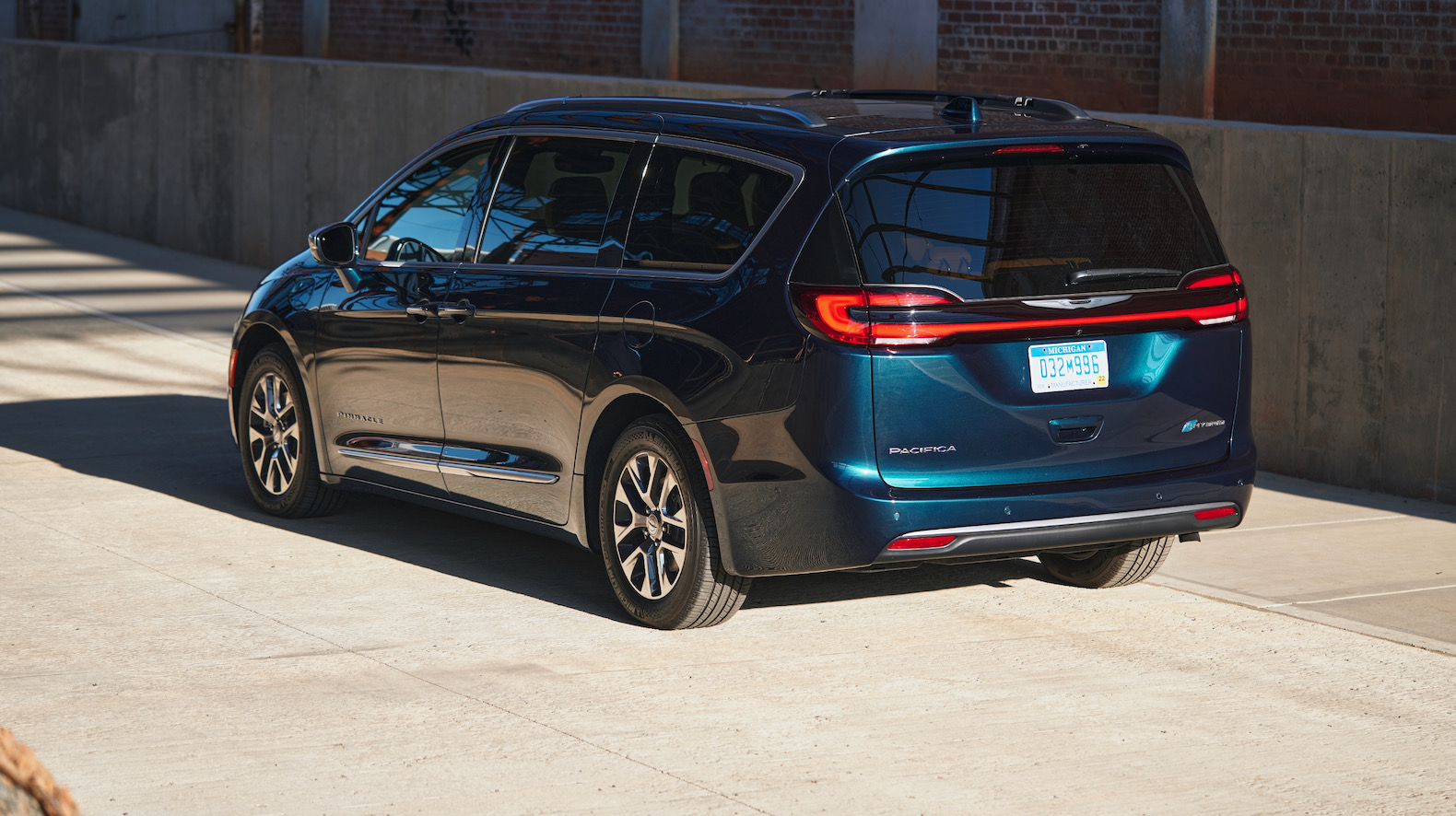 A 3.6-liter V-6 provides muscle in every Pacifica. Standard models use a 9-speed automatic transmission to send power forward or, optionally, to all four wheels. The Pacifica's all-wheel-drive system isn't meant for serious off-road use, though it's just fine for wintery roads. The optional hybrid powertrain reduces output to 260 hp and doesn't accelerate with the same authority, though that's a fair trade-off for 30 mpg combined and around 30 miles of electric-only range. Unfortunately, the hybrid isn't available with all-wheel drive. 
Newly standard safety tech this year brings the Pacifica up to par with its good crash-test ratings. All Pacificas now include automatic emergency braking with pedestrian detection, adaptive cruise control, blind-spot monitors, and active lane control. A new, larger grille this year is paired with striking LED lighting at the rear to cement the 2020 Chrysler Pacifica's status as the most stylish minivan on the market.
The 2021 Chrysler Pacifica is a stylish choice, and not just by minivan standards. This year's updates give it a modern look with lots of high-tech touches. The Pacifica discards last year's narrow grille for a taller, almost Jaguar-like look flanked by standard LED headlights. From the side, the two-box profile is retained, but new taillights with a race track of red LEDs help the big van make a splash as it drives past. Wheel-wise, 17-inchers are standard, while 20-inch alloys come with the Pacifica S appearance package and are offered on higher trims. Stick with the smaller wheels since their taller sidewalls help deliver a plusher ride without looking lost in the big wheel wells.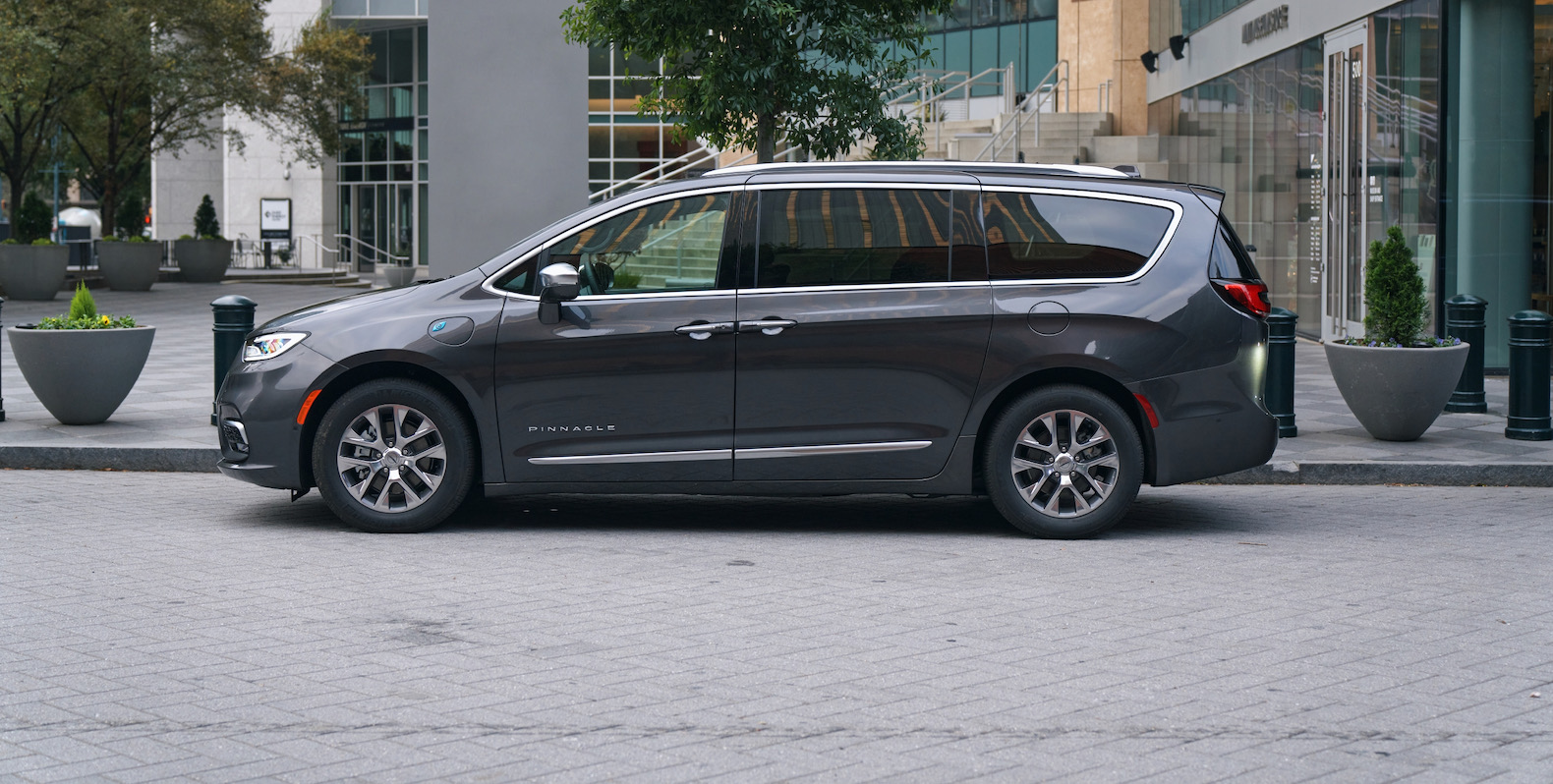 The 2021 Chrysler Pacifica boasts ample power, a composed ride, and it's now ready for winter's worst. Most Pacificas make use of a 3.6-liter V-6 rated at 287 horsepower that delivers power forward through a 9-speed automatic transmission with a knurled knob for a shift lever. All-wheel drive is a standalone option, and the system can automatically disconnect the rear axle in dry conditions to save fuel. The AWD Pacifica gives up a bit of grip before the system kicks on. Yet, predictably, it's more planted than the FWD model and provides more balance and grip on slick surfaces.
On the options list, but not combinable with all-wheel drive (the battery pack sits in the way of the rear drive shaft), is a plug-in hybrid powertrain that uses a version of the V-6 tuned down to 260 horsepower and capable of an all-electric range of 32 miles. The Pacifica hybrid's battery plumps up its curb weight compared to the standard model, but we've found acceleration to be more than acceptable.
Underneath, the Pacifica uses a car-like independent suspension to deliver a composed ride and capable handling on a winding road. The big van has a lower center of gravity than a crossover SUV, which endows it with better response and slicker moves. Braking is excellent, and on the Plug-In Hybrid model, the regen works well without abrupt or strange steps in resistance. One bummer, and admittedly there are few when it comes to the Plug-In Pacifica, you lose in the in-floor storage bins in the second row. With vast amounts of storage already however, we doubt you'll miss them.
The 2021 Chrysler Pacifica is fairly thrifty in standard form and remarkably frugal as a plug-in hybrid.The Pacifica gets an EPA-rated 19 mpg city, 28 highway, 22 combined with front-wheel drive. The new all-wheel-drive model costs it 2 mpg to 17/25/20 mpg. Meanwhile the Pacifica plug-in hybrid earned an impressive 30 mpg combined while yielding an excellent 32-mile electric-only range, according to the EPA. That's enough for most drivers to zip to school, work, soccer practice, and maybe an errand or two without using any gasoline. In our week of driving the plug-in hybrid we consistently achieved all electric range in the mid and upper 30's by driving it in Low.
Newly standard safety tech this year makes the 2021 Chrysler Pacifica an even better choice for families. The 2021 Chrysler Pacifica earned a five-star rating from the NHTSA  and standard collision-avoidance features make it a standout. Eight airbags are standard, as is automatic emergency braking with pedestrian detection, blind-spot monitors, adaptive cruise control, and active lane control. A surround-view camera system is included with several option packages.
Pacifica's interior is one of the best in the business. It's spacious, comfortable, and well wrought. The second- and third-row seats can be tucked into the floors when not in use in most versions to create a hardware store ready flat cargo area. Few vehicles short of a cargo van are as useful as the Chrysler Pacifica. This year's new 10.1-inch touchscreen is massive, but also intuitive and highly functional. The screen is bright and sharp, and we applaud Chrysler for the easy-to-navigate climate and audio controls repeated below. A wide choice of interior hues helps buyers stray from bland grays and tans. Standard Apple CarPlay, Android Auto, and Amazon Alexa compatibility add to the appeal, while up to 12 USB (Type A and C) ports are available throughout the cabin.
Front-seat riders are treated to firm, comfortable seats with adjustable center armrests. Second-row bucket seats are standard, though a three-seat bench for row two is available. The second- and third-row seats are plenty spacious, with good leg and head room. Small-item storage is exceptional, with bins, cupholders, and pockets ready to swallow up toys, drinks, pens, and every tech toy you can thank of. Every Pacifica boasts good interior materials, while the Nappa hides covering the seats on higher-end versions are almost too nice for family hauling.
The 2021 Chrysler Pacifica is undeniable proof. Its interior is cavernous, well thought-out, and beautifully appointed especially in pricier trims. The van is big at around 204 inches between its bumpers, but its short hood ensures that most space is dedicated to the cabin. The Pacifica boasts 32.3 cubic feet of space with all seats up, and 140.5 cubic feet with the seats folded behind the first row. Hybrids and the new range-topping Pacifica Pinnacle feature plusher second-row captain's chairs, but they don't fold into the floor. Whether that compromise is worthwhile depends on how you'll use your Pacifica.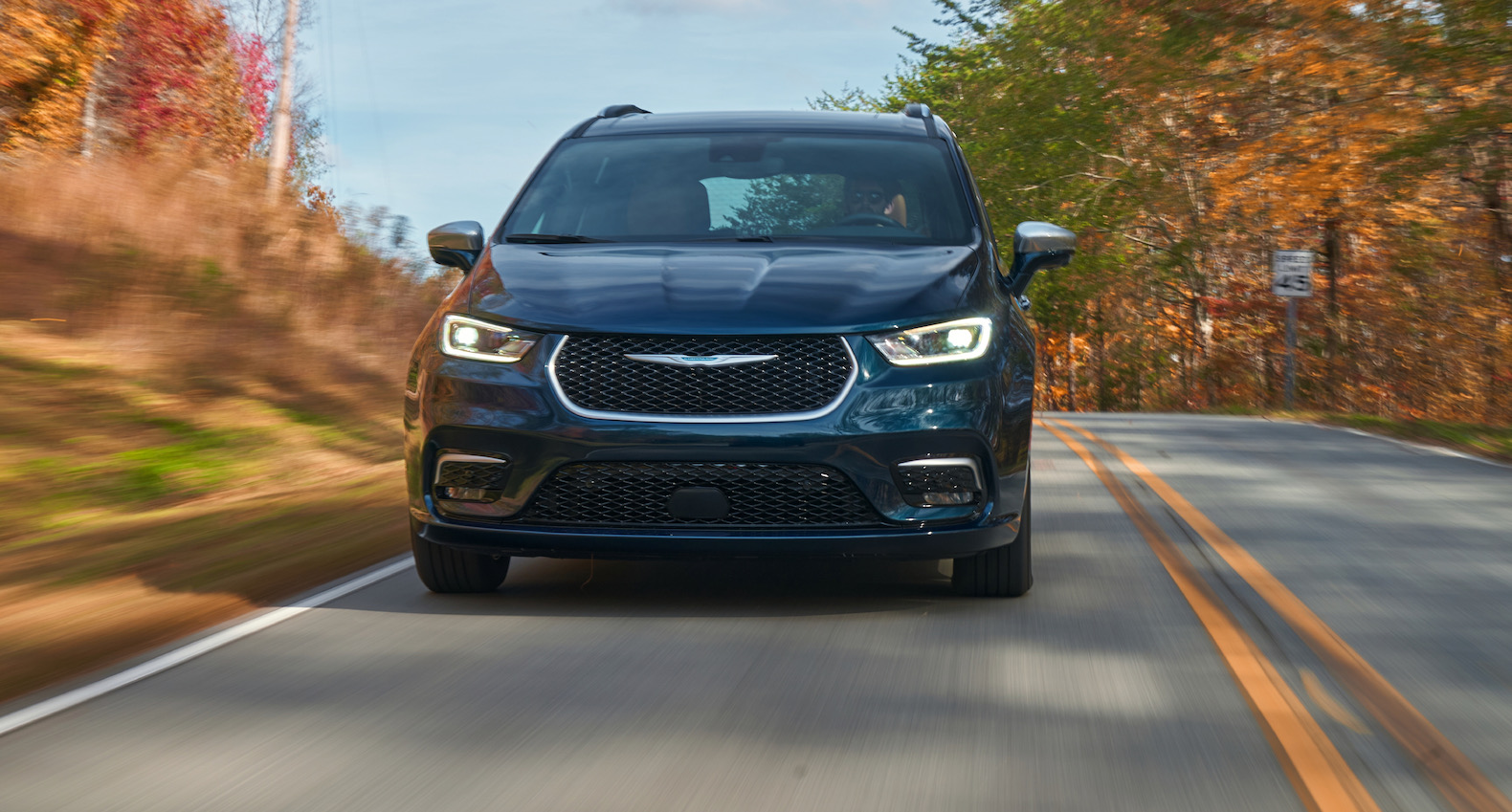 The 2021 Chrysler Pacifica is a premium van that can comes in four trim levels with a wide range of options. Chrysler's 2021 Pacifica starts at $35,045 with all-wheel-drive coming in at $38,040. Our favorite, the Hybrid begins climbing the ladder at $39,995 before taking advantage of any federal or local incentives which can significantly reduce the price. This year, all-wheel drive and the plug-in hybrid powertrain are available on every version of the Pacifica, though they cannot be selected together. The base Touring comes with active safety tech, a 10.1-inch touchscreen for infotainment loaded up with Apple CarPlay, Android Auto, and Amazon Alexa compatibility, Bluetooth connectivity, a couple of USB ports, and second- and third-row seating that tucks into the cargo floor.
The Touring L and Touring L Plus trims add a handful of features such as retractable third row window shades, illuminated cup holders, and other goodies, while the Limited trim features everything from leather upholstery to an integrated vacuum cleaner for those pesky messes the kids are always making. Features such as a 20-speaker Harman Kardon stereo, an upgraded 8.4-inch touchscreen infotainment system with navigation, and a rear seat touchscreen entertainment system are all available for the Limited and other trims.
At the top of the lineup is the Chrysler Pacifica Hybrid, which is the model we'd choose. It's more expensive, but the 30 miles of driving range and combined 82 MPGe may be worth the extra cost—especially when federal and local tax credits factor in. The hybrid model starts with the Touring trim as well as the gas model, but the Stow' 'N Go system is not available on any hybrid because that space is occupied by the battery pack. So if you're looking for an efficient, safe, and stylish cargo or people mover, look no further than the 2020 Chrysler Pacifica; it does everything well.

For all your new car shopping needs, check out: drivevise.com Vehicle shopping made simple!