The 2020 2-Series Gran Coupe fills the smallest void in the BMW lineup. But the smallest BMW series gets a much more modern addition with the arrival of the new 2020 2-Series Gran Coupe. That's right, the two-door rear-wheel-drive coupe or convertible can now be had as a four-door all-wheel-drive sedan. The 2020 2-Series coupe, convertible, and Gran Coupe sedan serve as the entry-level model for the brand and cost $2,300 more than the X1 crossover SUV. Since the 2-Series coupe and convertible are largely carryover models and are on their way out, we'll focus this review on the new 2020 BMW 2-Series Gran Coupe.

The entry-level Gran Coupe has two engine options, a smooth transmission, standard all-wheel drive, and an extensive standard feature list. Gran Coupes have proliferated in the BMW lineup of late, with the 2-Series and 8-Series joining the 4-Series with attractive coupe-like bodies and four-door functionality. With a proper trunk instead of a hatch like in the 4-Series, the 2-Series Gran Coupe competes with the Mercedes-Benz CLA and Audi A3. It fits in BMW's strategy of offering a body and engine type in every conceivable size. The X1 crossover and 2-Series coupe start less than the $38,495 2020 2-Series Gran Coupe. It looks like an entry-level small luxury sedan with classic BMW elements like frameless windows with a rear Hofmeister Kink and the kidney grille. That beany grille fronts one of two 2.0-liter turbo-4 options that make either 228 horsepower in the 228i xDrive or 301 hp in the M235i xDrive. An 8-speed automatic transmission sends power to all four wheels.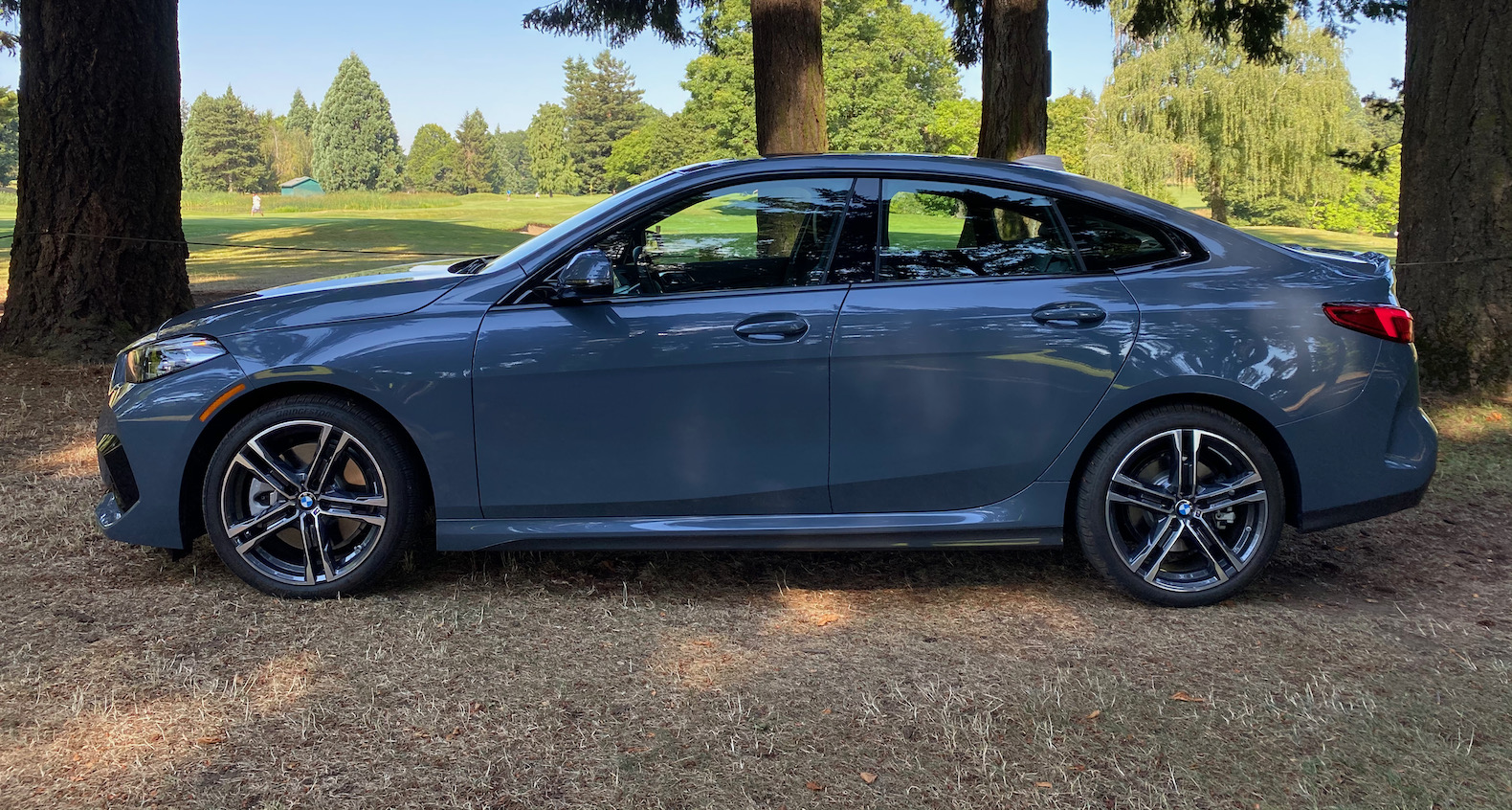 It starts just under $40,000 and the M235i just under $50,000, which is where the entry-level proposition begins to break down. Standard equipment includes an 8.8-inch touchscreen with a controller dial, Apple CarPlay compatibility, an 8.8-inch instrument cluster, four USB ports, keyless start, rain-sensing wipers, and 10-way power-adjustable front seats. The available Live Cockpit Pro updates the screens to two 10.3-inch digital displays. Standard safety equipment includes automatic emergency braking with pedestrian detection, blind-spot monitors, active lane control, and rear cross-traffic alert. The 2-Series also comes with BMW's 4-year/50,000-mile warranty and complimentary scheduled maintenance for 3-years/36,000-miles. With the 2020 2-Series Gran Coupe, the cost of stepping into luxury is not too steep.
The 2020 BMW 2-Series Gran Coupe is a four-door sedan styled like a coupe built off of a crossover platform. Mostly, it looks like a small German sedan, confident with its pedigree and not needing any daring flourishes. The roofline flows down into the rising body line to give the rear end more visual weight. The profile features frameless windows with the Hofmeister Kink in back, all lined with silver. The M235i comes with black accents. The sportier M235i has a more pronounced mesh grille, more severe underbite, and larger side air intakes. It comes with 18-inch wheels that flash blue brake calipers up front, and, in the back, rectangular dual exhaust finishers beneath a more chiseled rear bumper. In total, it looks more muscular than the 228i.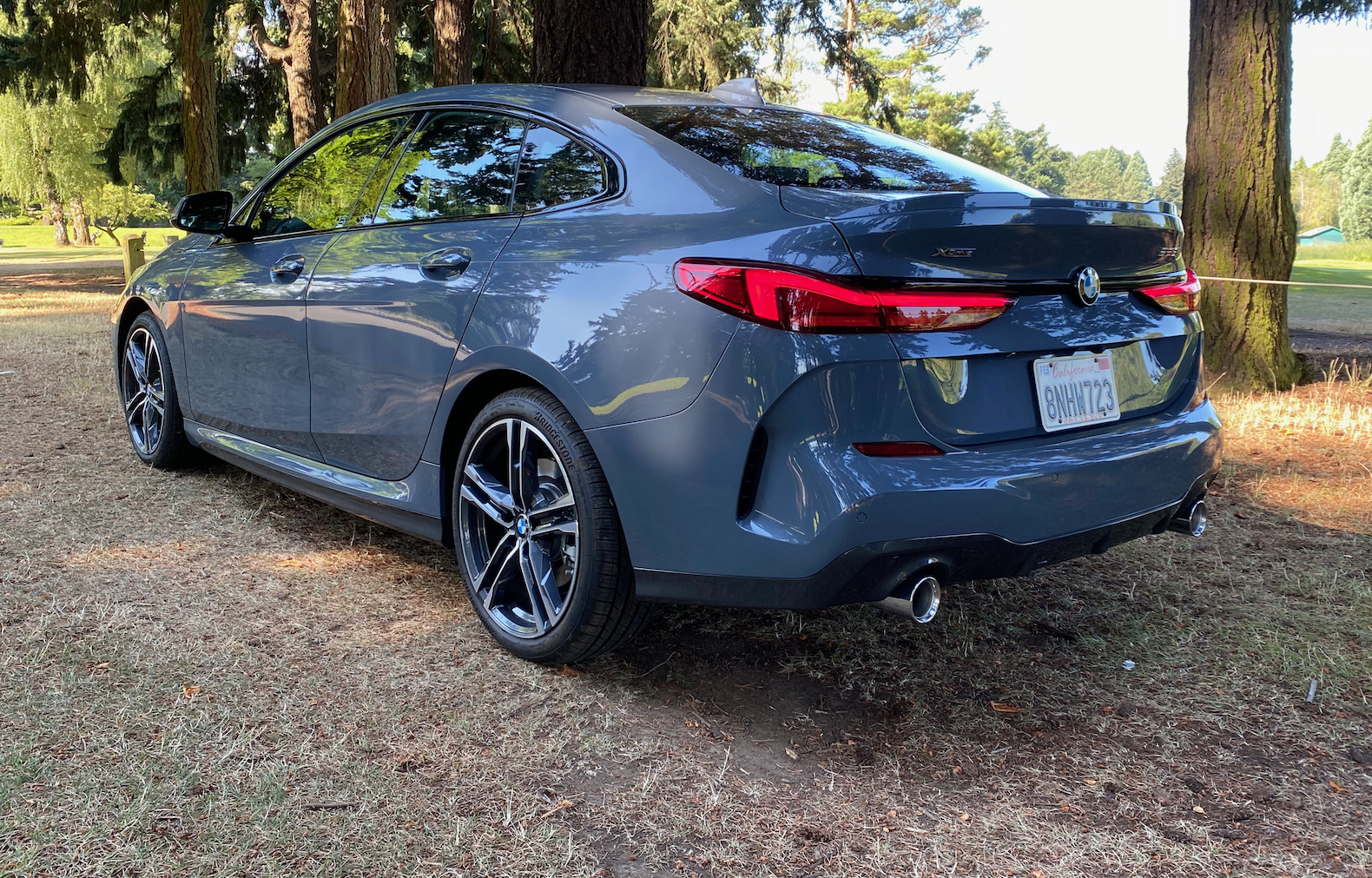 The turbo-4 is tuned two ways in the 2020 2-Series Gran Coupe. Blistering power is not the 2020 2-Series Gran Coupe's forte, but BMW offers many other vehicles to fit that need, including the excellent M2. For most drivers, the Gran Coupe offers plenty of pluck, delivered in two different dosages. With standard all-wheel drive and a standard 8-speed automatic transmission, the Gran Coupe's turbo-4 hits a sweet spot of safety and capability in a small sedan.
The base 228i xDrive Gran Coupe comes with a 228-hp 2.0-liter turbo-4 that makes 258 pound-feet of torque starting at just 1,450 rpm. BMW says it hits 60 mph in 6.0 seconds and has a limited top speed of 130 mph on standard all-season run flat tires, or 151 mph with optional performance tires. The M235i xDrive Gran Coupe, which gets the heart pumping both for its 4.6-second 0-60 mph time and its $8,000 upcharge over the 228i. It has a retuned version of that 2.0-liter turbo-4 modified with a reinforced crankshaft, new pistons, and a larger turbocharger with a built-in exhaust manifold. The upgrades help the engine make 301 hp and 332 lb-ft of torque available from 1,750-4,500 rpm. With performance tires, it is limited to a top speed of 155 mph.

An electronic limited-slip differential on the front axle uses brake-based torque vectoring to limit wheel spin on the inside wheel and reduce the likelihood of plowing forward without being able to turn when on a slippery surface. In performance driving, the system adds more grip. There are several settings in the 2-Series Gran Coupe to optimize how you want the car to handle, whether that's for better safety or for greater ability to let loose in dynamic driving. The all-wheel-drive system can deliver torque evenly to either axle, but the M235i has a Torsen limited-slip differential integrated into the transmission for more aggressive locking than the electronically controlled one on the base model. It lets you push it harder, and the Launch Control system associated with it enables all 332 lb-ft of torque to come on in first and second gear.
The 2020 BMW 2-Series is all gas, even though it doesn't burn much of it. Despite different engines and different body styles, the most efficient 2020 BMW 2-Series can be had as a coupe, convertible, or Gran Coupe, and they all earn a 27 mpg combined EPA rating. The all-wheel-drive 228i xDrive Gran Coupe gets 23/33/27 mpg whilte the M235i Gran Coupe is rated at 23/32/26 mpg. The 2-Series is rated for premium fuel across the board.
Official safety data for the 2020 BMW 2-Series and Gran Coupe isn't complete, but the suite of standard active safety features help. The 2-Series historically has performed well on official crash testing but the aging model doesn't give us an accurate insight into what to expect for the 2020 2-Series Gran Coupe. The Gran Coupe is based on the X1 and X2 crossover SUVs, which help it earn top "Good" ratings across the board from the IIHS, but did not earn a Top Safety Pick award due to marginal and poor headlight performance. NHTSA safety testing unfortunately hasn't been completed. For now, the 2020 2-Series Gran Coupe comes standard with automatic emergency braking with pedestrian detection, blind-spot monitors, active lane control, and rear cross-traffic alert. BMW calls the suite Active Driving Assistant. Optional safety equipment includes automated parking and a back-up assistant that takes over the reins when backing out of a narrow spot or with obstructed rear visibility.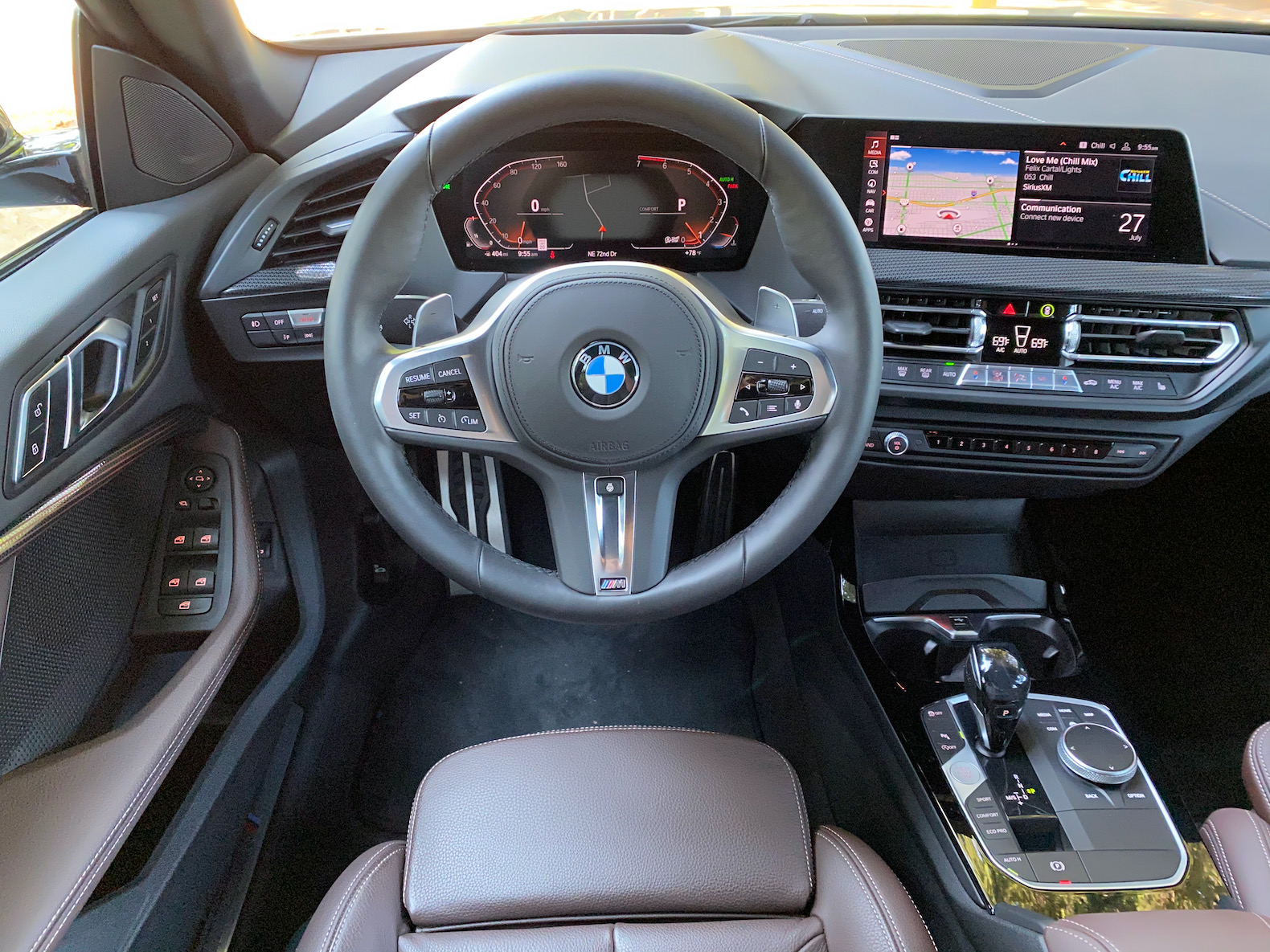 Longer, wider, and taller than the 2-Series, the 2020 Gran Coupe is also roomier. No surprises inside, either, as the driver-oriented cabin will be familiar to anyone who's been in a recent BMW. There are plenty of upgrades available, but the leather-wrapped steering wheel and black synthetic leather trim show off enough luxury class to belong to the next automotive tier. The 2020 2-Series Gran Coupe isn't related to the 2-Series coupe and convertible, it's closer to cousins with the X1 crossover. Yet, the X1 is wider and much taller, and overall roomier for front and rear passengers; it also has hatchback versatility.

Front seats have 10-way power adjustability, including thigh support. The synthetic leather trim is one of the more leather-like in the business, and fits our hides just fine, although the temptation to step up to a richer $1,450 leather would be deal-making if BMW didn't make you pay for an additional package. Overall, the driver-focused controls and cabin design uphold BMW's pedigree for making cars for drivers and their front-seat passenger. As such the front seats in the 2-Series Gran Coupe get a point for comfort but the cramped rear seats lose that point, even though BMW says it has nearly as much rear leg room as the 3-Series. It gets a 5 for comfort. Cargo volume in the trunk is an above-average 15.1 cubic feet, which surpasses what's offered in the 2-Series coupe. The rear seat has a 40/20/40 split for clever cargo configurations and a lot of usable cargo space for items that aren't bulky.
In addition to the standout standard safety features, the 2020 2-Series Gran Coupe comes with enough fine finishes to get a taste of the luxury life. Gorging on options can load up on the luxury price, too, taking the Gran Coupe into the $50,000 range. There are many options to elevate the entry-level model into finer luxury touches. At that point, there might be better "entry-level" luxury sedans. But the base 228i and its excellent warranty has enough standard content, provided you avoid the temptation to load it with M Sport bits and colorful leather that can take the price to more than $50,000.

The 2020 2-Series Gran Coupe comes as either a 228i or M235i, depending on your engine choice. Since it comes with standard all-wheel drive, the $38,495 228i is only $200 more than the 2-Series coupe with AWD. In addition to the distinguishing blue and white roundel and kidney grille outside, the 2-Series Gran Coupe comes with 17-inch wheels with all-season run-flat tires and power-folding side mirrors. For any color other than black or white, you'll need to pony up $550 or $1,200.

Inside, synthetic leather upholstery belies some of the entry-level status, but the three-spoke steering wheel comes leather-wrapped. The base model still uses BMW's older 8.8-inch touchscreen with a controller dial and Apple CarPlay compatibility. An 8.8-inch instrument cluster with 5.1-inch vehicle info display, four USB ports, keyless start, rain-sensing wipers, and 10-way power front-adjustable seats are also standard. A 10.3-inch digital instrument cluster and 10.3-inch touchscreen with the latest iDrive system is available as part of the $1,100 Live Cockpit Pro option, which we'd recommend.

Add the $4,000 M Sport package for 18-inch wheels, rear spoiler, sport suspension and other sharpening bits, upgrade to $1,450 Mocha perforated leather seat trim, tick off the $3,050 Premium Package with heated seats and steering wheel, a panoramic moonroof, and BMW's latest and, admittedly, greatest infotainment system. The Gran Coupe is all about choice. As would the M325i performance-oriented 2-Series Gran Coupe. Starting at $46,495, it adds the M Sport package plus a front axle limited-slip differential. The price bump is mainly for performance. Standard creature comforts include leather seats, keyless entry, ambient lighting, and lumbar support. Fortunately, a 4-year/50,000-mile warranty carries 2-Series Gran Coupe owners into their next stage of BMW brand growth.
The 2020 BMW 2-Series Gran Coupe charts new ground as BMW expands into new segments. Ten years ago the concept of a BMW front-wheel-drive platform would have been blasphemous, but today it just works. With the svelte styling including the Hofmeister Kink, driver centric cockpit with cutting edge technology, and a driving experience that can only be described as a BMW; the new 2-Series Gran Coupe easily lives up to its ancestry while forging a new path. It's a new path for BMW, and one that easily deserves a drive.
For all your new car shopping needs, check out: drivevise.com Vehicle shopping made simple!