Volkswagen has unveiled the Jetta GLI Performance concept, which is a more powerful version of the Jetta GLI. The concept is debuting at the 2022 SEMA show in Las Vegas.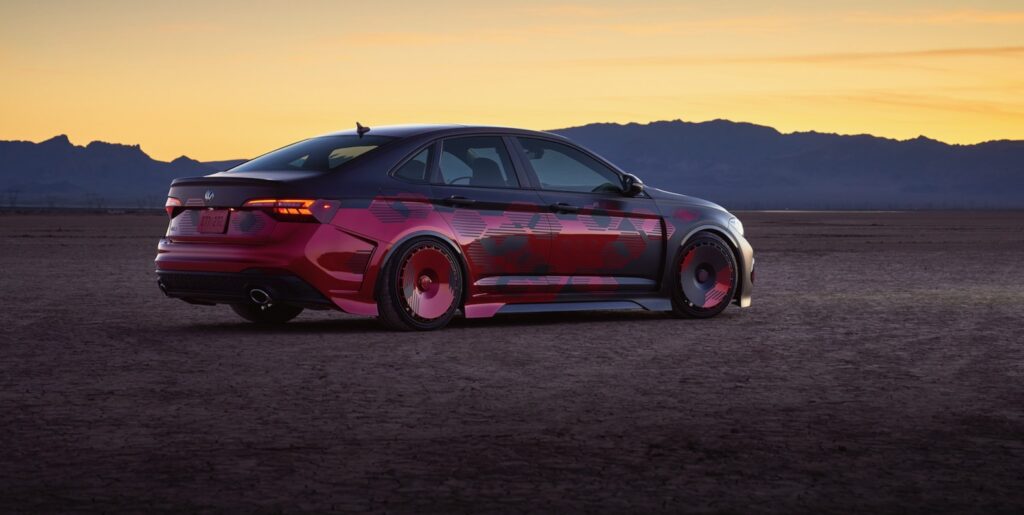 To create the Jetta GLI Performance concept, VW says that it borrowed features from past Jetta GLI models.
"The Jetta GLI concept was an opportunity for our team to draw from our passion for motorsports and create a vision that is even more expressive and exciting than the production vehicle already is," said Reto Brun, Senior Director Volkswagen Design Center California. "The wide body design gives this GLI concept the stance that every enthusiast dreams of and the graphic treatment underlines its more aggressive nature, while incorporating classic GLI elements."
The Jetta GLI Performance concept is based on the Jetta GLI Autobahn, but its front and rear fenders are 0.8-inches wider. It also gets a unique front bumper with bigger grille intakes, while the rear gets updated grille inserts and a lower valance that frames the concept's twin-exit sport muffler.
To give it more power than the stock 228 hp, VW added RacingLine's IS38 performance package, including an R600 Carbon Fiber Cold-Air Intake and Performance Intercooler. The concept generates 350 horsepower and 372 pound-feet of torque and all that power is sent to the front wheels via a six-speed manual transmission. To keep all that power in check, the concept gets RacingLine's Stage 3+ six-piston forged caliper big brake kit with 15.0-in diameter carbon-ceramic discs. It also gets a TrackSport coil-over suspension kit, underbody braces and Rotiform Forged "GRZ" Monoblock 20-inch wheels with custom finished Aerodisc covers. Inside there's a pair of Recaro Pole Position ABE seats.