We're still waiting for Toyota to introduce what we hope is a Corolla hot hatch in the US, but in the meantime Toyota has slowly been amping up the performance of the rest of the Corolla lineup. Last month Toyota unveiled the sportier 2021 Corolla Hatchback Special Edition and now it's unveiled the 2021 Corolla Apex Edition.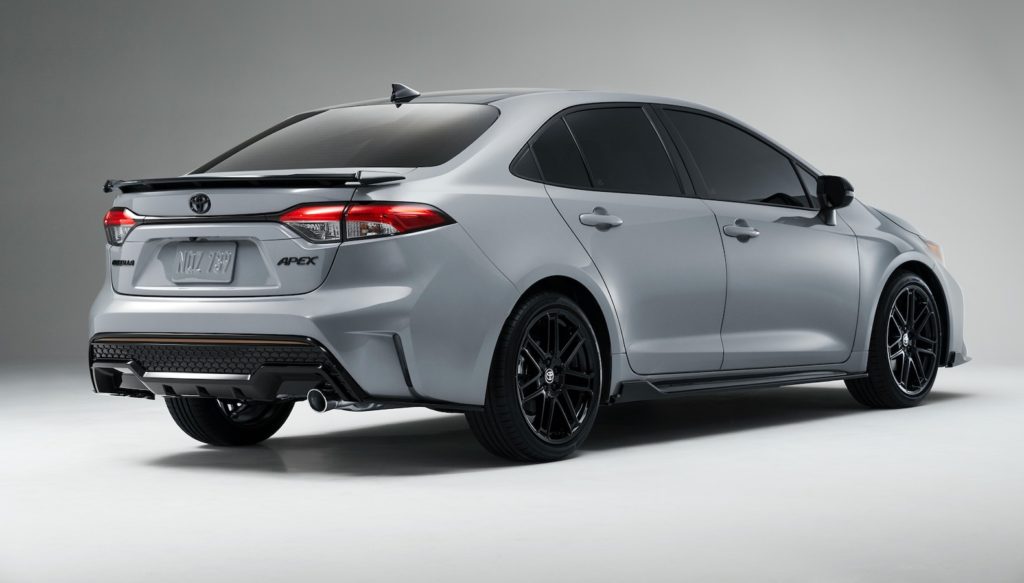 The 2021 Toyota Corolla Apex Edition is based on the SE and XSE trim levels. On the outside it features a black body kit with bronze accents, a front spoiler, fog light covers, side moldings and a rear diffuser. A trunk spoiler is also optional and it rides on lighter gloss black 18-inch wheels that offer a mass reduction of 2.2 pounds per wheel.
The Corolla Apex Edition also gets unique coil springs that lower it by 0.6-inches and unique shocks and stabilizer bars. The increase spring rate is also aimed at reducing body roll and improving the steering response. Toyota has also added new jounce bumpers to make sure the ride quality doesn't suffer due to the lower ride height. The suspension changes increase roll stiffness by 47% in the front and 33% in the rear.
A catback exhaust has also been added and a unique 3.5-inch stainless steel tip.
Under the hood there's a 2.0-liter four-cylinder engine with 169 horsepower and 151 pound-feet of torque that can be mated to either a CVT or 6-speed manual transmission.
The Corolla Apex Edition comes in three colors: Cement with a Black Sand Pearl roof, Super White with a Black Sand Pearl roof and Black Sand Pearl.
The rest of the 2021 Corolla lineup now has Android Auto and Apple CarPlay. The 2021 Corolla also now has rear side airbags, which brings the total number of airbags to 10.