Rolls-Royce is getting ready to undergo a major shift when it switches to a fully electric lineup by 2030. Today we have our first look at Rolls-Royce's first fully electric production car, the Spectre.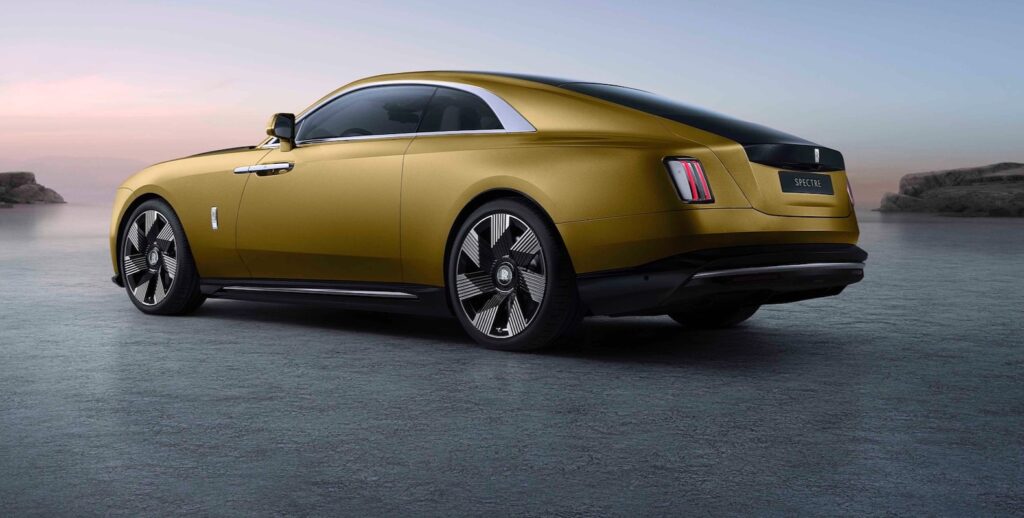 Rolls-Royce says that the Spectre is the spiritual successor to the Phantom Coupe of the 2000s, but its shape and profile remind us of the now defunct Wraith. The Spectre is a big coupe with a 214.6-inch length and a 126.3-inch wheelbase, which means that it has a bigger footprint the Wraith.
At the front there's a new take on the brand's Pantheon grille, which is now sleeker and the widest grille ever offered by the brand. The hood also gets a redesigned Spirit of Ecstasy hood ornament, that helps make the Spectre the most aerodynamic Rolls yet with a drag coefficient of 0.26.
The Spectre is built on the same Architecture of Luxury platform that's used by the Cullinan, Ghost and Phantom. Although the platform debuted in 2017, Rolls-Royce designed it to be ready for fully electric powertrains. Rolls-Royce hasn't revealed the specs for the Spectre, but it's expected that it has a pair of electric motors, which generate a combined 577 horsepower and 664 pound-feet of torque. The Spectre has an estimated 0-60 mph time of 4.4 seconds and a limited top speed of 155 mph. If you want more power, a Black Badge model is coming later.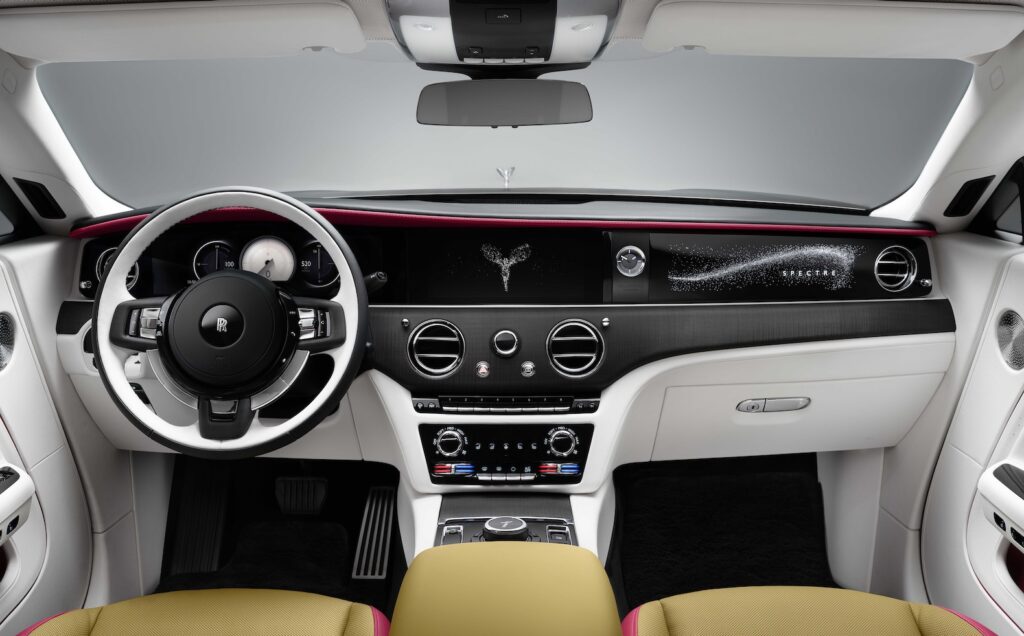 Rolls-Royce hasn't revealed the size of the battery pack, but it says that it anticipates that the Spectre will have an EPA-estimated range up to 260 miles. The Spectre also gets the brand's signature "magic carpet ride" and rides on 23-inch wheels. It also gets the latest version of the brand's Planar suspension. The car can detect a pothole or other road imperfection ahead and automatically decouple the anti-roll bars to allow each wheel to move independently and eliminate the side-to-side motion that you would normally encounter. The Spectre's sensors and GPS can detect a curve ahead and recouple the anti-roll bars and stiffen the dampers. There are a total of 18 sensors that monitor the Spectre's braking, power, steering and suspension.
Inside there's a four-seat layout with a fixed rear center console. At the front there's a wider center screen that runs a new infotainment system, which looks like it's based on BMW's iDrive7 system.
Rolls-Royce hasn't released all the details yet, but the base price is slated to land somewhere between the Cullinan (about $350k) and the Phantom (about $460k). Deliveries are expected to start in the fourth quarter of 2023.