Rolls-Royce's bespoke division has created a new Haute Couture one-off Phantom with fashion designer Iris van Herpen. It's called the Phantom Syntopia and is based on the Phantom Extended.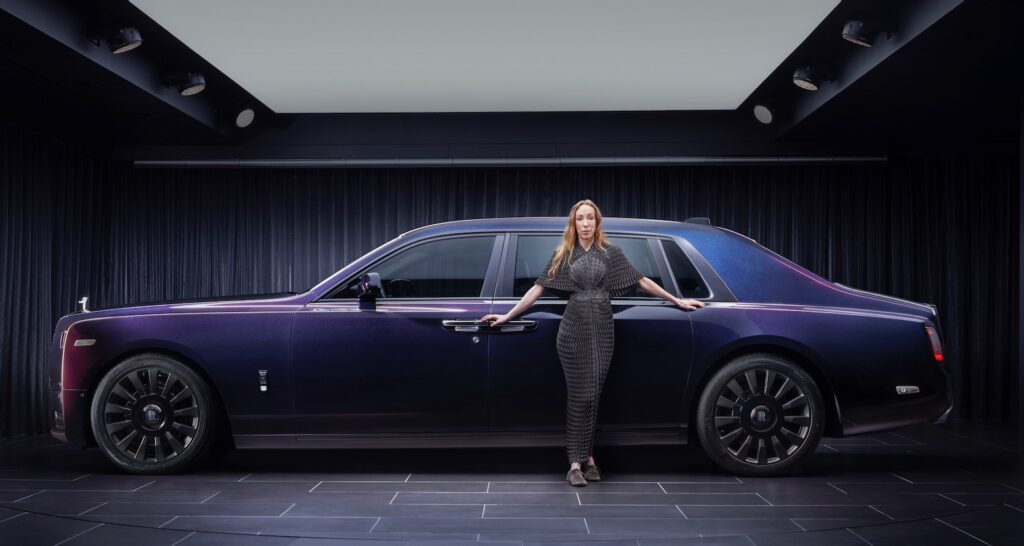 Rolls-Royce says that the Phantom Syntopia is "the most technically complex commission ever undertaken by the Rolls-Royce Bespoke Collective" and it took the team four years to create it. The Phantom Syntopia name is from Iris van Herpen's 2018 collection. According to Rolls-Royce the Phantom Syntopia "seeks to represent the elusive, ethereal beauty of fluid motion in solid materials through its 'Weaving Water' theme."
It's painted in a one-off Liquid Noir paint with purple, blue, magenta and gold undertones.
"For this special collaboration I was inspired by the concept of 'Weaving Water' and transformed the sense of being in movement into an immersive experience of fluidity inside the Phantom. I wanted this to become a state-of-the-art experience being overwhelmed by the forces of nature. The powerful movement of the Phantom is woven into the shifting three-dimensional waves inside the car to embody the ingenuity of nature," stated Torsten Müller-Ötvös, Chief Executive Officer, Rolls-Royce Motor Cars.
The Weaving Water theme is seen when you open the doors and look at the headliner, which is the most technically challenging part for the designers. The headliner is crafted using a single sheet of leather, selected from over 1,000 hides. Special symmetrical cuts reveal a silver 'liquid metal' texture made from woven nylon fabric underneath, used in Iris van Herpen's 'Embossed Sounds' collection, giving the Headliner a three-dimensional appearance. The headliner is finished with 162 delicate petals made of glass organza, applied by members of Iris van Herpen's Couture team that took nearly 300 hours. Lastly, 187 of the 995 fiberoptic 'stars' were individually placed by hand alongside the artwork; illuminating sequentially, starting from the rear and moving to the front, they create a feeling of movement. In total it took the team 700 hours to create the entire headliner.
The Weaving Water theme continues throughout the unique artwork in the Gallery, which runs the width of the Phantom's fascia. Inside the seats are quilted with a Weaving Water motif.
"The result of four years' continuous development, Phantom Syntopia is a magnificent testament to the skill, talent, passion for materials and commitment to excellence of our exceptional Bespoke Collective team," says Jonathan Simms, General Manager, Bespoke, Rolls-Royce Motor Cars. "To bring the client's vision to life, our engineers and craftspeople pushed their own limits and challenged existing notions of what's possible in their pursuit of perfection. Phantom Syntopia is the most technically complex commission we have ever created and it was an exceptional experience to work alongside and collaborate with the incredible team at Iris van Herpen's atelier."