Last week Mazda unveiled the 2024 CX-90, which is the replacement for the CX-9. Now Mazda has announced the pricing for the CX-90, which starts at $40,970, including the destination charge.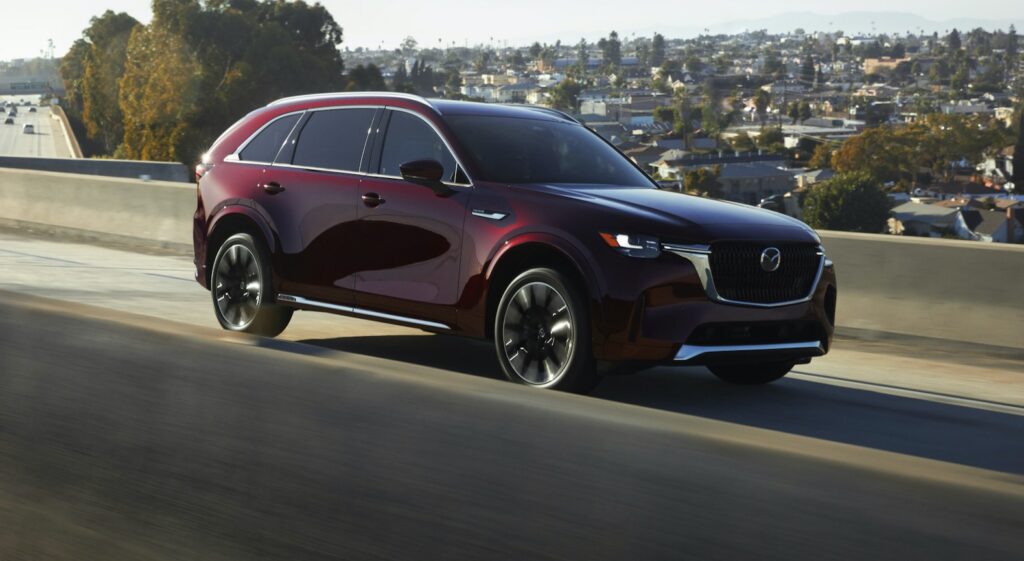 The three-row CX-90 is available with three powertrain options: CX-90 3.3 Turbo S, CX-90 PHEV, and CX-90 3.3 Turbo. The CX-90 3.3 Turbo S is powered by a 3.3-liter inline-six engine with up to 340 horsepower and 369 pound-feet of torque on premium fuel. It's rated at 23 mpg city, 28 mpg highway, and 25 mpg combined.
The CX-90 plug-in hybrid is powered by a naturally-aspirated 2.5-liter four-cylinder that's mated to an electric motor to generate a combined 323 hp and 369 lb-ft. on premium fuel. The CX-90 PHEV is powered by a 17.8-kWh battery pack, but Mazda has not announced its electric range or fuel economy specs.
The base engine, is the CX-90 3.3 Turbo with the 3.3-liter turbocharged engine that generates slightly less power at 280 hp and 332 lb-ft. on regular fuel. Both inline-six engines feature a 48-volt mild-hybrid system and all-wheel drive and an eight-speed automatic transmission are standard on all versions.
The 2024 CX-90 will be offered in several trim levels with the 3.3 Turbo Select being the base model. The most expensive version is the 3.3 Turbo S Premium Plus, which starts at $61,325. The CX-90 PHEV starts at $48,820. The CX-90 comes standard with eight-passenger seating, black leatherette seats, a 10.25-inch infotainment system, a 7-inch LCD instrument panel display, an eight-speaker audio system, and Apple CarPlay and Android Auto, 19-inch alloy wheels, a power liftgate and rain sensing wipers.
Other trim levels are available with a choice of either seven- or eight-passenger seating, leather seats, a 12.3-inch infotainment system, a head-up display, 21-inch wheels, maple wood trim and a 360 degree view monitor. The 2024 Mazda CX-90 will go on sale this spring.