Ford has unveiled the US-spec version of the latest Ranger, which will arrive here as a 2024 model. We already saw the global version of the new Ranger debut at the end of 2021 and now it's finally ready to arrive on our shores.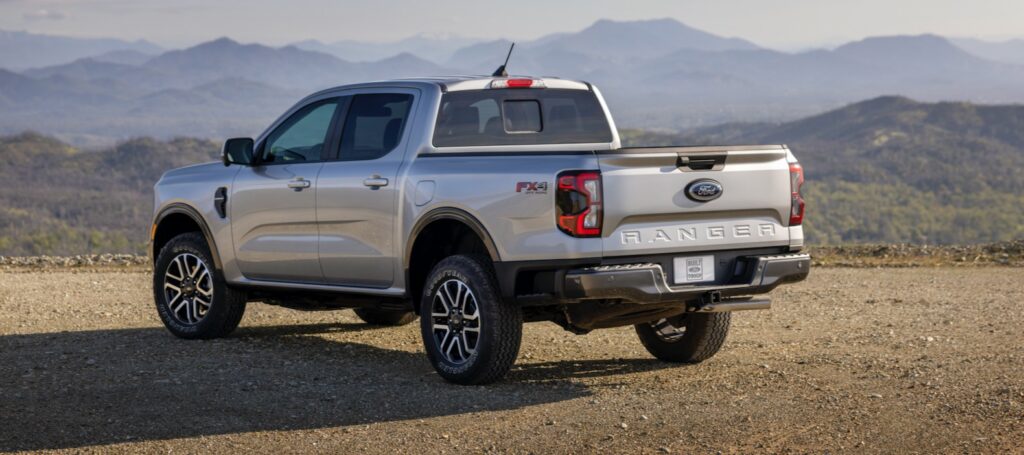 For starters the 2024 Ranger will only be available as a four-door crew cab with a five-foot bed. This follows a similar strategy as the new Chevy Colorado and Jeep Gladiator which are both only available in one body style. The 2024 Ranger is based on an updated version of Ford's T6 platform. The wheelbase has been extended by 1.9-inches, while its overall length has shrunk by 0.2 inch. This basically means that the front wheels have been moved more forward to reduce the front overhang by 1.9 inches to improve the approach angle.
The new Ranger is 2.3 inches wider, which means there's more space inside the cabin and in the bed. The bed can now fit a four-foot sheet of drywall between the wheelhouses.
The base engine is the turbocharged 2.3-liter four-cylinder with 270 horsepower and 310 pound-feet of torque. The XLT and Lariat models are powered by a twin-turbocharged 2.7-liter V6 with 315 horsepower and 400 pound-feet of torque. The Ranger Raptor is powered by a twin-turbo 3.0-liter V6 with 405 horsepower and 430 pound-feet of torque. All the engines are mated to a 10-speed automatic transmission. Two- and four-wheel drive versions are available, while the Raptor comes standard with four-wheel drive, locking differentials and an all-wheel drive mode.
The Ranger can tow up to 7,500 pounds with the Trailer Tow package and its maximum payload increases to 1,805 pounds for two-wheel drive versions and 1,711 pounds for four-wheel drive models.
Inside the interior looks more modern with a digital instrument cluster that's available in either 8.0-inch or 12.4-inch sizes. The touchscreen also is available in two sizes, 10.1-inch or the large vertically oriented 12.4-inch screen. A 360 degree camera is available and wireless Android Auto and Apple CarPlay. There's also a bit more space inside and new storage space under the rear seats. The rear seatback can also fold down flat.
The 2024 Ford Ranger will arrive this summer.