The 2023 Toyota GR Supra exhibits agility and potency courtesy of its turbocharged engines. The 2023 Supra fulfills the expectations associated with a sports car, showcasing nimble maneuvers and a selection of robust engines. While it boasts a firm suspension and a snug cabin, the driving experience is exhilarating.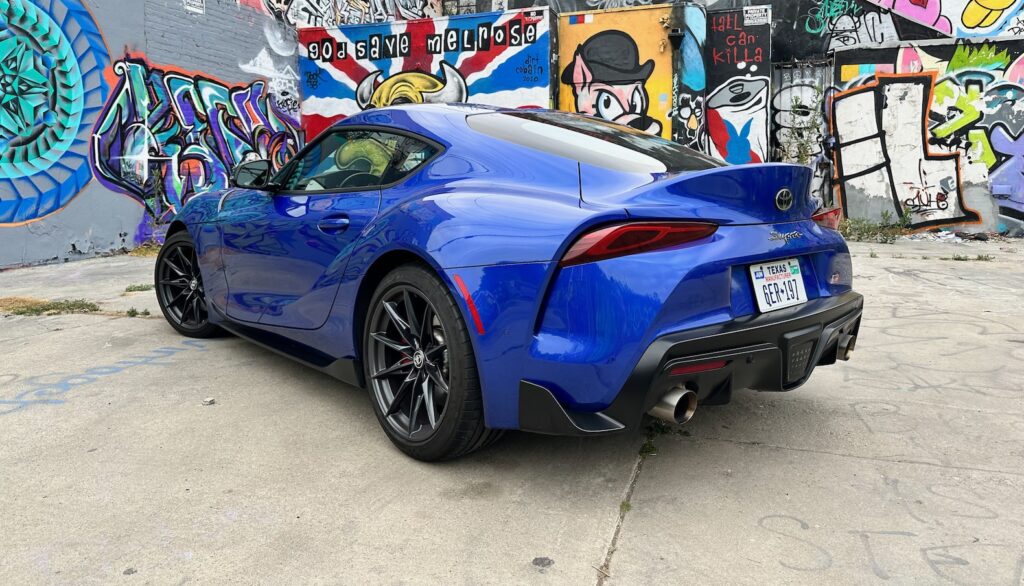 The big news is that the 2023 Supra introduces a manual transmission option for the Supra 3.0, 3.0 Premium, and A91 models. The A91-MT Edition is limited to 500 units and features exclusive exterior colors—Burnout and CU Later Gray—paired with a unique hazelnut leather interior. All 2023 Supra models benefit from enhanced steering and suspension tuning for improved cornering. Additionally, the 3.0 and A91 models incorporate a new feature called Hairpin+ for more engaging handling.
The 2023 Toyota GR Supra commands attention with its lines, scoops, and curves, while maintaining a sophisticated interior.  The Supra's sculpted form, accentuated by scoops and undulations, exudes authority. Its prominent haunches lend it the appearance of a predator on the prowl. Sporting classic. The A91-MT limited edition adds forged 19-inch wheels in Frozen Gunmetal Gray, along with red strut tower braces and Supra badging in red.
Dynamic, robust, and responsive, the 2023 Toyota Supra is adept at auto-crossing. The Supra's rear-wheel drive configuration aligns with the ideal setup for a sports car. Its short wheelbase, quick acceleration, and superior traction make it the perfect track companion.
The base Supra 2.0 is powered by a 2.0-liter turbocharged 4-cylinder engine producing 255 hp and 295 lb-ft of torque. It sprints from 0 to 60 mph in 5.0 seconds, channeling power through an 8-speed automatic transmission, accompanied by a pleasant engine note. While the turbo-4 Supra delivers rapid acceleration, the turbo-6 powertrain offers a more immediate surge of power. The 3.0 Supra boasts 382 hp and 386 lb-ft of torque, propelling the car from 0 to 60 mph in 3.9 seconds, with peak torque available at just 1,600 rpm. The 8-speed automatic transmission is efficient, but driving enthusiasts will celebrate the introduction of the new 6-speed manual option.
With a robust structure, double-jointed front struts, five-link rear components, and wide tires, the Supra delivers agile handling and steadfast grip. Its athleticism shines on autocross tracks and remains impressive on larger tracks. The ride quality, although somewhat firm, avoids excessive harshness.
Despite its powerful nature, the 2023 Toyota Supra achieves decent fuel efficiency thanks to its compact size. While fuel economy isn't the Supra's primary focus, it still manages to be reasonably efficient. The base turbo-4 is rated of 25 mpg city, 32 highway, and 28 combined. The 3.0 Supra with the turbo-6 engine is rated at 22/30/25 mpg with the automatic transmission and 19/27/21 mpg with the new manual transmission.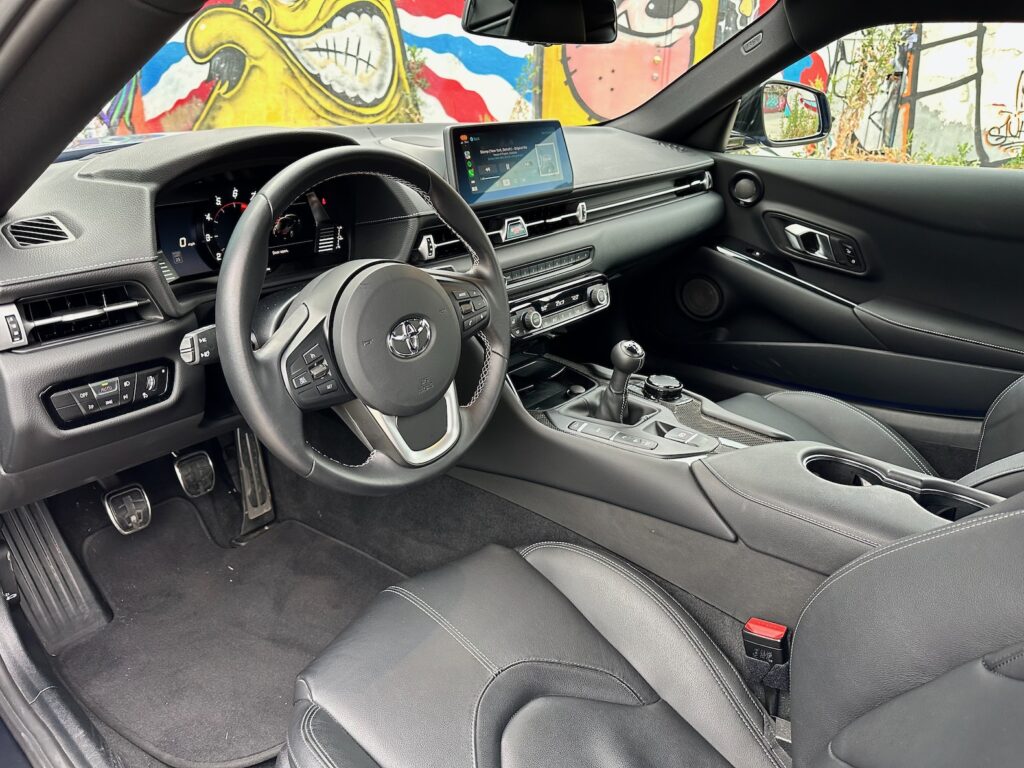 Most Supra models feature a predominantly black interior, though red upholstery is available. Metallic accents and digital displays prevent the ambiance from feeling too much like its cousin, BMW Z4. In front of the driver, there's a digital instrument cluster and at the top of the dashboard there's an 8.8-inch touchscreen display. The Supra's interior boasts standard leather wrapped seats with synthetic suede inserts, while higher trims receive full leather treatment. The cabin is wrapped in soft-touch surfaces, elevating the visual and tactile experience.
The 2023 Toyota GR Supra boasts a thoughtfully curated lineup that offers value across all versions. With just turbo-4 and turbo-6 powertrains and a limited array of options, the Supra lineup features the 2.0, 3.0, and 3.0 Premium trim levels, along with the A91-MT Edition. The base 2.0 version, priced at $44,635, includes manual-adjustment seats, leather and Alcantara surfaces, carbon-fiber trim, an 8.8-inch gauge cluster, an 8.8-inch center display, keyless start, a trunk spoiler, and 18-inch wheels.
The 3.0 premium adds sport pedals, heated sport seats with driver seat memory and 14-way power adjustment, leather upholstery, a head-up display, wireless smartphone charging, a 12-speaker premium JBL audio system, upgraded brakes, and the new Hairpin+ feature. The 3.0 models for 2023 introduce a 6-speed manual transmission option.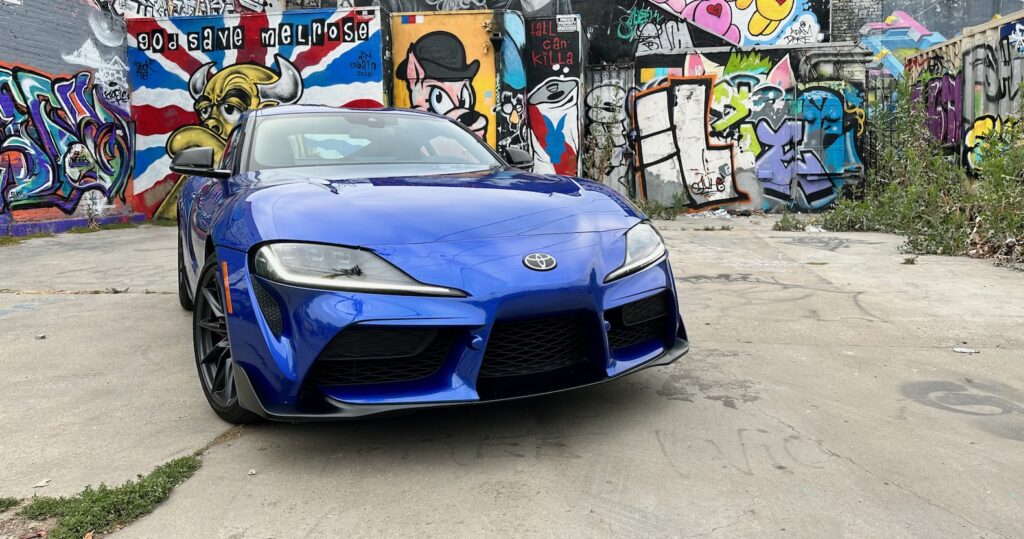 Priced at $59,745, the A91-MT Edition is a limited production run of 500 units, exclusively available with the manual transmission. This limited model features a choice between two unique exterior colors, accompanied by an exclusive interior color, exclusive forged 19-inch wheels, red brake calipers, and red badging. The Driver Assist Package, priced at $1,195 with either transmission, adds cruise control, blind-spot monitors, rear cross-traffic alert, and parking sensors. The Safety & Technology Package, available for 2.0 and base 3.0 models, varies in cost and incorporates the features of the Driver Assist Package, along with enhancements like wireless Apple CarPlay.
The 2023 Toyota GR Supra remains a rare gem, made even more exceptional with the inclusion of a manual transmission. The infusion of BMW elements has served to enhance the Supra's already impressive lineage. Its track-ready performance, robust powertrains, predictable yet exhilarating handling, and technology features that encourage spirited driving define its strengths. Ultimately, the partnership between BMW and Toyota has resulted in a fusion of the best attributes from both brands, benefiting enthusiasts and drivers alike.