Mercedes-Benz isn't quite ready to fully reveal the 2023 EQS electric SUV, but it has released the first photo of the SUV's interior and some additional photos of camouflaged prototypes.
Inside the EQS SUV is available with up to three rows of seats and the second row is electrically adjustable to make it easier to get in the back row. At the front there's the optional MBUX hyperscreen, which is a 56-inch curved screen that spans the entire width of the interior. The screen also houses a unique 12.3-inch OLED display in front of the front passenger that allows for video streaming when the EQS is in motion. To prevent the driver from watching the screen, there's a special camera that detects if the driver is looking at the front passenger display and automatically dims it if it is detected.
Buyers will be able to choose from seven color combinations. There's also a unique hybrid trim that is made from magnolia wood and stainless steel.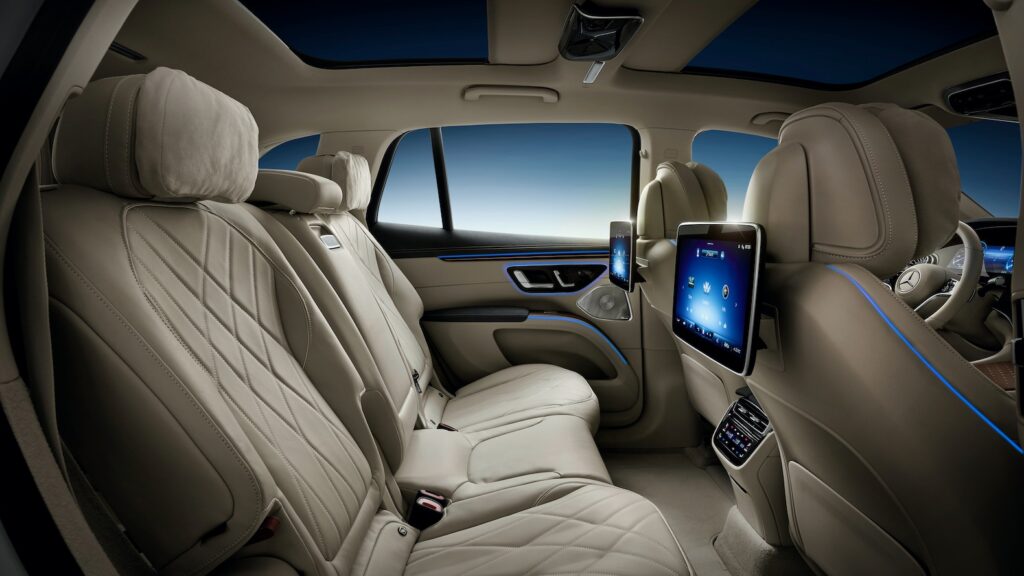 To make families happy, there's a rear-seat entertainment system and the third row has two individual seats. Speaking of the third row, Mercedes says that the seating position in the third row is more comfortable than the GLE. Behind the rear row, the EQS SUV has room for up to four golf bags.
Lastly the interior will be filled with clean air thanks to the Energizing Air Control Plus system, which eliminates fine particulates, pollen and other contaminants.
The 2023 Mercedes-Benz EQS SUV will debut on April 19. It will be built in Alabama and Mercedes-Benz has also announced the addition of a new battery plant for the SUV.