The 2023 Kia EV6 balances performance and efficiency, as well as value and features better than most electric crossovers. The EV6 electric crossover shares a powertrain and chassis with the Hyundai Ioniq 5, but rides lower and edges into sportier territory than rivals ranging from the Tesla Model Y to the Ford Mustang Mach-E. It is one of our highest rated electric crossovers priced for the mass market because it doesn't compromise performance for efficiency or value for loaded features.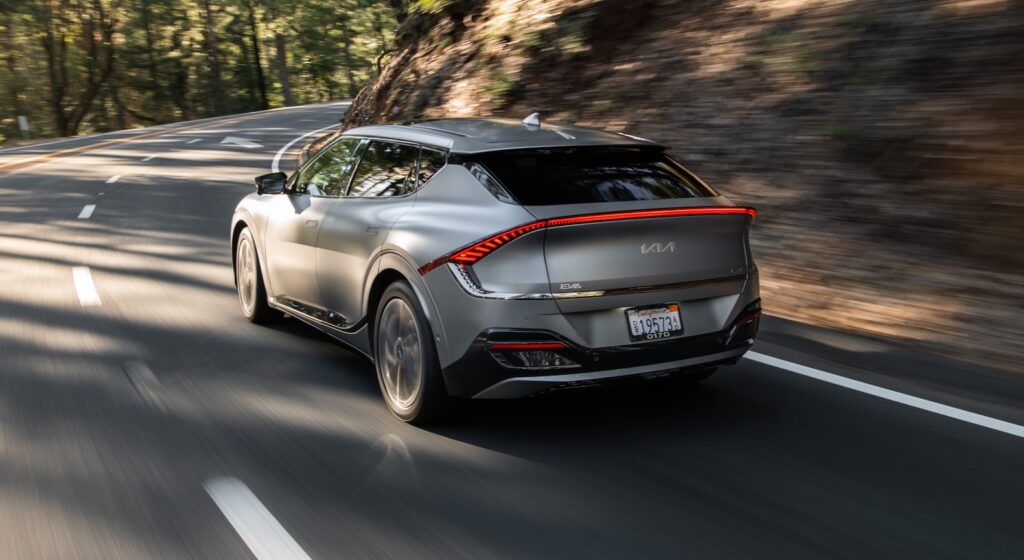 Part sport wagon, part dream machine, the EV6 reshapes the crossover mold. It has the rounded, aerodynamic elements of other electric crossovers but stretched over a sportier body with a low roof like a European touring wagon. It's muscular without being beefy and wheel sizes ranging from 19-21 inches fill wheel wells that are pushed to the corners. Up front the snub nose dives, and along the side a rocker garnish rises up through the rear wheel to a light bar that hugs the tailgate. An integrated rear roof spoiler and raked rear windshield cut into the tail, and from the rear, it appears as if the greenhouse rides on the broad shoulders of the body.
The 2023 Kia EV6 looks and acts the part of an electric sport crossover. With only the large 77.4-kwh battery pack offered for 2023, and a new GT performance variant, the Kia EV6 offers quick to blistering acceleration, balanced handling for its size, and comfortable cruising.



The base Wind and GT-Line models come with a single motor rated at 168 kw and rear-wheel drive. The permanent magnet motor makes 225 hp and 258 lb-ft of torque. A second permanent magnet motor comes on most EV6 models, and is standard on GT-Line and GT models. That smaller front motor is rated at 74 kw, and together the output increases to 320 hp and 446 lb-ft of torque. The GT model moves that large rear motor to the front, and drops in a 270-kw rear motor that combine to produce 576 hp and 545 lb-ft of torque.

The rear-wheel-drive Wind holds up the pack with a 0-60 mph time of 7.2 seconds. Then things speed up. The dual-motor Wind and GT-Line models reach 60 mph in 5.1 seconds, according to Kia, and a top speed of 117 mph. The low profile and relatively low ground clearance of 6.1 inches bolster Kia's sport mission and dissuade any off-road considerations.

The light and dull steering feel strays from the sports car mission, and even though the EV6 can cut through corners with more agility than other electric crossovers, there's a distance between the road and the ride, like it's trying to satisfy two missions. It does, for the most part. The EV6 rides on a front strut, rear five-link suspension tuned to the firm side, but even with 20-inch wheels on AWD models, the cabin is still calm, quiet, and mostly comfy while cruising.

The larger motors in the EV6 result in a 0-60 mph time of 3.4 seconds and a top speed of 161 mph. It's quicker than a Mustang Mach-E GT or Tesla Model Y Performance, and creeps into the rarefied space or the Porsche Taycan. Unlike the Porsche, it doesn't pin in your seat and threaten your lunch at launch, but from 20-50 mph, whoomp, there it is, in a way the Kia Stinger GT couldn't approximate. Three additional modes, including a GT mode access by a lime-green steering wheel button, ramp up the excitement, but Kia hides the most exciting Drift mode deep in a series of awkward dance steps.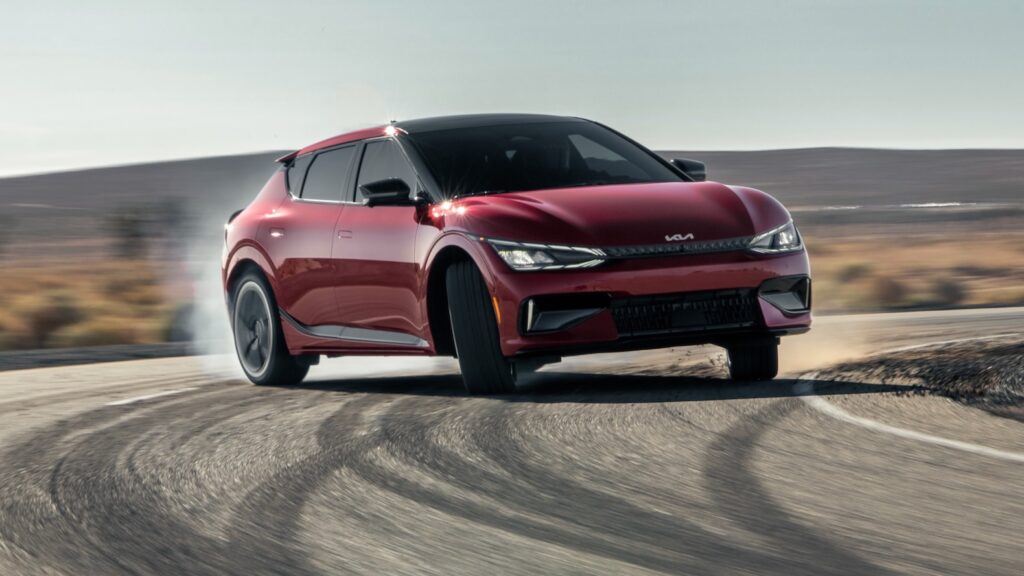 Kia equips the GT with a sport-tuned suspension with adjustable dampers, but it never fully takes the squish out of corners. The monoblock calipers grab larger 15.0-inch rotors up front but they could use even more bite. That's understandable for a car weighing 4,795 pounds. Once in the corner, the EV6 GT shines, with an electronic limited-slip differential that helps maintain grip (and speeds) on the 21-inch Goodyear Eagle F1 summer tires, then a rear-drive bias that whips the tail. It self-corrects without ever damping the fun.
In all but the GT model, the Kia EV6 uses electrons efficiently. The Kia EV6 averages nearly 3.6 miles per kwh (117 MPGe) and the single-motor RWD models have a range of up to 310 miles. Built on an 800-volt architecture and with a sole 77.4-kwh battery pack for 2023, the Kia EV6 extracts more miles out of each kilowatt-hour compared to other electric crossovers except for the Model Y.

The dual-motor AWD models require more juice and have less range; the Wind blows for 282 miles at about 3.2 miles per kwh (109 MPGe). The GT-Line sizes up from 19-inch to 20-inch wheels and more rubber, lowering its range to 252 miles and its efficiency to 2.9 miles per kwh (96 MPGe). On its 21-inch wheels with summer tires, the GT model prioritizes performance over efficiency with 206 miles of range and an efficiency rating of 2.4 miles per kwh (79 MPGe).

All-wheel-drive models include a heat pump and up to four regen brake settings that ship energy back to the pack. Eco mode disconnects the front motor in most scenarios, so it's possible to drive further and with greater efficiency than the EPA ratings.

The 800-volt architecture enables the quickest DC fast-charging of any mainstream electric, alongside the related Hyundai Ioniq 5. At a 350-kw CCS-format connector, the EV6 charges from 10% to 80% in 18 minutes. In our testing, it peaks at about 240 kw in mild temperatures. On Level 2 (240V) home charging, the 2023 EV6 charges from 10% to full in about seven hours thanks to an onboard converter that can accept 10.9 kw.
The 2023 Kia EV6 earned a Top Safety Pick+ from the IIHS. Two years in, the NHTSA still hasn't tested the Kia EV6, but the other factors add up to a high safety ratings for the electric crossover. Once the NHTSA gets up to speed, the EV6 should get a five-star rating. The IIHS gave it a Top Safety Pick+ for withstanding crash tests as well as avoiding collisions with other vehicles and pedestrians at speeds of up to 25 mph.

Standard driver-assist features that include automatic emergency braking, active lane control, adaptive cruise control, automatic high beams, a driver attention system, and blind-spot monitors. Options such as navigation-based adaptive cruise control that enables minutes of hands-free driving, remote automatic parking, a surround-view camera system, and rear automatic braking also earn a point.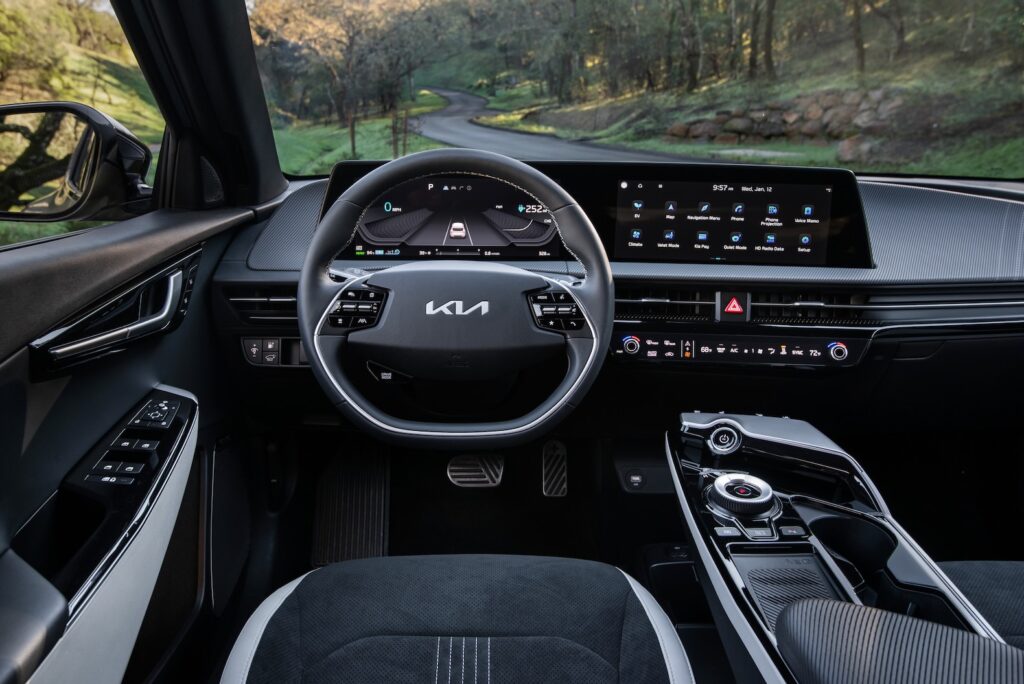 The 2023 Kia EV6 optimizes interior space in spite of its long, low profile. The EV6 might look more like a sport wagon than a crossover, but the interior opens up to a roomy cabin with plenty of passenger and cargo space with calm and quiet cabin. The long, low dash stretches horizontally, with a band of vents separating a dynamic climate control panel that doubles as an infotainment menu; press a button and the temperature dials become volume and tuning knobs. Neat. The GT performance model trims the steering wheel, upholstery, and dash with lime green cross-stitching and related accents.

At up to 184.8 inches long and 74.4 inches wide (GT-Line and GT models), the Kia EV6 measures up to the Volkswagen ID.4 and Tesla Model Y. But at 60.8 inches tall, it's at least three inches shorter than rivals. Yet the only compromise comes from getting in and out. Otherwise, once seated in the well-bolstered, 8-way power front seats, the EV6 stretches out like a crossover. The first Kia with sport bucket seats, the GT's manually adjustable seats bear-hugs riders. The sunroof in GT-Line and GT models trims front headroom, but not enough to crimp taller riders.


With the cowl starting above the front wheels and the windshield raked back, the seating position feels a little different from traditional crossovers at first. Kia covers the seats in synthetic leather that feels soft enough, and standard heated and cooled front seats offset all the plastic trim pieces to make it feel premium even if it doesn't look it.

The rear seats recline and offer at least 39.0 inches of legroom, so there's room enough for four adults. Use that middle seat as an armrest. Fold down the 60/40-split rear seats and the cargo room expands from 24.4 cubic feet to 50.2 cubic feet. That's smaller than rivals, but most of that lost space is vertical. A pocket under the load floor could stow the charging cord, or there's space enough under the hood, but for nothing more. Inside the cabin, an open console and deep storage bin, as well as deep door pockets, offer plenty of storage to keep things out of the way.
Well-equipped at just under $50,000, and with a great warranty, the 2023 Kia EV6 comes loaded. Every EV6 comes with a 5-year/60,000-mile basic warranty, with a 10-year/100,000-mile powertrain and battery warranty. That good start only gets better. The base Wind model with rear-wheel drive has 19-inch alloy wheels, LED headlights, power-folding side mirrors, heated and cooled front seats, synthetic leather upholstery, a hands-free tailgate, a Meridian sound system, the twin 12.3-inch screens, a wifi hotspot, and a wireless smartphone charger. The warranty, base content, intuitive but layered infotainment system, and overall value earn it a point each to a 9. It misses a point only for a lack of luxurious options, though the Vehicle to Load (V2L) connector option provides 1,900 watts to power gear and appliances.

As with other electric vehicles, the price differences of the EV6 depend on the powertrain. The $49,795 Wind catches the best value and the best range, though we'd add the second motor for more power, more AWD grip, and a heat pump for $53,695. The heart-pounding GT tops the EV6 charts at $62,695, and that modest price increase includes major performance upgrades such as a larger motors, standard AWD, three more drive modes, adjustable dampers, a rear limited-slip differential, 21-inch alloy wheels and performance tires.
Rarely does the word revolutionary come to mind when new vehicles are introduced. However, the Kia EV6 might actually live up to that hype.  With stunning looks, an efficient powertrain, fast charging, and topnotch technology with a great value proposition; it's easy to see how the new Kia EV6 is stellar. For those looking to try something new and step out of the current mid-size CUV, the EV6 is definitely worth a look.