Toyota has been on a role lately with adding some much needed excitement into its lineup. Look at the awesome new GR Corolla or the excellent GR86. But we can't forget where Toyota's renaissance started – the GR Supra.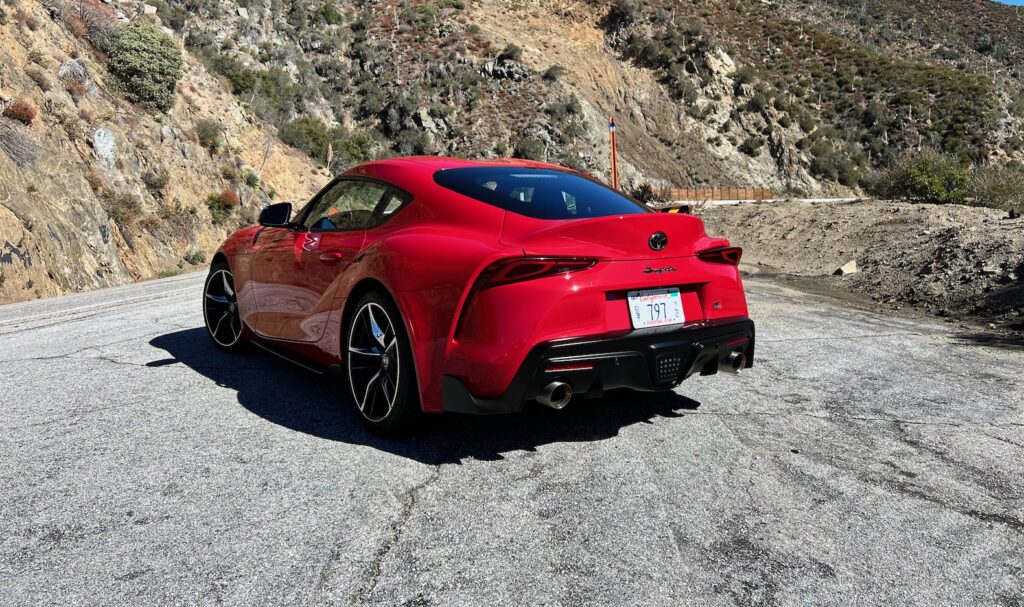 It's been a few years since Toyota brought back the iconic Supra nameplate and every year since Toyota has managed to make it even better. Yes some Toyota purists loathe the fact that the latest Supra has a lot of BMW DNA under the skin, but clearly Toyota would not have been able to make the case to bring it back without partnering with another automaker. It's way too expensive to build a dedicated sports car platform these days, especially since the market is so small for them.
The good news is that although, the Supra shares a lot with the BMW Z4, the two have personalities all their own. The Supra looks the part with its sculpted body and sleek roofline.
Under the hood buyers can choose between two engines: a 2.0-liter turbocharged four-cylinder with 255 horsepower or a 3.0-liter turbocharged inline-six with a nice 382 hp. For 2022 both engines are only mated to an eight-speed automatic transmission that sends all the power to the rear wheels. If you hold out for the 2023 Supra, you'll be happy to see that Toyota has added a six-speed manual to the options list for the inline-six.
We've driven both Supra models and by far the inline-six is the one to go with. With the 3.0-liter, the Supra can accelerate to 60 mph in less than four seconds, while it takes just a few ticks longer to reach that speed with the four-cylinder. As expected BMW's inline-six is silky smooth without any turbo lag. Punch the throttle and the Supra wakes up instantly, making it also really easy to wag the tail from a stop.
Moving past the engine options, the Supra's suspension does a great job of keeping all body motions in check, but at the same time not making the ride too stiff for everyday driving. The steering is also perfectly weighted, but we do wish that the steering wheel itself had a smaller airbag, since it looks like something out of a 90s car.
Not that most Supra buyers will actually car about fuel efficiency, but the turbocharged four-cylinder does pretty good with its 25 mpg city and 32 mpg highway ratings. The 3.0-liter is rated at 22 mpg city and 30 mpg highway.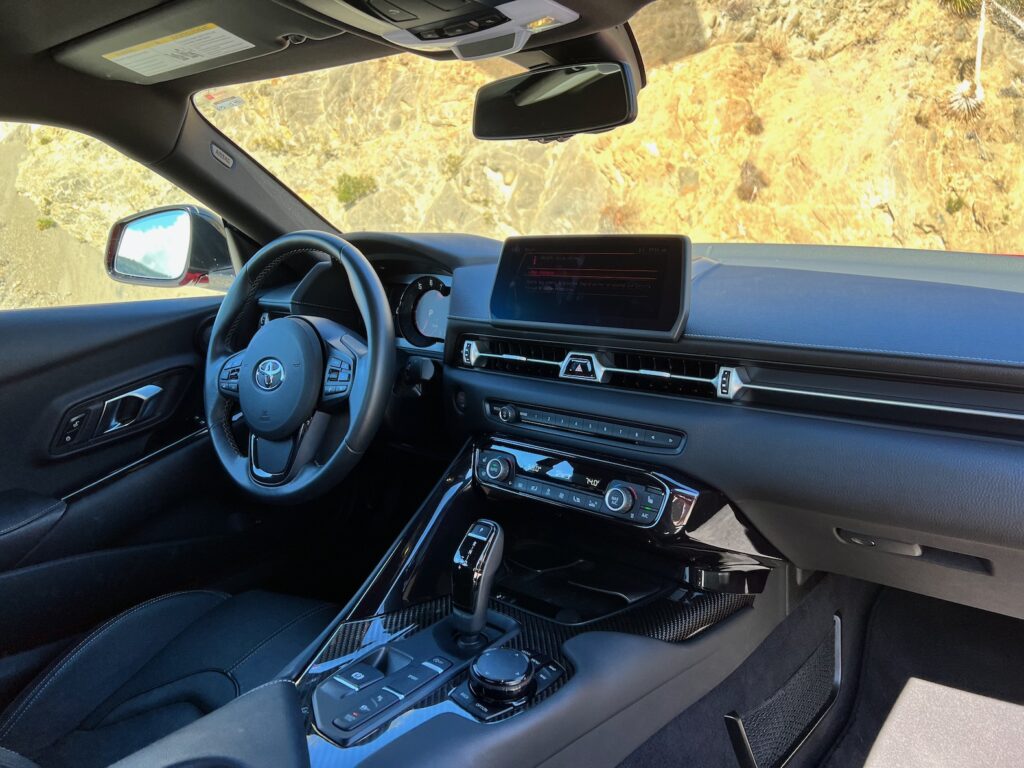 Moving to the cabin, it's actually quite snug. The low roof and slim side windows do make it feel a bit claustrophobic in the cockpit. It's also not very easy to get in and out of. Although space is at a premium, both seats are comfortable. While the Supra's exterior is all Toyota, inside there are so many parts borrowed from BMW, that you might forget that you're in a Toyota badged vehicle.
At the center of the dash, there's an 8.8-inch touchscreen, which uses BMW's iDrive system. There's also a digital gauge cluster, which fortunately looks nothing like what you'll get in a BMW.
Toyota offers the 2022 Supra in 2.0, 3.0 and 3.0 Premium trim levels, plus an A91-CF Edition. Standard features on the $44,185 base 2.0 include manually adjustable seats, leather and Alcantara upholstery, carbon-fiber interior trim, an 8.8-inch gauge cluster, keyless start, satellite radio, an 8.8-inch center display, a rear spoiler, and 18-inch alloy wheels.
The 3.0 Premium for $55,685 gets sport pedals, a head-up display, 14-way power-adjustable sport seats with driver seat memory, heated seats, a 12-speaker JBL audio system with 500 watts, navigation, wireless smartphone charging, leather upholstery, and bigger rear brakes. The $64,275 A91-CF Edition comes with a carbon-fiber aero kit that includes a front splitter, side skirts, a ducktail spoiler, and front and rear canards. It also has matte black 19-inch wheels, red brake calipers, and a red and black interior.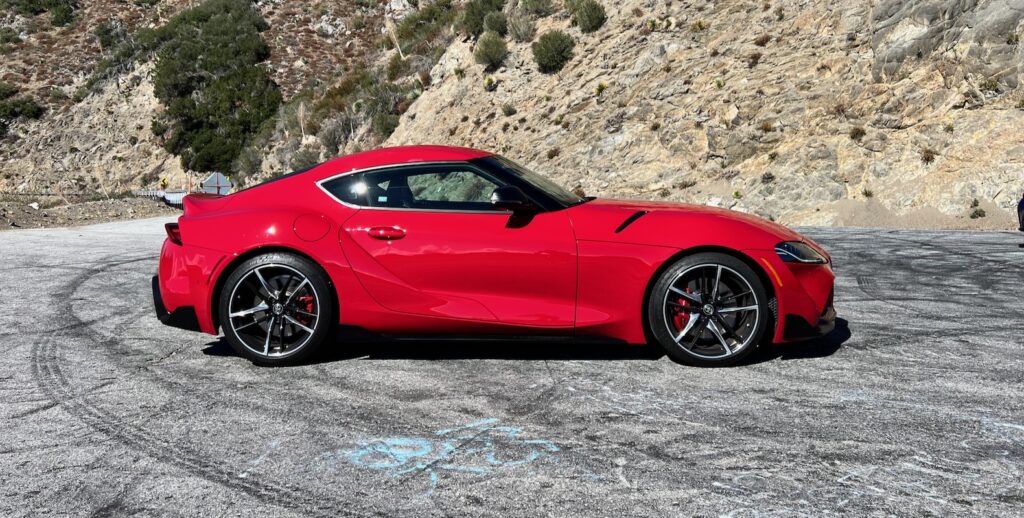 At the end of the day, the GR Supra is an excellent halo vehicle for Toyota, which proves that Toyota can put some excitement into its cars. The Supra is a blast to drive and its interior feels more premium than you might expect, thanks to all the BMW bits. Although the Supra is closely related to the BMW Z4, Supra fans needn't worry, since the Supra we have here is still worthy of that iconic badge.