We were all excited when Toyota decided to bring the Supra back, but many enthusiasts were disappointed that it was only offered with an automatic transmission. The good news is that Toyota has finally fixed it, by offering a manual on the 2023 GR Supra 3.0. With the additional of the manual transmission, there are a few other updates, but overall most everything remains the same, but it's a bit more fun with the manual.
The Supra 3.0 is only available with the manual, which means that if you go with the cheaper and less powerful 2.0-liter four-cylinder, you can only get it with the automatic. The new six-speed manual was developed by Toyota and ZF. The six-speed manual did get a larger-diameter clutch so that it can handle the 3.0-liter engine's power, which stands at 382 horsepower and 368 pound-feet of torque. There's also a rev-matching system, called iMT, that can be disabled and the final drive ratio has been shortened (3.46 versus 3.15).. Toyota says that the manual Supra can reach 0-60 mph in 4.2 seconds, which is a few ticks slower than the automatic at 3.9 seconds.
The manual does a great job of upping the "fun to drive" ratio a bit with short throws and a light clutch pedal. Toyota also moved the controls on the center console out of the way from the shift lever to improve the ergonomics.
In addition to the manual, Toyota has also given the 2023 Supra 3.0 models a few other updates, like a retuned suspension with revised shock absorbers that it says improves roll balance and ride comfort. The mechanical components in the electric power steering have also been retuned and all 3.0 models get an active rear sport differential. A new Hairpin+ function allows for more "freewheel" spin in tight bends.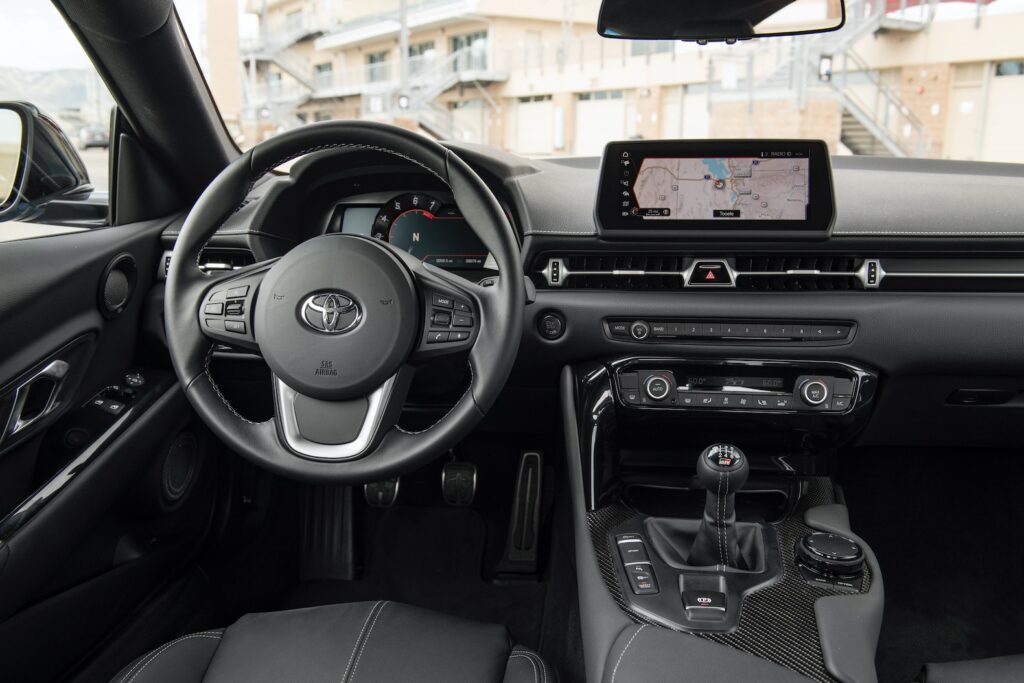 Toyota gave us some time behind the wheel of the 3.0-liter Supra with the manual transmission at the Utah Motorsports Campus. The 3.0-liter Supra packs lots of power and the sound of the inline-six is great. Around the track, the updates to the suspension are apparent with limited roll or pitching, making it even more fun to tackle the corners. The placement of the pedals is also great with the brake and accelerator pedals being placed in an ideal position.
At the end of the day, the manual adds a bit more engagement, but it doesn't really change the Supra. It's just as fun to drive as the automatic version, but the great thing is that Toyota is trying to "Save the Manual" by finally adding a manual to the GR Supra.
The pricing for the 2023 Supra 3.0 starts at $53,595, including destination, no matter which transmission you choose.