The 2022 Ford Lightning makes the most F-150 sense: it's quicker, quieter, cleaner, and reassuringly capable. The Lightning is a battery electric version of Ford's bestselling pickup truck. Shoppers might consider it over hybrid versions of the F-150, but it's the only electric work truck on the market for now. An electric Silverado arrives in 2024, and the smaller Rivian R1T is more of an adventure lifestyle pickup, same as the massive six-figure GMC Hummer EV. We'd go so far as to call it the best F-150 yet.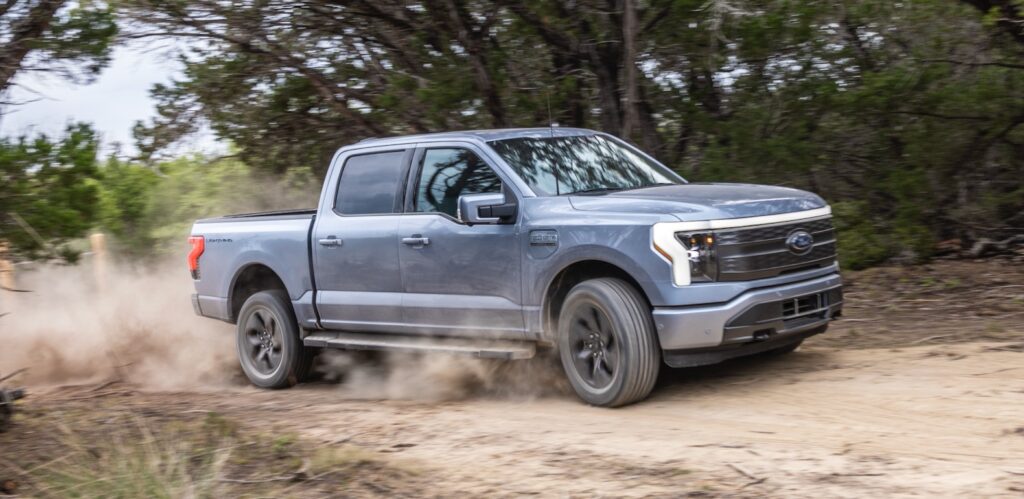 Aside from the lighting and badging, the Lightning looks like an F-150. It looks like a truck, feels like a truck, and has the same footprint and design of any other F-150, except for the front lightbar, taillights, wheels, and badging. The truck is new but the design is familiar. The standard crew cab and 5-foot-6 bed carry over from the F-150 so owners can transfer accessories between gas and electric trucks, or just to feel familiar despite the electric propulsion system that sits below it.

From the windshield back, the Lightning looks the same as the F-150 because it is the same, despite riding on a wider, stronger frame. The standard crew cab has a front window step and a crease in the rockers that span 18- to 22-inch wheel designs unique to the Lightning. Up front a single lightbar conceals a frunk with a hood that dips all the way down to the bumper and opens like a treasure chest of space.
Cleaner, quieter, quicker and as capable, the F-150 Lightning powers ahead of other trucks. The excellent propulsion system earns the Lightning two points, and its off-road capability, towing prowess, and payload capacity earn it a point. Unlike other trucks, the Lightning's calm and quiet road manners paired with its coil spring independent rear suspension don't cause unsettled handling.

The F-150 Lightning zips from 0-60 mph in the mid-four second range with the big pack, according to Ford, or 5.0 seconds with the normal pack. It feels improbably quicker due to its big and boxy surroundings, as well as a curb weight estimated to be 6,590 lb. With a motor on either axle, the setup with the 98-kwh standard pack makes 452 hp while output reaches 580 hp with the 131-kwh extended pack. With either pack, the motors conspire to produce 775 lb-ft of torque, more than any other F-150. That instantaneous torque makes passing moves a breeze, and can cause the 18- or 22-inch wheels to chirp.

The four drive modes, Normal, Sport, Off-Road, and Tow/Haul, adjust torque delivery, and the frame as well as steel skid plates protect the packs and their waterproof casing, which allows for nearly 24 inches of water fording capability. Available front and rear camera views, as well as a bed camera while towing, add sight beyond the Lightning's boxy corners. The Lightning's 4WD system and electronic locking rear-differential correct tire slip and help the truck climb effortlessly uphill. In our testing, it plowed through mud pits, negotiated ruts, and handled all the common off-road obstacles expected from an F-150. Silently.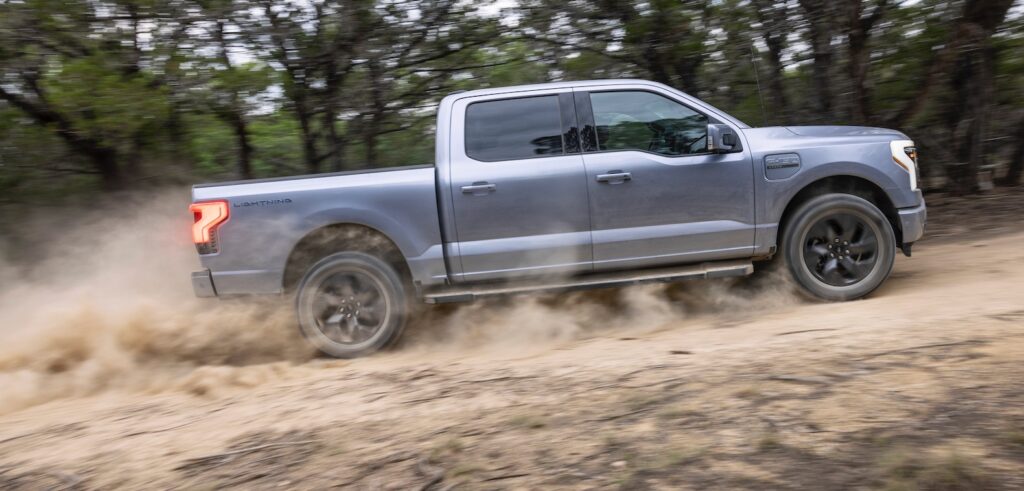 Payload maxes out at 2,235 lb in all but the Platinum trim, which can carry 1,850 lb. Brilliant onboard scales measure total weight via the touchscreen display. Towing tops out at 10,000 lb with the extended-range battery, and range will be affected by the load same as in a gas car. Just like how the onboard scales send payload weight to the cloud for the range meter to process, the towing range meter collects real-time data that factor in terrain, driving style, temperature, and elevation. Tow profiles also help exact a range estimate. In brief testing of a 9,500-lb trailer, it never strained uphill or felt like it was being pushed downhill.
The Lightning sets the bar for electric pickup efficiency. It has a 230-mile range with the standard battery pack, and the EPA equivalent of 68 mpg combined. The extended-range pack stretches the Lightning out to 320 miles (300 miles for the heavier Platinum), and the EPA equivalent of 70 mpg combined. With Ford's Home Integration System, the Lightning can charge up the house and serve as a backup generator.

In terms of efficiency, it works out to about 2.0 miles per kwh, which is inefficient for an electric vehicle (3.0 miles/kwh or above is considered good) and the best for electric trucks so far. The smaller Rivian R1T checks in at about 1.773 miles per kwh. Meanwhile the heavier, more powerful GMC Hummer EV checks in at about 1.54 miles per kwh, upholding the Hummer's reputation for inefficiency even in the EV age.

The Lightning charges via a charge port on the driver's side front fender. At its best, on Level 3 DC fast-charging at up to 150 kw, it takes about 45 minutes to charge from 15-80%, with either pack size. At home, charging times vary based on amperage. On a basic Level 2 240-volt outlet rated at 30 amps, it will take about 15 hours to charge the standard pack from 15% to full, and 20 hours with the larger pack. Ford estimates 13 miles of range per hour of charge. With a 48-amp circuit, the time drops to 10 hours and 13 hours respectively, with about 20 miles of range per hour of charge. On an 80-amp circuit recommended by Ford, the charge times for the extended-range pack drop to 8 hours, or about 30 miles per hour.

The Lightning's weight and driver-assist features should help it in crash test ratings, once finalized. The IIHS and the NHTSA have yet to weigh in on the Lightning, but its estimated 6,600-lb weight should protect it in many crashes. The standard safety features help it avoid crashes with other vehicles as well, thanks to automatic emergency braking with pedestrian detection, active lane control, blind-spot monitors, rear parking sensors, and automatic high beams.

Options include a surround-view camera system as helpful for off-roading as it is for parking, adaptive cruise control down to a stop, and emergency braking when turning at intersections. Ford's limited hands-free driving system, BlueCruise, works well on mapped divided highways to give drivers a break, but it can get confused at ramps and merges, and has a tendency to pinball in the lane until settled.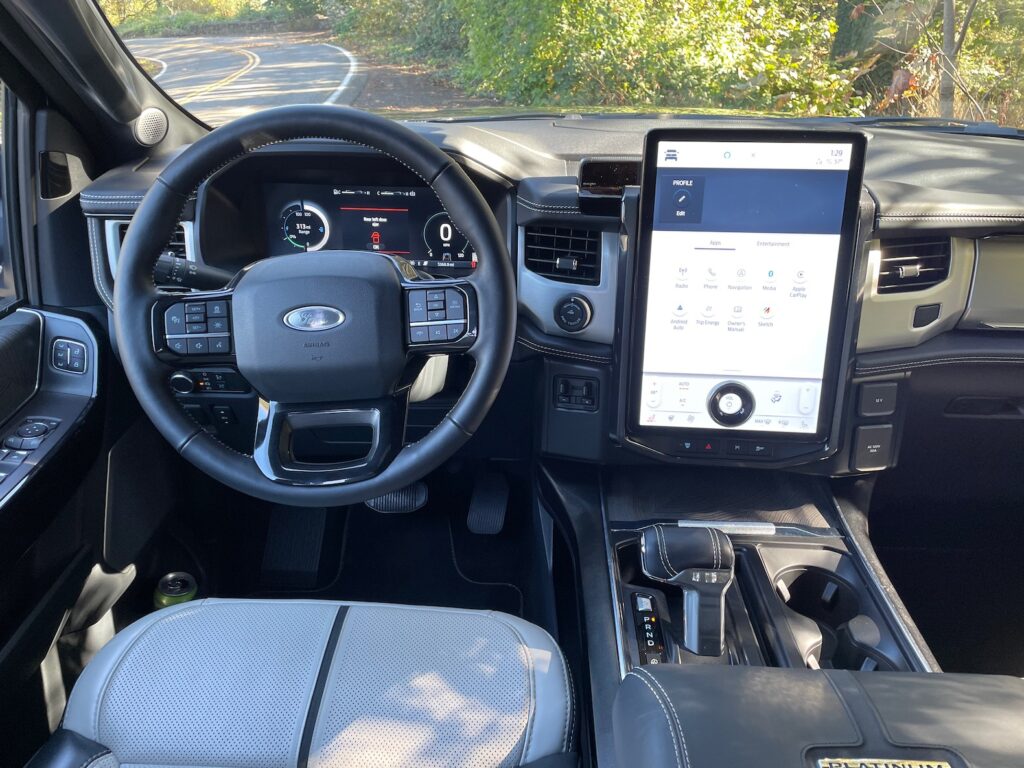 Inside, there's virtually no distinguishing the Lightning from other F-150s. Blocky shapes fill the dash like a horizontal Tetris game, with a 12.0-inch touchscreen taking the center square like Paul Lynde, and audio and climate dials below it. The available 15.5-inch touchscreen subsumes those dials and looks more slapped onto the dash than integrated into it. Otherwise, it's an F-150, split glovebox, American flag emblems, and all.
A big cab, big frunk, and innovative features extend the cargo and comfort of the Lightning. Unlike other full-size trucks, the F-150 Lightning comes in only one configuration, a roomy crew cab with a short 5-foot-6 bed. It has all of the amenities and comfort of the F-150 crew cab, even if the front seat bottoms aren't as plush as rivals, plus a massive and innovative front trunk in place of an engine. The large cab, roomy rear seats, and dual cargo holds in the frunk and bed each earn it a point to an 8.

Vinyl covers the manually adjusted front seats like a good old fashioned truck, but cloth power seats are only a step above on the XLT. A step above, the Lariat's seats come with heating, cooling, power, and memory. Massagers come standard on the Platinum grade, and they have a full recline option. Like the gas model, a stowable console gear shifter and fold-out work table is an option.

Other clever storage options include flip-up rear seats with a long lockable storage unit for expensive outdoor gear, and Ford fit the same bed as gas models so F-150 owners can interchange their accessories. In addition to ties downs and bed lighting, each Lightning has an onboard generator running from 2.4 kw to 9.6 kw, and the gate can fold down into a work surface with cup holders, clamp pockets, a bottle opener, and ruler. A retractable tailgate step with pull handle is also available.


The bed holds 52.8 cubic feet, but the real storage innovation on the Lightning happens up front with the lockable, drainable, waterproof front trunk. Because the hood dips down to the bumper, loading or unloading it with items is easier than putting it in the bed or the cab. And it's secure, so no need to fret over a tonneau cover. It can store 14.1 cubic feet, wide enough to house two sets of golf clubs, and carry 400 lb. And it can double as a cooler or power source with four 120-volt outlets and two USB ports.
Every Lighting comes with a 12.0-inch digital instrument cluster and 12.0-inch touchscreen. That's worth two points, and options ranging from heated rear seats to integrated onboard scales sweeten the pot for another point. The base Pro costs $41,660, which makes it a value on our scale, but non-fleet customers can only get the 98-kwh standard-range battery pack. Still, it all adds up to a 9.

The base Pro makes the most sense and is the best value, but the limited range is a reckoning. The Pro rides on 18-inch wheels with all terrain tires, it has eight 120-volt outlets, six USB ports, vinyl seats, and power locks and windows. It feels most like an F-150 of the bunch. To power up with the 131-kwh extended-range battery pack and get 320 miles of range, it will cost $30,000 more for the $72,474 Lightning XLT. That's $19,500 more than the standard range XLT. Ugh.

If you're splashing cash for the big pack, it makes sense to step up to the Platinum, which only comes with the big battery and the biggest price at $90,874. It has everything, from the onboard scales and BlueCruise to an 18-speaker Bang & Olufsen sound system to oak wood trim. The obtrusive 15.5-inch touchscreen dulls the Platinum's shine, however.
Every Lightning carries a 3-year/36,000-mile limited warranty, but the battery and electric vehicle components are covered for 8 years or 100,000 miles. Ford assures that the battery will retain at least 70% of its battery capacity by the end of that period.

At the end of the day, the Ford F-150 Lightning sits at the top of the growing list of full-size electric trucks. While the styling may not stand out against its gas brethren; its impressive powertrains, everyday usefulness, and capability, quickly catapult it to the top of an ever-growing field. If the F-150 Lightning is a preview of what we can expect from Ford trucks in the future, its rivals better watch out.