The 2021 Volvo S90 and V90 argue for luxury-car status with rational performance and style. The S90 and V90 are large luxury cars that offer a pretty alternative to the usual rivals, including the Audi A6, Mercedes E-Class, and BMW 5-Series. Without the pretense of luxury the S90 sedan and V90 wagon still deliver it, especially in our favorite, the exceedingly rare V90 Cross Country all-wheel-drive wagon.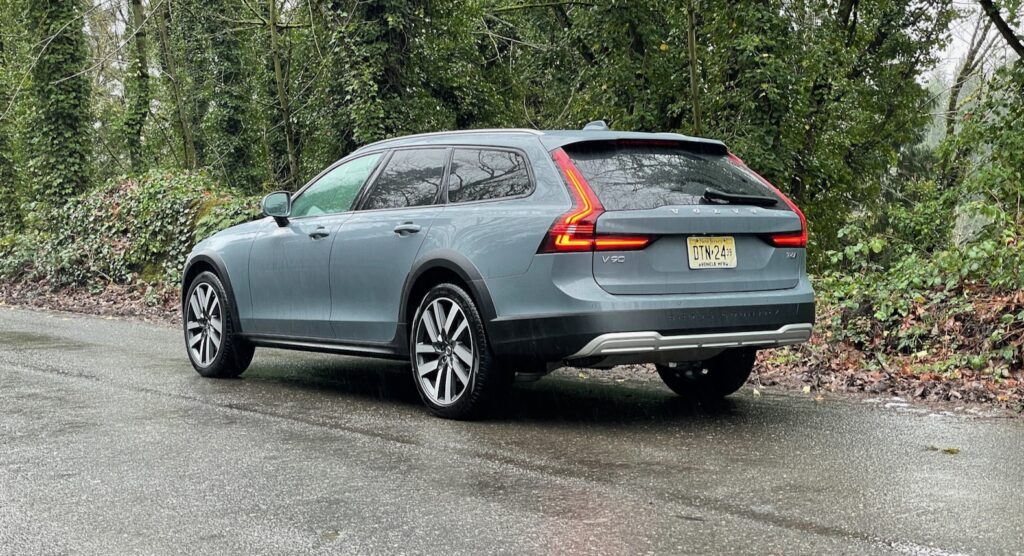 This year the S90 and V90 get minor updates to the front and rear that hardly budge the style from its classic proportions. The grille's been tweaked and the rear end has been updated, but the S90 and V90 have the long, low-hood proportions that imply luxury—and they don't need a bunch of glitzy add-ons to signify status any further. Volvo simply asks its few details to work harder, from the hatpin-shaped LED headlights to the C-shaped taillights that bracket the design with elegant simplicity. The exterior design has to work hard: Volvo's paint hues run the gamut from A to B, ranging from icy gray to icy white to an icy silver-blue.
Base V90 wagons have a 250-horsepower "T5" turbo-4 powertrain, but most of these cars get a "T6" version with supercharging that drives output to 316 hp and 0-60 mph times well below seven seconds. All-wheel drive and an 8-speed automatic give the T6 models lots of grip to match the soothing ride quality and relaxed steering feel. It's a welcome respite from the hard-edged personality baked into many rivals. There's also a T8 plug-in hybrid, with 400 hp and enough electric power for 21 miles of gas-free driving, but it's expensive and efficiency is a sort of sideline compared to its 4.8-second 0-60 mph time.


The S90 and V90 have priorities on the road (and slightly off the road)—but high-speed cornering isn't one of them. The focus is comfort, and the cars' competent handling can be accented with drive modes that build quicker responses into the throttle and steering. The S90's talent is applying a creamy layer between its tires and rough roads; with the optional air suspension, it can even mute the impact of big 19-inch wheels without making the car handle with a tense feel.

The V90 Cross Country does the best version of all of this. With more than 2 inches more ground clearance (up to 8.3 inches), it's like a larger and much more luxurious Subaru Outback. The ride height and all-wheel drive close the gap between the V90 and the XC90 SUV in the handling spectrum. We miss real wagons sometimes, but want the crossover all-weather protection; the Cross Country gives us the best of all worlds.

The IIHS says it's "Good" in all its crash tests, but takes issue with the adaptive LED headlights, calling them "Marginal." That keeps the big Volvos from earning a Top Safety Pick award as they have in the past. The NHTSA hasn't crash-tested one yet. Still, it scores an 8 here thanks to good outward vision, standard comprehensive crash-avoidance technology—including adaptive cruise control, automatic emergency braking, active lane control, and blind-spot monitors—and advanced features like Volvo's Pilot Assist driver-assistance system, which lets drivers go hands-free for short stints while the car maintains distance and handles acceleration and braking duties.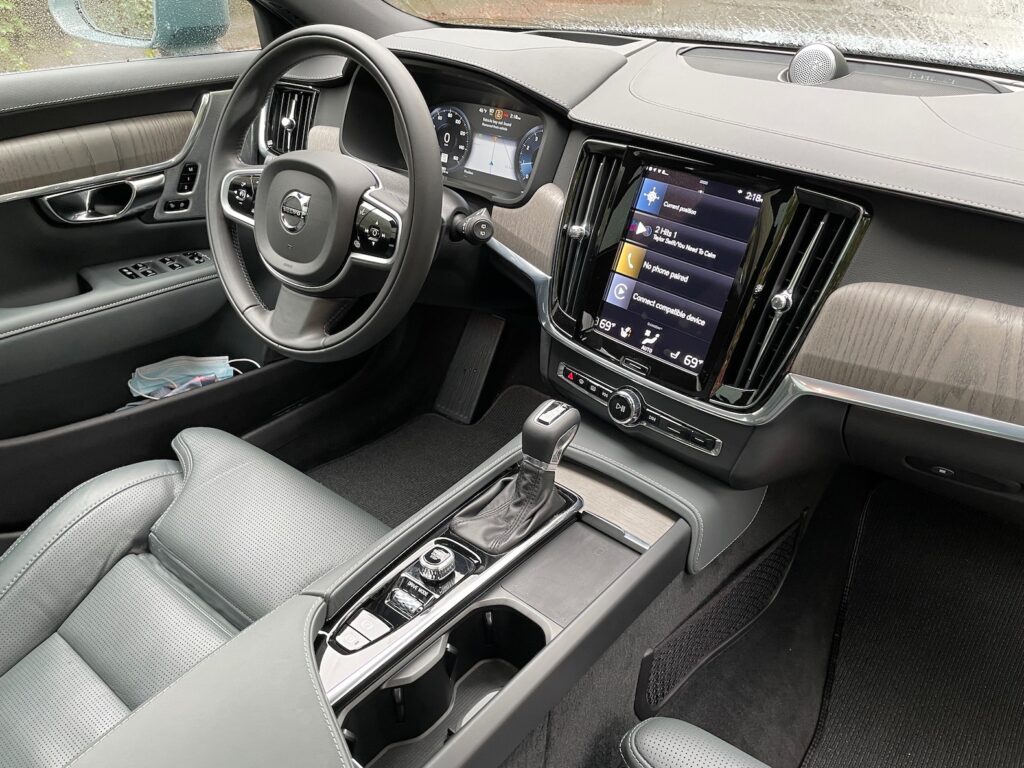 Volvo's front seats have registered regular acclaim, and the S90 and V90 are no different. Base buckets wear leather and have heating and multiple ways of power adjustment, while spendy versions have cooling and nappa leather coverings. The adjustment enables an excellent driving position for nearly every tester we've polled, and the support built into the seats seems to be good for hours-long drives for most of us.

The back seats are nearly as good, with plentiful head room and more than 40 inches of legroom. Some models sport heated and cooled seats, and the wagons have fold-down seatbacks that free up more space for road-trip finds. Trunked S90 sedans can tote up to 15.4 cubic feet, but the wagons can hold at least 25.5 cubic feet of stuff (including a 2.7-cubic-foot space below the cargo floor)—or 53.9 cubic feet of stuff behind the front seats.

Volvo stocks its biggest sedan and wagon with plenty of standard features and has a long options list. Its infotainment is very good, and so is its warranty coverage. At the start of the price ladder, the $53,190 S90 T6 has navigation, wireless smartphone charging, LED headlights, a panoramic sunroof, leather upholstery, 18-inch wheels, and power heated front seats. It also comes with a 9.0-inch infotainment screen with Apple CarPlay and Android Auto compatibility, as well as a 4-year/50,000-mile warranty that includes three free maintenance visits.

We'd take the V90 Cross Country with the T6 drivetrain, a heated steering wheel, and 19-inch wheels, at $56,540. Options on all include a head-up display, cooled front seats, and Harman Kardon sound for less than $1,000, or Bowers & Wilkins audio for more than $3,000. The S90 T8 plug-in hybrid sedan costs more than $61,000, but it is eligible for local and federal tax credits thanks to the size of its battery. Wagons come with a premium; we'd select the $56,540 V90 Cross Country anyway, with its standard T6 drivetrain, and opt into the Bowers & Wilkins audio.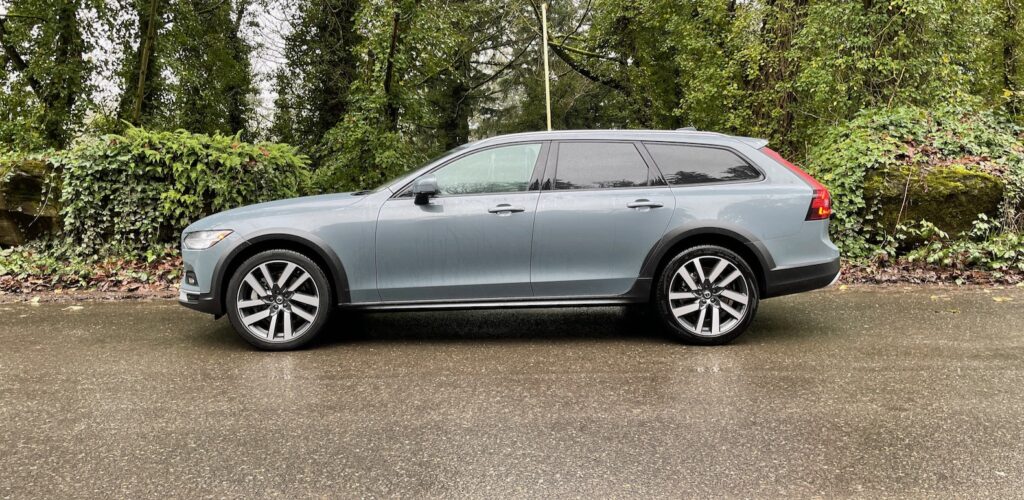 The 2021 Volvo S90 and V90 remain some of our top picks for large sedan and wagon; they do everything well and are a decent value compared to the German rivals. Which one you pick really comes down to how you'll be using it and where you're going to be driving. If funds are no issue, spring for the T8 with great fuel economy, but if you're going to be driving longer distances daily, we'd recommend getting the T6 and saving the cash. There really isn't a bad choice, because the 2021 Volvo S90 and V90 are both equally great.