The 2021 Lexus LX 570 is a hardened warrior ill-suited to most real-world uses, but still brimming with capability but few will ever use it. The Lexus LX 570 is a luxurious three-row SUV with decidedly rugged underpinnings. Compare it to the Land Rover Range Rover, Mercedes-Benz GLS-Class, BMW X7, and Toyota Land Cruiser.

With a basic design that's well over a decade old, the LX 570 largely carries into 2021 unchanged. The SUV's infotainment system gains Amazon Alexa capability (but don't look for Apple CarPlay or Android Auto), the Sport Package is revised with new trim, and the Inspiration Series adds blacked-out exterior trim.

The LX's pinched front end dives from the hood toward the pavement below, eating away at this SUV's approach angle—a demerit that matters for off-roading but isn't likely to result in a lost sale for most Lexus dealers. Inside, the LX has a low dash with a wide infotainment screen perched up high. Infotainment controls are grouped in the center console. Lexus offers a fairly wide range of interior colors and wood trims, and warmer hues suit these curves well.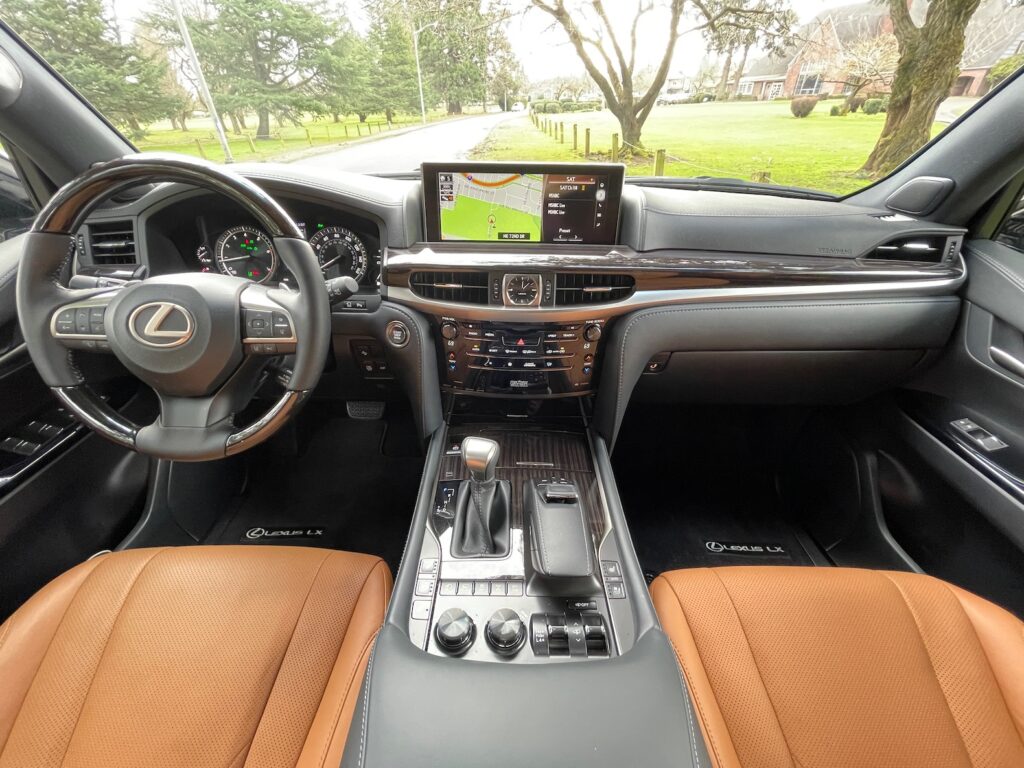 No matter the package, the 2021 LX is a big SUV that shares its underpinnings, profile, and V-8 power with the Toyota Land Cruiser. Where the LX differs is in the details. Its car-like dash has an infotainment system shared with Lexus' passenger cars, and its suspension is height-adjustable with adaptive dampers.

The 5.7-liter V-8 puts out 383 horsepower and 403 lb-ft of torque, which while no match for the 500-plus figure seen in some rivals is still enough grunt to easily move this 6,000-pound SUV. An 8-speed automatic fires off smooth shifts but hardly helps fuel economy. Figure around 15 mpg—at best—in mixed driving. The LX's speciality is in off-roading, but with a Lexus badge and a near six-digit price tag, who's rushing to scratch one?

The LX has a plush, old-school interior. It's a big step up to climb aboard, but once they're you'll find soft leather, luxurious wood trim, and high-zoot audio.Third-row jump seats are optional and work well enough for kids but not adults. Cargo space is good but not great given the dimensions; that's a trade-off for the high ground clearance that helps give the related Land Cruiser serious rock-climbing ability. That low-hanging front bumper that makes the LX stand out in a parking lot is ready to be snagged on the first mogul, though.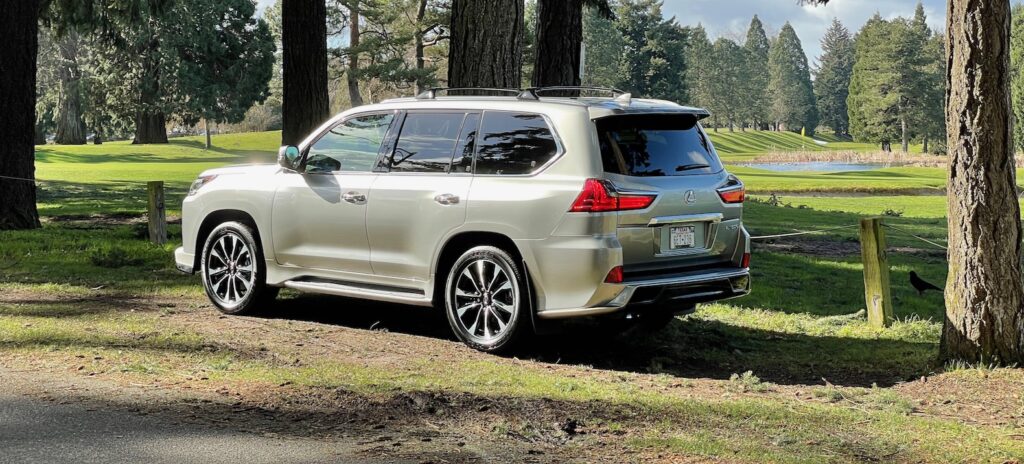 The LX hasn't been crash-tested, but it comes with a reasonable array of collision-avoidance features. While some rivals charge extra for automatic emergency braking, its standard here. Just don't look for any hands-free driving tech. You'll spend at least $87,500 for an LX 570, and most stocked at dealers are three-row versions that run around $93,000. We'd add the Luxury Package that toss in softer leather, cooled front seats, and a few other niceties. Go all in and you'll be on the hook for six figures.

Lexus' 2021 LX 570 is the Lexus of large SUVs. It's large-and-in-charge front-end styling grabs your attention, while it's cosseting interior makes the miles melt away; whether on or off-road. Yet the true Lexus virtues of reliability and world-class service aren't even visible to onlookers. The 2021 LX 570 should be on every shoppers large luxury SUV shopping list, both for what you can see, and for what lies beneath.