The 2021 Mazda 3 straddles the mainstream and upscale markets with a quality cabin, power that ranges from pedestrian to plentiful, and available all-wheel drive. The Mazda 3 is a compact sedan and hatchback that competes with mainstream cars but has upscale aspirations. Its price range fits that narrative as it starts in the low $20,000s and ranges up to the mid-$30,000s. Rivals include the Honda Civic, Toyota Corolla, Volkswagen Jetta, and Hyundai Elantra. The Mazda 3 meets the needs of a wide range of buyers by offering good looks, verve, practicality, and frugality. It comes with standard front- and available all-wheel drive and a range of three 4-cylinder engines.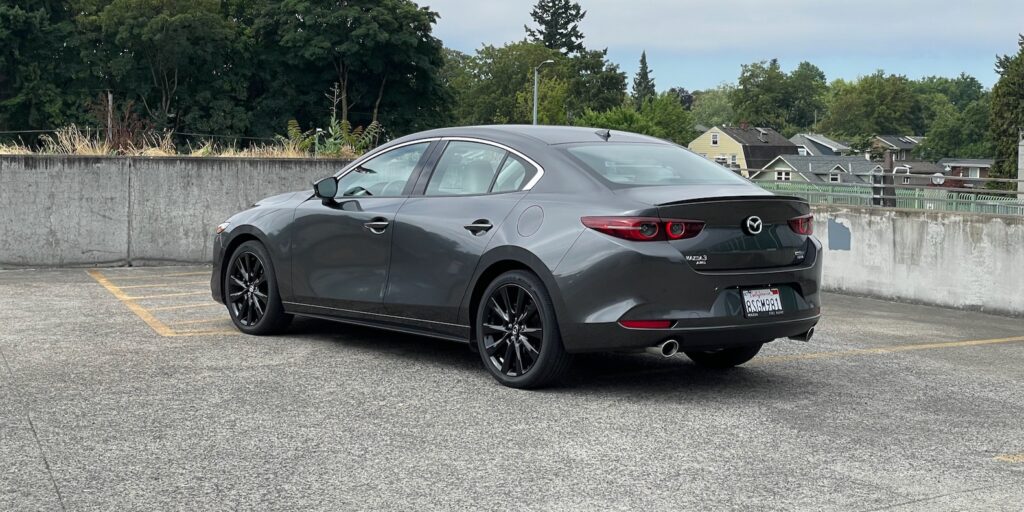 The big news this year is the addition of the 2.5 Turbo models with a 2.5-liter turbo-4 that makes 227 horsepower and 310 pound-feet of torque (250 hp and 310 lb-ft on premium fuel). These models sit at the top of the lineup and come packed with features, though they aren't appreciably sportier, just faster. The Mazda 3 sedan comes in three model lines based on engine. The base model is the 2.0 and it's only offered for the sedan. The 2.5 S sedan and hatchback come in Select, Preferred, and Premium trim levels. At the top of the lineup are the new 2.5 Turbo and 2.5 Turbo Premium Plus.

All models feature a sleek, forward-canted shield-like grille and soft curves along the sides rather than sharp character lines. Both the sedan and hatchback cut a traditional silhouette, and we think the sedan is particularly sharp. The hatchback, however, has thick rear pillars that give it a very avant garde presence. All models boast attractive cabins with upscale, padded materials and smart bits of metal trim. The 2021 Mazda 3 2.0 model starts at $21,445 and the 2.5 Turbo Premium Plus tops out at $34,695. All-wheel drive adds $1,400 on 2.5 S models and comes standard on Turbos.


The 2.0 has decent but not great features for the money, highlighted by power accessories, LED headlights, and 16-inch alloy wheels. The standard safety feature list is more impressive. It includes automatic emergency braking, automatic high beams, a driver-attention monitor, adaptive cruise control, and active lane control. The Mazda 3 has performed well in crash tests. All Mazda 3s are tuned for a balance of comfort and control, though we wouldn't call them sporty like we would in the past but they're much more grown up. That fits into Mazda's goal of taking the 3 upmarket, though the torsion beam rear suspension is low-tech and only the bigger engines are best at realizing that goal.

Attractive inside and out, the 2021 Mazda 3 feels upscale. Both body styles are attractive, though we like the hatchback more than the sedan. The sedan boasts smart, clean proportions, while the hatchback has large rear pillars that make it look retro yet futuristic at the same time. All models feature a wide, shield-like grille that's canted forward. Narrow headlights spring from the grille to create an attractive front end reminiscent of Aston Martin design. This headlines what are otherwise conventional sedan and hatchback profiles detailed with soft, gentle contours rather than sharp cutlines. The sedan's long roofline contributes to almost mid-size proportions, though it remains a compact. The hatchback is 8 inches shorter and its thick, chunky rear pillars dominate the elegant design.
The Mazda 3's dynamic strengths are a refined ride and ready power for two of the three engines. More refined than sporty, the 2021 Mazda 3 offers a controlled, comfortable ride, with power choices ranging from weak to satisfyingly strong. While the Mazda 3 comes standard with front-wheel drive, buyers can get all-wheel drive for $1,400 more. The base 2.0-liter inline-4 makes only 155 hp and is not the choice we'd recommend. However, by compact car standards, the 2.5-liter inline-4 is big and fairly powerful, spinning out 186 hp. It's power comes on in a linear fashion, and it requires heavy throttle to tap into its best performance.

For 2021, Mazda adds a 2.5-liter turbo-4 to the mix that makes 227 hp and 310 lb-ft of torque. It's surprisingly linear, without the swell of power that might be expected in a turbocharged car. It vaults the Mazda 3 from 0-60 mph in less than six seconds. Expect the naturally aspirated 2.5-liter inline-4 to deliver a mid-seven-second 0-60 mph time and the base engine in the eights. All of the engines offer a throaty growl at wide-open throttle, but not disturbingly so. All models come standard with a 6-speed automatic transmission. While it shifts smoothly and stays in the background except in Sport mode, it has fewer gears than some rivals and that leads to lesser fuel economy. A slick-shifting 6-speed manual is only offered with the naturally aspirated 2.5 on a higher-line model. We prefer it and would like to see it made available on more trims.

Mazda tunes the ride and handling for maturity. The front end responds well to the nicely weighted, direct steering, but the car has more body lean than previous generations and its transient responses aren't very agile. Still, it can be fun on a twisty road, and the available all-wheel-drive system puts down the power when exiting a turn. A stiff structure and soft dampers create the balance of ride and handling. The suspension eats up bumps and ruts. The torsion beam rear suspension is unsophisticated for the Mazda 3's upscale aspirations, but regardless we found the ride to be well controlled.
The 2021 Mazda 3 offers good but not great fuel economy with any of its three engines. Like most compact cars, the 2021 Mazda 3 is fairly efficient, though others are thriftier at the pump. The most-efficient versions are the least powerful, but the 2.5 S and 2.5 Turbo models still do fairly well respectively. With the base engine and front-wheel drive, the 2021 Mazda 3 is EPA rated at 28 mpg city, 36 highway, and 31 combined. Move up to the 2.5-liter inline-4 and the Mazda 3 sedan gets 26/35/30 mpg with front-wheel drive and 25/33/28 mpg with all-wheel drive.
The shorter, less aerodynamic hatchback suffers a penalty of 1 mpg combined with front- or all-wheel drive. The hatchback is also offered with a manual transmission and the 2.5-liter inline-4. It comes only with front-wheel drive and gets 24/33/27 mpg. The new 2.5 Turbo model gets 23/32/27 mpg with front drive and 23/31/26 mpg with AWD. While the naturally aspirated engines run on regular unleaded fuel, the turbo-4 can use either regular or premium fuel, which only affects its power output. Our zoom zoom Mazda 3 Turbo all-wheel-drive hatchback averaged a respectable 26.1 mpg in its week of hot heeled testing with us.
The Mazda 3 is one of the safer compact cars on the market. According to the agencies that crash-test cars, the Mazda 3 is very safe. The NHTSA gave the 2021 Mazda 3 a top five-star rating and the IIHS awarded the 2020 model its highest honor of Top Safety Pick+. The 2021 results from the IIHS aren't in, but we expect the same scores. With those crash-test scores and good standard and optional safety equipment, we give the 2021 Mazda 3 a 9 for safety. Standard safety features include automatic emergency braking with pedestrian detection, active lane control, automatic high beams, adaptive cruise control, and a driver-attention monitor. Buyers can also get blind-spot monitors, rear cross-traffic alerts with automatic emergency braking, adaptive headlights, traffic-sign recognition, a traffic jam assist system, front and rear parking sensors, and a surround-view camera system.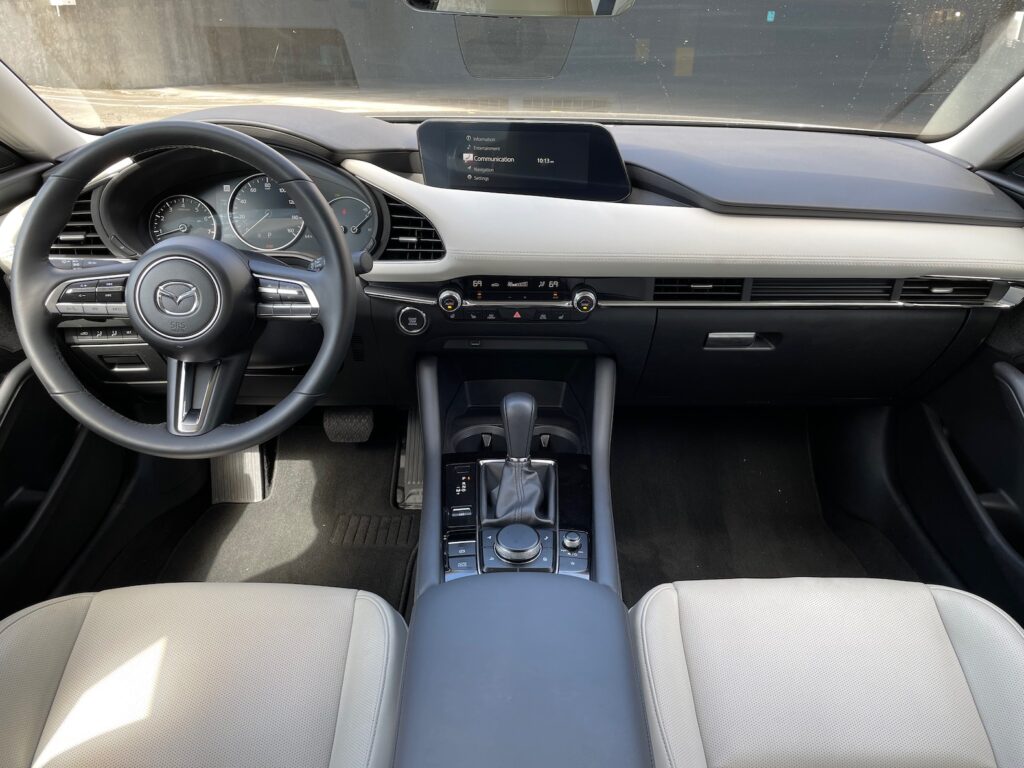 While the Mazda 3's interior space is average for the class, the appointments and design are clearly upscale. The interior features a low beltline, a fine combination of light and dark hues, bits of well-placed brightwork, and copious soft touch surfaces that all suggest an upscale car more than an economy compact. The center screen seems to grow out of the dash and is fairly far away but that's OK because it doesn't have touch controls. Mazda's upmarket intentions are most apparent on the interior. The upscale approach isn't entirely evident in the base models where the 3 has manually adjustable front seats. However, 8-way power adjustments are standard on Preferred trim and above and all seats have good bolstering for a supportive driving experience.
The small-diameter, thick steering wheel also works with the seats to create a sporty driving position with plenty of space for most body types. Inside, the 3 has good room up front and decent room in the back. The hatchback doesn't offer much more cargo space due to its shorter length. While the Mazda 3 has a relatively long 107.3-inch wheelbase, rear seat space is average for a compact car. The rear seat will fit a 6-footer behind a 6-footer, but not much more. The sedan has a 13.2-cubic foot trunk (12.7 with AWD), and the hatchback has just 20.1 cubic feet.
The 2021 Mazda 3 has generous lists of standard and optional features. The Mazda 3 runs the gamut from affordable to upscale. It's not the economy car it once was and at the top of the lineup it aims to compete against the likes of Acura, Audi, and Mercedes-Benz. Mazda offers its compact sedan and hatchback in 2.0, 2.5 S, 2.5 S Select, 2.5 S Preferred, 2.5 S Premium, 2.5 Turbo, and 2.5 Turbo Premium Plus trims.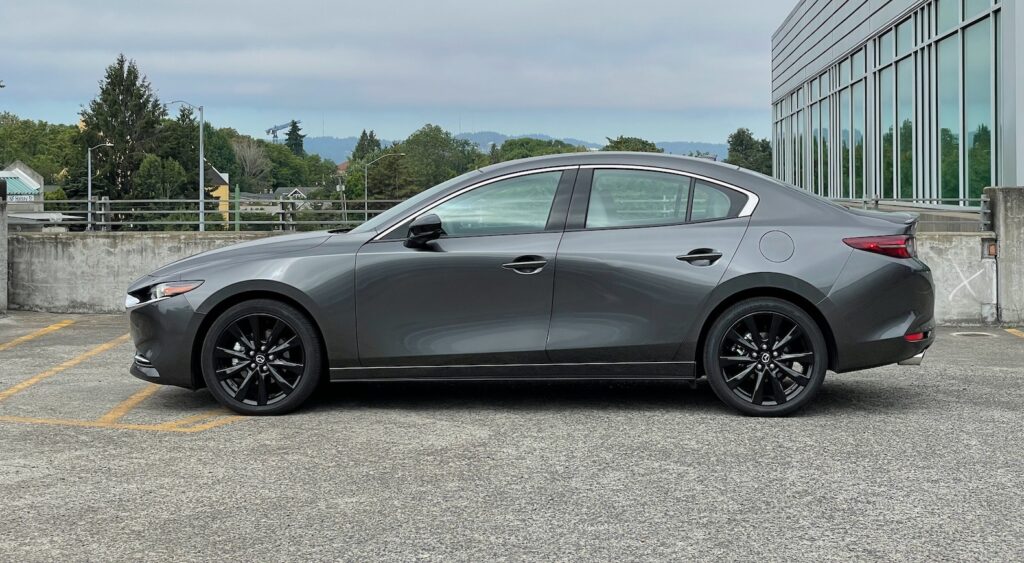 The base 2.0 model costs $21,445 and comes with cloth upholstery with manually adjustable front seats, power door locks and windows, keyless ignition, an eight-speaker sound system, an 8.8-inch infotainment screen with a rotary controller, LED headlights, and 16-inch alloy wheels. We prefer the stronger engine and better equipment of the 2.5 Select, which runs $23,645 for a front-drive sedan or $24,645 for a front-drive hatchback. All 2.5 Select models come standard with Apple CarPlay and Android Auto compatibility, synthetic leather upholstery, a leather-wrapped steering wheel and shift knob, and 18-inch alloy wheels. We could also see going for the 2.5 S Preferred package, which costs $25,295 for the front-drive sedan and $1,000 more for the hatchback. It adds an eight-way power-adjustable driver seat with power lumbar adjustment, driver seat memory, heated front seats, and a sunroof.

The 2.5 Turbo models represent the new top of the lineup for 2021. They come standard with all-wheel drive and start at $30,845. The most-expensive model, however, is the 2.5 Turbo Premium Plus at $33,395 for the sedan and $34,695 for the hatchback. It's equipped with a Bose 12-speaker audio system, leather upholstery, paddle shifters, satellite radio, navigation, a heated steering wheel, and additional safety features. The Mazda 3's 8.8-inch screen lacks touch controls and is run through voice commands or a rotary dial on the center console. The display is crisp, but the rotary dial requires far too many clicks and spins to perform simple functions, which will leave drivers using steering-wheel controls, voice commands, or Apple CarPlay/Android Auto smartphone integration.
Mazda's 3 is pretty close to perfect by impressing on many levels, the new for '21 Turbo only makes it more so. For a reasonable amount of money you get spunky driving dynamics, a comfortable and refined interior, and with the hatchback, stunning styling. Blend in Mazda reliability and the 3 becomes a standout. Small-car buyers would do well to add the Mazda 3 to their shopping lists because zoom zoom is finally back.
For all your new car shopping needs, check out: drivevise.com Vehicle shopping made simple!