The 2021 Kia Seltos combines the practicality of the hatchback Soul in a larger package with the automaker's low price and astounding warranty. It's Kia's answer for buyers who've asked for an all-wheel-drive Soul for more than a decade. The Seltos is slightly larger than the Soul and strikes out in its own styling direction, although the most attractive part of the small crossover likely will be its low starting price of about $23,000 with all-wheel drive included.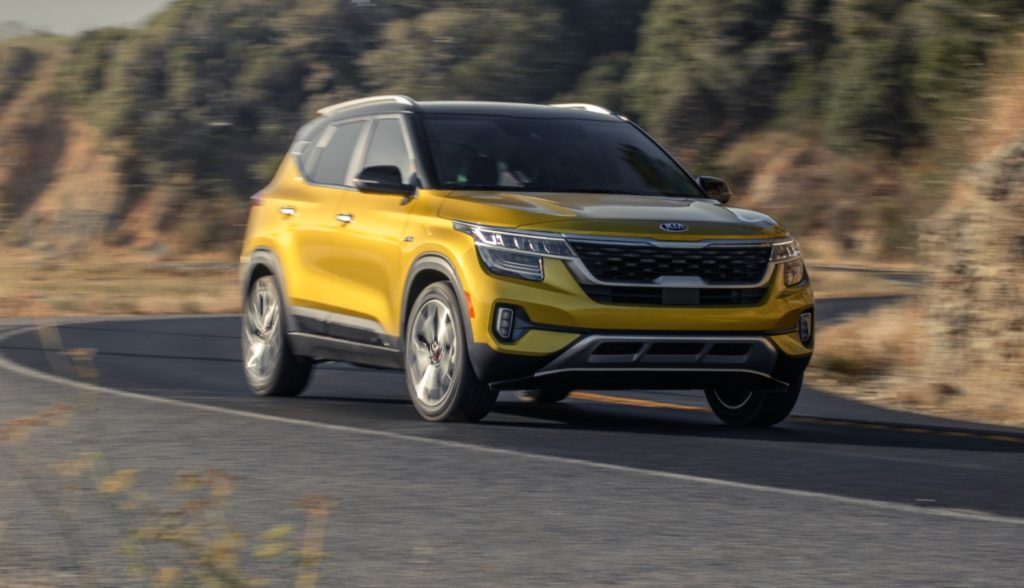 For its first year on sale, the Seltos is available in LX, S, EX, and SX trim levels. An X-Line with more rugged off-road styling is rumored to arrive soon, although Kia's mum on those details.  The Seltos doesn't look like any other Kia crossovers aside from its shared nose. Although the Seltos is roughly the same size as the Soul, it's taller and longer, with an edgier look that's more apparent in its front and body sides. Deep creases in the hood and angular fog lights add to the flair, a "floating" roof completes it.

Most Seltos crossovers will get a 2.0-liter inline-4 that makes 146 horsepower mated to a continuously variable automatic transmission (CVT). All-wheel drive is standard on most models except for one front-wheel drive base trim. We haven't yet driven the base engine, but based on other experiences with it in other vehicles by Kia and parent-company Hyundai, we're relatively sure it'll be competent—although hardly speedy. The optional engine is a 1.6-liter turbo-4 that makes 175 hp paired to a 7-speed dual-clutch automatic transmission and all-wheel drive. The all-wheel-drive system is geared toward dusty trails and easy two-tracks, if the Seltos ventures even that far.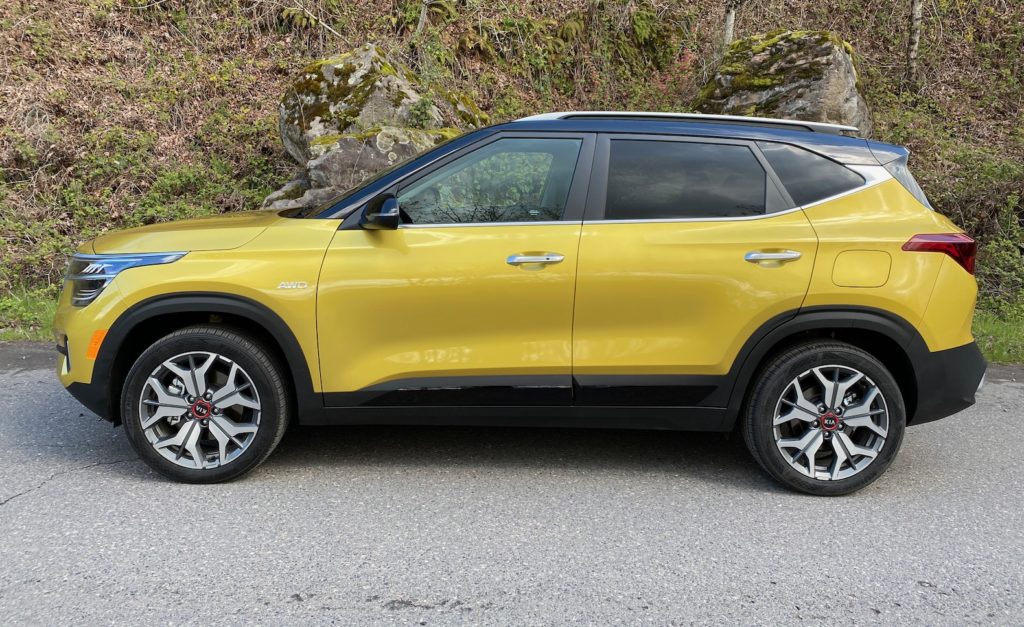 Kia offers two base versions of the Seltos—with all-wheel drive and fewer conveniences, or without all-wheel drive and a few more creature comforts—that start around $23,000. We'd step up to the $24,610 Seltos S with all-wheel drive for its active safety features, 17-inch wheels, and exterior accents that base versions skip. All crossovers get an 8.0-inch touchscreen for infotainment with Apple CarPlay and Android Auto compatibility, Bluetooth connectivity, cloth upholstery, and two USB chargers. The top Seltos SX adds a 10.3-inch touchscreen, wireless charger, synthetic leather upholstery, the uprated turbo-4, and Bose audio for nearly $30,000.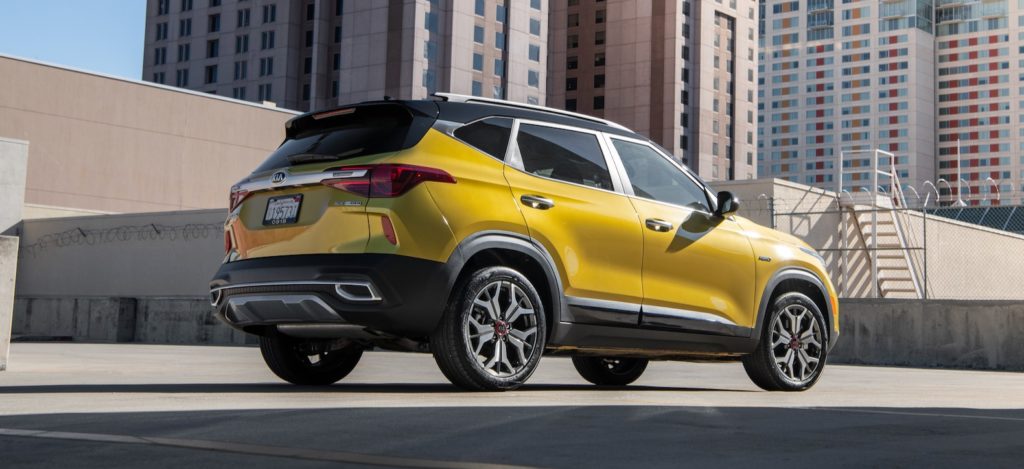 With a unique European flair, the 2021 Seltos is a handsome small crossover. Striking out in a new direction, the 2021 Kia Seltos bears only a small resemblance in the nose and grille to the rest of Kia's crossovers and the rest of the lineup. Its European flair and available contrast roof are handsome from far away. The nose and hood are deeply creased, with headlights that stretch across the fenders and bookend the grille. The honeycomb grille is a good look for the Seltos and daytime running lights sit directly underneath the thin, horizontal headlights. Vertical fog lights sit low on the front bumper are connected with a body-colored bumper that makes the Seltos look tall. Around the sides, the Seltos' continental look is underscored by a "floating" roof and chrome strip underneath the windows. We can see a lot of Volvo's XC40 in the Seltos; that's a good thing. A floating chrome strip connects the two rear taillights and chrome wraps around the lower bumper to simulate dual exhaust ports.
The 2021 Seltos is sure-footed and comfortable where it counts. The new 2021 Seltos is powered by a familiar duo of powertrains found in crossovers, wagons, and hatchbacks made by Kia and parent-company Hyundai. Their performance is on par in the Seltos. The good news: Most Seltos crossovers will be equipped with all-wheel drive that helps the small 'ute scramble up trails and snowy roads. The top engine choice is still a little hampered by it's mandatory dual-clutch transmission that can be herky-jerky at low speeds, but the reward is super smooth shifts at speed.

The Seltos starts off with a 2.0-liter inline-4 that makes 146 hp. It's teamed to a CVT that most often powers all four wheels. Front-wheel drive is standard on base versions. We haven't had a chance to drive versions equipped with this engine, although we've had experience with it in the Soul that weighs about 200 pounds less. It's not particularly speedy, but it is adequate and it's paired with the better of the two available transmissions. Our week in the Seltos was behind the wheel of SX Turbo models equipped with a 1.6-liter turbo-4 that makes 175 hp and mated to a 7-speed dual-clutch automatic that drives all four wheels. The 7-speed is incrementally better than previous iterations that have appeared in other Kia vehicles. In the end, the turbo-4 is still the fun choice.
The Seltos rides comfortably with little body roll and lean in the corners, and its four-wheel independent suspension is tuned to be soft compared to the Soul. Base versions with front-wheel drive get a slightly different setup, although we haven't yet driven those. The all-wheel-drive system is geared more toward dusty trails and all-weather conditions. If off-roading is a priority for your small crossover, the Jeep Renegade or Subaru Crosstrek are likely better picks, but the Seltos does give you the ability to lock the differential.
The 2021 Seltos is fuel-efficient despite an all-wheel-drive system that's standard on most models. The EPA rates the 2021 Seltos at 27 mpg city, 31 highway, 29 combined in its most popular configuration, which is a 2.0-liter inline-4 with all-wheel drive. Front-drive base models do slightly better at 29/34/31 mpg, according to the EPA. Stepping up to a 1.6-liter turbo-4 in top trims drops fuel economy to 25/30/27 mpg. In our week with the SX Turbo we averaged 27.6 mpg according to the trip computer. Compared to other small crossovers, the Seltos is competitive but not ahead of the class. The 2020 Subaru Crosstrek rates 30 mpg combined and the Honda HR-V nets 29 mpg combined, according to the EPA, but both of those are a lot less powerful than the Turbo. Other crossovers such as the HR-V and Hyundai Venue, a cousin to the Kia Soul, are more fuel-efficient without all-wheel drive.
The 2021 Seltos lacks any official crash-test data from any of the major rating agencies. Base versions of the Seltos skip automatic emergency braking that ideally would be standard. The Seltos S gets automatic emergency braking, active lane control, and automatic high beams. With the uprated turbo-4 S Turbo model, it adds blind-spot monitors and rear cross-traffic alert. Top Seltos SX Turbo add adaptive cruise control and a driver-assistance system that can help steer the Seltos for long drives to reduce driver fatigue. It'll keep the Seltos centered in its lane in gentle curves. The Seltos has good outward vision all the way around with small windows toward the rear that boast outward visibility.
Small crossovers still have big space and the 2021 Kia Seltos proves it. It's the smallest crossover in the Kia lineup, but no less versatile. Four adults can fit comfortably inside the Seltos, five in a pinch. If traveling with five, you might want to keep the trips short. The rear seats recline for better long haul comfort and the seats are reasonably comfortable for the Seltos' low price. There are more than 26 cubic feet of cargo space behind the second row and with those seats folded that space expands to more than 60; plenty of room for your gear. Like the slightly smaller Soul, the Seltos is a relative wonder of interior packaging.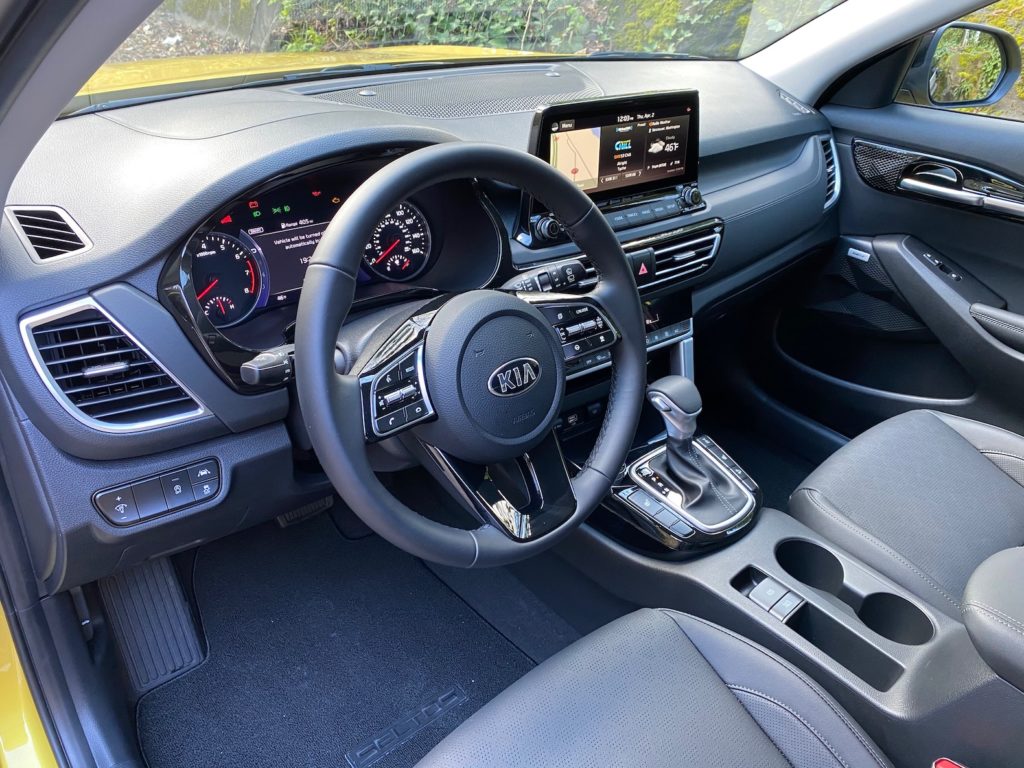 Inside, the Seltos has an asymmetrical cockpit that cants toward the driver with a mixture of textured hard black plastic, glossy plastic, and soft-touch vinyl. The interior is dressed up with small pieces of chrome and some odd high-gloss surfaces on the console and steering wheel. Most versions will be equipped with an 8.0-inch touchscreen that's perched on the dash, although a 10.3-inch touchscreen is available on SX versions. The front seats are wide and supportive. Base versions get a cloth upholstery that feels durable and hard-wearing. Most versions will get contrast stitching and some synthetic leather inserts for a more interesting look. In back, 6-footers can sit behind other 6-footers with good leg room and toe room. Warring children will have to fight over the lone USB charger in the back, but at least there's one. The rear seats recline several inches for long-haul comfort, which is relatively novel among small crossovers.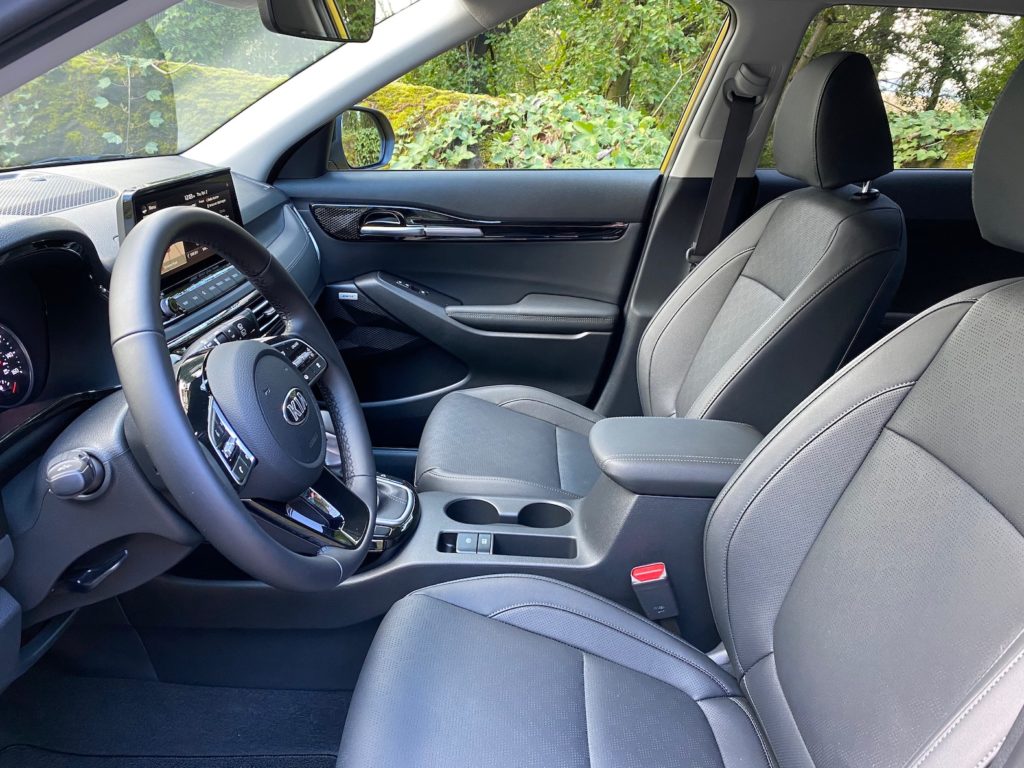 For a small crossover, the 2021 Seltos has big ideas: a strong mix of value features and great warranty, just skip the base version. New for this year, Kia offers the 2021 Seltos in LX, S, EX, and SX trim levels. Two base models share the same cost: $23,110, including mandatory destination charges. The base Seltos LX is equipped with all-wheel drive but lacks key features including automatic emergency braking. The base Seltos S gets automatic emergency braking, but lacks all-wheel drive. Neither of those models are our first choice, but both of those base models are equipped with an 8.0-inch touchscreen with Apple CarPlay and Android Auto compatibility, Bluetooth connectivity, cloth seats, 17-inch wheels, and power features. In lieu of all-wheel drive on the base Seltos S, that version gets a few more niceties such as chrome accents on the exterior, a leather-wrapped steering wheel, fog lights, and contrast stitching inside. Heated seats are also optional.

Instead, we'd opt for a Seltos S with all-wheel drive that costs $24,610 and adds better-looking 17-inch wheels, active safety features (covered above). An uprated turbo-4 is $2,000 more, but isn't needed unless you have a lead foot like us. The Seltos EX costs $1,800 more than the Seltos S, but skips the uprated turbo-4 in favor of convenience features such as a sunroof, 18-inch wheels, synthetic leather upholstery, and power-adjustable seats. It's a close second to the Seltos S AWD for value. The top Seltos SX Turbo costs $29,010 and goes all-in on features and options. It adds a 10.3-inch touchscreen, all-wheel drive, the turbo-4, synthetic leather upholstery, 18-inch wheels, LED lights, blind-spot monitors, driver-assistance systems, and a 7.0-inch digital information screen for the driver. It's well-equipped, but also well into Kia Sportage territory. All Seltos get Kia's outstanding 5-year/60,000-mile comprehensive warranty.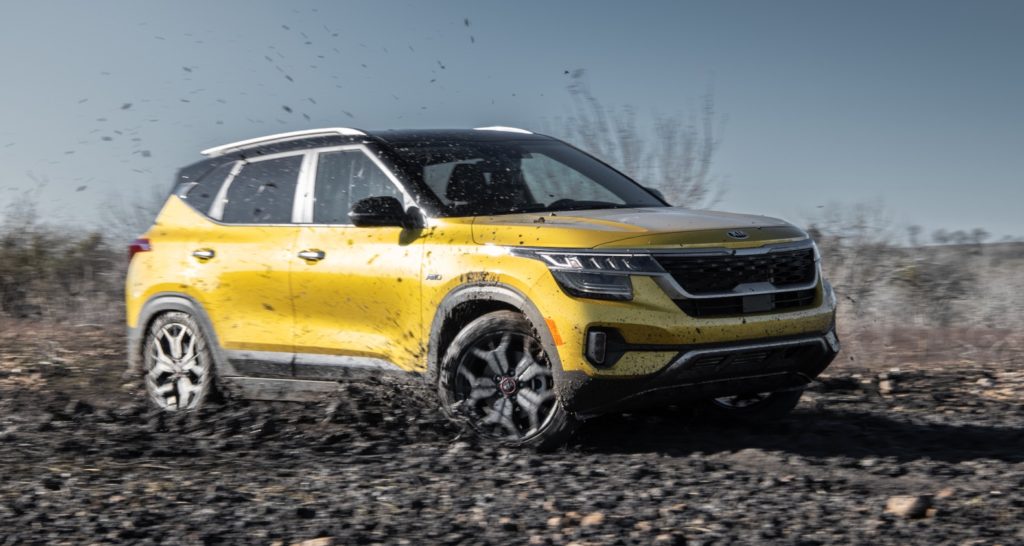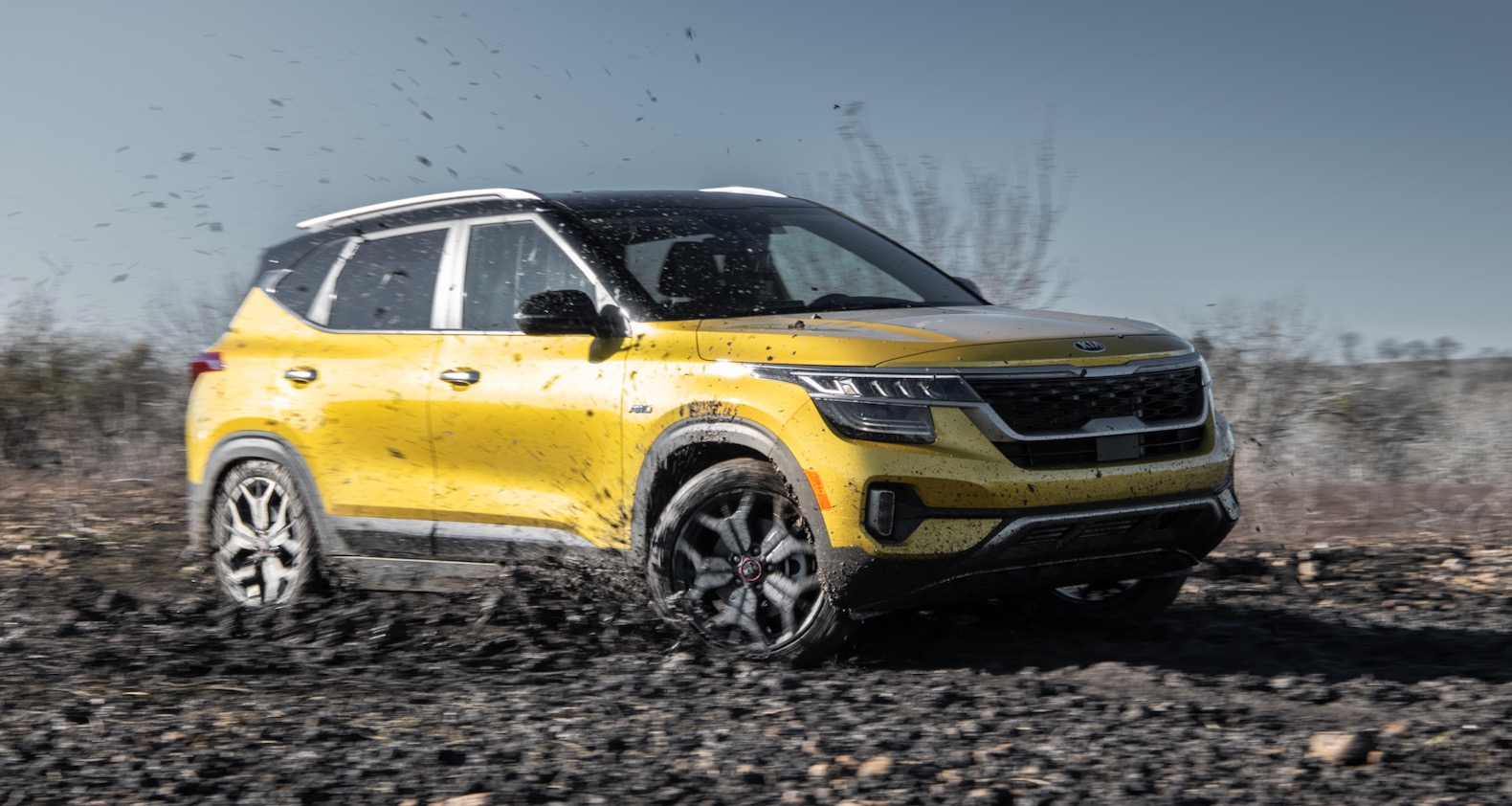 The 2021 Kia Seltos is an impressive new-comer to the small SUV segment. Fresh styling, modern technology, and clever packaging help the new Seltos stand out. Add in great value with a strong warranty and you easily have a winner. The 2021 Kia Seltos is definitely worth a look.
For all your new car shopping needs, check out: drivevise.com Vehicle shopping made simple!