The 2020 Toyota Sequoia is a thirsty, large SUV that hasn't changed much in the 12 model years the current design has been on the market. An upgraded TRD Pro trim level this year adds serious off-road hardware to a lineup that includes mainstream SR5, TRD Sport, Limited, and Platinum trim levels. The supertanker three-row Sequoia will barely squeeze into most suburban garages, and it offers room for up to eight passengers in three rows. Cargo space behind the third row is adequate. Fold the second and third rows flat and it's spacious enough for just about any weekend hardware store run. The truck-based Sequoia is powered by a 5.7-liter V-8 rated at a healthy 381 horsepower, but its 6-speed automatic transmission is down on gears compared to rivals. With a towing rating as high as 7,400 pounds, the Sequoia won't out-lug some beefier rivals, though it's a stable hauler.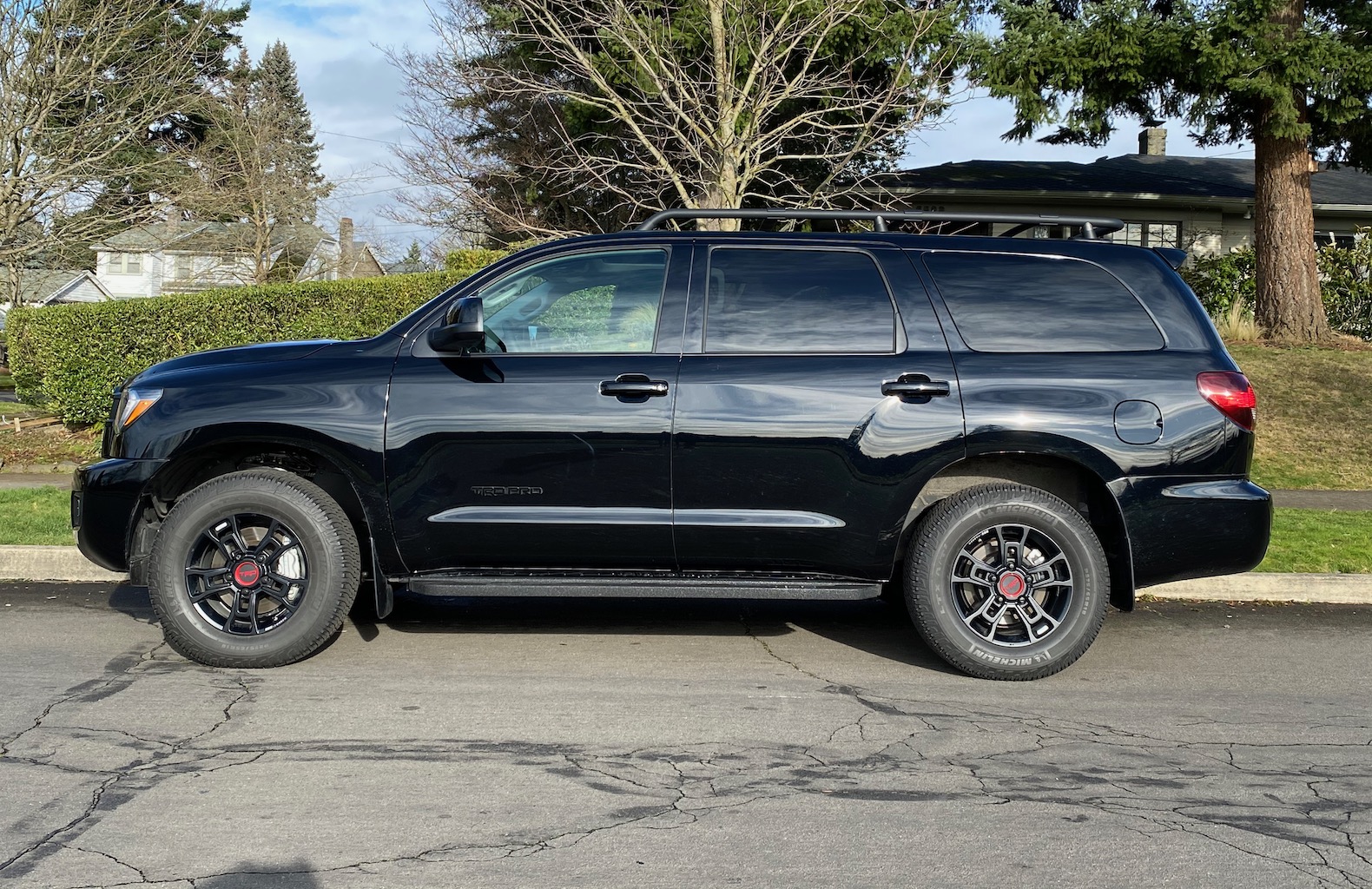 This year's upgraded TRD Pro is a formidable four-wheeler, at least for the handful of buyers who want impressive off-road capability in a big Toyota not named Land Cruiser. Most shoppers are best served with the entry-level Sequoia SR5. At upward of $50,000, it is not inexpensive, though newly standard Apple CarPlay and Android Auto compatibility at least bring it up to par. At least the Sequoia comes standard with a good array of collision-avoidance features as well as convenient adaptive cruise control, which are features GM charges a hefty premium for.
The 2020 Toyota Sequoia has aged gracefully with its basic design dating back more than a decade. The Sequoia's two-box shape is conventional, with a few curves to liven things up. Most trims look the same aside from dressier wheels the more you spend. This year's new TRD Pro trim adds a honeycomb grille with "Toyota" stamped across the middle, cast-aluminum running boards, blacked-out exterior bits that look chunky, plus all-terrain tires that deliver the goods off-road.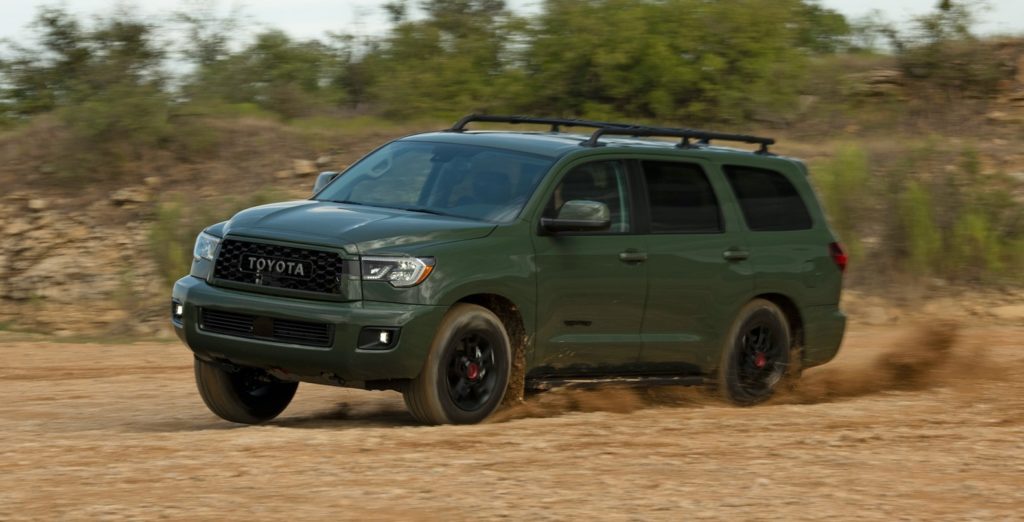 V-8 muscle means the 2020 Toyota Sequoia is a heavy-hauler, but it drives like one as well. The 2020 Toyota Sequoia doesn't want for power, though it never forgets its truck roots. All 2020 Sequoias make use of a 5.7-liter V-8 rated at 381 horsepower and 401 pound-feet of torque that either sends power to the rear wheels, or all four with the optional full-time transfer case. The 6-speed automatic transmission delivers syrupy shifts, but its limited cogs help partially explain lower fuel economy compared to rivals with 8- and 10-speed gearboxes.

Underneath, the Sequoia rides on a separate ladder frame similar to the Tundra full-size pickup and features an independent front suspension paired with a solid rear axle suspended by coil springs. That's hardly high tech, but it works well enough to deliver a competent ride. The taller sidewalls on the SR5 and TRD Pro trims quell bumps better than the 20" wheels and shorter sidewalls standard on other trims. Sequoia TRD Pros also make use of trick Fox shocks that deliver a remarkably comfortable ride on pavement while soaking up big bumps off-road. The Sequoia is awfully big for four-wheeling, but the TRD Pro has more chops than we expected. Depending on configuration, the Sequoia is rated to tow between 7,000 and 7,400 pounds. That's not as hefty as some competitors, but the strong engine means it doesn't struggle with a hefty trailer out back.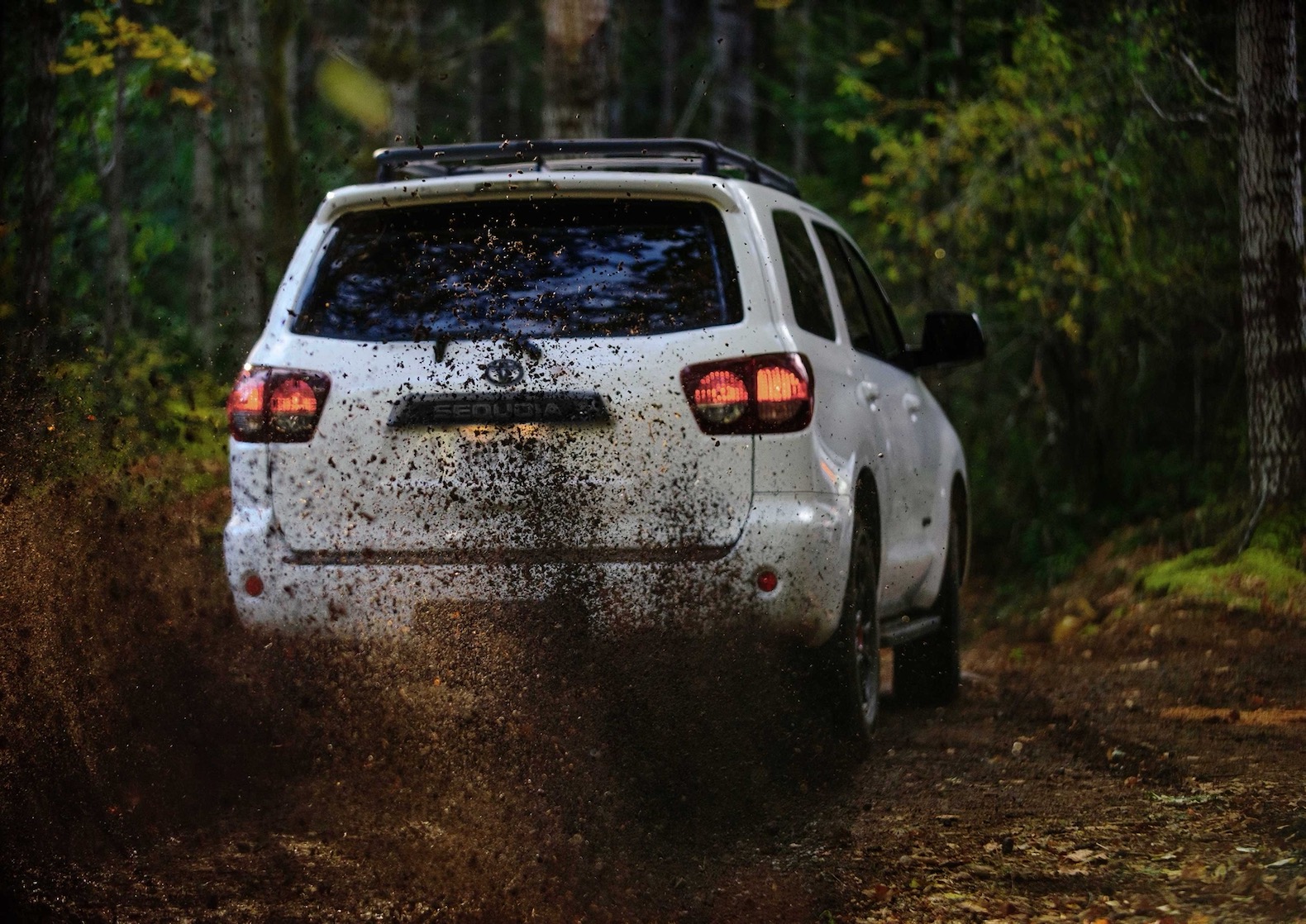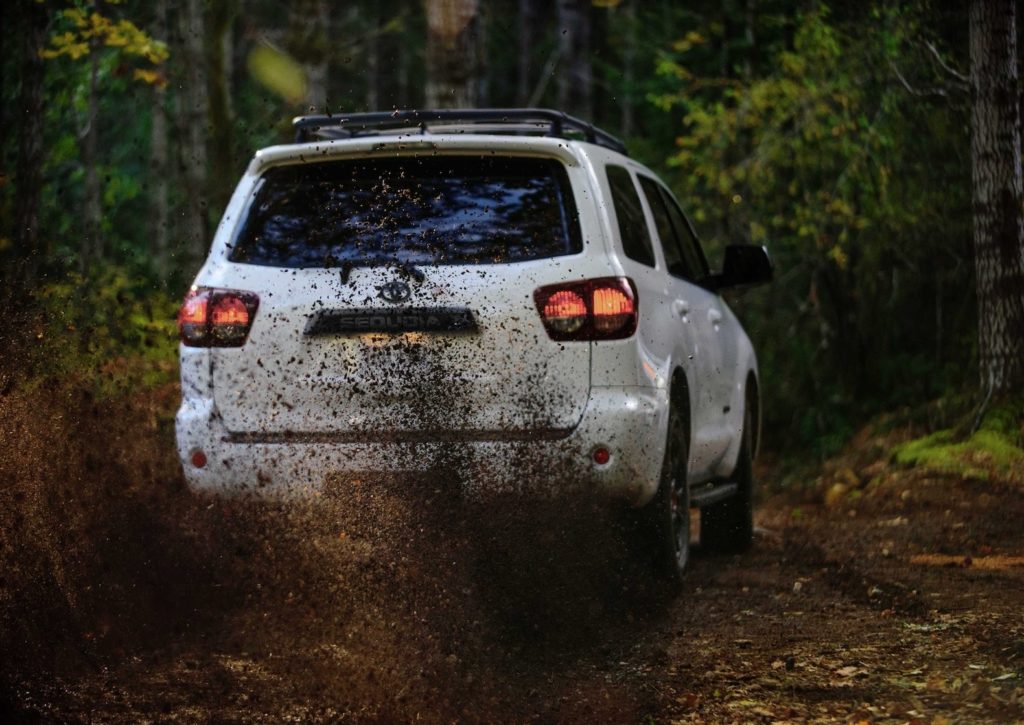 The 2020 Toyota Sequoia is one of the thirstiest new vehicles you can buy. Don't look for a fuel-saving hybrid powertrain, active aero features, or low rolling-resistance tires on the 2020 Toyota Sequoia. This is a brash guzzler that makes no apologies for its sub-par fuel economy. Rear-drive versions are rated at 13 mpg city, 17 highway, 15 combined. Opt for four-wheel drive and the combined figure slides to 14 mpg. Most competitors are rated at least a couple of mpg higher, and some top 20 mpg on the highway.
Crash-test results for the 2020 Toyota Sequoia are curiously absent. Oddly, the IIHS and the NHTSA haven't crash tested the current model. That's unusual, especially given how long the Sequoia has been around. Starting with eight airbags, the 2020 Toyota Sequoia will do its best to avoid a crash thanks to a good level of standard active safety gear, including automatic emergency braking with pedestrian detection, lane-departure warning, blind-sport monitor, rear cross-traffic alert, adaptive cruise control, and high-beam assist.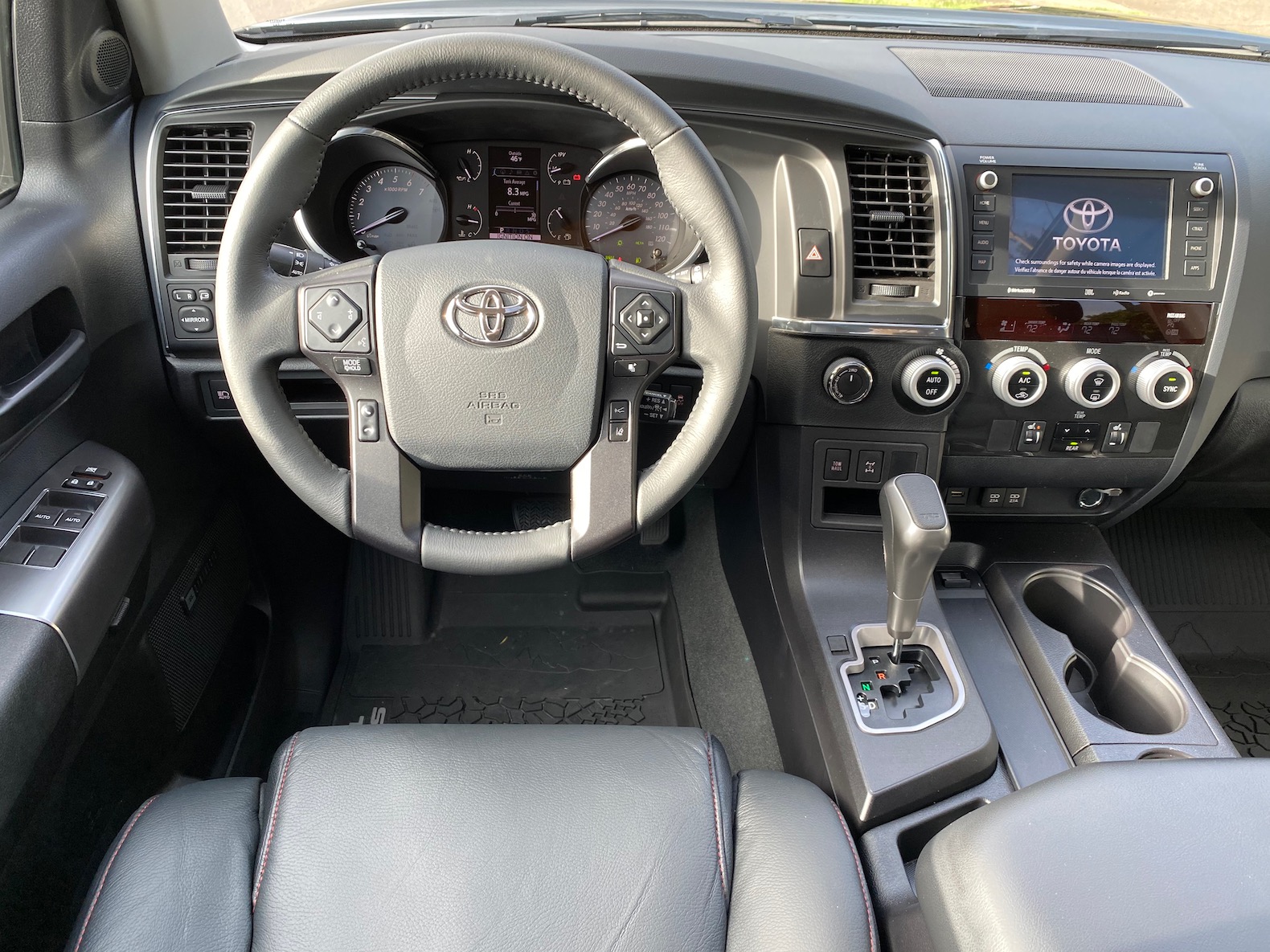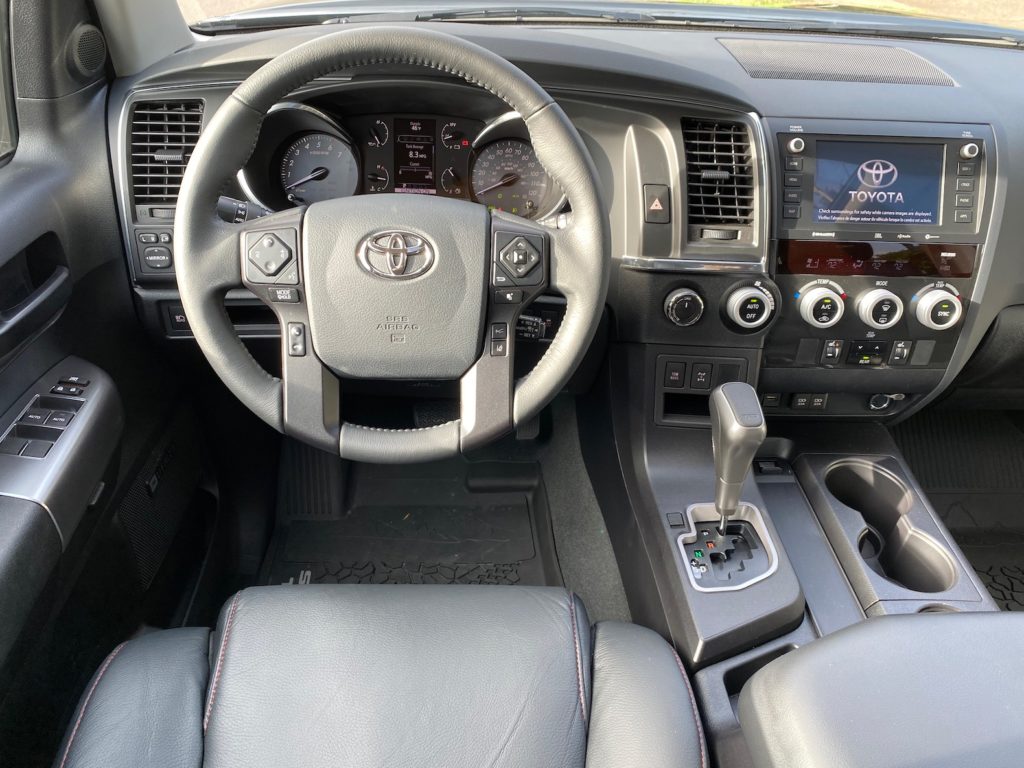 The 2020 Toyota Sequoia is spacious, though its interior is short on pizzaz. There's plenty of room for the whole family and their gear inside the 2020 Toyota. The Sequoia full-size SUV offers upward of 40 inches of leg room for front-seat and second-row passengers. Power-adjustable front seats are standard on all versions. The third row is tighter but still tolerable for adults, and climbing aboard isn't too tough with the running boards standard on most trims. A bench seat is standard on the second row with captain's chairs optional. Behind the third row, the Sequoia offers about 19 cubic feet of cargo space. With the third row flopped down, the cargo space is fairly flat and there's room for nearly 67 cubes of goods. With the second row tumbled, that space nearly doubles to a hefty 120 cubic feet.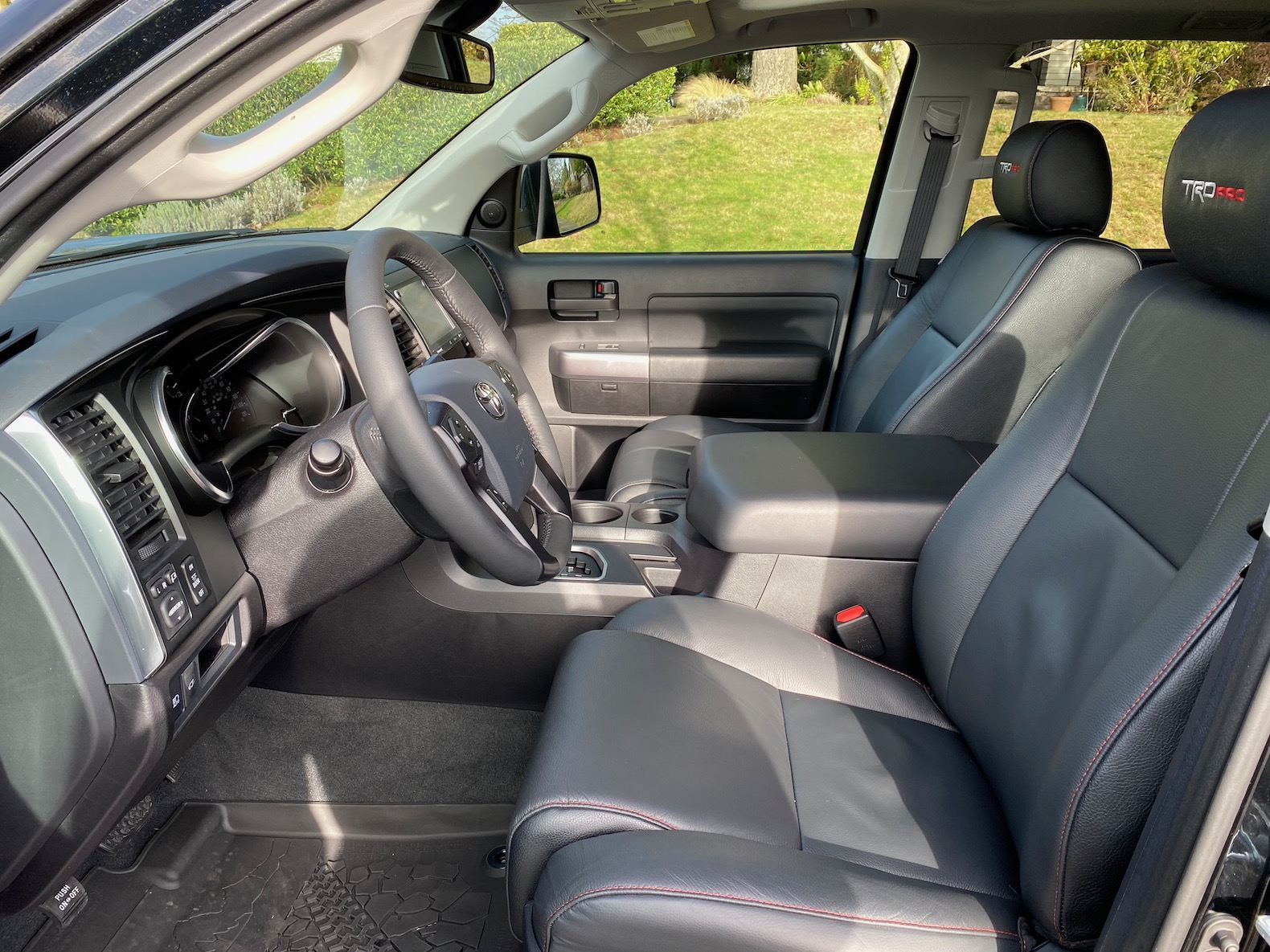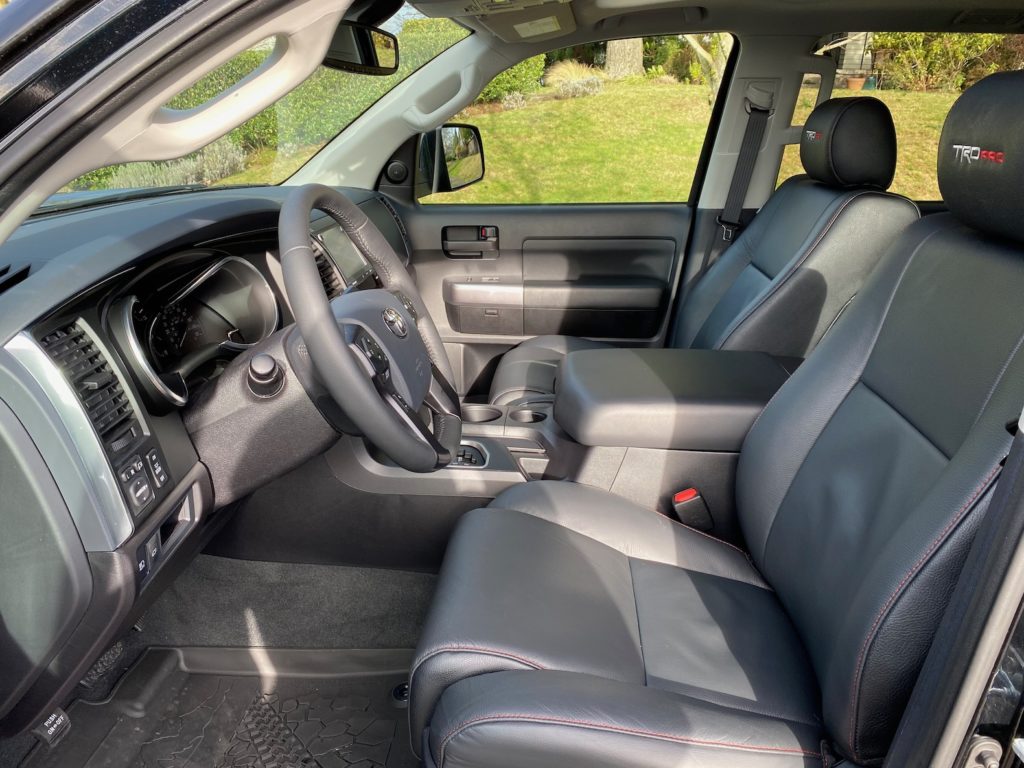 Interior materials are basic, with scratchy plastic trim on the dash and doors. Many versions have shiny silver plastic that looks like a throwback, but not in an offensive way. The optional fake wood trim looks better by comparison. The dash itself looks like it was designed for a truck with a bench seat, but we like the fact it's slightly angled towards the driver making the controls easier to reach. The standard 7.0-inch touchscreen is swallowed up by the big dash with its outlandishly large control knobs and buttons. If you must, perhaps order one with the rich brown leather available on costly versions. Luckily the 2020 Toyota Sequoia now includes advanced smartphone functions with standard Apple CarPlay and Android Auto compatibility.

The 2020 Toyota Sequoia is a big SUV, and we don't just mean its footprint. Toyota asks a lot of money for the Sequoia, and it's not the best value but it is a Toyota. The base Sequoia SR5 runs about $51,200, and for that money buyers get a 7.0-inch touchscreen, a power moonroof, LED headlights, a roof rack, running boards, 18-inch wheels, cloth seats, and adaptive cruise control. Adding $3,200 buys four-wheel drive. The $9,000 upcharge for the Limited trim is a heck of a lot for leather seats, 20-inch wheels, and not much else. All in the Sequoia Platinum can cost nearly $70,000 with four-wheel drive. It's loaded up with a Blu-ray player, heated and cooled front seats, a heated second row, keyless ignition, and JBL speakers, but none of that really impresses for that hefty price. At $65,355, the new TRD Pro with standard AWD slots between the Limited and Platinum.
Toyota's large and in charge Sequoia makes no apologies since it does its mission of hauling people and their belongings with decent off-road chops. Even though it's aging the Sequoia is still a formidable player that should be considered in the large SUV class. Regardless of age, it still has the best Toyota attributes of refinement and reliability which can't be found on any of its competitors.
For all your new car shopping needs, check out: drivevise.com Vehicle shopping made simple!