The Mazda 3 rings in way above its class with an upmarket interior, good handling, and optional all-wheel drive. Few small cars balance frugality, practicality, and verve like the 2020 Mazda 3. The compact Mazda is offered in sedan and hatchback configurations, all powered by thrifty inline-4 engines that can be paired with automatic and manual transmissions as well as front- or all-wheel drive. The 3 puts its best foot forward in an effort to lure buyers not totally sold on crossovers and SUVs. We cherish the latest Mazda 3 for its good looks and versatile blend of utility and performance.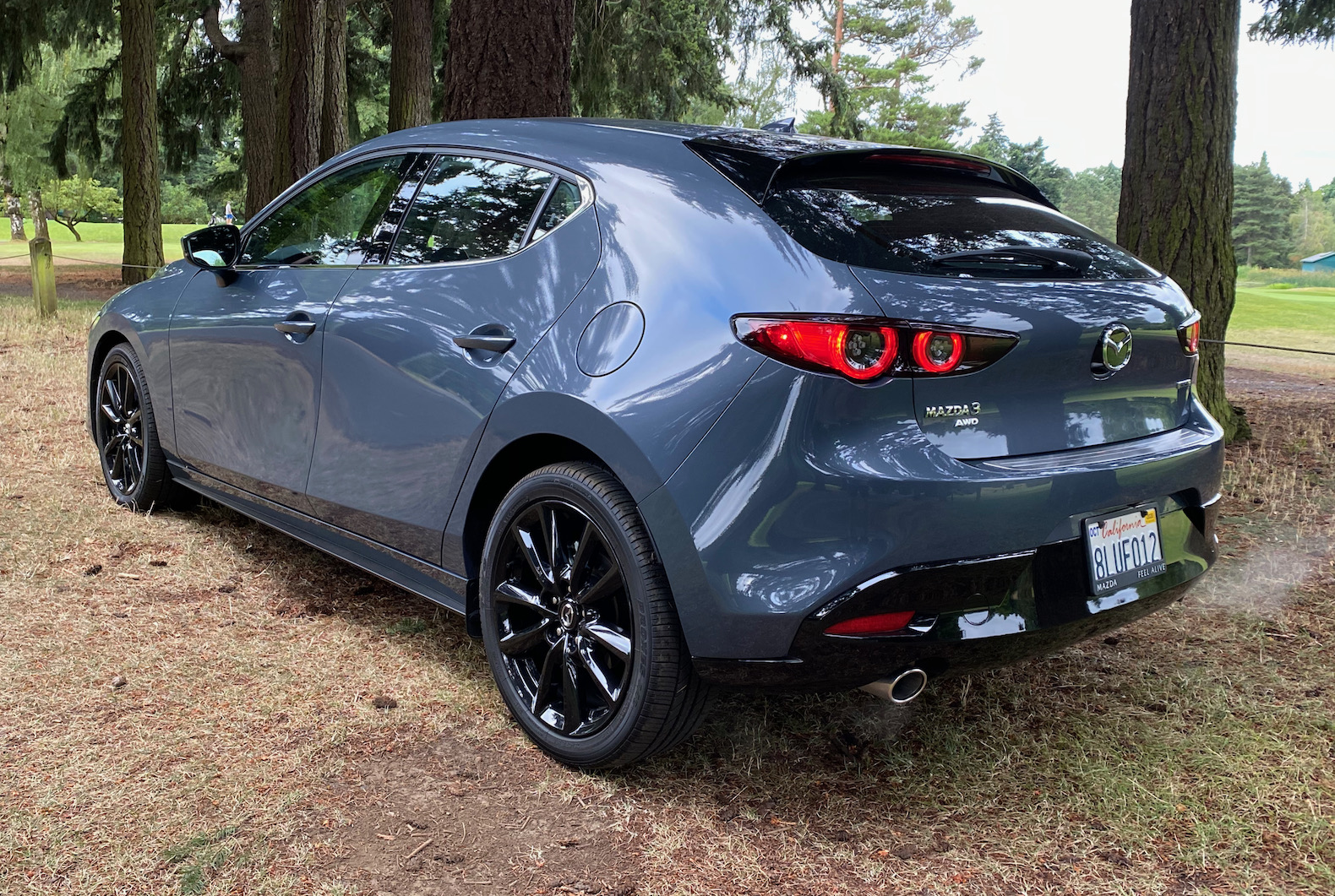 The Mazda 3 sedan comes in base, Select, Preferred, and Premium trim levels; the hatchback does not offer Select. This year, the full suite of collision-avoidance tech previously standard on Select and above trims is included at every trim line. The 2.5-liter inline-4 rated at 186 horsepower is unusually powerful for a compact car, and it sets the stage for a lineup with zoom zoom intentions. A 6-speed automatic transmission is standard on every trim except the range-topping Premium hatchback, where a 6-speed manual delivers power to the front wheels. All-wheel drive costs $1,400, but is not available on the base sedan. The Mazda 3 delivers ride and handling characteristics of a more expensive car paired with features not available on most compact cars and an interior ambience that bests some entry-level luxury cars. Decisive, predictable handling isn't as entertaining as before, but the Mazda 3 boasts a grown-up feel and a refined demeanor.
The 2020 Mazda 3 is stunning as a sedan a little avant-garde as a hatchback. Mazda tried hard to differentiate its latest sedan and hatchback. The sedan's proportions are smart and clean, while the hatchback is best described as quirky. We're a fan of the hatchback, both for its practicality and intriguing styling. Up front, the 3 has a wide grille and narrow headlights tacked onto a conventional silhouette. The sheet metal follows soft, gentle contours, and the roofline is unusually long and gives the car nearly mid-size sedan proportions. The design is formal without being frumpy, and it's a knockout in person. The hatchback is notably eye-catching. Its front end is shared with the sedan. The design diverges toward the rear, where the long roof dives awkwardly into the tailgate. The pillar itself is massive, and it draws attention to its well-wrought design.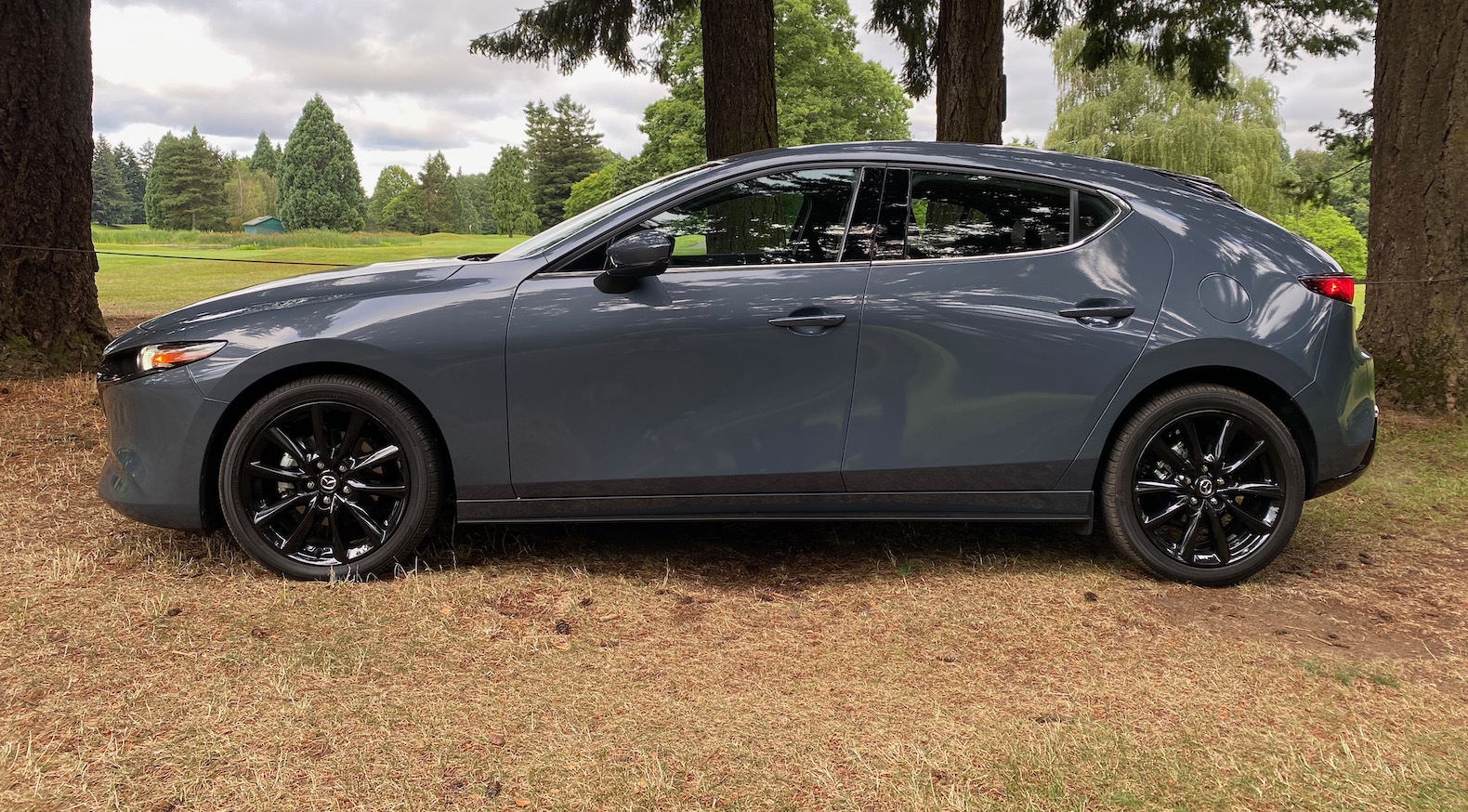 Sporty handling, balanced ride, peppy enough powertrains make the 2020 Mazda 3 come alive. The 2020 Mazda 3 is more refined but has lost a touch of its playfulness. The 2.5-liter inline-4 is a big engine compared to its rivals, and it's powerful at 186 horsepower. Premium versions feature a cylinder-deactivation system to conserve fuel during highway cruising. The 6-speed automatic transmission standard on all but a high-spec version of the hatchback slips its way through the gears effortlessly and can be shifted manually at a tap of the lever. The gearbox clicks down a cog or two quickly and predictably enough that the limited availability of the 6-speed manual isn't a deal-breaker for most enthusiasts. Those who opt for the manual will be rewarded with Miata-like precision. 

The latest Mazda 3 doesn't have the perkiness we recall so fondly about its predecessors, though this grown-up small car has a quiet, refined feel and can still entertain on a winding road. Its steering is well-weighted and highly accurate. Once a line is selected, the small car stays planted and handles confidently. Uniquely, the Sport mode serves only to hold gears longer. It doesn't modify the car's steering heft. Good thing Mazda got it just right in the first place.Underneath, the stiff chassis is paired with a compliant suspension that gobbles up big bumps even with the largest wheels available. Critics may decry the car's switch to a twist-beam rear axle last year, but in routine driving the setup delivers a poised ride. The latest 3 may not endear itself as quickly on a test drive as its predecessors, but it strikes a fine balance between comfortable and sporty. Adding all-wheel drive doesn't change the car's personality, though it adds some confidence in cold-weather states as it shuttles power rearward with a quickness when needed.
The 2020 Mazda 3 isn't the greenest compact car lineup around. Fuel-economy estimates are as high as 30 mpg combined in sedan and hatchback configurations with front-wheel drive. Front-wheel-drive cars with the available automatic transmission are the most frugal of the bunch at 27 mpg city, 36 highway, 30 combined, though models with larger wheels and the less-aerodynamic hatchbacks rate 26/35/30 mpg. Stick with the manual transmission and the 3 will drink a little more fuel, to the tune of 25/35/29 mpg. All-wheel-drive versions are heavier and rate 25/33/28 mpg in sedan form and 24/32/27 mpg as hatchbacks. At least all Mazda 3s runs on regular unleaded fuel.
The 2020 Mazda 3 has done well in crash tests and this year all versions come loaded up with collision-avoidance tech. For 2020, the Mazda 3 lineup comes standard with a wide array of collision-avoidance features. All versions now come standard with a previously optional camera-based suite of features including automatic emergency braking with pedestrian detection, active lane control, blind-spot monitors, and rear cross-traffic alerts. Adaptive cruise control is also standard across the line. A full complement of passive safety features including knee airbags, stability control, and anti-lock brakes is standard fare. A head-up display is included on the range-topping Mazda 3 Premium trim. The lineup earns an IIHS Top Safety Pick award thanks to "Good" scores in every instrumented crash test. Headlights rated "Acceptable" prevent it from earning a Top Safety Pick+ designation. The NHTSA gave the 2020 Mazda 3 a top five-star rating as well.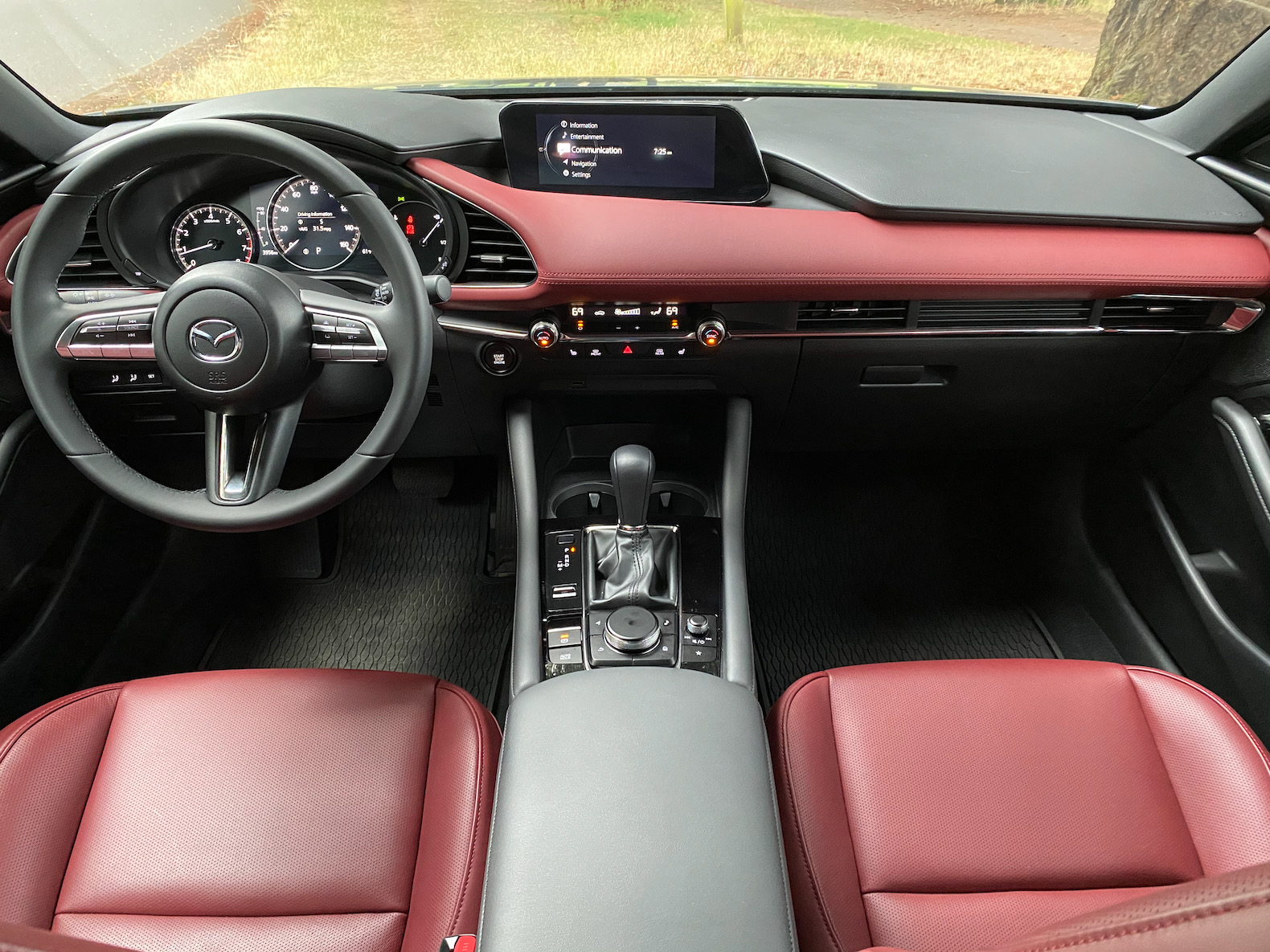 It's inside where the two cars feel the most harmonious, however. A low beltline and just the right combination of light and dark hues gives the car a spacious feel. Hints of brightwork don't overwhelm and instead suggest a more expensive car. Even in base guise, the 2020 Mazda 3 outdoes some luxury cars costing twice as much. The 3 has a stylish, low-slung dash and comfortable, bolstered seats up front. Rear-seat riders will find just average space, and average space in the hatch. The standard 8.8-inch screen is bright and Apple CarPlay and Android Auto compatibility is standard on all but base models. Mazda skips a touchscreen in favor of a bulky center console-mounted knob to toggle through a menu-intensive system. Premium appointments, a sports car-grade seating position, and comfortable seats set the 2020 Mazda 3 apart from the compact car norm. Compact cars aren't supposed to be this comfortable or handsomely finished inside. Nobody told Mazda. The 2020 Mazda 3 is proportioned like a small car but outfitted like a larger, more expensive one.

The front seats are manually adjustable in base trims, and power adjustment is optional. A beefy steering wheel, leather-wrapped on most versions, awaits the driver and affords a fantastic, sports car-grade seating position. The seats themselves are well-bolstered with a good range of adjustment. Rear-seat space is acceptable by small-car standards but nothing special given the 107.3-inch wheelbase, and the car is relatively easy to get into and out of. Hatchbacks are more utilitarian than sedans, but not by as much as you might think. The Mazda 3 hatch is designed for European buyers and is nearly 8 inches shorter than the sedan, which helps explain the just-average 20.1 cubic-foot cargo area behind the rear seats. The sedan version has just 13.1 cubes of trunk capacity, however.
The 2020 Mazda 3 is not a bargain small car, but it doesn't feel like one. The latest version of the automaker's infotainment software doesn't offend as much as its predecessor, though most rivals deliver better setups. The Mazda 3 starts at about $22,400 this year, a $500 bump over last year thanks to more standard features on the base trim. Features include cloth upholstery, power windows and locks, active safety gear in line with most rivals, and an 8.8-inch display. Though its price is right, we'd skip this trim in favor of the $23,620 Mazda 3 Select that adds Apple CarPlay and Android Auto compatibility, synthetic leather upholstery, dual-zone automatic climate control, keyless ignition, and 18-inch wheels. That's a lot of kit for $1,200. Add another $1,400 for all-wheel drive. Hatchbacks start in Select guise for $900 more than the sedan Select. Tick all the options and the Premium trim crests $30,000 with leather upholstery, adaptive LED headlights, Bose audio, a head-up display, and more.
Mazda's entry-level model is pretty close to perfect by impressing on many levels. For a reasonable amount of money you get spunky driving dynamics, a comfortable and refined interior, and with the hatchback, stunning styling. Blend in Mazda reliability and the 3 becomes a standout. Small-car buyers would do well to add this zoomy compact car to their shopping lists.
For all your new car shopping needs, check out: drivevise.com Vehicle shopping made simple!