The 2020 Lexus LS is a throwback cruiser with edgy, space-age looks, though the hybrid version is unbeatable as a road-tripper. The bold styling of the 2020 Lexus LS four-door sedan is coupled with a high-tech interior that goes hand-in-hand with its supple ride. This year, Lexus adds the Inspiration series, dials back on available exterior colors, and makes a white interior available with the F Sport package. The LS is loaded with safety and driver assistance features. Its standard fare can be augmented by a system that will steer the big sedan out of objects in its path at lower speeds.

Don't look for a V-8 under the LS sedan's hood. The LS 500 uses a twin-turbo V-6 rated at 416 horsepower that sends power quickly to the rear or all four wheels through a sophisticated 10-speed automatic transmission. This engine is silky and delivers rapid acceleration, including fake engine noises in the F Sport model. Our choice here may very well be the LS 500h. The hybrid has dual electric motors and a 1.1-kwh lithium-ion battery pack that work with a 3.5-liter V-6. At 354 horsepower, the LS 500h is no slouch, either, and its green demeanor suits the soft-riding LS. All this and the LS is a relatively low-guilt sedan, at least in hybrid guise. Combined fuel-economy figures in the upper 20-mpg range justify the choice for a full-size sedan hybrid.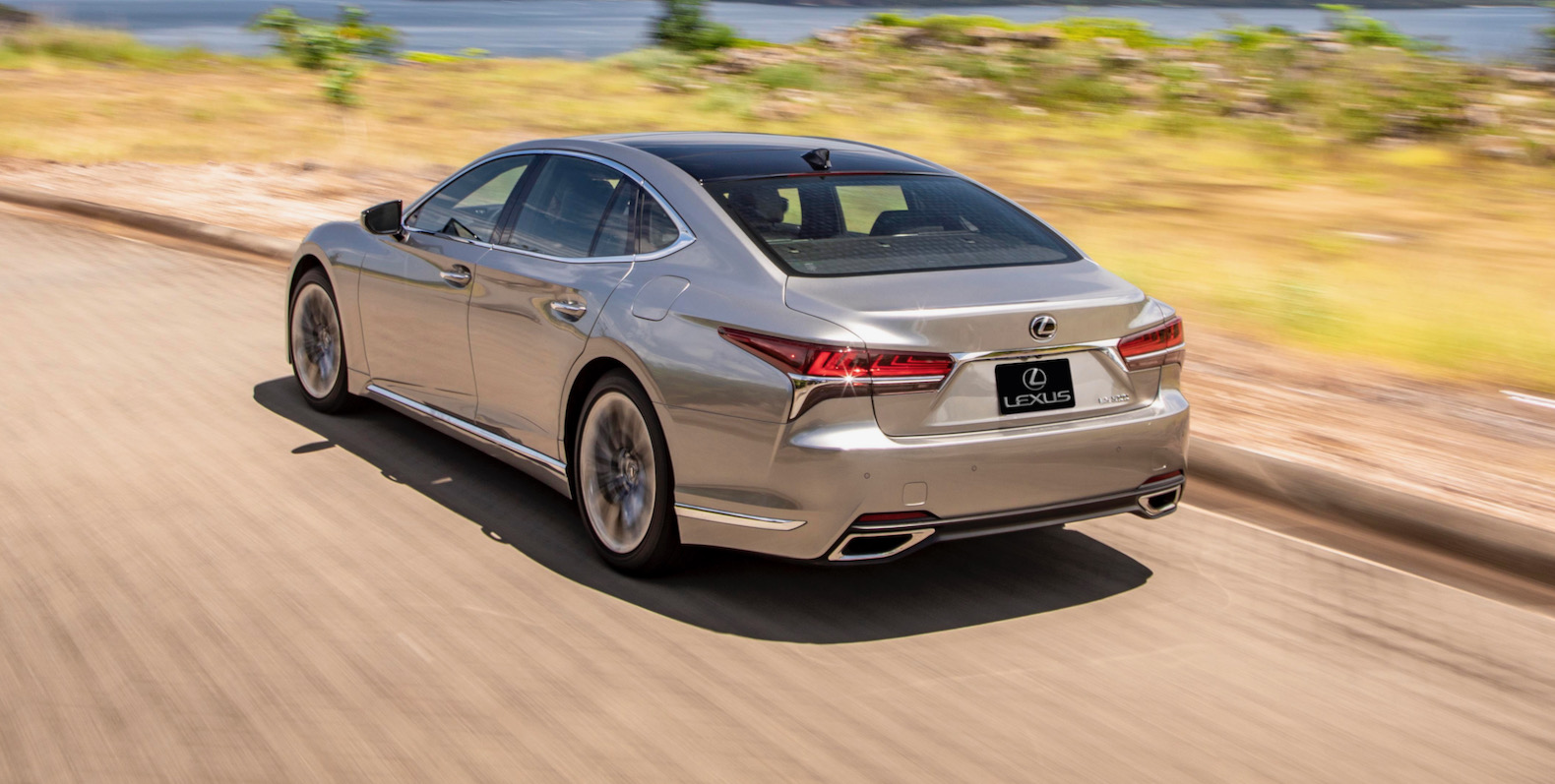 A few years on the market, the 2020 Lexus LS remains a daring sedan with an intricate interior. The 2020 Lexus LS doesn't scream about its design the way other cars in the Lexus lineup do. Sure, the sharp triangles of its headlights fight for space with the huge spindle grille up front, but its overall style is subdued, elegant, and more pleasing to the eye. The LS looks best in standard guise. The F Sport package tarts it up with bigger wheels and deeper intakes that don't do much to move its design forward albeit they're nice design touches. New for 2020, the Inspiration series adds 20-inch wheels, a maroon coat called Deep Garnet, and hand-cut glass trim designs called Kiriko.
The standard twin-turbo V-6 in the Lexus LS provides ample thrust not matched by the chassis. The 2020 Lexus LS has plenty of power in every configuration, but it would rather waft along with cruise control engaged as it swallows big bumps in stride. The base LS 500 makes use of a 3.5-liter twin-turbo V-6 that keeps pace with European rivals thanks to 416 hp and 442 pound-feet of torque sent either rearward or to all four corners via a 10-speed automatic transmission. The powertrain delivers good acceleration, 0-60 mph in 4.6 seconds, accompanied by little noise, except in F Sport guise. That package pipes synthetic engine noise into the cabin, an effort to liven up the tomb-like demeanor of the sedate sedan.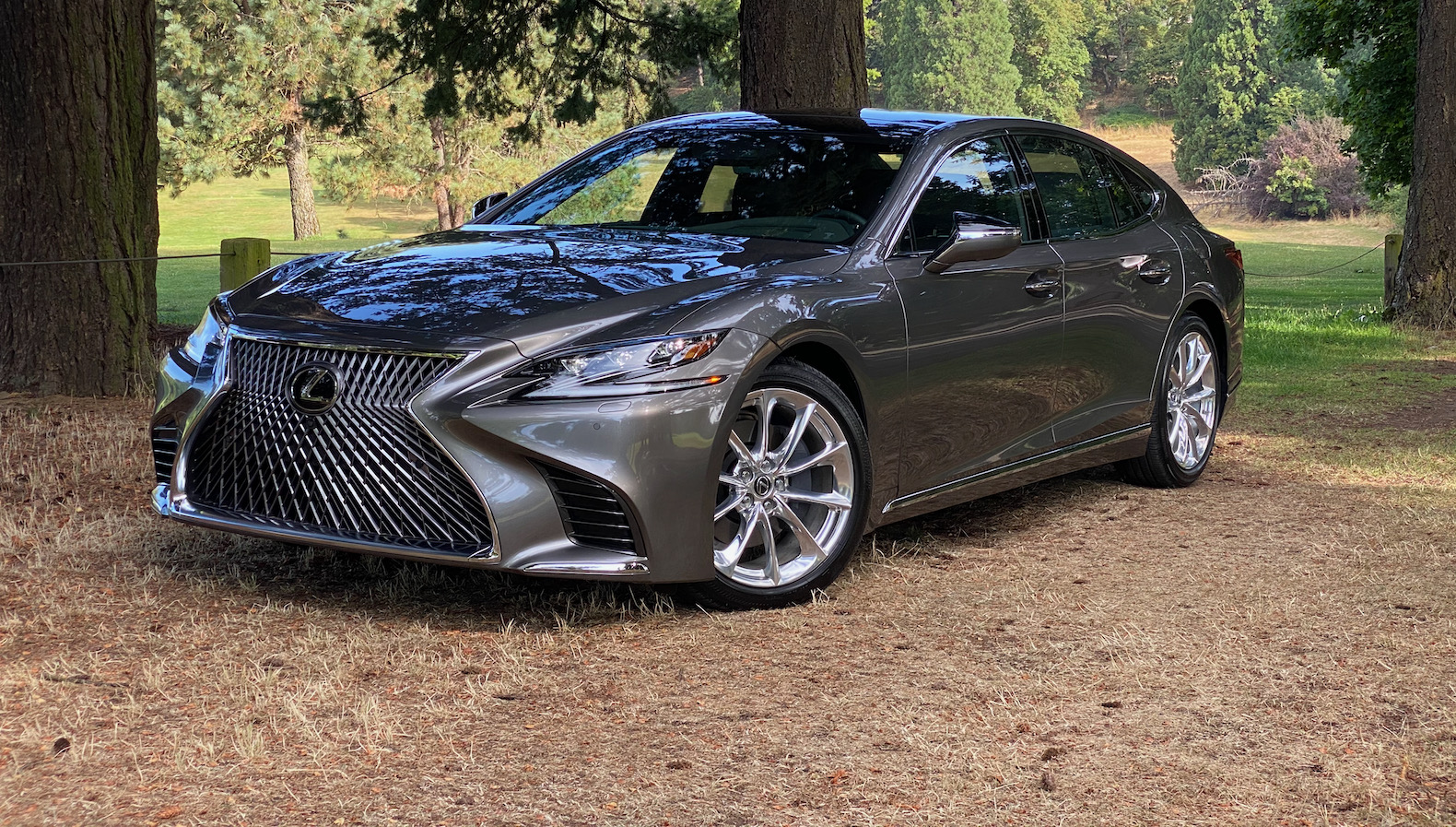 Opt for the LS 500h and Lexus uses a naturally aspirated 3.5-liter V-6 teamed with a 1.1-kwh lithium-ion battery, two electric motors, and an automatic 4-speed transmission that operates when the gas engine kicks on at higher speeds. The hybrid powertrain delivers a combined 354 hp, good enough for a 0-60 sprint of around five seconds. That's plenty fast for our tastes, and this low-guilt engine is rated at an impressive 33 mpg on the highway.

The standard coil-sprung suspension can be replaced with an adjustable air setup, but no version rides with the firm, planted feel of German rivals. The LS is back in soft territory, which may be just fine given Lexus builds sporty sedans with more manageable dimensions. Steering feel is good, though the small-diameter wheel, trim turning ratio, and rear-wheel steering system make the big sedan feel much more compact at low parking lot speeds.
The 2020 Lexus LS is among the more efficient big luxury sedans, though its heft and power mean it's not exactly a Prius with leather. The greenest of LS sedans is the rear-drive LS 500h, which is rated at 25 mpg city, 33 highway, 28 combined, according to the EPA. Opt for all-wheel drive and those figures slide to 23/31/26 mpg. Which for a sedan this size is still impressive. The LS 500 checks in with 19/30/23 mpg in rear-drive form and 18/27/21 mpg with all-wheel drive, so choose wisely if you don't really need an all-wheel-drive sedan. All versions of the 2020 LS run on premium unleaded. In our week with AWD gas LS, we average dead on EPA estimate with 21.1 mpg.
The 2020 Lexus LS will do its best to avoid a collision, though no crash scores are available. Don't look for the 2020 Lexus LS to be crashed any time soon as the IIHS and the NHTSA generally reserve their resources for cars that sell in higher numbers. The LS comes with the collision-avoidance tech we'd expect from a car with this kind of price tag. Automatic emergency braking with pedestrian detection, adaptive cruise control, active lane control, high-beam assist, road sign detection is standard equipment. An optional Advanced Safety package can steer the car around obstacles automatically at low speeds and is worth considering if you live in a city.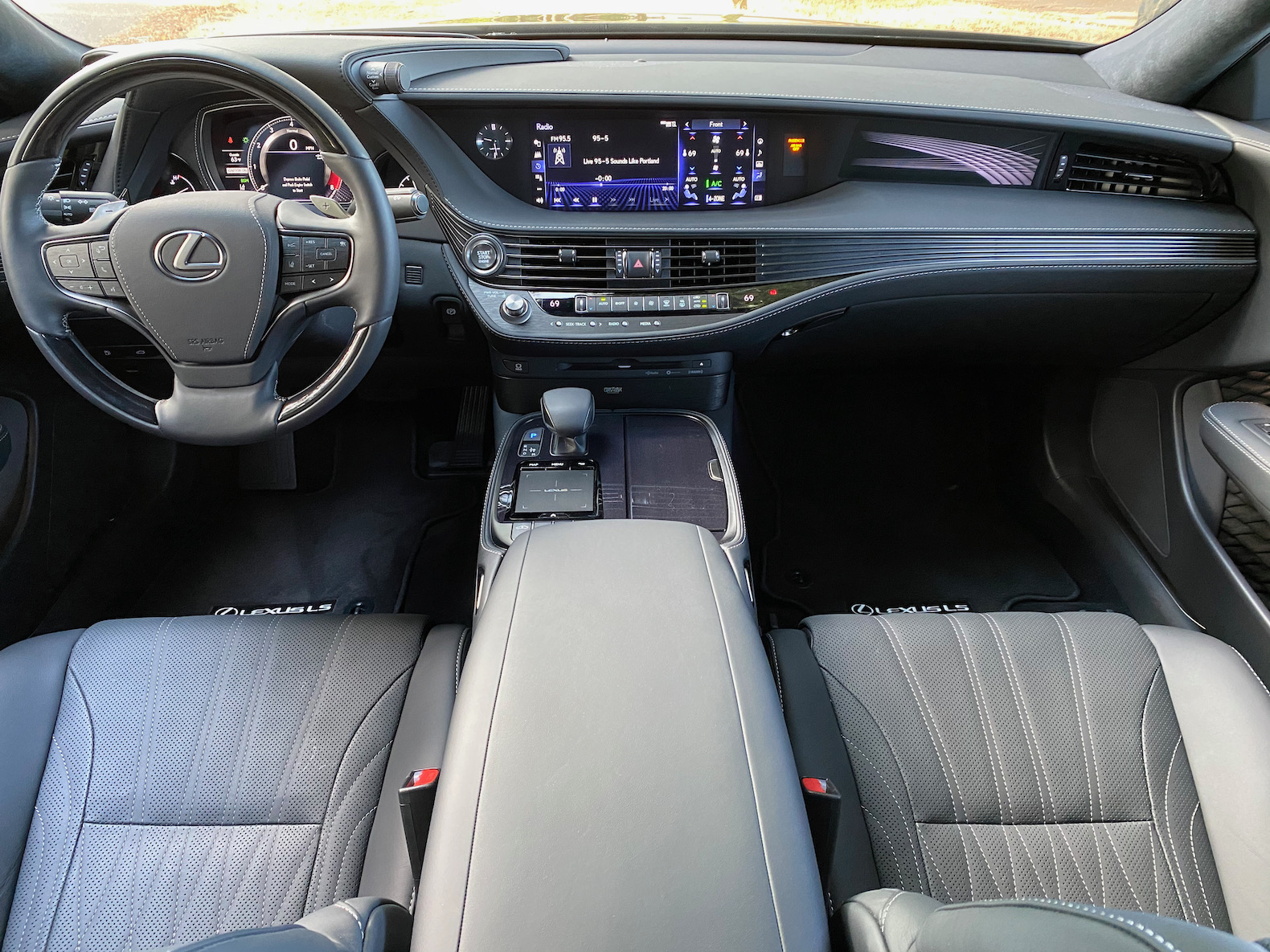 The 2020 Lexus LS is best inside. Real wood and leather do battle with high-grade metal and even cut glass trim. Plan to spend some time sorting through the available interior hues if a 2020 LS is on your shopping list. We'd have a hard time picking between bamboo and glass, but no matter what you can tailor the LS to your liking. This car is more about comfort than performance, especially inside. The standard 12.3-inch display is impressive but unfortunately paired with a clunky controller that at times can make you take your eyes off the road for too long. Standard Apple CarPlay and Android Auto compatibility help, and the LS also has Amazon Alexa integration.

The car comes in just one wheelbase length, which is intended to maximize rear-seat space, so let's start there. Back-seat riders have wide doors to open (or to have opened for them), and they'll find excellent leg and head room. The real gem of the lineup is the Executive package that adds individual rear-seat climate controls, 22-way power-adjustable seats that can heat, cool, recline, and massage, an ottoman for the right-side passenger, a touchscreen to control audio and climate functions, and more. Cargo is about 17 cubic feet of space in the standard car and 15.2 cubes in the hybrid due to its battery placement behind the rear seat. Small storage items abound inside, all of them ensconced in panels made from sumptuous materials and adorned with trim worthy of a museum.
The 2020 Lexus LS can be had in a few configurations, though it lacks the astounding personalization potential of some German competitors. Features we expect to see at this price point are included: power-adjustable seats wrapped in leather, a 12-speaker sound system with Bluetooth and USB inputs, a moonroof, and navigation displayed on a 12.3-inch screen. Base sedans start at around $76,500, while all-wheel drive adds a hair over $3,000. The hybrid comes with either rear- or all-wheel drive and stickers for about $4,500 more than the base car. Options we'd suggest include the 2,400-watt Mark Levinson audio system, among the best available at any price, and perhaps the Executive package with its 22-way rear seats.

Realistically, you may spend about as much time working your way through the available trim combinations to pick between various wood and glass interior trims. Though Lexus doesn't allow as much mixing and matching as some competitors, there are still a lot of choices. Most fancier interior hues require a $3,700 interior upgrade package that includes softer leather trim and a synthetic suede headliner. Our favorite interior trim being the Kiriko glass. The LS is also available with the optional F Sport package. Its stiffer suspension, sportier wheels, and revised styling help give this big four-door a slight sporty attitude.
Few big cars have as much space, as many features, or as many delicate delights as the 2020 Lexus LS. From a luxury perspective, the 2020 Lexus LS is hard to beat, especially for its price. It's the finest Lexus ever built, and that's saying something given the brand has reached for the stars and grabbed them for 30 years now. The hybrid version easily sets the 2020 Lexus LS apart with impressive fuel economy which fits perfectly with the cars demeanor.
For all your new car shopping needs, check out: drivevise.com Vehicle shopping made simple!