The 2020 Ford Ranger mid-size pickup is a willing companion to weekend adventures, and it would be a shame if the 2020 Ford Ranger were lumped into a category to include "all trucks." The 2020 Ranger is not a diesel-swilling, lifted, train-sized hauler that hardly fits in your driveway. The Ranger is not a profane sticker with a comic character or an ill-advised tattoo. The Ranger isn't faultless, but it's really good at being a small truck. Like last year, the Ranger is available in XL, XLT, and Lariat trims with options scattered among the three trim levels. The new addition this year is an FX2 option that adds the FX4's electronically locking rear differential to rear-drive-only pickups. The Ranger's honesty is worn on its sleeve. There are interesting curves and stamps, but the Ranger's open box is an empty promise—outdoor adventure, help with moving, or all of the above.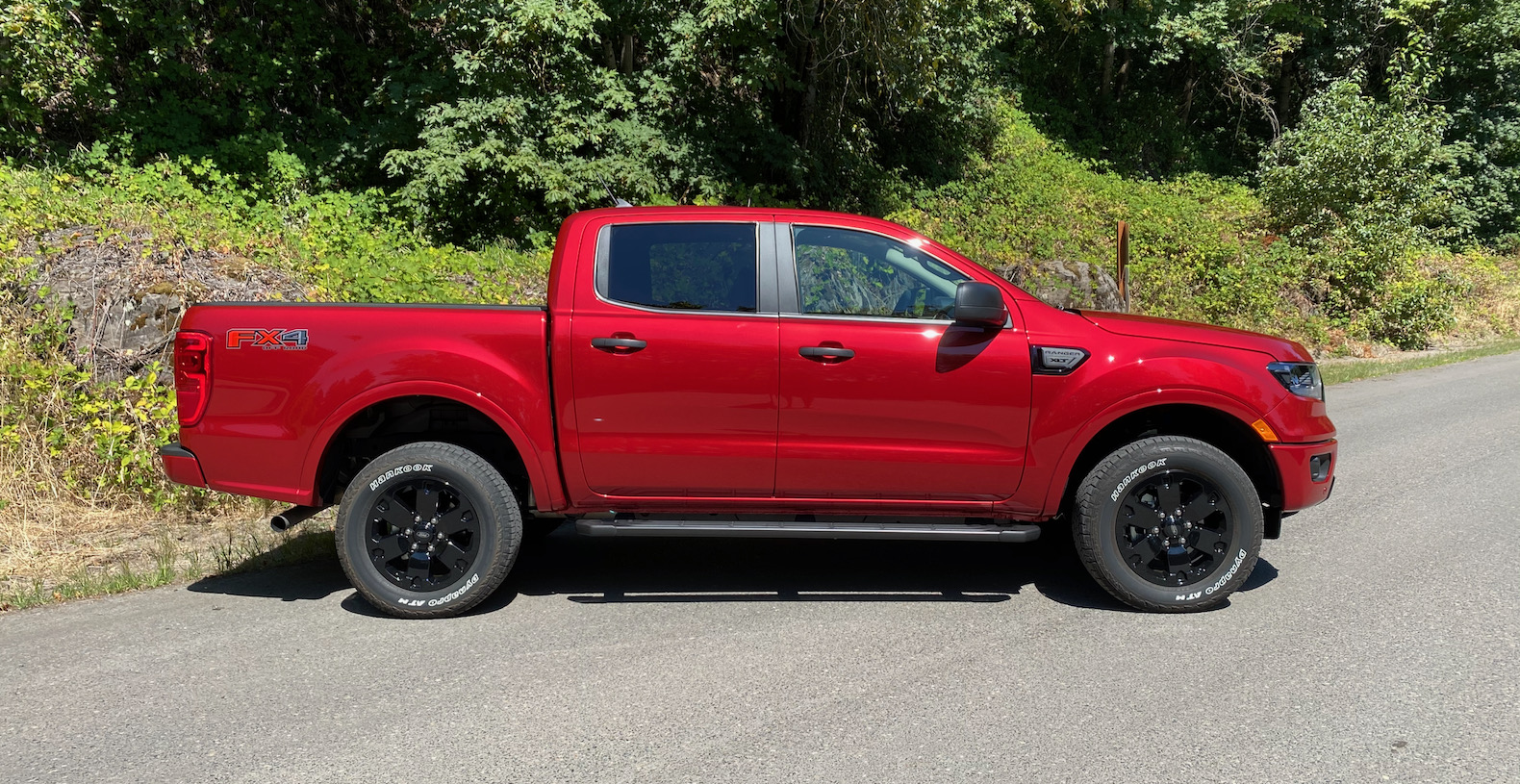 The base turbo-4 makes 270 horsepower and drags up to 7,500 pounds when properly equipped. It's sweetly paired to a slick 10-speed automatic and we couldn't be happier with its performance. Don't wince, the turbo and transmission are a great pair. Four-wheel drive will be a common upgrade and it's a good system for getting lost. The four-door crew cabs are more common, and comfortable for up to four adults.  We'd opt for an XLT or FX4 with off-road hardware, four doors, and four-wheel drive. Those trucks get a standard 8.0-inch touchscreen with smartphone software, automatic emergency braking, 17-inch alloy wheels, better options, and durable cloth for about $35,000. They're not the cheap Rangers they were in the last decade, but they're way better trucks.
The Ranger skips pretense and heads straight into our good graces. We'll get this out of the way first: in this day in age, trucks are always in fashion. The Ranger assimilates well into the Ford lineup thanks to its wide grille fit between the headlights. A big "RANGER" moniker stamped into the plastic top shelf, above the grille, wears well too. The Ranger skips the slab-sided bodies of yesteryear's pickups with a deeply cut line at the bottom of the doors. In back a RANGER stamped into the tailgate to recall Rangers of past. It's nothing groundbreaking but ruggestly attractive that won't offend anyone.

The 2020 Ranger's small turbo-4 is up to the task, but the ride can be a little bouncy at times. Hand-shaking truck purists can put their minds at ease: The Ranger's 2.3-liter turbo-4 makes 270 hp and 310 pound-feet of torque, which is stout for any small truck making the Ranger the quickest small truck with plenty of leftover power for towing. The standard 10-speed automatic is just as slick, it drops a gear or three without fuss and it's a willing partner off-road, too. When properly equipped, the Ranger can tow up to 7,500 pounds, which should be tough enough for most occasional towers.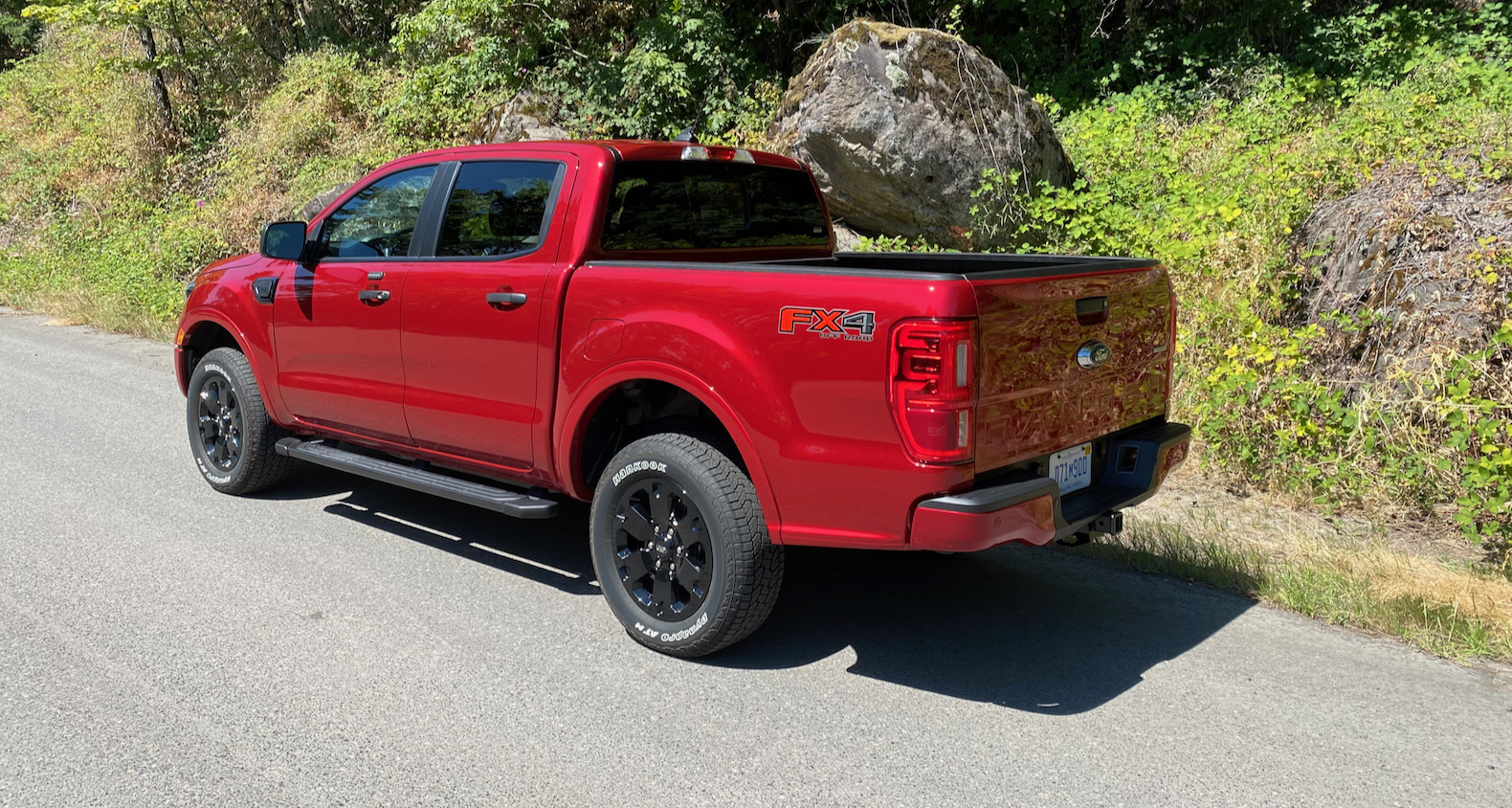 The Ranger's optional four-wheel-drive system is part-time, and not meant for use on dry pavement. It can help the Ranger crawl up just about any dusty trail and when equipped with an FX4 off-road package, it intelligently splits torque along the rear axle with an electronically controlled rear differential. A new FX2 package for 2020 uses the same electronic differential for rear-drive pickups. The FX4 package also adds off-road traction modes for loping along the trails at preset speeds; think of it as off-road cruise control. Like bigger full-size trucks, the Ranger rides on a ladder frame with an independent front suspension and solid rear axle. Some of our editors are split on the Ranger's ride, but nearly all of us agree that it's bouncier than it needs to be. On the plus side, it's typically comfortable for day-to-day driving.
The 2020 Ford Ranger is fuel-efficient among mid-size pickups. Mid-size pickups have a small secret: they're not much more efficient than their bigger full-sizer brothers. The Ranger's turbo-4 and 10-speed automatic earn EPA ratings at 20 mpg city, 24 highway, 22 combined with four-wheel drive. With just rear-wheel drive, the 2020 Ranger rates 21/26/23 mpg. Among mid-size pickups, the Ranger is at the top of the class. The Tacoma is rated at up to 20 mpg with four-wheel drive, the diesel-powered Chevy Colorado nets 22 mpg combined. Compared to full-sizers, the Ranger's turbo-4 isn't appreciably more efficient. With a 2.7-liter turbo-6 and four-wheel drive, the F-150 rates up to 20 mpg combined. The 2.7-liter turbo-4 in the Silverado is rated the same.
Crash scores for the 2020 Ranger are mixed, but the pickup doesn't skip the good stuff. The IIHS gave the Ranger mostly top "Good" scores in all its crash tests save the passenger-side small overlap crash test, where it earned an "Acceptable" rating. The IIHS rated the standard automatic emergency braking as "Superior" at avoiding forward crashes at 12 mph and 25 mph. The NHTSA was less kind. Their four-star overall rating is relatively rare among new cars, and its three-star rollover crash rating is even rarer. For a mid-size pickup, the Ranger has good outward vision but we recommend the suite of safety features that's standard on XLT and Lariat trucks that adds blind-spot monitors and adaptive cruise control.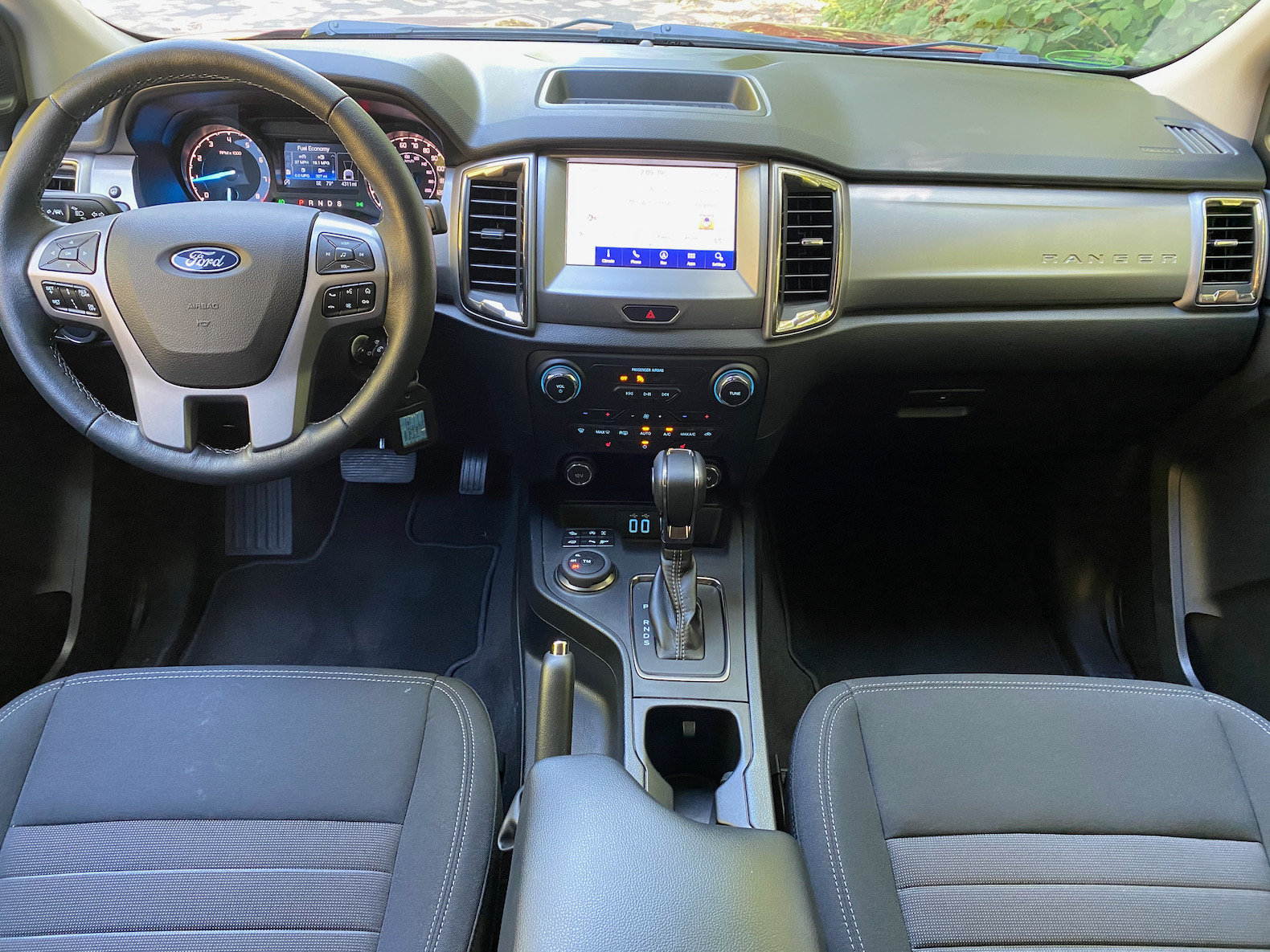 The 2020 Ranger nails the pickup basics: bed in the back, room in the cab for up to four. Inside, the Ranger is more straightforward, which is good for the pickup. Increasingly, pickups are playing the role of family car that shuttles between home and work, stores and practice, errands and the mountains. The 2020 Ranger is up to the task and entertaining with its perky powertrain. Most trucks on the road will be the four-door, crew cab configuration with seats for up to five but four adults will fit better. The front seats are comfortable and mostly adjustable, although base versions of the Ranger don't offer height adjustment. The rear seats should be fine for average to smaller adults, with enough leg room for 6-footers to sit behind other 6-footers. Extended-cab Rangers are available but aren't ideal for more than two adults. The rear cab is best for pets or very small children. Crew cab trucks get a 5-foot bed while extended-cab trucks get a 6-foot bed.
Options abound for the mid-size 2020 Ranger, but they can stack up quickly. Compared to full-size trucks, the mid-size 2020 Ranger's lineup is more streamlined but it still hits all the right markers. This year, the Ford Ranger is available in XL, XLT, and Lariat trim levels with a heavy helping of options and packages scattered throughout the range. Base trucks skip most of the good features we'd prefer, including a touchscreen for infotainment, but all the bases are covered. The spartan Ranger XL is built for work detail, mostly. It's equipped with a 4.2-inch display for infotainment, no smartphone software or touchscreen, with Bluetooth connectivity, one USB port, power features, air conditioning, steel wheels, and automatic emergency braking for $25,605, including destination. Adding four-wheel drive tacks on another $4,000 to the bottom line, which is steep but also common.

The Ranger XLT is our preferred pick thanks to a standard 8.0-inch touchscreen with Apple CarPlay and Android Auto compatibility. There are two USB ports, keyless ignition, dual-zone climate controls, and better-looking 17-inch aluminum wheels. The 2020 Ranger XLT starts at $29,655, but the one we'd have is $38,965: four doors, four-wheel drive, and off-road package. It's steep, but less than most of the competition. All-in, a Ranger Lariat tips the price past $45,000 with premium audio, navigation, better audio; and right into the target market of comparable full-sizers, some of which may be discounted. With restraint, the Ranger can be an affordable option to full-size pickups, just choose sparingly.
At the end of the day the 2020 Ford Ranger is an impressive new-comer in the small truck segment that has boomed in recent years. With a powerful powertrain, handsome styling, class-leading off-road and towing capability; the Ranger is a force to be reckoned with putting it at the top of its class with some formidable long-term players. The fact the 2020 Ford Ranger is fun to drive, both on and off road, is further proof why trucks are conquesting car sales and the Ranger deserves a strong look.
For all your new car shopping needs, check out: drivevise.com Vehicle shopping made simple!