The 2020 Honda Civic sets the pace among affordable compact cars. While the name "Civic" may return images of economy-sized penalty boxes, today's Civic has more in common with the Accord than it does with economy cars of the past. While the 2020 Civic's roots might conjure a budget image, these days it's dressed up as nice a a mid-sizer in some cases. Like last year, the Civic is available in LX, Sport, EX, and Touring trim levels spread among sedan, coupe, and hatchback body styles. The hatchback also offers a Sport Touring trim that's a mashup of the two that happened to be our test vehicle for the week. The Civic Si is available as a coupe or sedan, the Civic Type R is hatchback only. For this article, we'll focus on more refined everyday versions. Our Civic Si review can be found here. The sedan is more popular with buyers but we prefer the more flexible hatchback. Compared to the coupe and hatchback, the sedan is more reserved in its styling. The interiors of all three are upscale and high-quality, more than its $20,000 entry price would indicate.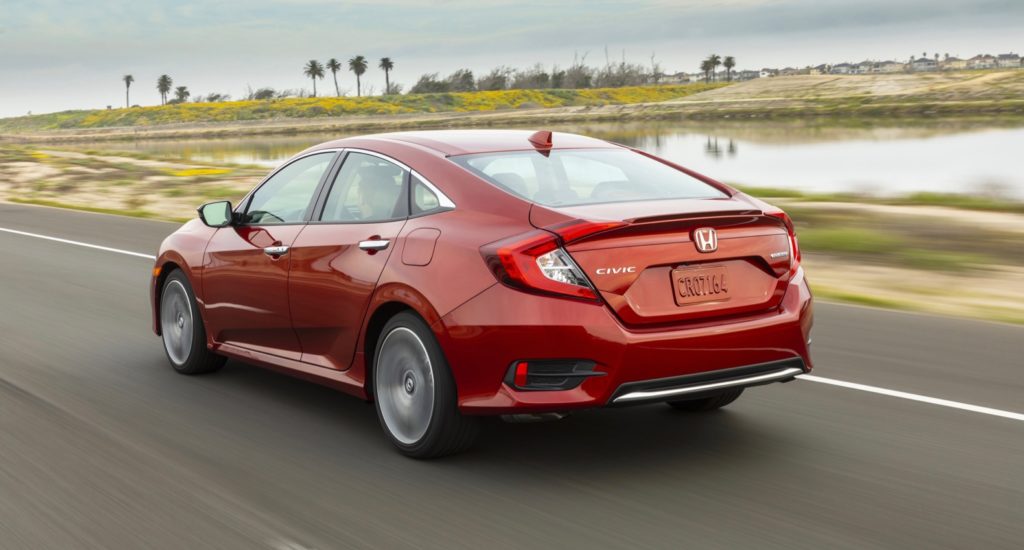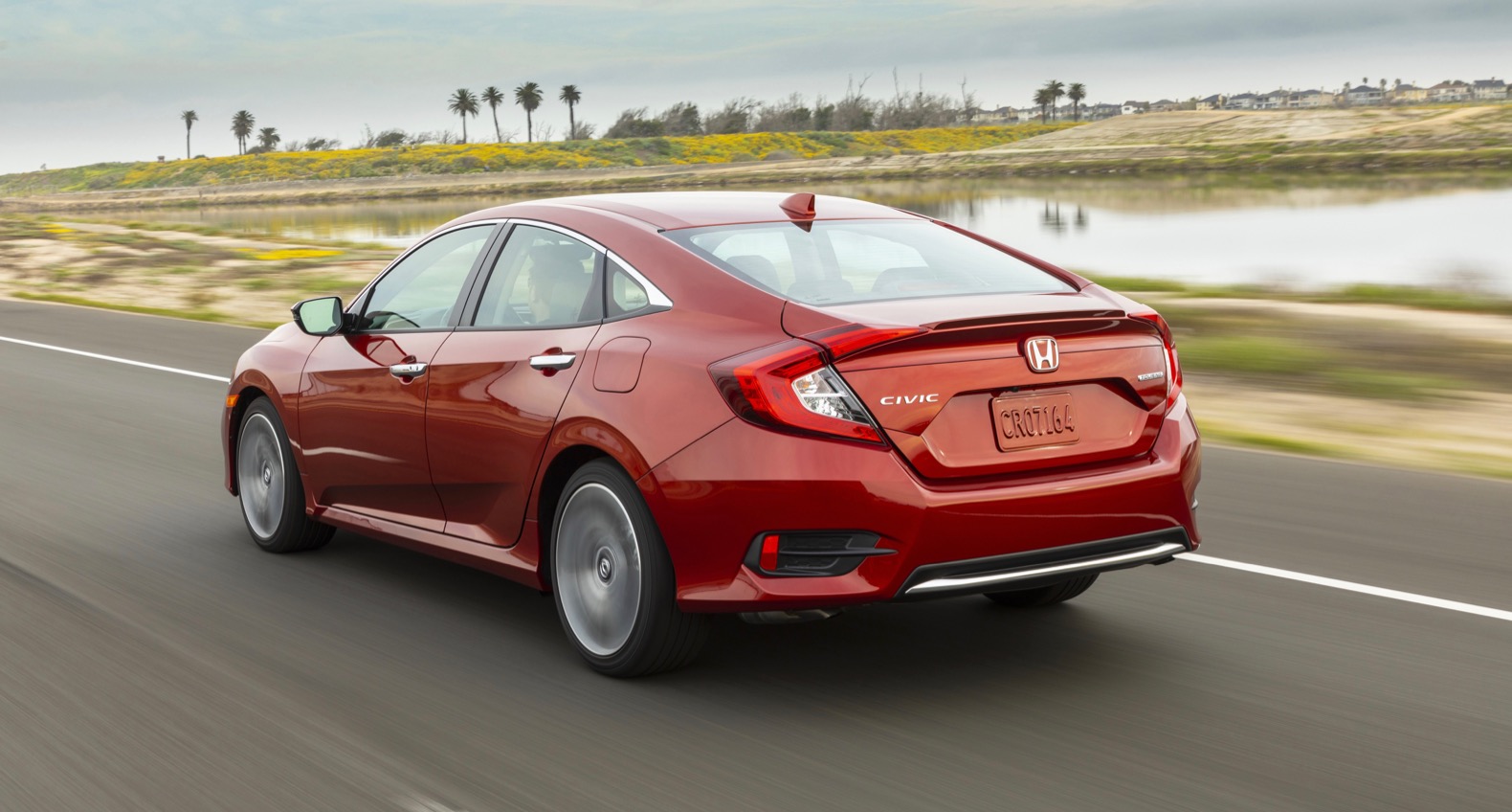 A base 2.0-liter inline-4 is standard in the sedan and coupe and makes 158 horsepower. It can team to a continuously variable automatic transmission (CVT) or 6-speed manual in some cases. A 1.5-liter turbo-4 that makes 174 hp normally is a spend-up option, and it's more efficient according to the EPA's calculators. Every Civic nails the basics; Bluetooth connectivity, power features, and active safety equipment. The Civic EX is probably the best value at $24,630 as a sedan, $24,430 as a coupe, or $25,080 as a hatchback, and includes a 7.0-inch touchscreen with Apple CarPlay and Android Auto compatibility, a higher-speed USB port, heated front seats, dual-zone climate control, 17-inch wheels, and a passenger-side camera system that displays the passenger-side blind spot on the infotainment screen. All Civics get automatic emergency braking, active lane control, and adaptive cruise control to complement very good crash-test scores. The EPA says most Civics will manage 30 mpg combined or better, according to their tests.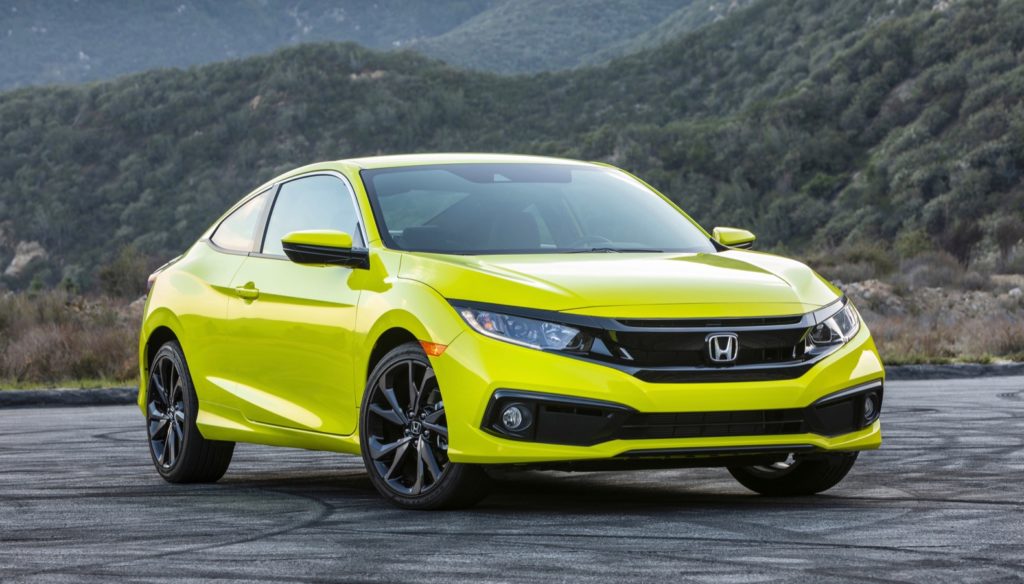 The Civic lineup is broad and deep, with plenty of options, although some are more grown-up than others. Over time, the Civic has evolved from a hatchback to a sedan to a coupe. Now it's all three. The coupe is sleeker and the hatchback is more practical, but also has busier styling. If the Civic looks a little racy for your tastes, we'd suggest walking across the lot to see the Insight, the hybrid sedan version of the Civic that looks even more upscale. The sedan's shape channels the Accord, other fastback sedans, and even some luxury sedans, with a sleek roofline. The sedan and hatchback are closely related in profile, the sedan dips right at the tail to offer a small trunk, and the hatch just keeps going. The coupe's long lines belie the Civic's small dimensions, it looks great in Sport trim with 18-inch wheels and black accents. We like the hatchback's practicality, but it can look a little boy-racer in Sport trim. The hatchback's busy styling is a nod to the rest of the world's tastes, it's more popular abroad than it is in the U.S. For younger buyers, that may not matter, but more sedate commuters could tire of its slightly garish looks.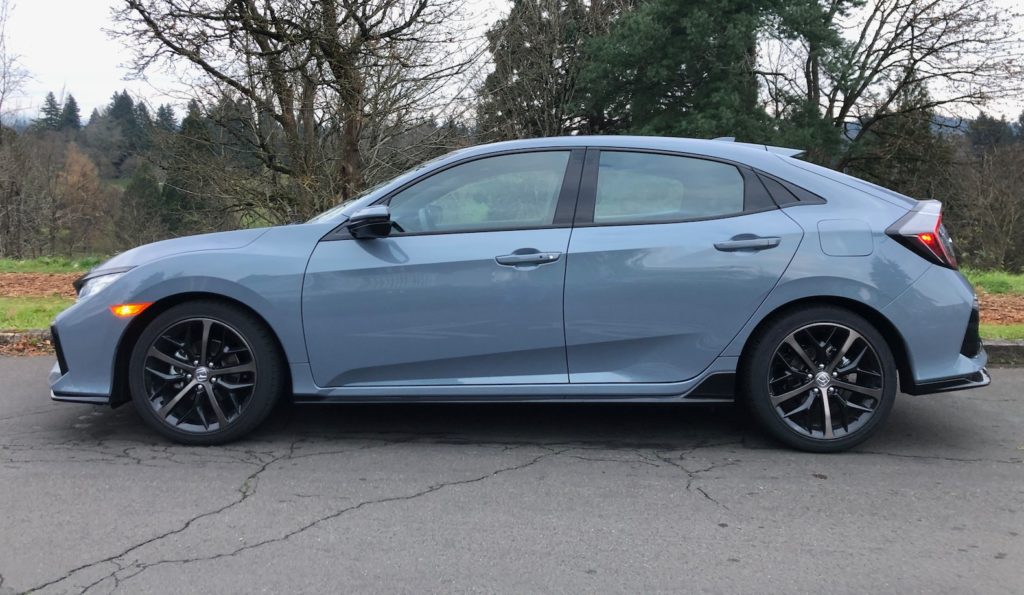 From workaday to wild, the 2020 Civic has nearly every base covered for performance. There are three available engines, with five power outputs spread among them, mated to automatic or manual transmissions. Short of a pickup truck, few cars offer the same variety in available performance or efficiency than the Civic. This year, the Civic stands pat with a choice of inline-4s. The base engine in most LX, Sport, and EX Civics is a 158-hp 2.0-liter inline-4 that's most often paired to a CVT. A 6-speed manual is available on LX and Sport trims and it's very easy to drive, but not particularly racy. The base engine is perfectly fine for commuting and best paired to a CVT that keeps its efficiency in close to 30 mpg combined, according to the EPA. The step-up engine in sedans, coupes, and standard on all hatchbacks, is a 1.5-liter turbo-4 that makes 174 hp (or 180 hp in some trims). The turbo-4 isn't only more powerful, it's also more efficient on the highway. Some trims offer a 6-speed manual paired to the turbo-4; the CVT is again the most efficient pick. We highly recommend it since there are no negatives to choosing it. 

All Civics are gifted with especially taut handling and clean steering that make the small car a joy to drive around town and around twisty roads. Turbo-4 versions get fluid-filled rear bushings that sharpen handling further. We like the standard 16- or 17-inch wheels found on most models that are comfortable and quiet. The 18-inchers on Sport and Touring models look better in the Civic's small wheel arches, but can transmit more road imperfections and noise into the cabin, although it's not unbearable.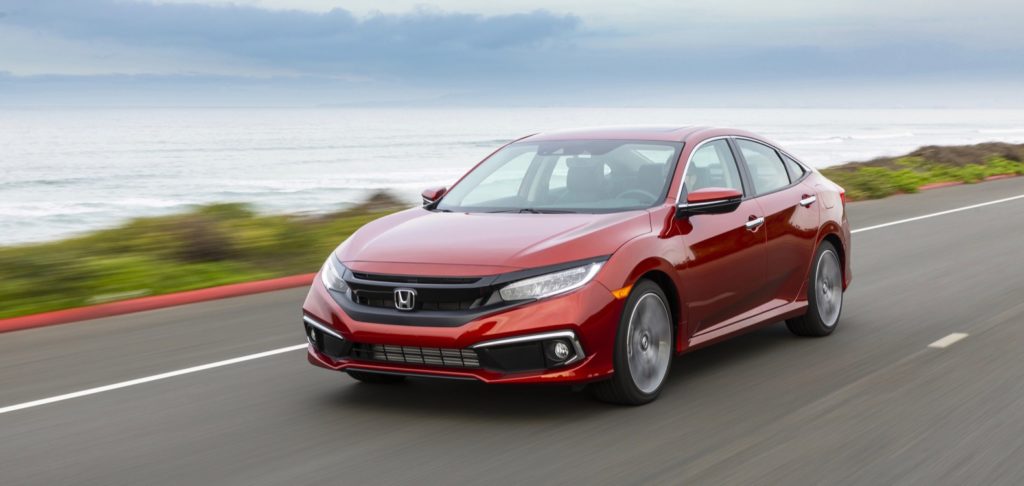 The 2020 Civic is cheap to buy, and cheap to run. The EPA rates the sedan with 2.0-liter inline-4 and automatic transmission at 30 mpg city, 38 highway, 33 combined. There are more than a dozen variants with separate ratings, but most don't fall far from that mark. When equipped with a 1.5-liter turbo-4 the Civic reaches about 35 mpg combined in coupe, hatchback, and sedan body styles. Most of those models exceed 40 mpg on the highway, according to the EPA. Opting for a manual transmission in most body styles doesn't significantly dent fuel economy, just 1 mpg combined. Our Hatchback tester with the Turbo and CVT average 36-mpg for the week. Impressive numbers for our lead feet.

The 2020 Honda Civic is impressive. Three body styles. Five stars. And all of them can stop themselves. Federal and independent testers gave the Civic top marks for crashworthiness, including a five-star overall score from the feds. The IIHS gave all three of the Civics body styles the top "Good" scores on its crash battery, including both driver- and passenger-side small impact crashes. The Civic's standard automatic emergency braking system was also rated "Superior" at avoiding forward crashes at 12 and 25 mph. The lone demerit is the headlights equipped on most Civics, regardless of trim or body style, which rate "Poor." But the LED reflector headlights on the Touring trim and Si model are rated at "Good," which earns the 2020 Civic a Top Safety Pick from the IIHS. In addition to automatic emergency braking, all Civics get a full suite of active safety features including active lane control, adaptive cruise control, and automatic high beams.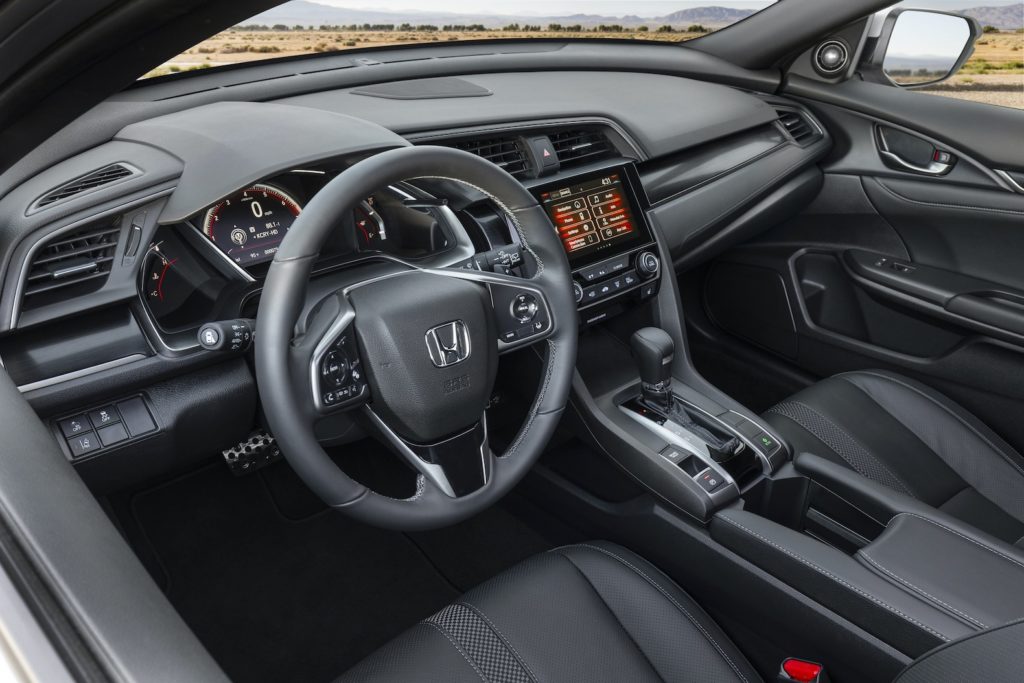 The Civic's compact footprint belies its spacious cabin. The hatchback and sedan ire the most suitable for hauling more than two adult with the hatchback being the most versatile, while the coupe is the sleekest. Up front, the driver and front-seat passenger have a better view than a rooftop patio. The dash is low and the seats are comfortable, shod in durable cloth in LX, Sport, and EX trims. Leather-clad, power-adjustable seats are available on EX-L and Touring trims.  Rear-seat riders in the sedan get uncommonly good leg room, more than 37 inches, with comfortable and supportive rear outboard seats that will fit actual adults. We wouldn't advise sticking three broad-shouldered adults in back for long, but it works in a pinch. Meanwhile the hatchback and coupe both have 36 inches of leg room in the rear.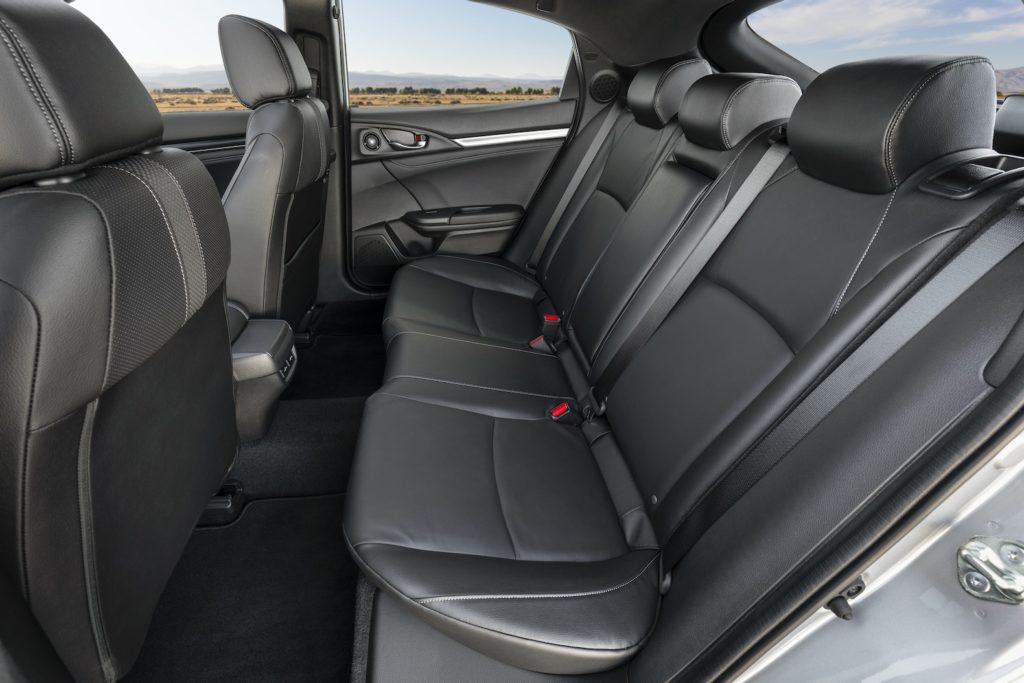 The sedan boasts about 15 cubic feet of cargo room in the trunk, which is average among mid-size sedans and good for the Civic's compact footprint. The coupe gets only 12 cubic feet, and the hatchback is king with 25.7 cubic feet with the second row in place, 46.2 with the second row tumbled forward. The Civic's interior materials and quality races past its budget-car roots. Most of the surfaces are high-quality, with low-sheen plastics and soft interior materials; far removed of the stark, boring, and sometimes grainy plastics from the Civic's not-too-distant past. The Civic also delights with many interior storage bins, cubbies, and cupholders. The low and wide dash isn't as boring as it has been in the past, it's visually separated with horizontal bands of glossy black plastic or brushed trim, and a 7.0-inch touchscreen on most versions breaks up the space. Base versions get a 5.0-inch display.
The 2020 Honda Civic starts at $20,680, which makes it a strong value for budget shoppers. We appreciate that and the variety that three body styles, four powertrains, and dozens of options along the way provide. The list of possible Civics is long this year. Available as a four-door sedan, five-door hatchback, or two-door coupe, in LX, Sport, EX, or Touring trims, while the hatchback also offers a Sport Touring trim. It's enough to make just about anyone dizzy. Generally speaking the sedan is the most affordable version; opting for a coupe over a similarly priced sedan adds $200 to $300 to LX and Sport trims, EX and Touring coupes cost less than their sedan counterparts; opting for a hatchback, which is only available with a 1.5-liter turbo-4, adds anywhere from $700 to $1,500 to a similarly equipped coupe or sedan, depending on trim level. 
All LX models get a 5.0-inch display for audio, Bluetooth connectivity, at least one USB port, active safety features (listed above), cloth upholstery, and 16-inch wheels. The Civic EX costs $24,630 as a sedan, $24,430 as a coupe, or $25,080 as a hatchback, all including destination charges, and adds a 7.0-inch touchscreen with Apple CarPlay and Android Auto compatibility, a higher-speed USB port, heated front seats, dual-zone climate control, 17-inch wheels, and a passenger-side camera system that displays the passenger-side blind spot on the infotainment screen. The Civic Touring trims cost north of $28,000 and add leather seats, 18-inch wheels, navigation, premium audio, and add heated rear seats. They're equipped better than the top-trim Accords from just a few years ago, but the Civic's best look as always been as an inexpensive compact car.
The 2020 Honda Civic is the most impressive Civic to date and also our top pick among small cars; there isn't anything it doesn't do well. Efficient, refined powertrains, entertaining handling, class leading safety, and impressive technology; the list goes on and on. Our pick would be a Touring Hatchback like our test vehicle. If the Touring is too rich for you taste, the EX is just as great. Regardless of body style or trim the Civic should be on your shopping list!
For all your new car shopping needs, check out: drivevise.com Vehicle shopping made simple!