The 2020 Ford Expedition sets a benchmark for full-size SUVs, with rugged ability and sophisticated sensibilities. The Expedition wears clean and pure styling, doles out loads of space for people and cargo, and drops a twin-turbo hammer through a transmission with more gears than you can count. It's a category-leader, as the marketing folks would say. Ford sells it in XLT, Limited, Platinum and King Ranch trim.

With the latest Expedition, Ford wraps aluminum panels around a big box. The Expedition looks sophisticated and subtle, it's a truck after all, and every bit like a product from a company that once owned the Range Rover. Tasteful details abound, and the Expedition skips excess, even inside where it caters to well-heeled SUV buyers with King Ranch natural leather or Platinum-grade perforated hides.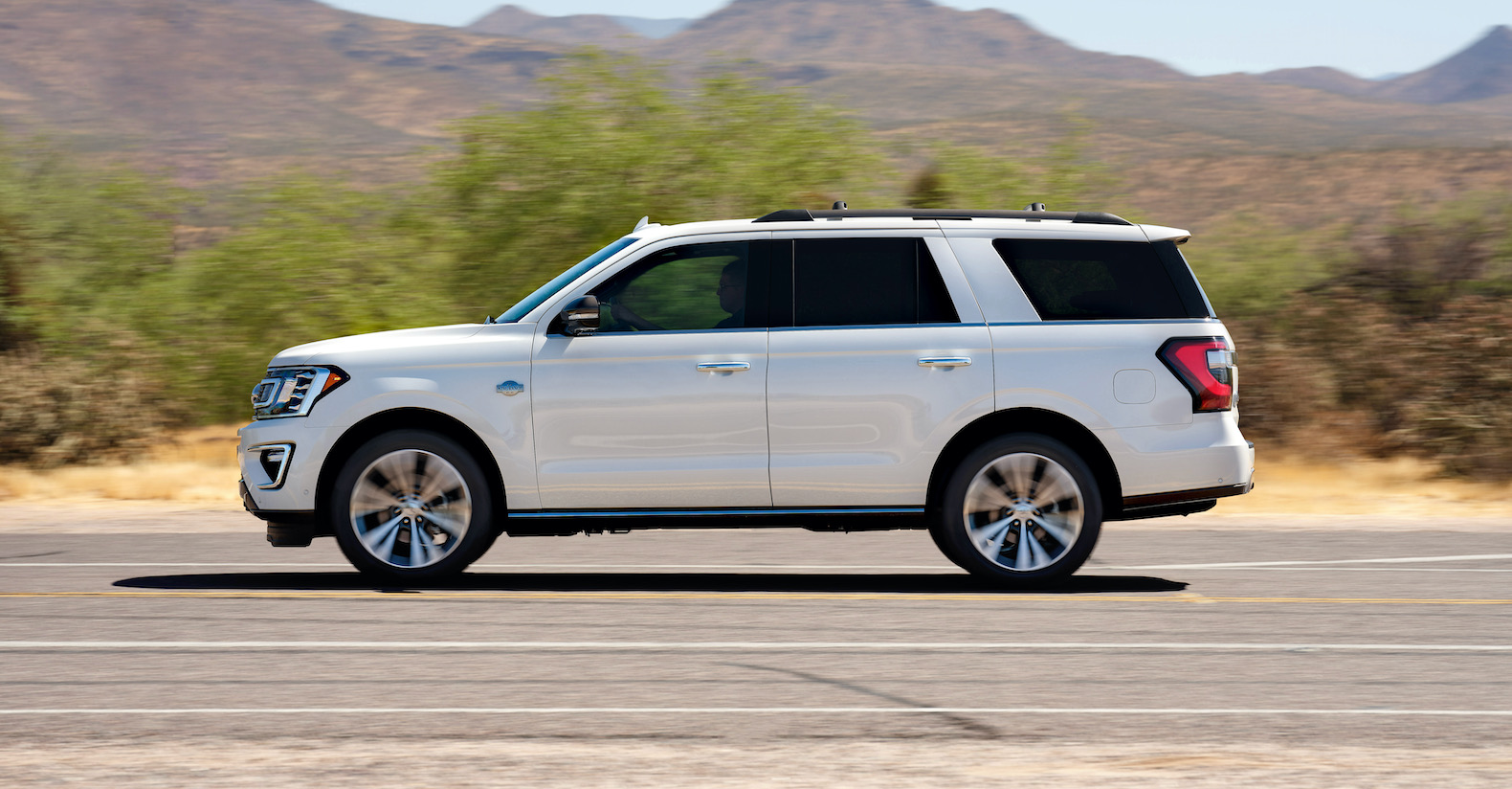 The Expedition teams a potent twin-turbo V-6 with at least 375 horsepower to a 10-speed automatic for powerful motion that's damped only by its big-boy 5,400-pound curb weight. Its rifle-shot powertrain is surprisingly matched with semi-agile handling for its size so the Expedition doesn't faint when pressed in corners, and adaptive dampers keep its ride smooth and fuss-free. As many as seven people and their carry-ons can fit in the 2020 Expedition; the long-body Max edition can swallow even more luggage while it can tow up to 9,300 pounds. Ford surrounds the Expedition's all-day comfortable seats with charging ports and cupholders galore. 

Even before IIHS crash tests are complete, the 2020 Expedition's in the bonus column with five-star NHTSA results. Automatic emergency braking now comes standard, and even the base 2020 Expedition XLT doesn't lack for features. It gets touchscreen infotainment, Apple CarPlay and Android Auto compatibility, blind-spot monitors, and power features. Ritzy Platinum SUVs have wireless internet, high-end audio, adaptive cruise control, and cooled leather front seats.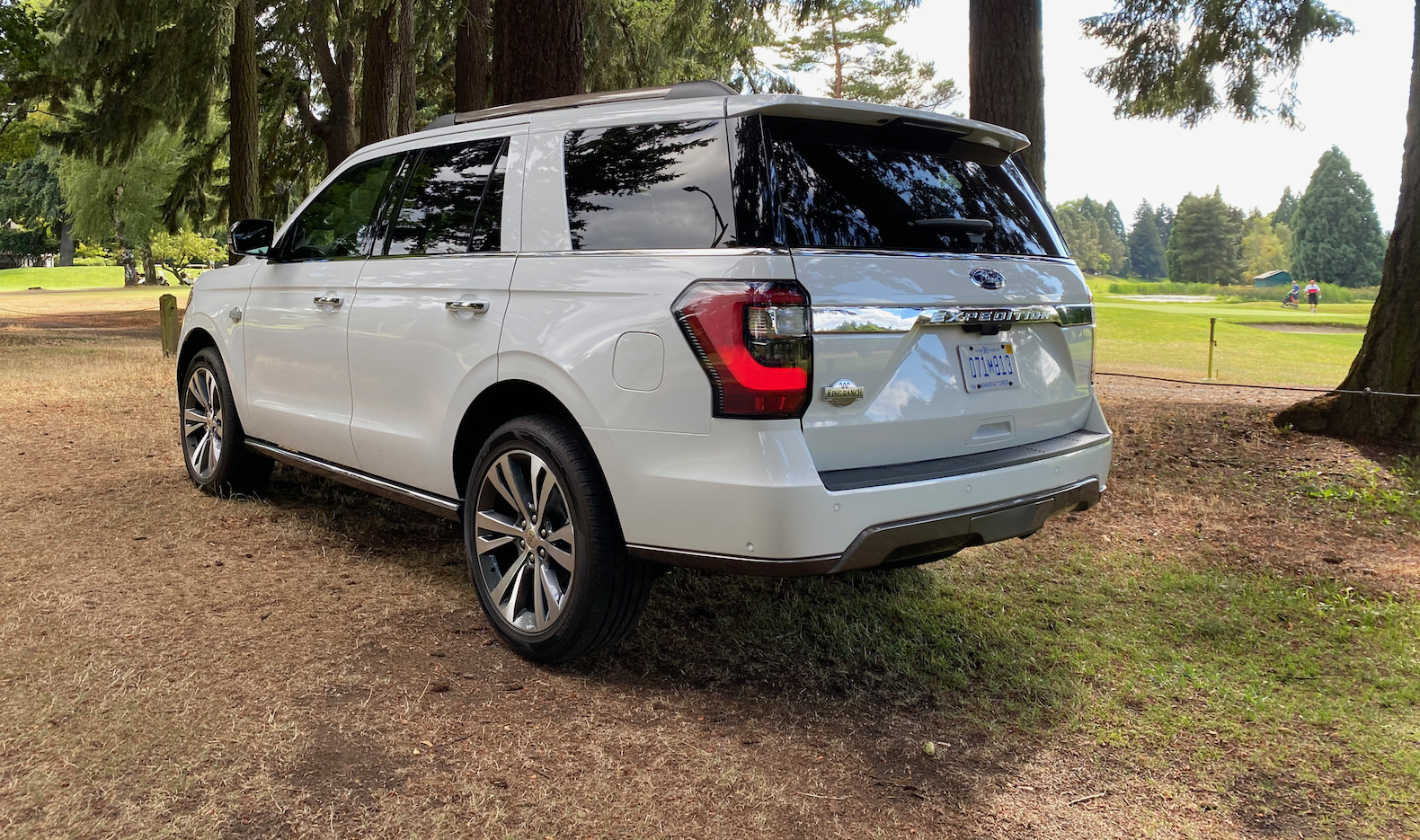 Ford's 2020 Expedition's square-rigged body and tailored cabin set a high, swanky bar. When Ford redesigned the Expedition for 2018, it maxed out its street creds. The latest full-size SUV looks like the product of a design studio somewhere outside America, with its neatly composed cabin and a body shorn of any excess detail. The lessons of Ford former Range Rover ownership have been clearly imprinted on the Expedition. The SUV kin to the Ford F-150 marries its SUV/wagon body with a set of features that could be chiseled from stone. The headlights bracket a massive grille that manages to look sophisticated, while the headlights themselves take on C-shapes that look expensive.
There's plenty of sharpness to go around, but nothing razor-edged. In profile, the 2020 Expedition has slab sides and an arrow-straight shoulder line that looks contemporary and retro at the same time. Its tall and thick doors wear wide welts of metallic trim in perfect balance with its glass. It's only let down by plain taillights and a simple name stamped across its back. It's fine on 18-inch wheels but the 22's give it some extra weight to balance out the styling.
The 2020 Expedition breaks what we know about big SUVs with great ride quality and snappy acceleration. The Expedition's twin-turbo V-6 and capable ride and handling make it an accomplished performer. Every Expedition taps a twin-turbo 3.5-liter V-6 and a 10-speed automatic for power. While lower-grade trims have 375 hp and 470 pound-feet of torque, the Expedition Platinum and King Ranch twists the turbo screws for another 25 hp and 10 lb-ft, for a net 400 hp and 480 lb-ft. It's a point-and-shoot affair, behind the whistle of both turbos spooling up. The automatic can drop a ratio or three to find the perfect gear and point in the wide peak-torque band, which begins at about 2,250 rpm.
Configured the right way, the 2020 Expedition can tow up to 9,300 pounds, once a heavy-duty tow package amps up the cooling and beefs up the transmission. Even with hefty curb weight the Expedition has plenty of power in reserve for effortless towing. An FX4 off-road package extracts the most from 4WD models and from the SUV's traction-control systems; it gains specific drive modes for mud and sand, atop the standard comfort and sport modes.

As for ride and handling, a massive SUV such as the Expedition can't approach the finer reflexes of an Escape, but the Expedition has a charming hustle all its own, with few awkward steps. Its electric power steering shrinks the driving feel of the behemoth SUV as it takes a quick set in corners. It doesn't have great feedback, but it's natural and quick enough to the touch. The Expedition's stock steel independent suspension can be swapped up to adaptive shocks that can quell errant ride motions and react quickly to changing road conditions. Some body lean still survives, and the Expedition dives into deep corners, but it's well-controlled with few surprises. It's as easy to drive quickly and progressive as any vehicle its size can be.
Gas mileage isn't the main goal of the Ford Expedition. Rear-wheel-drive Expeditions earn the best gas mileage ratings. The EPA puts them at 17 mpg, 24 highway, 20 combined. With the same twin-turbo V-6 and 10-speed automatic, and four-wheel drive, the Expedition's rated at 17/22/19 mpg. Long-wheelbase, rear-drive Expeditions (the "Max" model) get pegged at 17/23/19 mpg. Four-wheel drive lowers that to 16/21/18 mpg. In our week with an four-wheel-drive King Ranch model, we average slightly better than EPA at 19.8 mpg.
With federal crash-test data and extensive technology on its side, the 2020 Ford Expedition is a safety tour de force. The NHTSA reports five-star overall ratings for both the rear- and four-wheel-drive Expedition, but the IIHS hasn't put one through its tough regimen yet. The 2020 Expedition now comes standard with a bevy of safety technology, everything from blind-spot monitors to automatic emergency braking and active lane control. The Expedition also has very good outward vision. On the options list, some models come with standard adaptive cruise control and a surround-view camera system.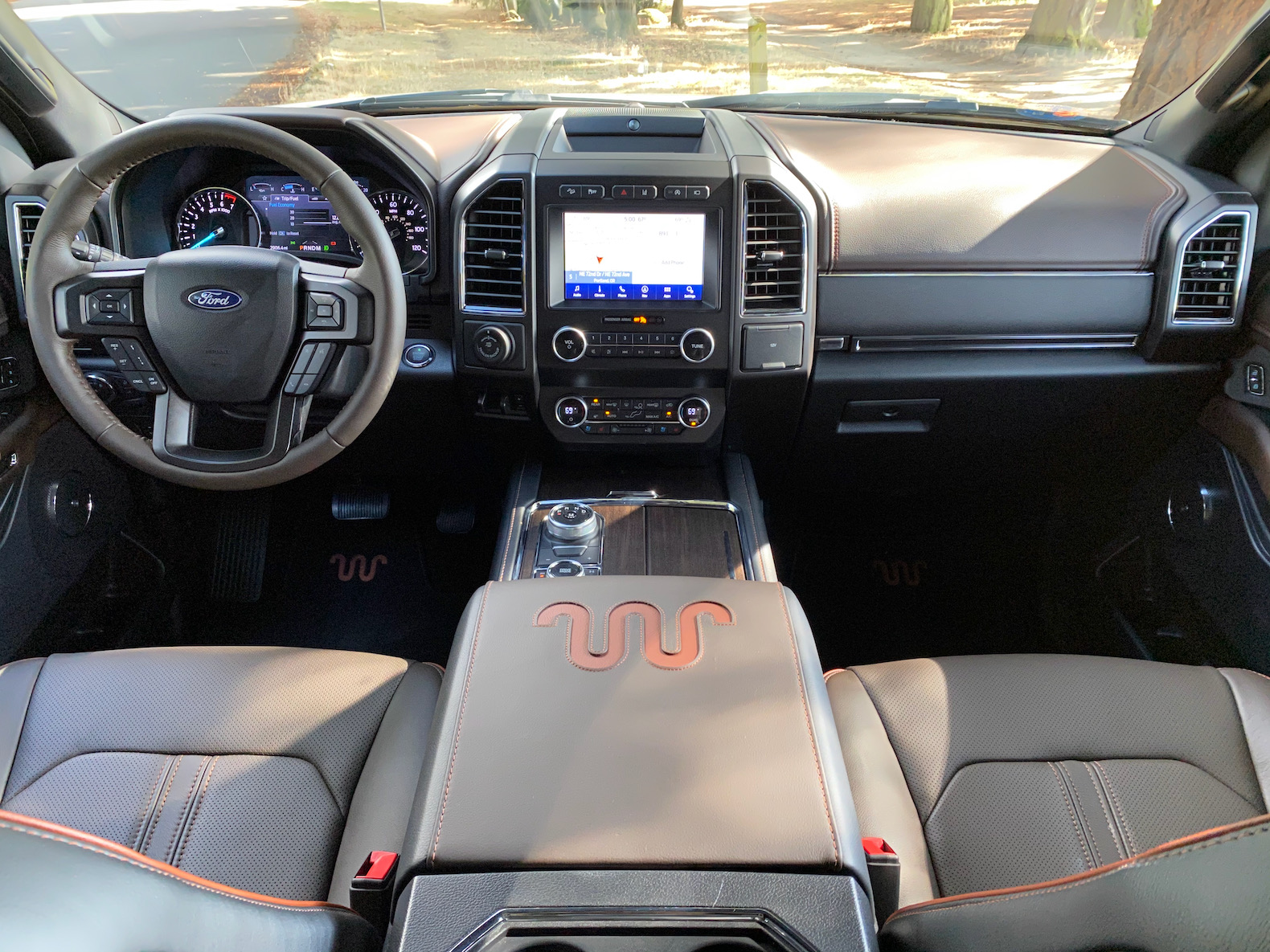 The 2020 Expedition has room for everyone, all seven of them. Inside, the Expedition embraces its truck heritage in a more straightforward way. It lifts the F-150's arrangement of controls and clusters, and wraps it in better finishers. Platinum Expeditions cater to the tastes of some very wealthy workers. It dives into the luxury trim bin and comes up with real wood trim, fine metallic details, and neatly stitched leather that imparts a rich feel in what could be an ordinary big-SUV cabin. With its seven-passenger seating, immense cargo space, and excellent fit and finish, the 2020 Expedition bumps up against the Lincoln Navigator for drivers who seek out extreme utility minus the glam.

In front, the Expedition gets a nicely padded power driver seat, cloth upholstery, and a commanding view of the road ahead. Base Expeditions wear monochromatic trim and cloth upholstery, but at the Platinum level the Expedition nearly matches Lincoln's swank, with leather and wood trim that sings a country song in King Ranch trim. Expansive comfort is met with lots of spread-out space, and Ford will wrap the seats in leather and power-adjust the passenger side, even with massage functions, on more expensive models. Enormous doors grant easy access to the second and third rows. In the middle, either a split-bench seat or captain's chairs seat three or two; we'd select the bucket seats on Limited, Platinum, and King Ranch trucks, since the pass-through lets adults walk through to the rearmost seat. In any case, the middle-row seats can slide forward, even in the presence of a child car seat.

Adults won't mind road trips in the Expedition's third-row bench, what with the quad cupholders and charging ports and expansive leg room. Head room is another issue though; tall passengers will find it tight, but the rearmost seat can recline for better comfort. The standard Expedition can swallow 19.3 cubic feet behind its third-row seat, while the Max can take up to 34.3 cubic feet. Behind the second row, the numbers swell to 63.6 or 79.6 cubic feet. Fold down the rear two rows and the massive Max can carry 121.5 cubic feet of stuff, versus the standard SUV's 104.6 cubic feet.
Ford offers the 2020 Expedition in many trims, some squarely in luxury vehicle territory. Now that Ford's made more features standard on the Expedition SUV, the price of entry has fallen. The base price hasn't been cut but formerly optional features now come on every Expedition. The least expensive version is the base $54,205 Ford Expedition XLT. It gets a power driver seat, a power-folding third-row seat, 18-inch wheels, and an AM/FM/XM audio system with six speakers and a handful of USB ports. Also standard is an 8.0-inch touchscreen infotainment system with Apple CarPlay and Android Auto compatibility. Forward-collision warnings and automatic emergency braking now come standard, along with blind-spot monitors and active lane control.

From here, it's a race up to luxury vehicle features. The $64,740 Expedition Limited gets 20-inch wheels, premium B&O audio, power running boards, and a rear-seat entertainment system with SlingTV. The $75,330 Expedition Platinum pitches in a panoramic sunroof, navigation, 22-inch wheels, and LED headlights, while the new $74,290 Expedition King Ranch offers 22-inch wheels, a gray mesh grille, painted bumpers, King Ranch badges, and an interior slathered in "Del Rio" leather and wood trim, along with adaptive dampers, a surround-view camera system, and power-fold side mirrors. An off-road bundle adds a low-range transfer case, tougher shocks, all-terrain tires, running boards, underbody protection, and an electronic limited-slip differential. Four-wheel drive and the long Max body can be configured at every step on the order sheet.
The 2020 Ford Expedition is large and impressively in-charge. Ford's been smart by forging a new path using aluminum body panels that reduce weight, smaller-displacement turbocharged engines increasing fuel economy, and independent rear suspensions that make the 2020 Expedition ride and handle better. The gamble has paid off with the Expedition now at the top of its class. The fact that it has handsomely elegant styling and doesn't quiver at the thought of a windy road just icing on the large SUV cake. With the Expedition you can have your cake and eat it too.
For all your new car shopping needs, check out: drivevise.com Vehicle shopping made simple!