The 2019 Mazda 6 is a breakout among mid-sizers that can lack flair and fun. This year, the mid-size sedan returns mostly unchanged from last year's version, albeit with standard safety hardware that was optional last year.The 2019 Mazda 6 isn't just a standout among sedans, it's also a standout in the parking lot against everything else. The exterior shapes are remarkable, flowing, and so far, unrivaled. The interior lives up to the sheet metal, but it performs admirably. We're content wriggling around with the superb handling in the 6 that's standard on every model. This year, every Mazda 6 gets standard automatic emergency braking, active lane control, blind-spot monitors, and adaptive cruise control.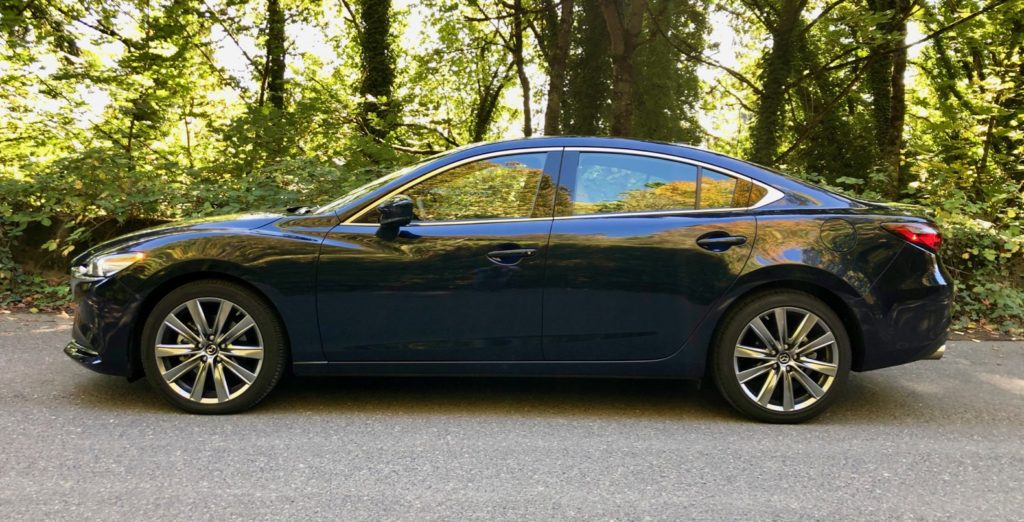 Any light is right for the 2019 Mazda 6 sedan, it's a stunner. The 2019 Mazda 6 is a knockout, one of the best-looking sedans on the road. We have great feelings for the interior and exterior. The Mazda 6 is a rare sight on the streets, but also unmistakable. Base sedans get 17-inch wheels that fill up its arches, but it's not far to get dressy 19s that look great. The Soul Red paint swatch is a small upcharge and worth the price, we say. The sedan's shape still looks windswept and organic, a flowing exercise of simplicity that other automakers just can't match. It looks that good.
The 2019 Mazda 6 nails all the little performance things to make a big difference. Mazda may well make a washing machine entertaining to drive so we won't call the 2019 Mazda 6 just another mid-size appliance. An available entertaining engine, sharp steering, and composed ride overshadow the loss of a manual transmission this year. The 6 is a standout for its handling and the optional turbo-4 from our test vehicle is another bonus.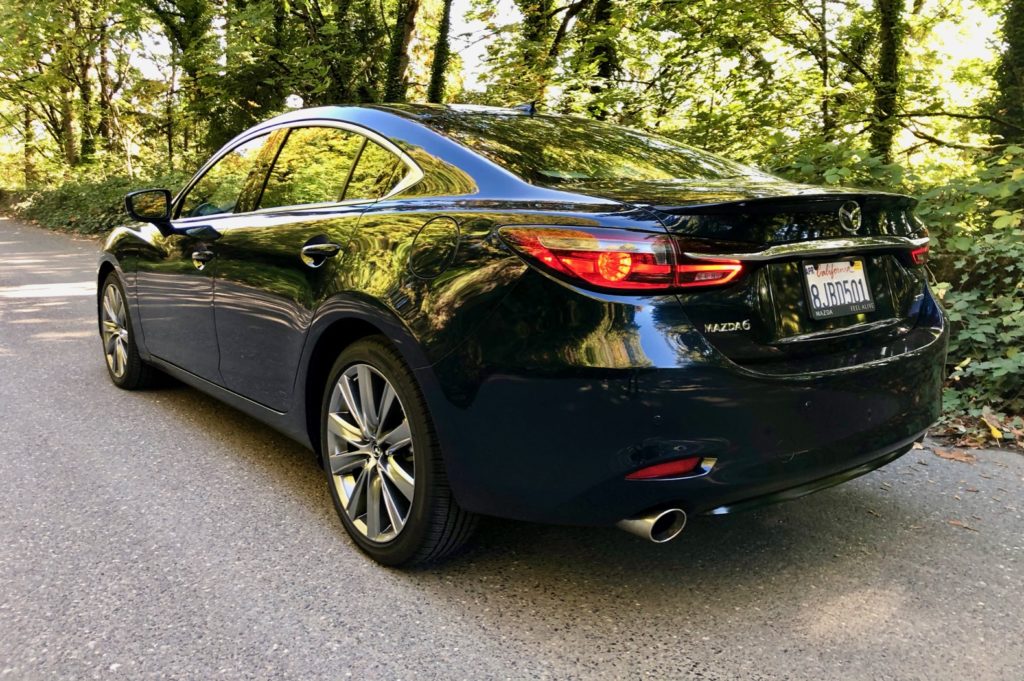 The base engine on Sport and Touring models is a 2.5-liter inline-4 that makes 187 hp and 186 pound-feet of torque. Its only partner is a 6-speed automatic transmission that dims the engine's performance a little, the manual kept the engine closer to a boil and we liked it but clearly no one else did. The base engine can also shut down two of its cylinders when they're not needed to cruise. Grand Touring and higher trims get a 2.5-liter turbo-4 that doles out 250 hp on premium unleaded or 227 hp on everything else. It's strong, and a Sport button makes the throttle and steering that much more eager.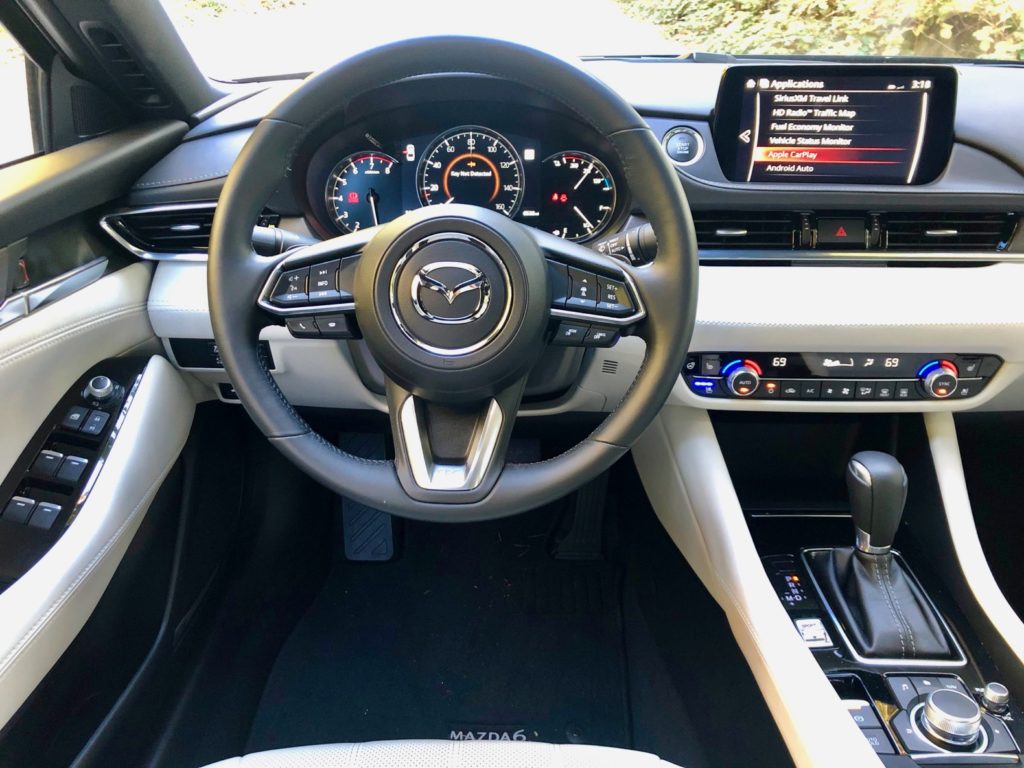 The Mazda 6's true gift, handling is. The sedan's sharp steering and electronic systems twist the 6 neatly around corners and bends. The steering isn't especially fast, it's relaxed on the interstate and tracks down the middle well, but its progressive rack dials in more steering as the speed increases in a very comfortable and quick way. Take one to the nearest roundabout, or circular on- or off-ramp, and speed up. The 6 also had another trick for you while you were spinning around on-ramps. The sedan nearly imperceptibly stabs at the brakes and throttle to adjust the weight in the 6 to corner better. It's a neat trick that happens in the background and we like it.
The 2019 Mazda 6 is efficient at hauling people around. Sedans are more efficient people-carriers than SUVs and the 2019 Mazda 6 is proof. Most sedans will manage 26 mpg city, 35 highway, 29 combined, according to the EPA. Top trims get a turbo-4 that lowers fuel economy to 23/31/26 mpg.  Among sedans, the Mazda6's fuel economy is lower but still within earshot. The Honda Accord rates 31 mpg combined in its most popular configuration, the Camry rates 32 mpg. Among crossovers, which have effectively replaced many sedans in many garages, the Mazda6 beats many of them.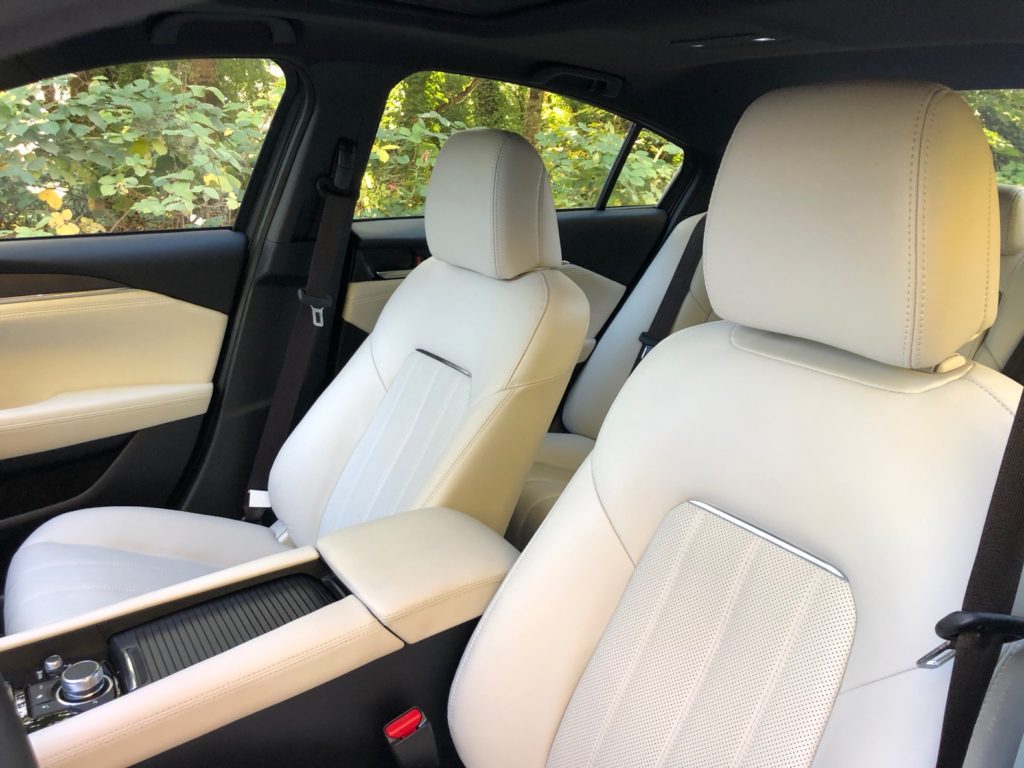 The 2019 Mazda 6 has earned glowing grades from federal and independent testers. With full crash-safety data in, the 2019 Mazda 6 does well on our scoresheet. Federal testers gave the sedan a five-star overall rating and full-speed automatic braking is standard on every model. The IIHS calls the sedan a Top Safety Pick. Aside from good outward vision, the Mazda 6 this year makes standard a suite of active safety features that include automatic emergency braking, active lane control, blind-spot monitors, and adaptive cruise control. A surround-view camera is available on top trims.
The IIHS tested the automatic emergency braking system last year and gave it a top "Superior" rating and said the system avoided a 12-mph forward crash altogether and mitigated a 25-mph forward crash by 24 mph.

The trunk swallows 14.7 cubic feet of cargo, down fractionally against Honda and Toyota. The 60/40-split folding rear seats offer some relief, provided you didn't go to Home Depot with a full boat already. Inside, the low dash helps bring in more natural light. Good space for four adults and a smart interior make the Mazda 6 a good choice among mid-sizers. The 2019 Mazda 6 is longer and better appointed compared to most mid-size sedans and better appointed. Some trims wear their materials better, but top trims don't feel authentically luxurious, just a half-step behind.

By the numbers: The 6 spans 191.5 inches from bumper to bumper, 111.4 inches between the wheels. Rear passengers get 38.7 inches of leg room that seems more generous than it is, tall front-seat riders can eat into available space. The comfortable seats are shod in cloth, synthetic leather, real leather, or soft leather, a comparative melange of materials for a mid-sizer. We like the seats, but don't love them. Compared to others from Nissan, the Mazda 6's lack support push against your 6'1″ editors shoulders. Rear seat passengers get their own USB chargers in Touring trims and higher. The top trims scatter soft nappa leather hides, suede-like door panels, and wood trim throughout the cabin. It's top-notch stuff but feels a little thin. We'd stick closer to the Touring trim level that uses synthetic leather, and costs less.

Every sedan is well-equipped, but the mid-level 2019 Mazda 6 is where we find the most satisfaction. Sedan shoppers are spoiled for choice: the 2019 Mazda 6 fills its cabin with excellent amenities on most trim levels and doesn't ask too much in return. Every Mazda 6 gets 17-inch wheels, automatic emergency braking and active safety features, power features, Bluetooth connectivity, two USB inputs, dual-zone climate control, and an 8.0-inch touchscreen for infotainment. That's good equipment, but Apple CarPlay and Android Auto compatibility aren't included on base versions. 
The Mazda 6 is available in five trim levels: Sport, Touring, Grand Touring, Grand Touring Reserve, and Signature. The Sport versions cost $24,720, including destination. Our sweet spot is the Mazda 6 Touring, which costs $27,320, and adds to Sport versions 19-inch wheels, smartphone compatibility, synthetic leather upholstery, heated front seats, a power-adjustable driver's seat, two rear USB chargers, and keyless ignition. Three top-shelf paint options cost more on the Mazda 6, up to $595 for a sumptuous shade of red, and we'd be happy with any of the three: red, white, or gray.
Mazda charges at least $36,020 for a 2019 6 Signature but we're not sold on its value. It offers a gunmetal gray grille, a surround-view camera system, head-up display, leather upholstery, 7.0-inch digital instrument display, navigation, beautiful open-pore wood inside, a heated steering wheel, and cooled front seats as well as an uprated turbo-4 engine. It rivals some luxury sedans in equipment for less money, but it's a big jump from a Mazda 6 Touring.
In a sea of mid-size sedans the 2019 Mazda 6 really stands out. The 6 has stunning looks, class leading ride and handling, and Mazda reliability at reasonable price point. If you like driving the sleeper of the group, the Mazda may just be your ticket since they're still quite rare among seas of Accords and Camry, and definitely worth a look.