The 2020 Lexus UX is a spacious, fuel-efficient crossover SUV with standout styling. Edgy styling isn't the only thing that makes the 2020 Lexus UX stand out in the fiercely competitive field of luxe-lite small crossovers. The 2020 UX is a strong choice for those with the budget, if not necessarily the garage space, for a pint-size SUV with features more commonly found in larger vehicles. This year's newly standard Android Auto compatibility only makes it better.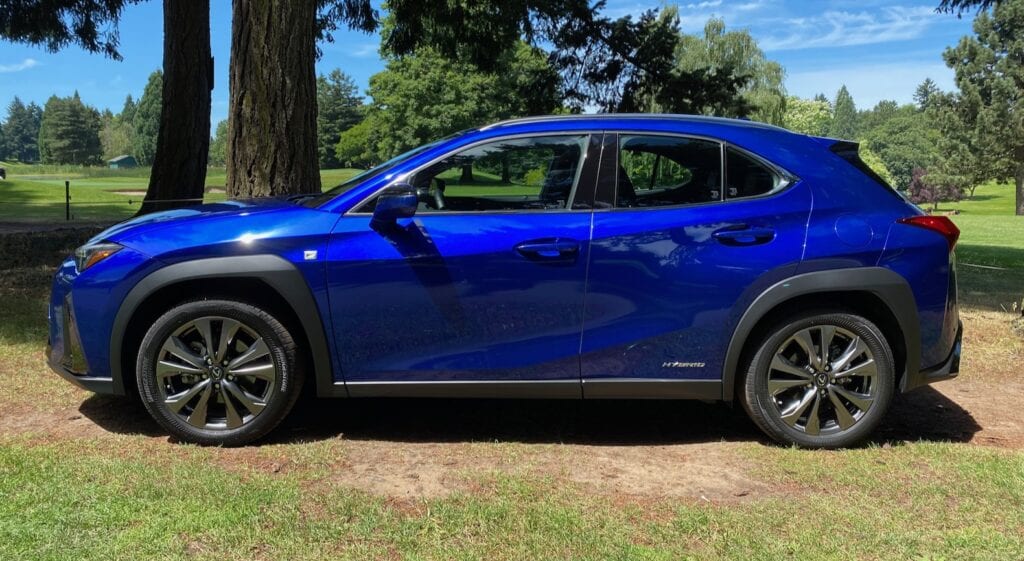 Lexus offers the UX in base, Premium, and F Sport trims, either as the front-wheel-drive UX 200 (see our review here) or as the all-wheel-drive hybrid UX 250h found in our test vehicle. Base cars use a 2.0-liter inline-4 rated at just 169 horsepower to send power to the front wheels through a continuously variable automatic transmission (CVT). UX 250h versions use a different inline-4 paired with dual electric motors on each axle and a special CVT for a smidge more power, better performance, and impressive fuel economy. No UX is thirsty, but hybrids tickle 40 mpg in most driving, and can exceed that heady figure with a light touch.

The UX has sharp lines and pert dimensions. Front-seat riders are treated to good room, while rear-seat riders have to squeeze through tight door openings. Cargo space is just so-so, but at least furnishings are a step above most crossovers. The automaker's infotainment tech adds Android compatibility to last year's Apple CarPlay. Meanwhile, the UX is an exceptionally safe choice that boasts excellent crash-test scores in every configuration and doesn't force buyers to pay extra for active safety features. The UX is a sharp choice in most ways.
The Lexus UX is a styling standout among small crossover SUVs. If curves are your thing, look elsewhere. The 2020 Lexus UX has nary a soft surface on its crisp, toned, sharp bod. The UX is nothing if not adventurous. The latest take on Lexus' signature spindle-style grille is as pinched as ever here, but its surface detailing is a cut above what we typically see at this price. LED headlights strike like lightning into the plastic bumper, and their sharp appearance is mirrored at the tail with small red fins that look like a small evolution of the 1950's. In fact, it's the UX's rear end that pleases us the most for the way it cohesively ties the UX's elements together.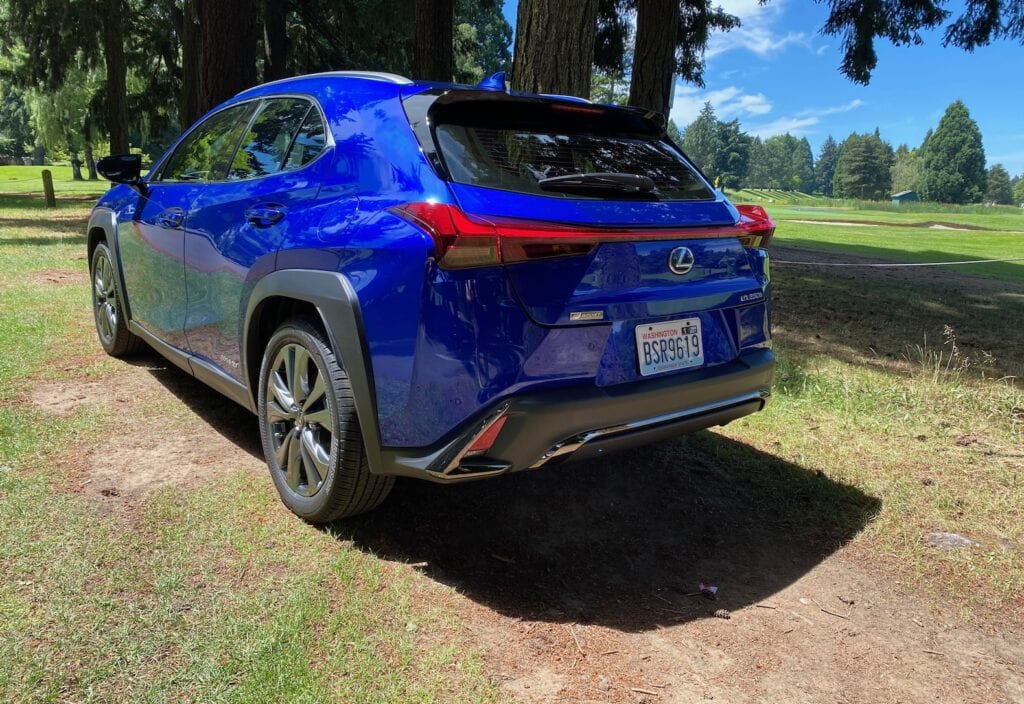 The 2020 Lexus UX is as engaging as it needs to be. Lexus doesn't try anything dramatically different underneath its 2020 UX crossover. Its familiar engines, transmissions, and optional hybrid tech are exactly what we expect, though its ride is a pleasant surprise. The UX comes in three basic configurations: UX 200 with a 169-hp 2.0-liter inline-4 paired with either front- or all-wheel drive, or UX 250h with a different 2.0-liter inline-4 teamed with hybrid tech for a little more power (176 hp) and a lot better fuel economy. The Hybrid powertrain is a standout though and definitely makes the UX.

No matter what's underhood, the UX pulls away from a stop with little enthusiasm. The continuously variable automatic transmission (CVT) features a fixed first gear to ease acceleration before switching over to unlimited ratio mode to save fuel. Ten preset ratios help the CVT mostly behave like a conventional automatic. Acceleration is modest with a claimed 0-60 mph sprint of just under nine seconds for the UX 200 and a smidge faster for the hybrid. UX F Sports come with paddle shifters to help make the most of the gearbox, though their real usefulness comes while descending hills. The UX 250h is the only all-wheel-drive version of Lexus' smallest crossover. Its dual electric motors, one on each axle, give it terrific slippery-road traction.

Underneath, the electric power steering, front struts, and rear multilink suspension emphasize ride quality over handling. The UX corners confidently, with four drive modes that tweak steering heft a discernible amount. F Sports have slightly stiffer suspension and sway bar settings, though they still ride soft enough to manage urban potholes well.
The 2020 Lexus UX is an eco-friendly choice in hybrid form. The base 2020 Lexus UX 200 is fairly fuel-efficient, but spending more for the all-wheel-drive UX 250h may pay out quickly for some drivers. The base UX 200 is rated at 29 mpg city, 37 highway, 33 combined. The UX 250h hybrid sends power to all four wheels but sips fuel at an impressive 41/38/39 mpg. Another boon is that the UX only requires less expensive regular unleaded fuel while most of the UX's rivals require premium fuel. In our week with the hybrid UX 250h we averaged an impressive 40.8 mpg.

Excellent crash-test scores and a wide array of collision-avoidance tech make the 2020 Lexus UX a safe choice. The 2020 Lexus UX has aced most crash tests and it comes standard with good active safety features. The NHTSA rates the 2020 UX at five stars overall, albeit with four stars for frontal collision and four stars in the calculated rollover assessment. The IIHS heaps on even more praise: a Top Safety Pick+ award thanks to "Good" results in every crash test, and similarly glowing reviews for its headlights and its collision-avoidance features. Only an "Acceptable" mark for the crossover's child seat harnesses holds it back from a coveted perfect overall assessment.

Every UX comes standard with active safety features including automatic emergency braking with pedestrian detection, active lane control, and adaptive cruise control. Blind-spot monitors are optional and are newly paired with rear cross-traffic alerts this year. Outward vision is about average.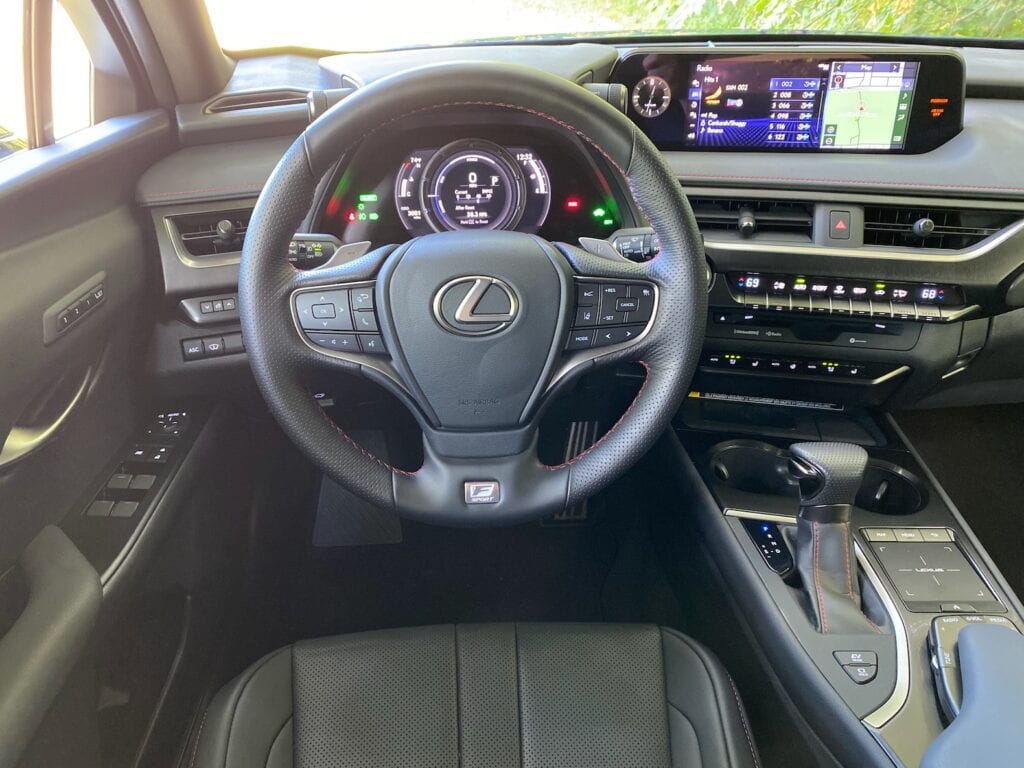 Inside, the UX doesn't stand out from the rest of the Lexus lineup. That's mostly a good thing, with the dash being functional while still having some style. Materials throughout are intriguing, with washi tape-texture trim on most versions. Bright and innovative interior hues give a more upscale feel than most rivals. The 7.0-inch screen that holds court in front of the driver is stretched to 8.0 inches on the F Sport trim. Piano key-like buttons sit below a widescreen display on the center stack that's as large as 10.3 inches if you've selected the optional navigation system.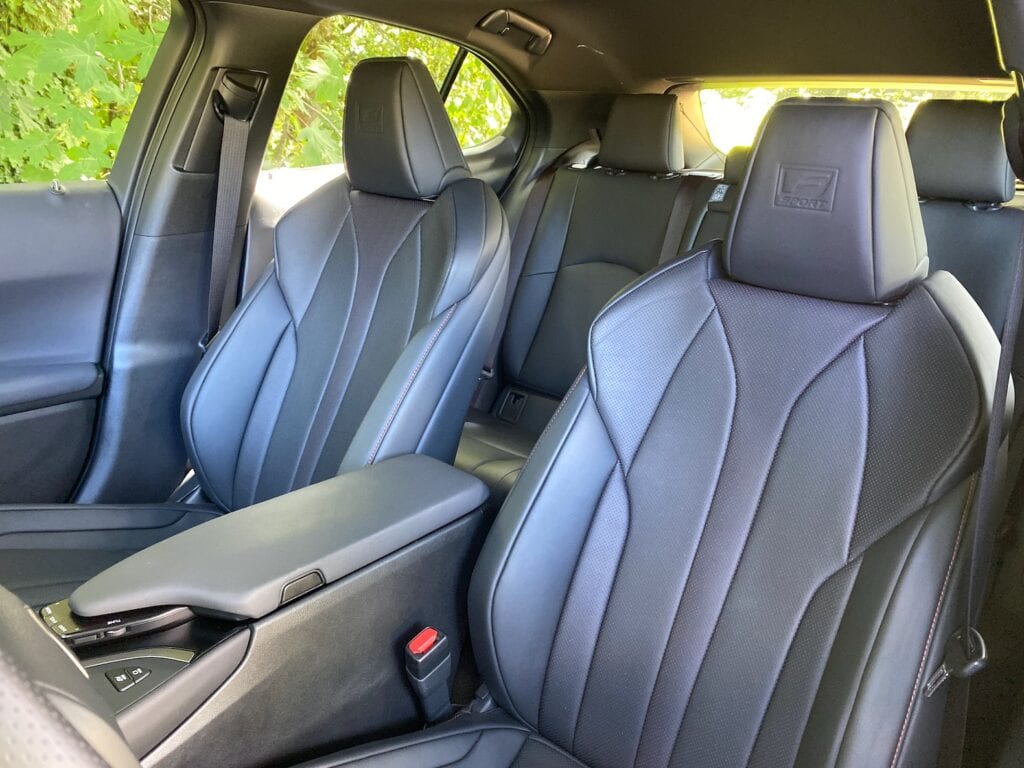 The UX comes standard with power-adjustable front seats that offer good head room without the optional sunroof but just shy of 36 inches of head room with it. Rear-seat riders get just 33.1 inches of leg room, which isn't very good on paper but feels slightly more spacious in reality and boasts a fold-down armrest plus twin USB ports. Narrow rear doors confound matters.

The 2020 Lexus UX is spacious for a small crossover SUV. For a small crossover SUV that rides on a mere 104-inch wheelbase, the 2020 Lexus UX is accommodating inside. Cargo room stands at 17.1 cubic feet with the rear seat upright in hybrids thanks to their battery packs, though the standard NX 200 has nearly 5 cubes more storage space.

The 2020 Lexus UX is well-equipped. At around $33,500 to start, the 2020 Lexus UX is priced about like its rivals and is generally equipped a little better in base form. It's available in base, Luxury, and F Sport trims, and has a good standard feature set and extensive options. The base UX comes with power features, dual-zone automatic climate control, and synthetic leather upholstery. Most UXs are likely to have the $1,675 Premium Package that adds a moonroof, heated and cooled front seats, blind-spot monitors, and upgraded interior trim.

The UX Luxury runs nearly $5,000 more, and for that money it adds a power liftgate, blind-spot monitors, and a few additional features on top of the Premium Package. Just don't look for leather upholstery as it's not available. Lexus bundles an upsized 10.3-inch screen with navigation, though all versions come with Apple CarPlay and Android Auto compatibility. A center console-mounted touchpad serves as the primary interface, and it's one user experience that doesn't live up to the crossover's UX name. The UX 250h is equipped about like the standard UX, albeit for about $2,000 more thanks to its standard all-wheel drive.
The 2020 Lexus UX 250h hybrid powertrain does wonders for the small crossover by invigorating it with a small jolt of power, all-wheel-drive, and impressive fuel economy; it's a win-win-win. That's on top of standard Lexus refinement and reliability that already make UX a winner. So make sure the UX is on your small crossover shopping list and skip the base powertrain.
For all your new car shopping needs, check out: drivevise.com Vehicle shopping made simple!