The 2020 Lexus LX 570 makes no effort to be subtle. The big SUV's brash styling, strong engine, and prodigious thirst are balanced by a plush interior and cosseting ride. The LX shares its basic design with the Toyota Land Cruiser, though the two differ in exterior and interior styling, infotainment software, and suspension equipment.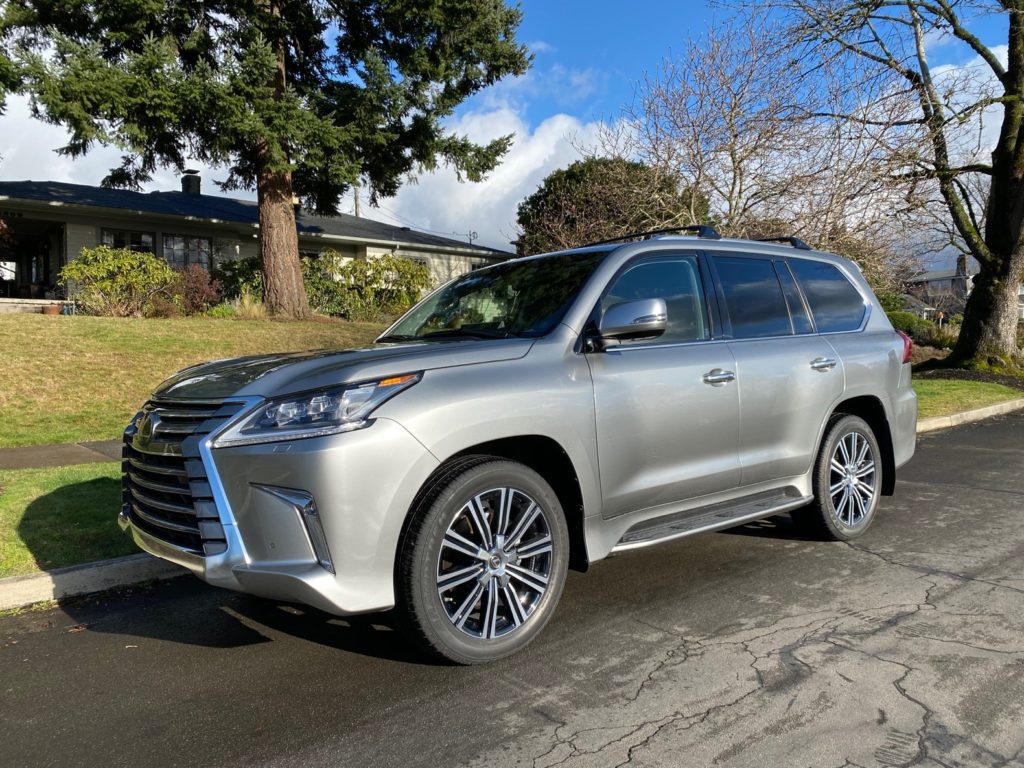 This year, the LX 570 adds a new Sport package that can be had on the three-row model in a wider array of interior hues. A 5.7-liter V-8 sends 383 horsepower to all four wheels through an 8-speed automatic transmission. That's enough power to motivate the 6,000-pound beast with more authority than many drivers might expect. The truck chassis helps the LX confidently tow up to 7,000 pounds. Few vehicles guzzle fuel at the same rate as the Lexus LX. Underneath, the height-adjustable suspension can be lowered for easier access and raised to go off-road. A host of four-wheeling modes deliver impressive off-road ability, though the low-hanging front bumper will be awfully expensive to replace should it be wedged against a rock.

The 2020 Lexus LX 570 looks like no other SUV. A chiseled front end and pinched taillights give the 2020 Lexus LX 570 stand-out styling. Its clean, car-like interior earns points for it's opulence. The LX's lines date to before Lexus' full commitment to its now-familiar "spindle grille" design. The snout is ringed by a chrome trapezoid that looks reminiscent of a Nike "swoosh" but it's also to denote "L" for Lexus or Luxury, take your pick. From the side, the look is more Land Cruiser passé. We're more comfortable with the L-shaped LED taillights at the rear and the wonderful two-part tailgate. An optional Sport trim package, an strange name for a decidedly non-sporty vehicle, swaps in a more intricate grille treatment and revised exterior trim. Even though its bones are shared with the Land Cruiser, the LX's low bumpers mean its off-roading prowess is comparatively limited.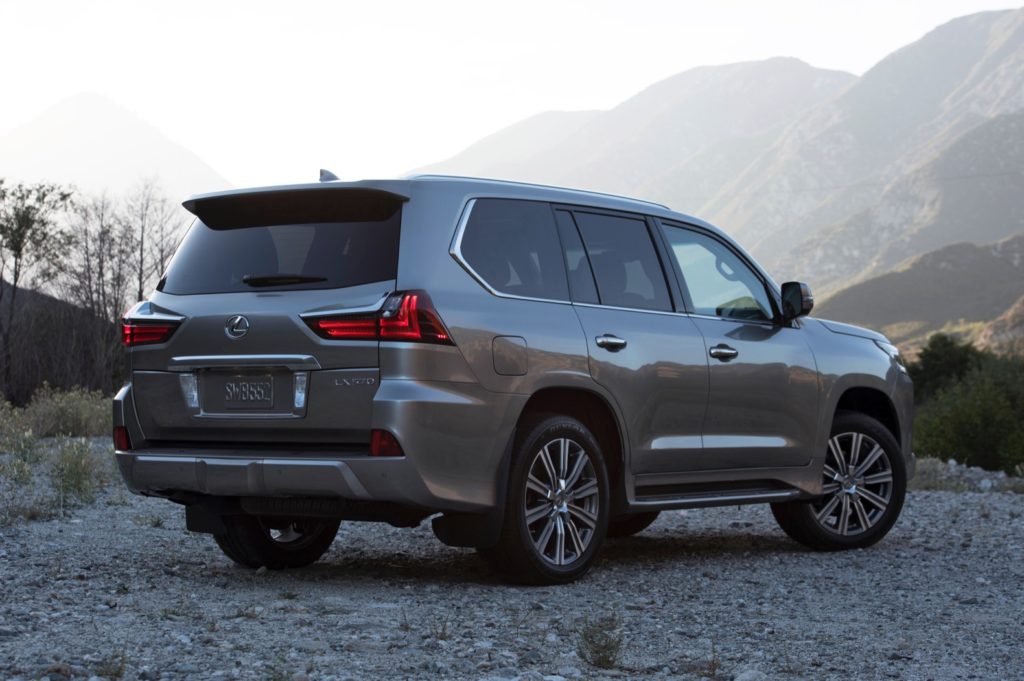 The 2020 Lexus LX 570 boasts strong acceleration and a comfy ride. Like a gentle giant, the 2020 Lexus LX 570 is a big SUV that rides as well as some luxury sedans. The 2020 LX shares its truck-like ladder chassis and 5.7-liter V-8 with the related Toyota Land Cruiser. Here, the V-8 is rated at 383 horsepower and 403 pound-feet of torque, a tiny bump over the Cruiser due to the Lexus' premium-fuel requirement. Power goes to all four wheels through an 8-speed automatic transmission that shifts smoothly and boasts two overdrive gears, though fuel economy is still not the greatest. The smooth V-8 accelerates the 6,000-pound LX to highway speeds quickly, and the truck is rated to lug a 7,000-pound trailer.

The LX differs from the Land Cruiser in its suspension. Both trucks start with the same base, an independent front suspension and a coil-sprung solid rear axle. But the Lexus makes use of height-adjustable electro-hydraulics that raise or lower the body at the tap of a button. An automatic load-leveling rear suspension copes with hefty loads and trailers. The LX rides softly even with the optional 21-inch wheels. The big body leans heavily into corners, and the steering requires a fair amount of corrections on a winding road. The big truck makes a better highway cruiser. Off-road, the LX 570 uses the same toolkit as the Land Cruiser: a two-speed transfer case, a crawl control system that helps it sneak over rocks at a walking pace, and numerous off-road traction-control modes. The deep front bumper and tall wheels limit its ability however, so if four-wheeling is in your future, be cautious.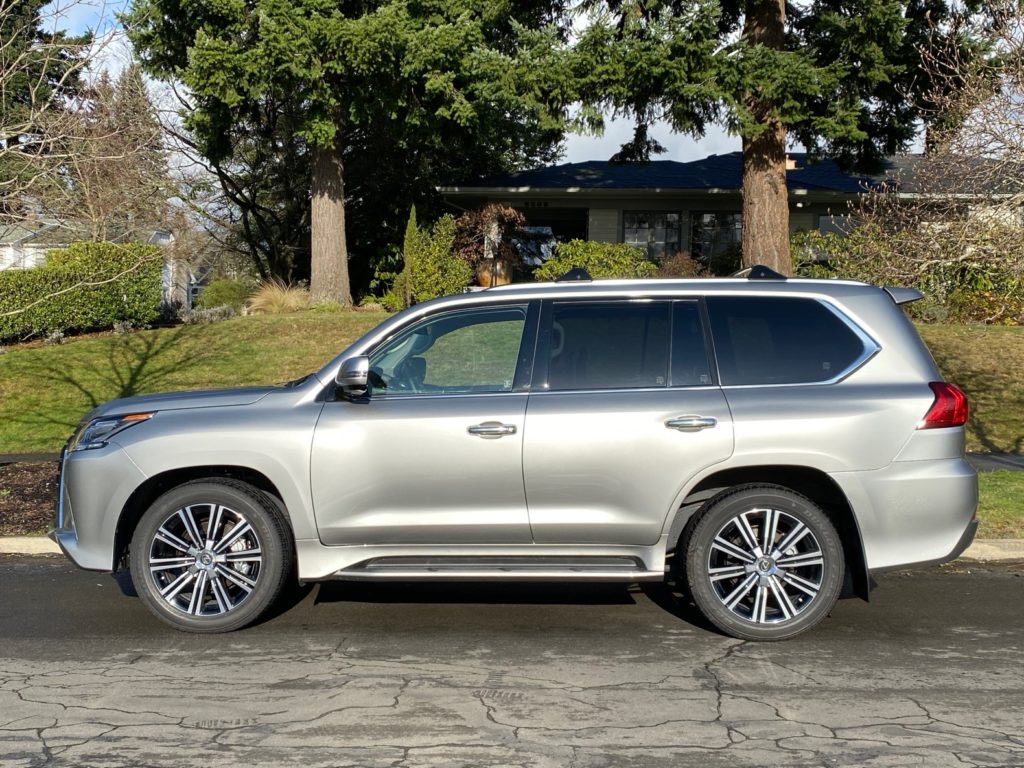 The 2020 Lexus LX 570 delivers ghastly fuel economy. It's among the least-efficient new cars available. This year, the 2020 LX is rated at just 12 mpg city, 16 highway, 14 combined. Those numbers are between 1 and 2 mpg lower than last year's truck for no apparent reason. Adding even more insult to injury, the 2020 LX 570 runs on premium unleaded rather than regular unleaded. You could of course always use regular unleaded but then you'll make lower power numbers, probably similar to the Land Cruiser ratings.

The 2020 Lexus LX 570 will do its best to avoid a crash, though it hasn't been tested. Neither the IIHS nor the NHTSA has crashed the hefty, 6,000-pound 2020 Lexus LX 570 into a wall. Active safety tech checks all the basics, but little more. The 2020 Lexus LX comes standard with automatic emergency braking that can stop for pedestrians, high-beam assist, lane-departure warnings, blind-spot monitors, rear cross-traffic alerts, and adaptive cruise control. Don't look for any system that can center the big truck in its lane, or hands-off semi-autonomous driving tech like that now found in many rivals, however. Passive safety features include stability control and 10 airbags, not to mention considerable mass.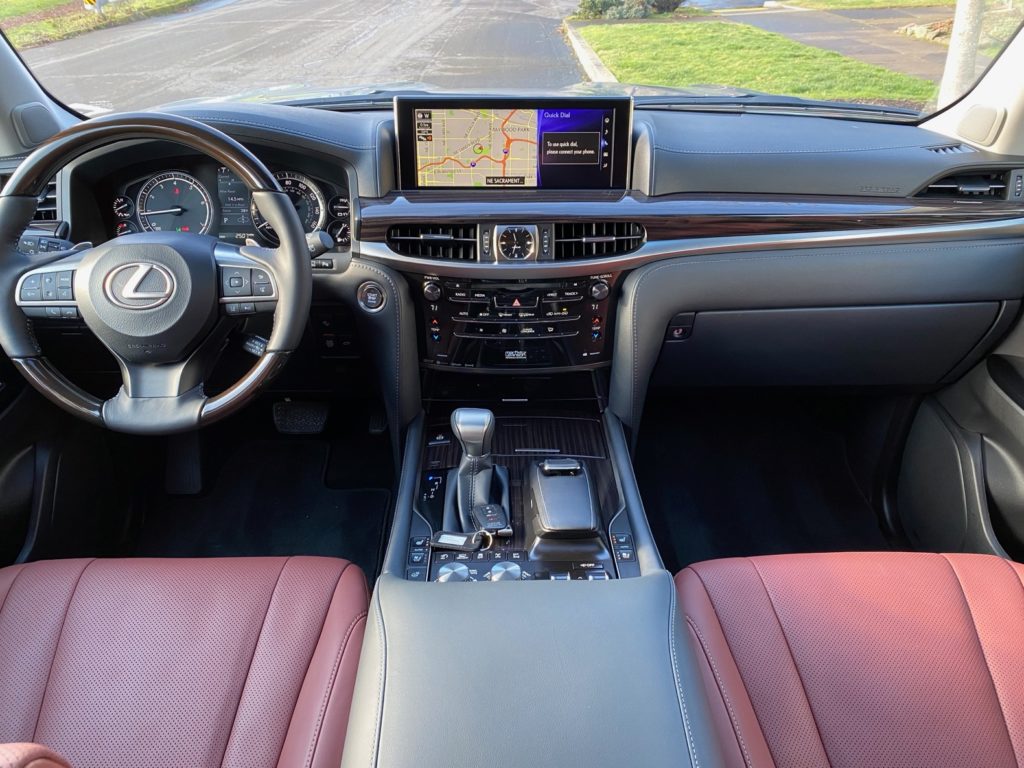 The 2020 Lexus LX 570 is a far cry from utilitarian versions of the Land Cruiser inside. Its low dash, adorned with a choice of well-finished woods and leathers with a designer appearance, looks like it could have come from a car. Even plusher semi-aniline leather is optional, though you'll want to invest in a leather care kit to keep up its appearance. Various woodgrain trim options help justify the price tag. If only the tech team had been given the same attention to detail. The standard 12.3-inch display is large, but that's its only asset. Don't look for Apple or Android compatibility.

While it delivers ample five- or seven-seat passenger and cargo space, the LX 570 works best as a two-row SUV. Its heated and cooled front seats are exceptionally comfortable and wrapped in fine leather. Row two is nearly as spacious, though foot room beneath the front seats is tight and the tall ride height makes climbing aboard a challenge for shorter-legged passengers. Skip the third row and the LX 570 can haul a maximum of 140 cubic feet of cargo, which drops to about 45 cubes with the rear seat up. The two-part tailgate is an asset for camping. The optional third row slices cargo space by around five cubic feet. The rearmost seats fold up against the rear windows. Head room is fine, but leg and foot space means the third row is suited primarily for children.
The 2020 Lexus LX 570 is behind the times when it comes to in-cabin tech. A handful of options and trim choices mean it's easy enough to tailor a 2020 Lexus LX 570 to your liking. Starting at about $86,000, the LX's basic feature set is impressive set but a complicated infotainment system that isn't equipped with Apple CarPlay or Android Auto compatibility render it a little behind the times. The 2020 LX 570 comes in two- and three-row configurations, and a handful of option packages add to a SUV already well equipped with leather upholstery, heated and cooled front seats, a power moonroof, and a 12.3-inch infotainment screen. Loaded-up models boast a 19-speaker Mark Levinson audio system, a cooler box in the center console, 11.3-inch screens for second-row passengers, 21-inch alloy wheels, softer leather hides, and open-pore wood trim. The LX makes a strong case for itself as a luxury SUV.

Lexus' 2020 LX 570 is the Lexus of large SUV's. It's large-and-in-charge front-end styling grabs your attention, while it's cosseting interior makes the miles melt away; whether on or off-road. Yet the true Lexus virtues of reliability and world-class service aren't even visible to on lookers. The 2020 LX 570 should be on every shoppers large luxury SUV shopping list, both for what you can see, and for what lies beneath.
For all your new car shopping needs, check out: drivevise.com Vehicle shopping made simple!