The 2023 Easter Jeep Safari kicks off this weekend on April 1 and just like years before, Jeep uses the even to showcase its accessories and newest concepts. This year Jeep is bringing seven concepts to the event.
The concepts not only show off Jeep's available accessories, but also showcases different powertrains as well, from fully electric, to a plug-in hybrid and even the Hemi V8.
Scrambler 392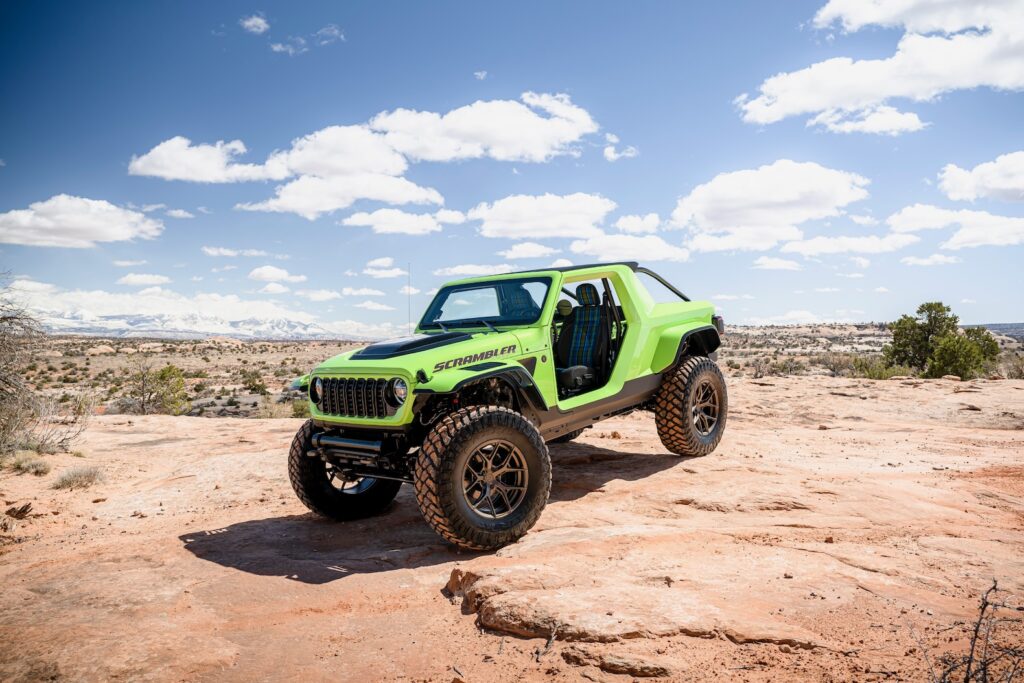 Starting with the Scrambler 392, which is based on the four-door Wrangler Rubicon 392, but that four-door layout has been ditched to give it the Scrambler look. In addition to the cool Sublime green paint, it also gets a custom carbon-fiber body, an air suspension that can raise it between 1.5 and 5.5 inches and massive 40-inch tires with 20-inch wheels. Under the hood there's the 6.4-liter Hemi V8 with 470 horsepower and 470 pound-feet of torque.
1978 Cherokee 4xe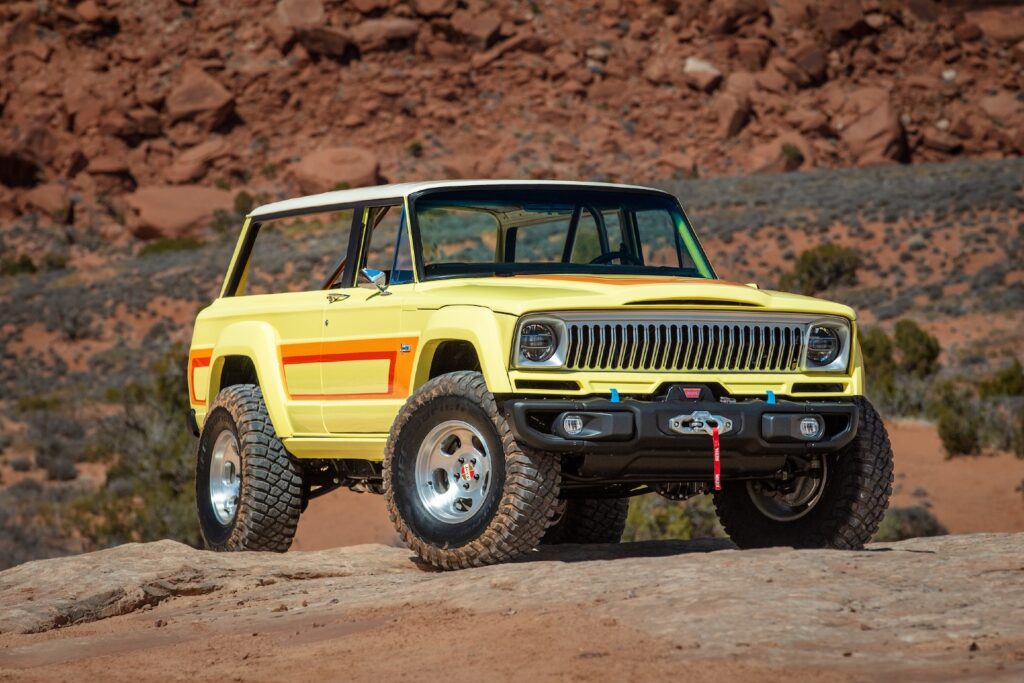 The 1978 Cherokee 4xe brings us back to the '70s. The first SJ Cherokee was a two-door version of the Wagoneer and it debuted in 1973. This concept brings back the style of that error with some body modifications and 17-inch "slotted mag" wheels. Bringing it into the modern era, there's a plug-in hybrid powertrain under the hood, which has been borrowed from the Wrangler 4xe. Inside the interior is pulled out of the Wrangler, but with retro color themes.
Magneto 3.0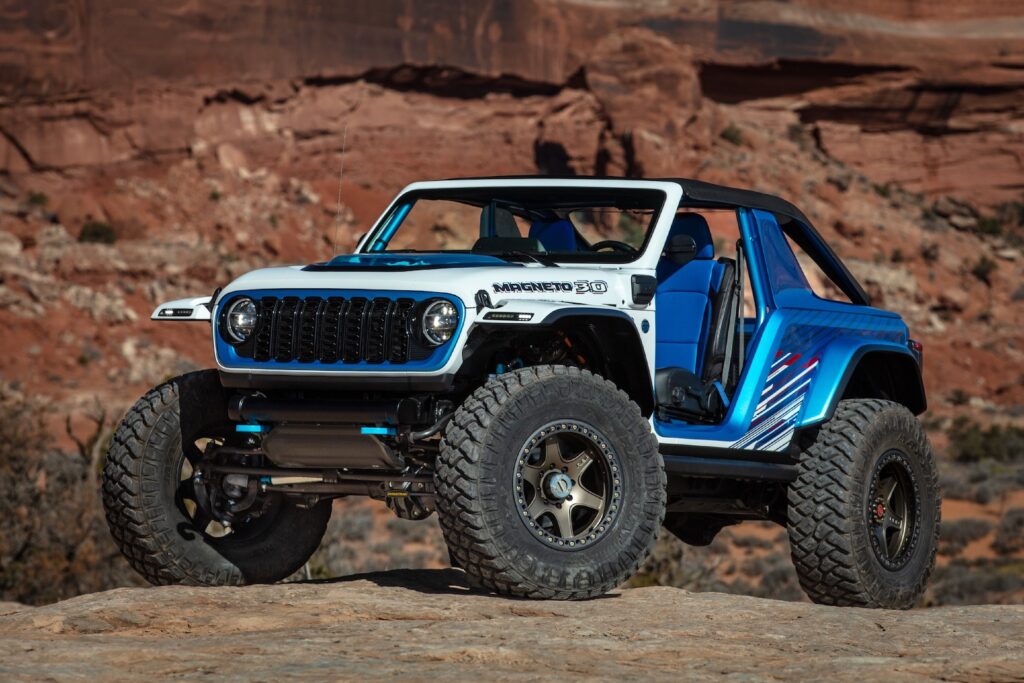 This is the third year in a row that Jeep is bringing a fully-electric Wrangler to the event. Each version has been called Magneto and Jeep says that this is 3.0 version will be the final one to attend the Easter Jeep Safari. Updates include more power at 625 horsepower and 850 pound-feet of torque, and a more efficient electric motor that has a 20 percent increase in range and useable energy. Drivers will be able to select the power settings to either the previous 285 hp or 273 lb-ft. or the more powerful output.
Wrangler Rubicon 4xe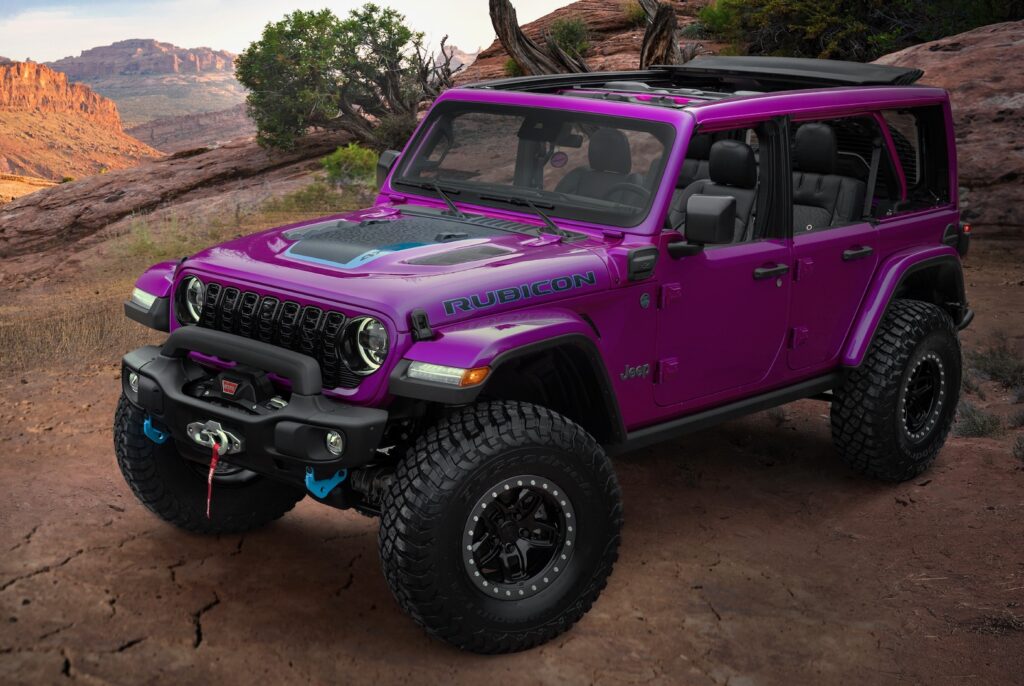 The Wrangler 4xe concept gets a magenta colored exterior, which builds on the Tuscadero color that's offered on the production Wrangler. It also gets Jeep's new seven-slot grille that debuted on the 20th Anniversary Editions, a unique hood decal and 37-inch tires with 17-inch American Expedition Vehicles (AEV) wheels. The front and rear bumpers are also from AEV.
Grand Wagoneer Overland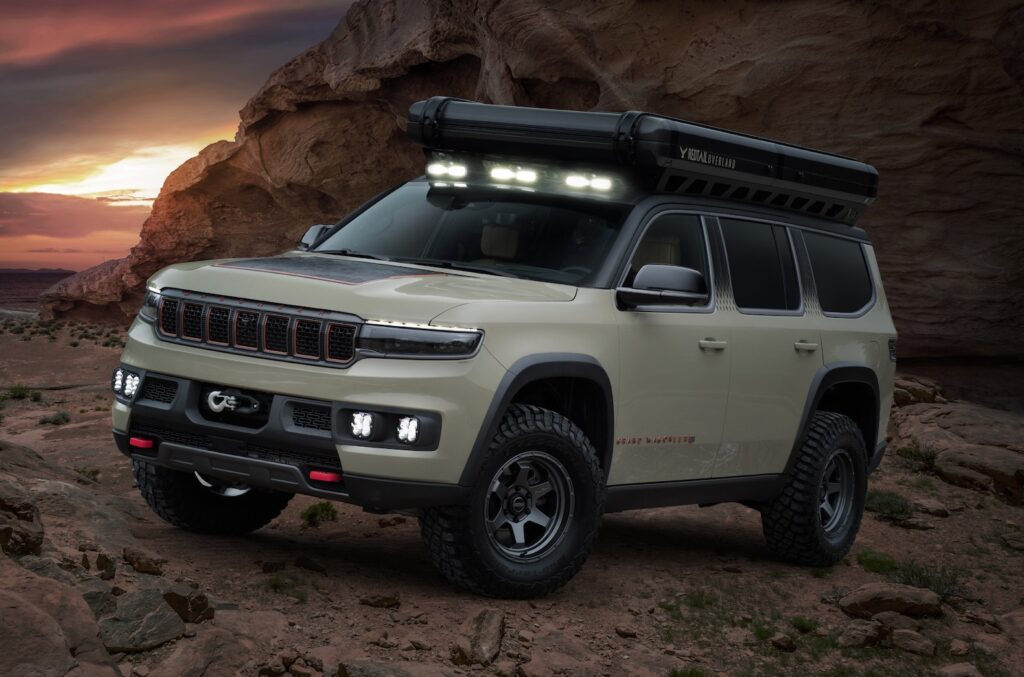 Jeep has made the Wagoneer more rugged and ready for overlanding with the appropriately named Grand Wagoneer Overland concept. It rides on 35-inch tires, at the top there's a rooftop tent and it gets lots of auxiliary exterior lights. The roof top tent is called Skyloft and is made by RedTail Overland, which can sleep up to two people, has climate control and is super easy to assemble. There's also a porthole where the rear sunroof used to be to access the roof-mounted tent. Inside the second and third row seats are gone and in its place there's a rear-seat entertainment system and plenty of room to stretch out and take a nap.
Jeep Wrangler Rubicon 4xe Departure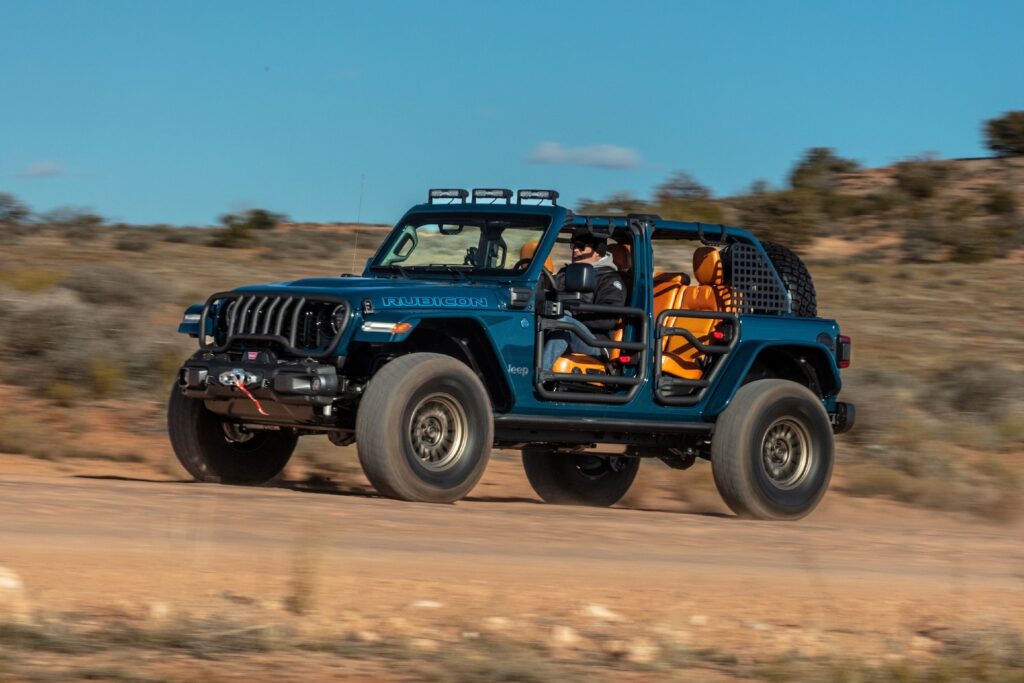 This one is based on the Wrangler Rubicon 4xe plug-in hybrid. It rides on 37-inch tires with 17-inch Vintage Bronze KMC Impact OL wheels and features a JPP 2-inch lift kit with Bilstein performance shock absorbers. It also gets the new seven-slot grille, a custom tubular grille guard that folds down to create a bumper bench, flat fender flares. Jeep says that the Wrangler Rubicon 4xe Departure concept is the first 50-state legal fender flare with OEM daytime-running lights and meets 50-state tire coverage requirements. It's painted in Dark Harbor blue, while the inside gets light Acorn Squash Nappa leather contrasted with darker Carnegie Hall brown Nappa leather.
Jeep Gladiator Rubicon Sideburn Concept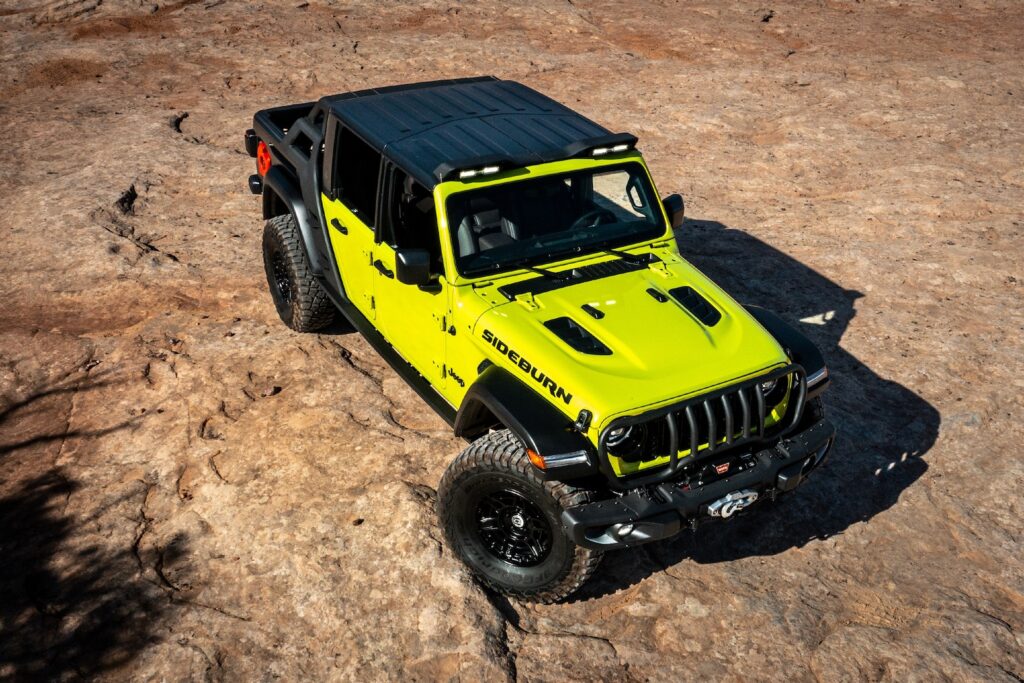 The Jeep Gladiator Sideburn concept arrives in Solar Flash Yellow. It gets a JPP 2-inch lift kit with Bilstein performance shock absorbers and rides on 37-inch tires with black HRE 17-inch wheels. It also gets the special tubular grille guard, the front bumper has a Warn winch, and a pair of removable 11-inch TYRI rectangular LED lights have been installed on each of the roof panels. A JPP Gladiator Sport Bar improves the functionality between the cabin and bed with bed steps and tire downs.