The 2019 Honda Civic injects more personality into the driving experience than we're used to with most compact cars. For 2019, the Civic also adds standard active safety gear to the equation. It's hard to make a great car even better, but with the 2019 Civic, Honda has done so. The Civic lineup includes coupes, sedans, and hatchbacks, and starts in LX trim, with EX, Sport, EX-L, EX-T, and Touring taking the range from simple to luxurious. The manual transmission-only Civic Si and Type R high-performance variants make up for what they lack in subtlety with a thrilling driving experience. This year, the Civic lineup gains updated styling outside, expanded availability of the Sport trim level, and standard automatic emergency braking.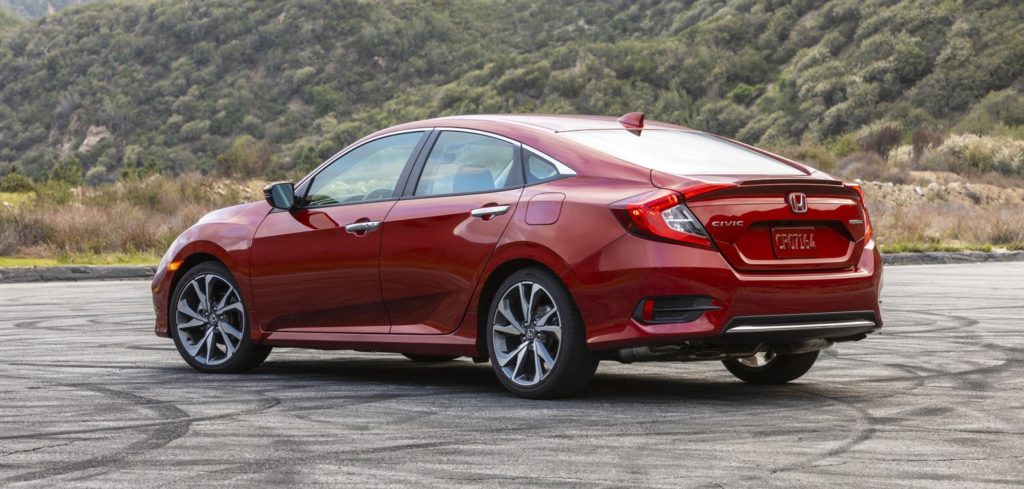 From mild to wild, the 2019 Honda Civic has a look and a bodystyle for everyone. With three body configurations and considerable differentiation between trim levels, it's hard to rate the 2019 Honda Civic lineup's styling with just one number.  The sedan, our test vehicle, is the most popular 2019 Civic body style, even if it's easy to mistake as a hatchback at first. Its silhouette channels other 4-door coups the Audi A7, the poster child for svelte styling. But where the Audi's tail ends in a utilitarian hatchback, the Civic features a conventional trunk. This year's styling updates swap chrome for glossy black accents up front for a cleaner look.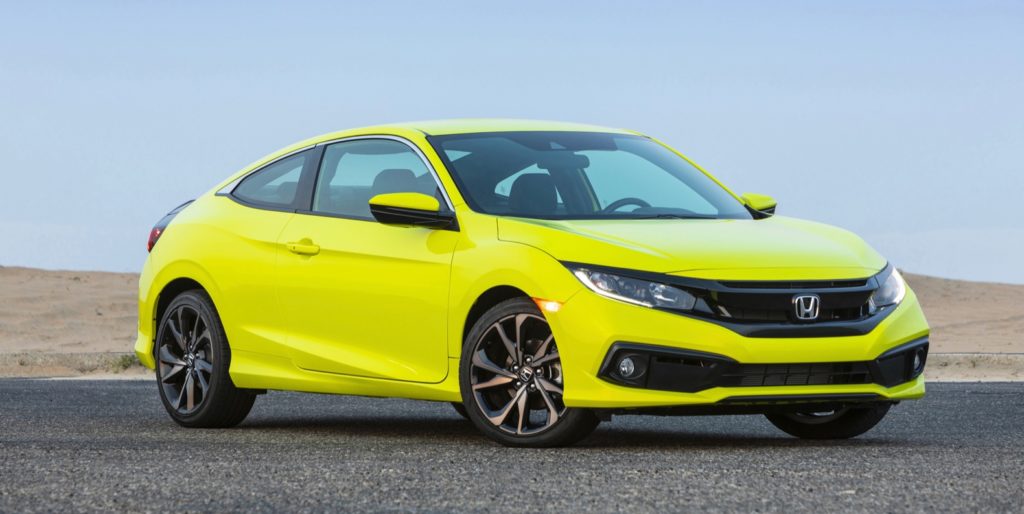 The Civic Coupe is the fashion model of the lineup with dramatic character lines running the length of its body. It looks especially good in this year's new Sport trim with its 18-inch alloy wheels and additional black accents. The Civic hatchback's styling ends up being our favorite and has the most utility of the lineup to boot. The hatchback rides on the same 106.3-inch wheelbase as the rest of the range, but its truncated tail drops 4.4 inches from behind the rear wheels.

Civic LX, Sport, and EX trims feature a 158-horsepower 2.0-liter inline-4 paired to either a 6-speed manual or a continuously variable automatic transmission (CVT). The Civic's base engine is quiet enough and provides decent power for commuting duties. Honda's CVT doesn't work like a conventional automatic, but it has somewhat stepped ratios to mimic a traditional automatic and gets the job done well. Its gear and pulley system simulates a single gear that adjusts continuously to maximize power or efficiency. If all CVTs were like Honda's, they'd lose their iffy reputation. This transmission works perfectly for commuting duty.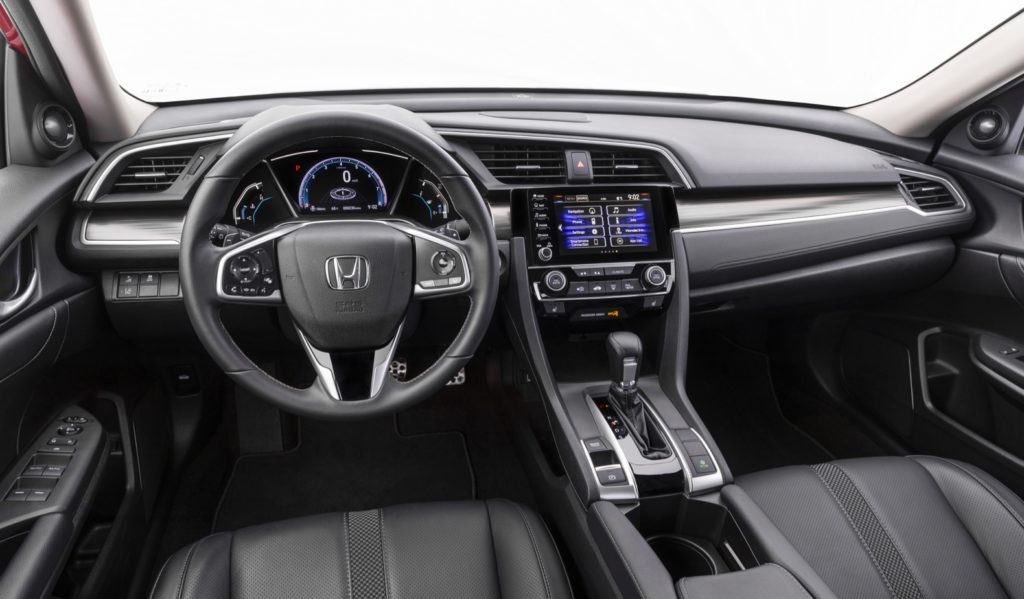 Opt for the EX-T, EX-L, and Touring trims or any version of the Civic hatchback and Honda swaps in a 1.5-liter turbo-4 rated at 174 hp in some configurations and 180 hp in others. Not only is the turbo-4 more powerful, it can be more fuel-efficient in normal driving conditions. This gem of an engine emits a gentle underhood rumble. The CVT can exacerbate the engine's turbo lag, which requires some acclimation but you quickly adjust.
Quick, direct steering and a taut, but compliant, suspension makes the Civic as capable rushing down curvy road as it is slogging through a congested city. Civics with the standard 16- and 17-inch alloy wheels ride the best. The 18-inch wheels on Civic Sport and Touring versions look good but transmit more road imperfections to the cabin. Turbocharged coupes and sedans and certain versions of the hatchback have rear suspension bushings filled with hydraulic fluid that make them feel even more composed. On the highway, the Civic tracks well and settles into comfortable, relaxing cruiser mode.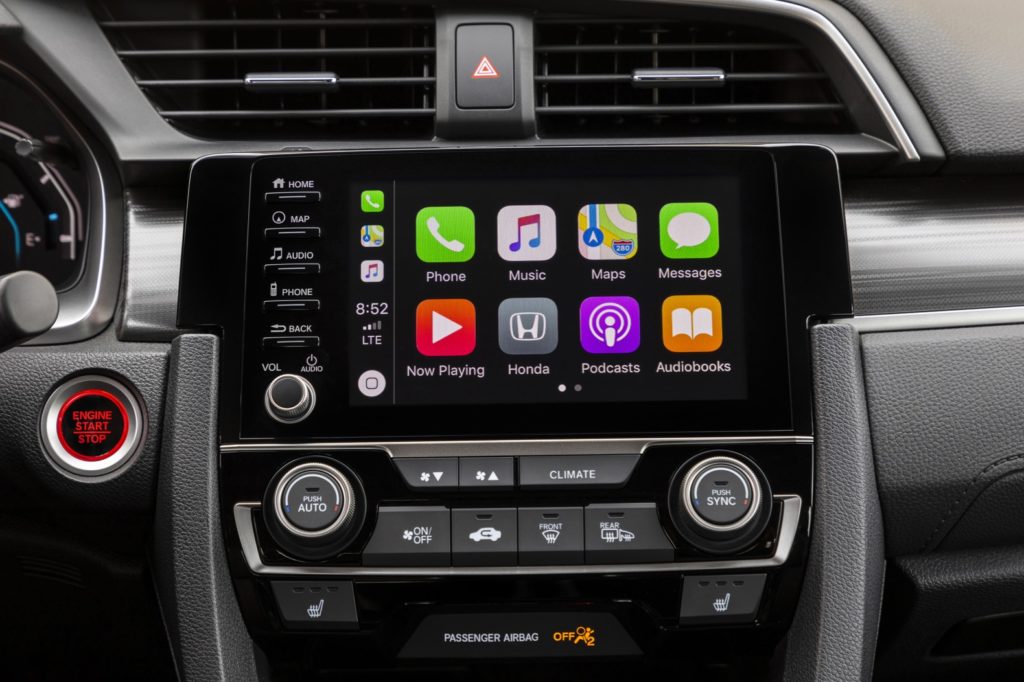 Newly standard active safety gear should make the 2019 Honda Civic even safer than before. This year, the 2019 Civic includes automatic emergency braking, lane-departure warnings, and adaptive cruise control as standard equipment. When it was optional last year, the IIHS rated Honda's active safety tech as "Superior." The tech joins a full complement of airbags, stability control, and a rearview camera on the Civic. In its crash tests, the IIHS rated the Civic "Good" in every crash test. However, its headlights were rated "Poor," so the 2019 Civic didn't qualify for a Top Safety Pick award. The NHTSA rates the current Civic at five stars overall for most models, although Civic Coupes earned four stars in the frontal crash test for the passenger side.

The Civic sedan's 15.1 cubic-feet of cargo capacity approaches some mid-size sedans. Hatchbacks are shorter yet much roomier: 25.7 cubic feet with the rear seat up and 46.2 cubes with the rear seats folded flat. The sloping rear window limits utility compared to a crossover SUV, but the Civic Hatchback will still swallow a bicycle with its front wheel removed. Coupes sacrifice space for style and come in with just 12 cubic feet of cargo space. Expectedly, a subwoofer included in the Civic Touring trim level eats into some cargo space.
Inside, the Civic takes an upscale conservative approach with a wide center console, numerous pockets and bins for smaller items, and tasteful trim bits. The standard 5.0-inch screen looks too small, but it's reserved for the Civic LX trim only. Other Civics use a 7.0-inch touchscreen that fits the dash better.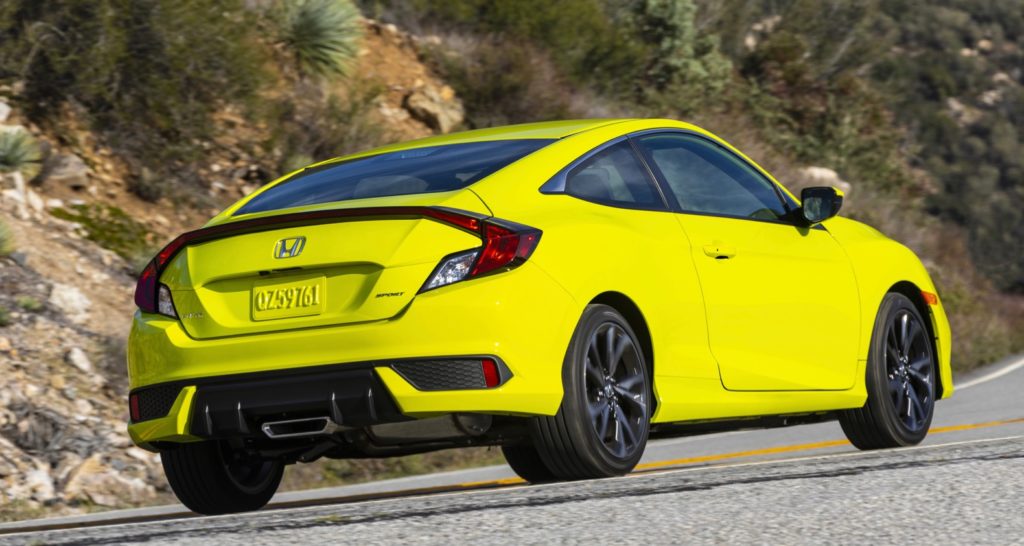 Up front, drivers enjoy good vision and conveniently arrayed controls. The standard seats are comfortable enough, with good adjustment for tall occupants, and are wrapped in tough-feeling cloth upholstery on LX, Sport, and EX trims. A power-adjustable driver's seat comes with leather upholstery on EX-L and Touring trims. The 2019 Honda Civic pairs compact proportions with mid-size space, not to mention an upscale feel. Given its small size, the 2019 Honda Civic has an impressively spacious cabin with above average roomy rear seats. Rear-seat riders have good leg room and excellent access in sedan and hatchback models. Coupes, predictably, make the second row more challenging to access. Despite a wheelbase shared across all three body styles, the Civic sedan has the most leg room, 37.4 inches, compared to about 36 for hatchbacks and coupes.

The 2019 Honda Civic wants for little and offers a wide range of trims. At $20,345 to start, the 2019 Honda Civic costs about $500 more than last year's model thanks to a suite of active safety tech that's newly standard. Every 2019 Civic includes automatic emergency braking, adaptive cruise control, and active lane control—features that cost about $1,000 last year. That's good news for everyone, but enthusiasts may be dismayed to learn that the optional sprightly turbo-4 engine can no longer be paired with a 6-speed manual transmission.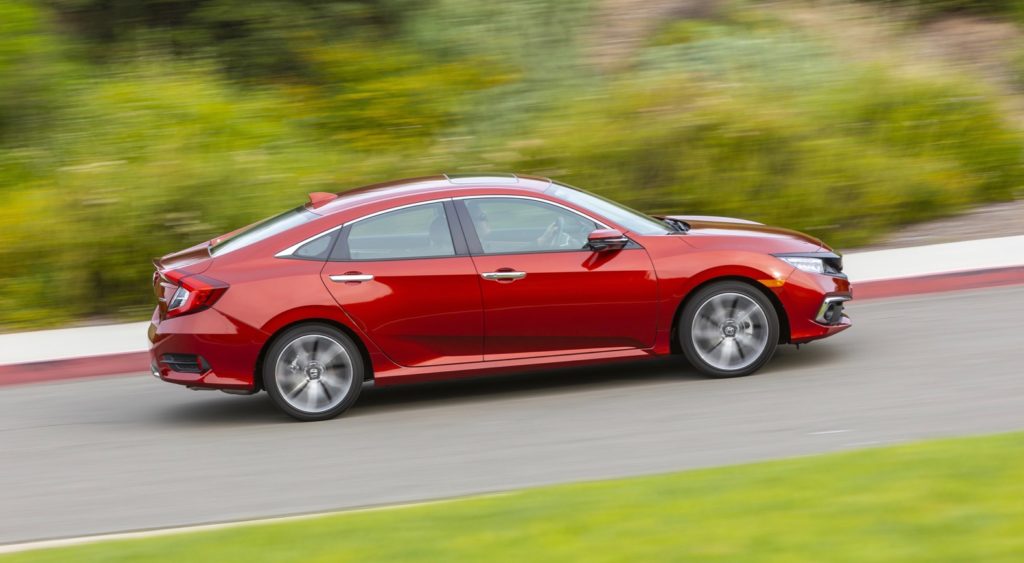 The Civic LX sedan's $20,345 price climbs to $21,145 when its standard 6-speed manual is swapped for a continuously variable transmission (CVT). A coupe version of the Civic LX, only available with a CVT, costs $21,545. For $1,700 more, a new Civic Sport trim level swaps a 5.0-inch display for a 7.0-inch touchscreen for infotainment with Apple CarPlay and Android Auto compatibility, 18-inch wheels, keyless ignition, and a number of appearance upgrades. The Civic Sport is available in both sedan and coupe versions with either the 6-speed manual or the CVT, but it uses the same 158-horsepower 2.0-liter inline-4 as the Civic LX.
Upgrading to the Civic EX pushes the Civic's price another $1,000 to $24,095 for the coupe and $24,295. It loses the Sport's 18-inch wheels but gains a 174-hp 1.5-liter turbo-4, power driver's seat, moonroof, dual-zone automatic climate control, heated front seats, and a right-side camera that monitors the vehicle's blind spots. Previously, the Civic EX could be had with a 6-speed manual transmission, but that combination disappeared for 2019. On the bright side, the turbo-4 engine was previously optional on the Civic EX. Leather seats are optional on the Civic EX sedan (turning it into the Civic EX-L) for $1,200. The Civic Touring tops the lineup for $28,195 in sedan guise and $27,745 as a coupe. It builds on the EX-L with 18-inch wheels, LED headlights, navigation, and a few other features.

The 2019 Honda Civic is at the top of it's class because it does everything well. From safety to fuel economy, and from performance to unbeatable value; the Honda Civic is incredibly impressive. It's our top pick in a crowded segment and should be on everyone's compact car shopping list. Honda recently announced more changes are coming for 2020 so we'll have to see how they could possibly make the Civic any better.