The 2020 Chrysler Pacifica is everything you could want in a large family vehicle, forget crossovers. The 2020 Chrysler Pacifica carries the family-hauler torch with pride and as far as people-movers go, this bubbly bus is among the best!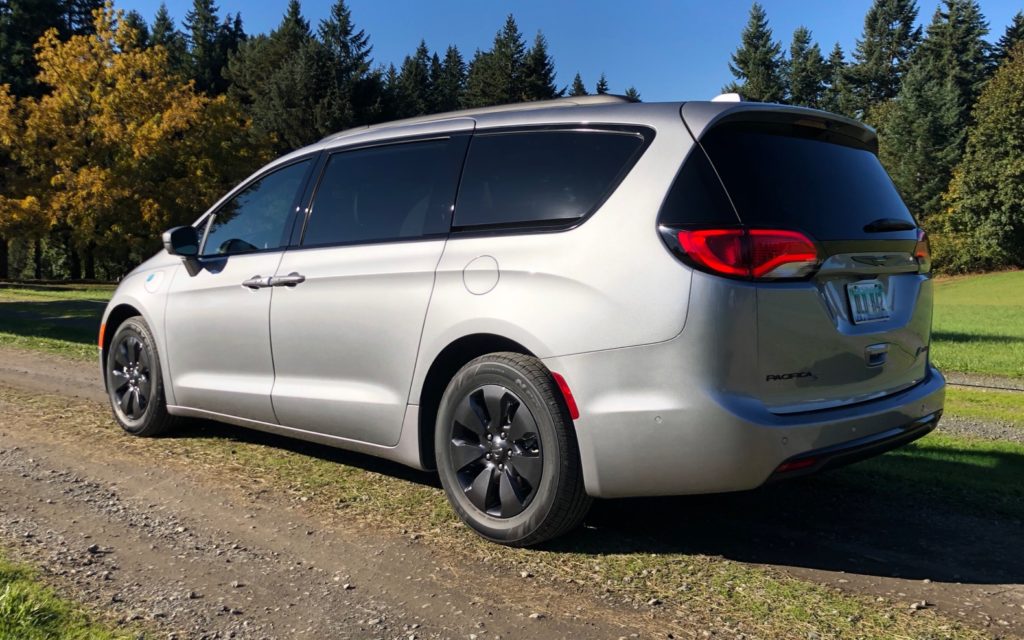 For the 2020 model year, the Pacifica gets a handful of changes to keep it fresh, including a new Red S appearance package that features a red leather interior with grey piping and stitching, black exterior finishes, 20-inch wheels, advanced safety features, a 20-speaker Harman Kardon audio system, a rear seat entertainment system, and a tri-pane panoramic sunroof. The Voyager name is back as well; it replaces the L and LX trims of the Pacifica to create a value- and fleet-oriented option. The Pacifica Hybrid carries on as one of our favorite green cars. The Pacifica's sleek design helps it stand out over other minivans, and details such as chrome trim or black accents on the S package models make it more attractive than competitors. Inside, the cabin is laden with high-quality materials that give it a near-luxury feel.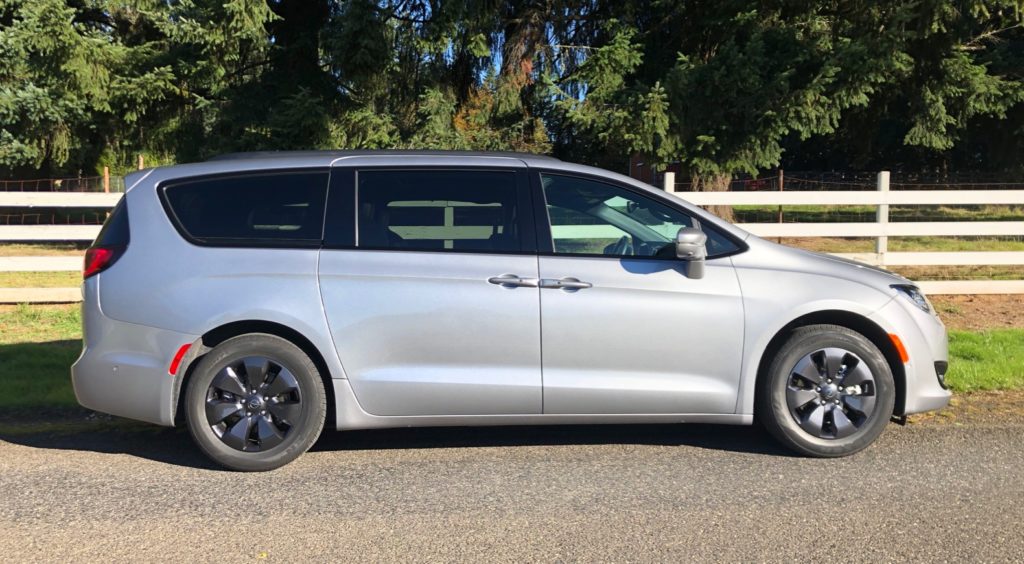 The 2020 Chrysler Pacifica is about as stylish as a minivan can be by throwing out the boxy minivan mold in favor of big swoopy lines and dramatic curves, and the results are a hit. Chrysler tried on a new design language with the now-dead 200 sedan and carried it over to the Pacifica minivan with pleasing results. There's hardly a straight line to be found, and with bright metal trim or blacked-out accents, it's tough to tell that this minivan is as tall and wide as it is. With thoughtful details like a sliding door track tucked under the rear windows and LED running lights on some trims, the Pacifica stands out among its minivan compatriots, and the story continues inside. Soft touch plastics, fine leather, and color schemes like rich browns and even red make the interior one of the best in its class, especially when combined with its functionality. A new Red S appearance package this year adds deep red leather, which shouldn't look this cool on something this functional and family-friendly, but it does.
Minivans are among the most useful vehicles on the road, and the 2020 Chrysler Pacifica is proof is in the pudding box. While minivans typically get a bad rap for being uncool, but in terms of practicality, they're second to none. The 2020 Chrysler Pacifica is best example of this, with one of the most comfortable and useful interiors you can buy. The Pacifica checks in with a 121.6-inch wheelbase and a 203.6-inch overall length, but that bulk translates to a cavernous interior. At 197.3 cubic feet of total interior space, the Pacifica can haul more people and stuff than most vehicles, including other minivans. The rear cargo hold can swallow up to 140.5 cubic feet with all its rear seats stowed under the floor, and even with every bench in place, there's 32.3 cubes to work with in the back.
Captains' chairs can be had in the second row, but the Pacifica is able to carry up to 8 people with two bench seats out back, and a power-assist button is available for the middle seats when folding them out of the way for the second row.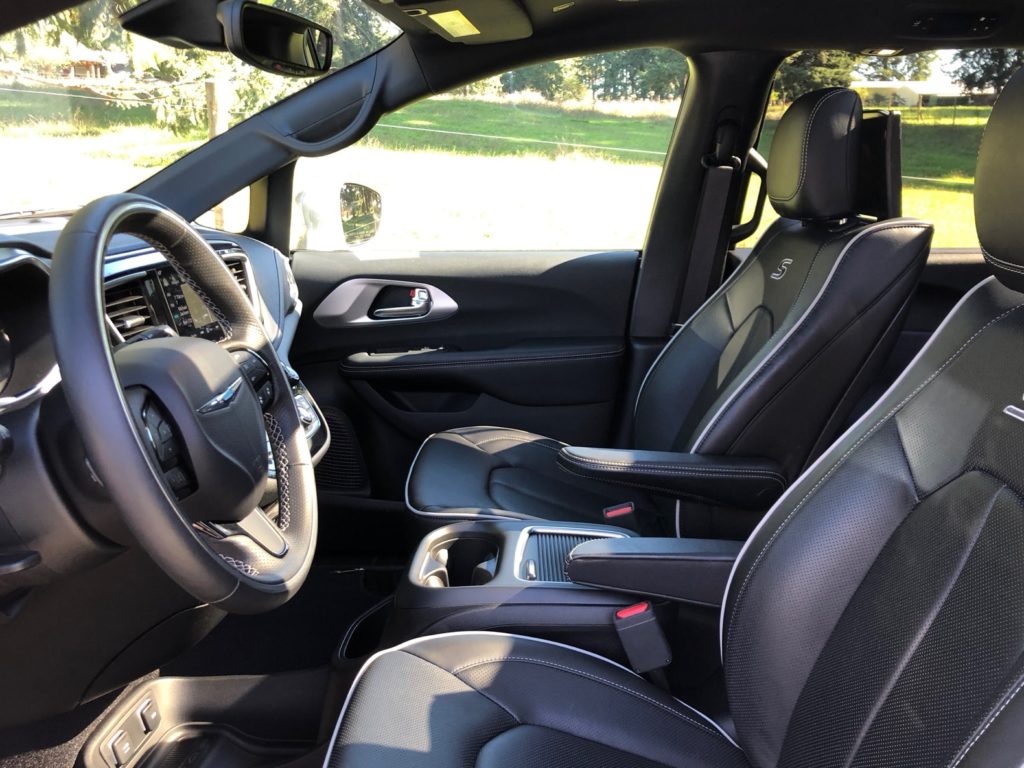 There's also ample storage throughout the cabin, not including the Stow 'N Go seating system, which gets skipped on the Pacifica Hybrid (its batteries are where the middle seats would stow). Cubbies and deep console bins can swallow tablets, water bottles, and pretty much everything else you could carry on your person. In terms of comfort, the Pacifica delivers yet again up front, with soft, supportive seats that are good for long journeys. The rear is a similar story, but the under-floor storage system does hamper the amount for vertical legroom rear passengers have. We're sure the kids won't mind though, with plenty of USB charging ports and even an HDMI input with the available rear seat entertainment system.
The 2020 Chrysler Pacifica is geared for comfort over all, and pulls it off with aplomb making use of its potent powertrain for confidence-inspiring acceleration and a smooth but surprisingly responsive ride. All Pacifica come with a 3.6-liter V-6 found in many Chrysler products, this time with 287 horsepower and a 9-speed automatic transmission with front-wheel drive. A plug-in hybrid powertrain which we tested makes 260 horsepower from an Atkinson cycle version of the same V-6 and a 16-kwh battery. Chrysler claims nearly 30 miles of electric-only driving range on the Pacifica Hybrid as well. The familiar engine provides smooth acceleration with the 9-speed automatic we've had no qualms with its quick and hardly noticeable shifts.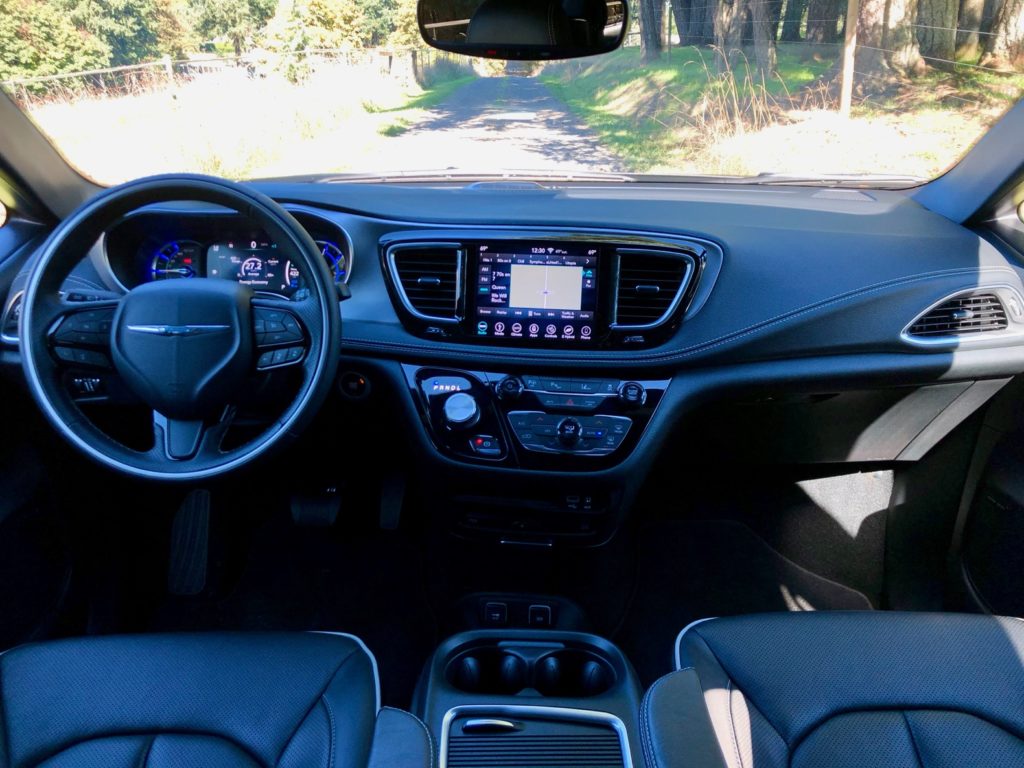 Power comes exclusively from a 287-horsepower 3.6-liter V-6 paired with a 9-speed automatic and front-wheel drive, or from a plug-in hybrid 3.6-liter Atkinson cycle V-6 with about 260 hp in all. Both engines offer plenty of punch and acceleration, though the hybrid is weighed down somewhat by the extra batteries. Handling is taut and responsive for such a large vehicle, and the suspension is compliant and comfortable over long highway journeys, as it should be for a minivan.
The Pacifica sports front struts and rear trailing arms, as well as electric power steering, and masters them all with good tuning. Though it lacks available all-wheel drive like the Toyota Sienna (and all three-row crossover SUVs, for that matter), the Pacifica is composed and responsive on twistier roads, and the ride quality is excellent, putting some much more expensive vehicles on notice. The steering has just enough weight to deflect small bumps but to transmit good road feel, and in low range the Pacifica can dart with impressive skill through tightly coiled roads. A minivan that handles? Bring it on—but first, tweak the brake pedal feel, which goes stiff when it needs to be more progressive.
The 2020 Chrysler Pacifica is reasonably efficient, but the plug-in hybrid version that we tested sets it apart. Based on its most recent fuel-economy figures, the Chrysler Pacifica is one of the most efficient minivans on the market, especially taking the plug-in hybrid version into consideration. The non-hybrid Pacifica has been rated at 19 city, 28 highway, and 22 combined mpg for its one powertrain, with a slightly heavier Limited spec model losing 1 mpg in the city. That's slightly above average for the segment, and competitive with crossover SUVs with similar hauling capabilities.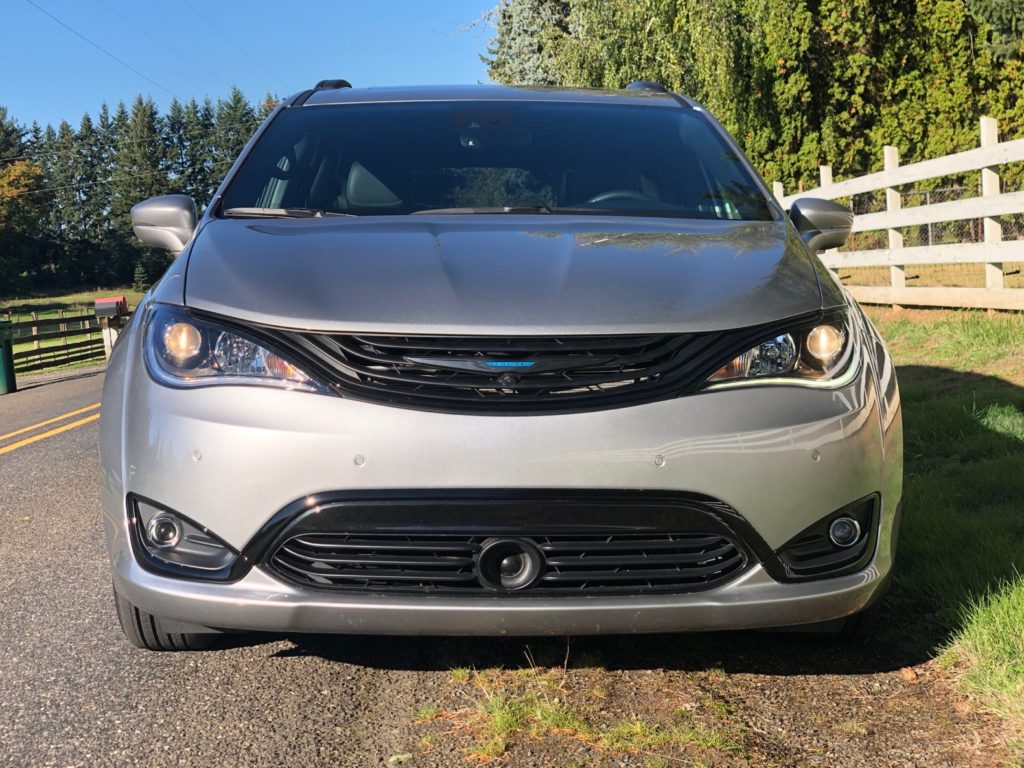 The real story here is Pacifica Hybrid where managed 36 combined mpg on regular gasoline only, while a fully-charged battery yields a whopping 82 mpg-e or mpg equivalent, so fuel-conscious buyers would be wise to consider the extra cost of the plug-in version. The hybrid can also drive 30 miles on pure electric power, making it good for shorter runs to town, or running kids to school, without using any gas. By driving in Low, and gingerly using the throttle, we were able to get electric-only ranges into the high 30's, one time eking out 39 miles; very impressive.
The 2020 Chrysler Pacifica's test scores and available safety features put it at the top of it's class. The NHTSA saw fit to give the Pacifica a 5-star overall rating for safety this year, while the IIHS has rated the Pacifica a Top Safety Pick. A Top Safety Pick award for three years running is impressive with the only blemish being sub-par headlight scores and an "Acceptable" passenger side front overlap test, it's safe to assume the 2020 Pacifica is very… safe. The new Voyager editions of the Pacifica do not come with automatic emergency braking, which we consider an omission on any new vehicle in 2019. Touring models get blind-spot monitors and rear parking sensors, while active features like automatic emergency braking, active lane control, active parking assist, a surround-view camera system, and adaptive cruise control are all available as part of the Advanced SafetyTec Group on every trim level, an option box we suggest that you check.
The lower trims have been jettisoned into a new Voyager model, but the 2020 Chrysler Pacifica is still a decent value. We suggest you skip over the $28,480 Voyager. It has some fine features, including 17-inch wheels and a 7.0-inch infotainment screen, but automatic emergency braking is an option, and no Voyager can be fitted with Chrysler's fold-away second- and third-row seats.
For us the 2020 Pacifica family really starts with the Touring trim. It comes with power-sliding rear doors, remote start, an eight-way power driver's seat, cloth upholstery, and the handy Stow 'N Go seating system. A 7.0-inch touchscreen infotainment system with Apple CarPlay, Android Auto, and Bluetooth is standard too, as are blind-spot monitors and rear parking sensors. Active safety features are available across the range in a package that includes automatic emergency braking, adaptive cruise control, and more. We suggest the Touring trim with the optional Advanced SafetyTec package for the best value.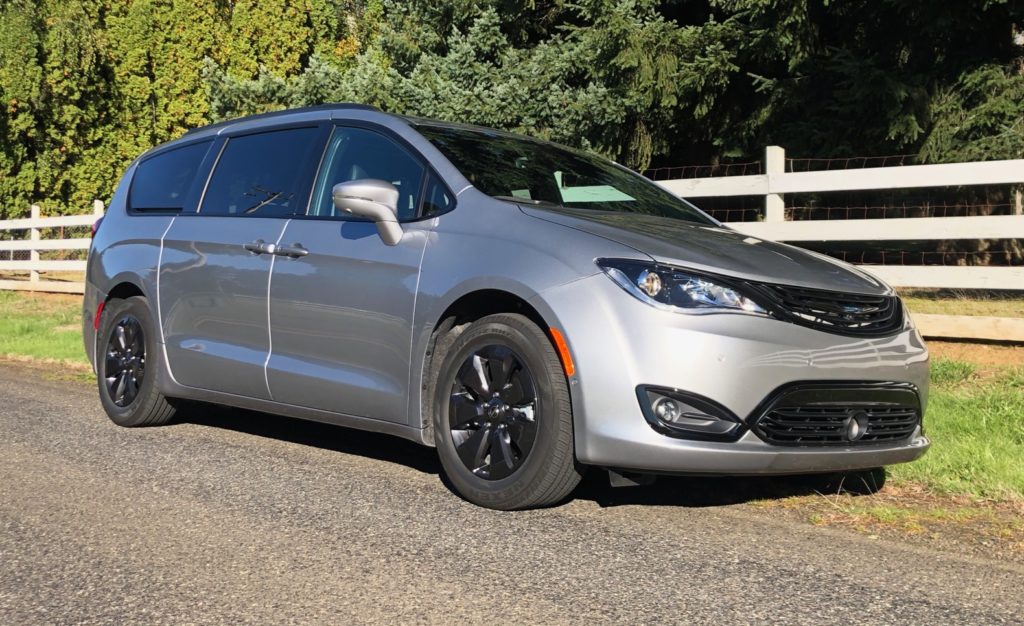 The Touring L and Touring L Plus trims add a handful of features such as retractable third row window shades, illuminated cup holders, and other goodies, while the Limited trim features everything from leather upholstery to an integrated vacuum cleaner for those pesky messes the kids are always making. Features such as a 20-speaker Harman Kardon stereo, an upgraded 8.4-inch touchscreen infotainment system with navigation, and a rear seat touchscreen entertainment system are all available for the Limited and other trims.
At the top of the lineup is the Chrysler Pacifica Hybrid, which is the model we'd choose. It's more expensive, but the 30 miles of driving range and combined 82 MPGe may be worth the extra cost—especially when federal and local tax credits factor in. The hybrid model starts with the Touring trim as well as the gas model, but the Stow' 'N Go system is not available on any hybrid because that space is occupied by the battery pack. So if you're looking for an efficient, safe, and stylish cargo or people mover, look no further than the 2020 Chrysler Pacifica; it does every thing well.