Mercedes-Benz has unveiled the 2024 E-Class, which gets styling that's similar to the S- and C-Class models, hybrid powertrains and a more modern interior.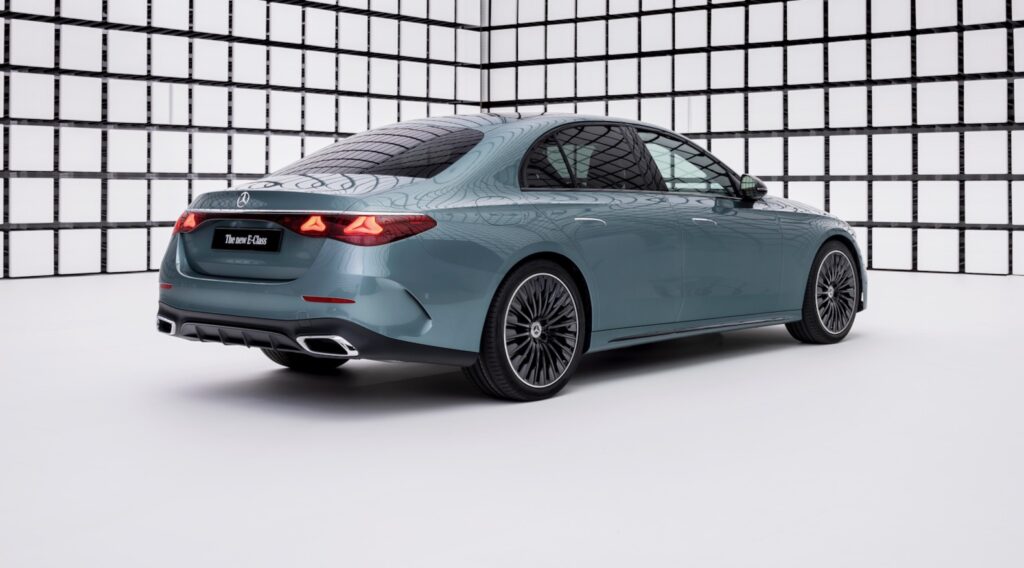 On the outside, the E-Class looks like a smaller S-Class with many of the same design details. It also takes some cues from the EQE electric sedan, like its black trim between the grille and headlights. The new E-Class is slightly wider than before with a longer wheelbase, which will provide more interior space.
Inside the 2024 E-Class comes standard with two digital displays, with one in front of the driver and the second in the center. There's also an optional third screen in front of the passenger, which adds glass across the dashboard. Mercedes calls the system Superscreen. The front passenger can stream videos and games when you're driving, but it blocks the driver from looking at the screen. It uses a dashboard-mounted camera that makes sure the driver's eyes are fixed on the road ahead instead of the third screen.
Mercedes-Benz has also added third-party apps on the display, which includes Angry Birds, TikTok and Vivaldi. To make it easier for you to join Zoom meetings, there's an optional selfie and video camera with the Superscreen that lets you do video calls when the E-Class is parked. The navigation system gets augmented reality, plus there's a voice assistant for the driver to make commands.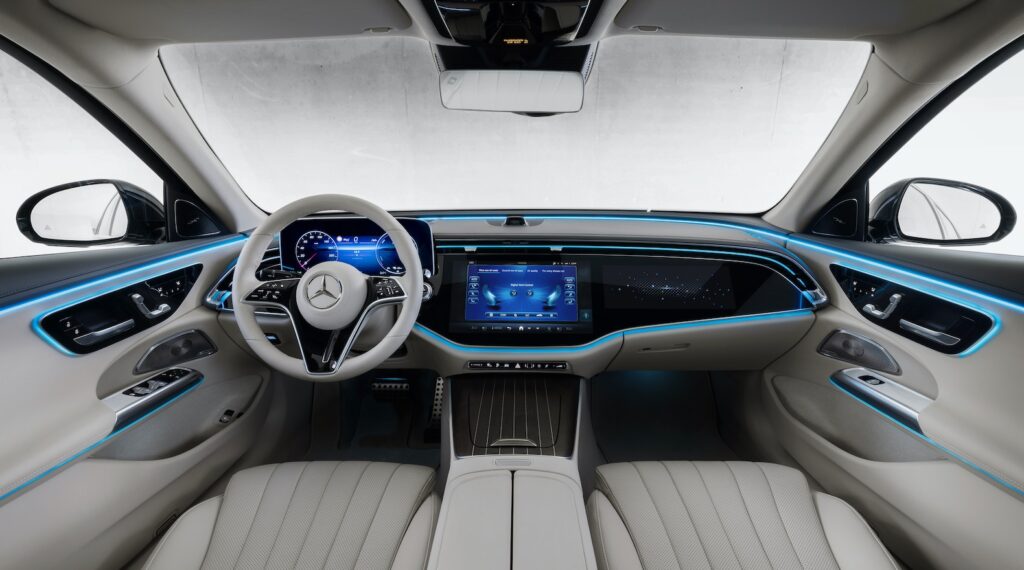 The remainder of the interior gets high quality materials. There's an optional package that links the ambient lighting with the beat of the music playing through the Burmester surround audio system.
Under the hood, there are two hybrid powertrains available. Both of the four- and six-cylinder engines get an integrated started-generator thanks to a 48-volt system. The electric motor adds 23 horsepower and 148 pound-feet of torque. The E350 is powered by a 2.0-liter turbocharged four-cylinder with 255 horsepower and 295 pound-feet of torque. The E450 is powered by a turbocharged 3.0-liter inline-six with 375 hp and 369 lb-ft. of torque. Both engines are mated to a nine-speed automatic transmission.
The 2024 E-Class features a multilink suspension, but there's an optional air suspension, which is part of the Technology package. The package also adds rear-wheel steering.
On the safety front, there are some new driver assistance features like active steering and automatic lane changes. Mercedes-Benz has not announced when the 2024 E-Class is going to arrive.