Mercedes-Benz discontinues the C-Class and E-Class coupes to make way for the pretty new CLE.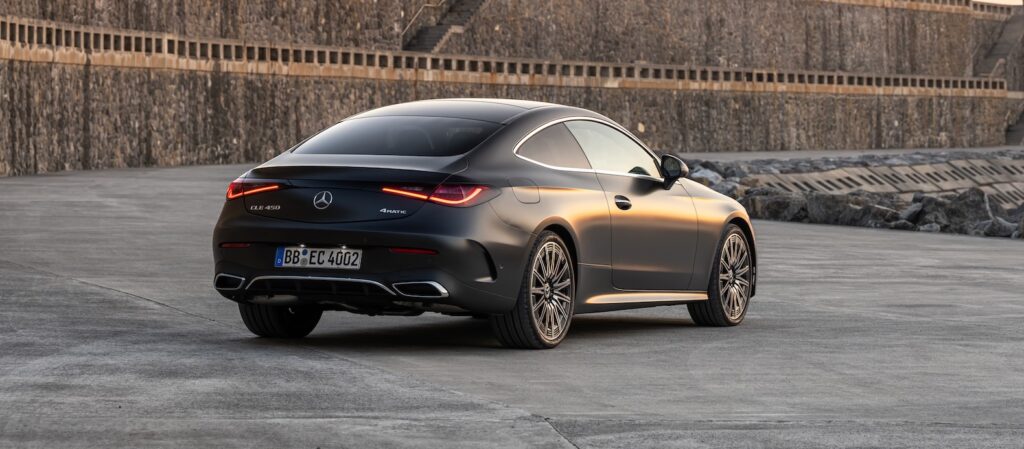 Coupes might not be luxury automakers' hottest commodities anymore – well, unless they're crossover-coupes – but these two-doors still have a loyal following with buyers who prioritize style over functionality. In an effort to streamline its portfolio, Mercedes-Benz has decided to kill off the individual C-Class and E-Class two-doors and replace them both in one fell swoop. Enter the 2024 CLE-Class, which arrives in the US early next year.
The brief here is simple: Pull from the C-Class and E-Class parts bin to create one well-rounded midsize coupe. At 191.0 inches long, riding on a 112.8-inch wheelbase, the CLE is slightly longer than the outgoing two-door E-Class, though it loses the elegant pillarless design of its predecessor, which is a bummer. The trunk has 12.8 cubic-feet of space, which bests the E coupe's 10.0 cubes. And while there's technically room for four people, we don't recommend subjecting your friends to the back seats. Better to leave those places for shopping bags.
Up front, the CLE's interior is ripped straight from the C-Class. That means the CLE doesn't have Mercedes' dashboard-spanning Hyperscreen infotainment system, but there's still a 11.9-inch display housing an updated version of the company's MBUX software, which includes wireless Apple CarPlay and Android Auto connectivity. A 12.3-inch digital instrument cluster is also standard, with reconfigurable designs and sub-menus you can access via horribly finicky steering wheel thumbpads.
Despite a few poor material choices, the CLE's cabin is nice and comfortable, and super quiet, even at highway speeds. The Dolby Atmos stereo absolutely rips, and at night, you'll be able to impress your pals with vibrant ambient light displays. Seriously, it's like a WeHo nightclub in here.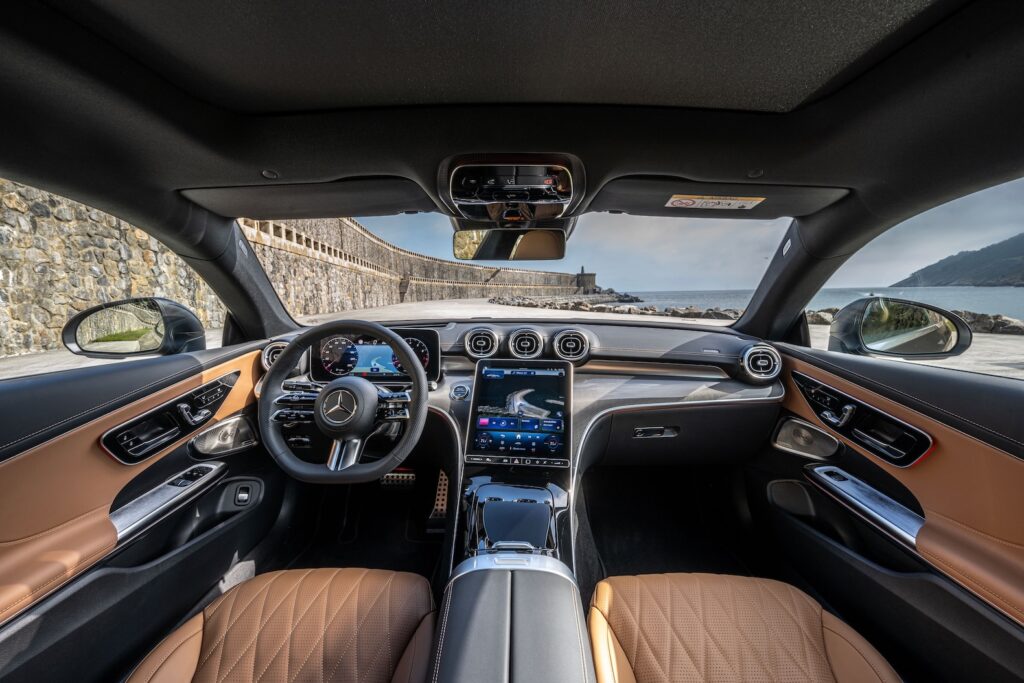 Mercedes-Benz will sell the CLE with two powertrains in the US, both of which have 48-volt mild-hybrid technology, as well as all-wheel drive. On the base end, the CLE300 uses a 2.0-liter turbocharged inline-4 – the same one you'll find in the new C300 sedan – making 255 horsepower and 295 pound-feet of torque. The aforementioned 48-volt integrated starter-generator can produce up to 23 horsepower and 151 pound-feet of torque for quick bursts of acceleration, but the best thing about this tech is that it makes the stop-start system significantly smoother.
The 2.0-liter engine isn't anything to write home about, but its power is perfectly adequate for this 4,000-plus-pound coupe. The inline-four doesn't sound particularly hearty – what four-banger does? – but it'll get the CLE300 up to speed just fine, and the low-end torque makes it easy to whip around slowpokes on the freeway.
Step up to the CLE450 and you'll get a 3.0-liter turbocharged straight-6 engine, with 375 horsepower and 369 pound-feet of torque, plus the same amount of electric boost from the mild-hybrid system. This is a really sweet powertrain, silky smooth with plenty of oomph. Matched with a nine-speed automatic transmission – something you'll also find in the CLE300 – the CLE450 is a serene machine. We've long been a fan of cars with Mercedes' 3.0-liter mild-hybrid engine, and the CLE450 is no different.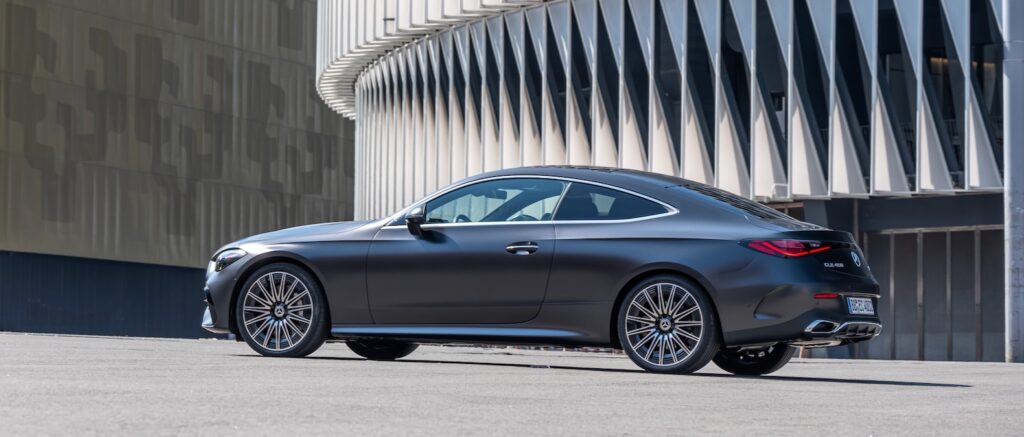 But while the CLE is a formidable cruiser, a sports car it is not. Even with its larger engine offering, the CLE doesn't feel happy or at home on winding roads, where its vague and too-light steering leaves us wanting much, much more. The brake pedal is super soft, and you have to dig deep into its travel to find adequate stopping power. Americans won't get the fancy adaptive dampers or 2.5-degree rear-axle steering available in Europe and other markets, either. Not that either option drastically changes the CLE's demeanor, of course.
After the CLE300 4Matic and CLE450 4Matic coupes arrive in US showrooms next year, they'll be joined by soft-top convertible variants. Fierce AMG versions will almost certainly be offered, too, meaning there could be a hot-dog Mercedes-AMG CLE63 that uses the mega-powerful four-cylinder powertrain from the new AMG C63. How's 671 horsepower and 752 pound-feet of torque sound? Stay tuned.
Mercedes-Benz hasn't finalized pricing for its 2024 CLE-Class models just yet, but we're betting it'll start somewhere between $55,000 and $60,000. That puts it right between where the C-Class and E-Class coupes left off, and prices the CLE appropriately to compete with the Audi A5 and BMW 4 Series – Merc's two main rivals.
Pretty, comfy, techy and easy to drive, the new CLE-Class doesn't upend the formulas laid down by its predecessors. It just presents buyers with one solid option instead of two.