When Ford unveiled the 2024 Mustang, it only told us what engines would be available, but not the actual specs. Now Ford has announced the power specs for the entire lineup.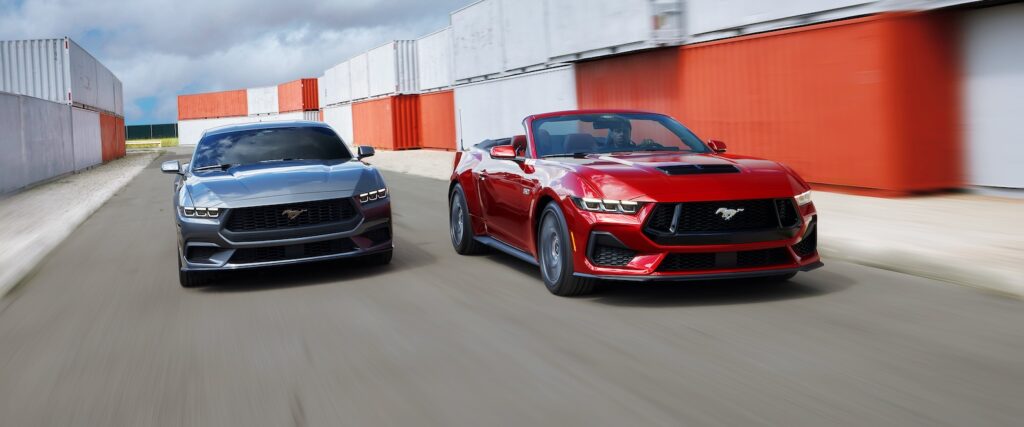 The Mustang Dark Horse is powered by the 5.0-liter V8 that generates 500 horsepower and 418 pound-feet of torque. The Coyote V8 received upgrades to eeek out the extra power, like a uniquely balanced crankshaft, forged piston connecting rods and strengthened camshafts.
For the Mustang GT, it's also powered by the 5.0-liter V8, but it generates 486 horsepower and 418 ft.-lb. of torque, which nets out to an increase of 30 horsepower and 5 lb-ft. of torque compared to the outgoing Mustang GT. The available active-valve performance exhaust increases the output to 486 horsepower and 418 pound-feet of torque.
Lastly the 2024 Mustang EcoBoost delivers is powered by the turbocharged 2.3-liter four-cylinder engine that generates 315 horsepower and 350. lb-ft. The four-cylinder is also available with the active-valve performance exhaust, but Ford hasn't announced what the upgraded specs are. Ford estimates that the four-cylinder's mpg ratings will be at 22 city/34 hwy/26 combined.
The 2024 Ford Mustang will arrive in summer 2023.