For over 20 years, Toyota has mastered the hybrid powertrain, more than any other automaker, but it hasn't been too keen on fully electric vehicles. That will change soon, but in the meantime we have the first of many new Toyota EVs, the 2023 Toyota bZ4X. The bZ4X fully electric SUV offers a driving range up to 252 miles, a spacious five interior, optional all-wheel drive, and sufficient ground clearance for mild off-road adventures.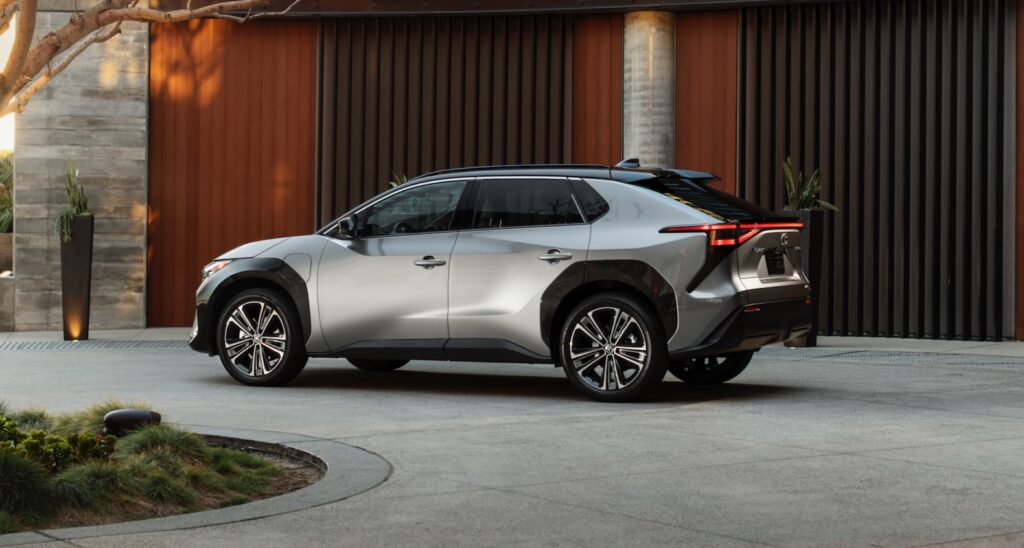 Two configurations are available for the bZ4X: a single-motor, front-wheel-drive variant producing 201 hp and 196 lb-ft of torque, and a dual-motor, all-wheel-drive version generating 214 hp and 248 lb-ft of torque. The single-motor version has a range up to 252 miles, while the dual-motor version has a 242 mile range.
In terms of performance, the bZ4X is adequately quick, prioritizing a comfortable ride and light off-road capabilities over high-performance antics. It doesn't try to outperform the latest electric crossovers in terms of speed, but it comes equipped with an off-road mode called X-Mode, enhancing its credibility for outdoor adventures. The bZ4X handles various terrains comfortably while maintaining its docile handling and a smooth ride quality, aligning perfectly with its intended purpose.
Despite its curb weight of up to 4,464 lb for the AWD model, the bZ4X feels agile thanks to its torquey motor system and a low-mounted battery pack. The steering is precise, though it has a larger turning circle compared to other compact vehicles. Ride quality leans toward the softer side, and the handling prioritizes ease and predictability over sportiness.
Interestingly, the bZ4X doesn't offer a Sport mode but includes Eco and Normal modes along with a regenerative boost mode, but without true one-pedal driving capability.
The bZ4X doesn't match the fast-charging rates of some rivals, like the Hyundai Ioniq 5 or Kia EV6. Toyota estimates that it will take about 30 minutes to charge the battery from 10-80 percent, but the Ioniq 5 only needs 18 minutes to reach that same level. The bZ4X needs 9.5 hours to fully recharge using a 240-volt Level 2 charger.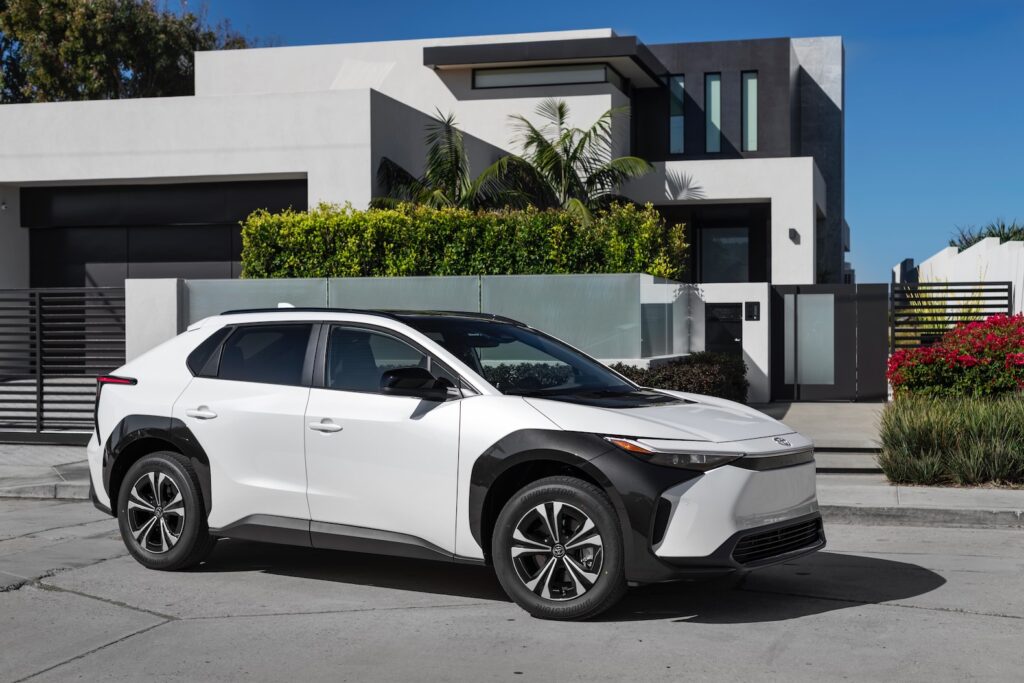 The dual-motor all-wheel-drive versions of the bZ4X prioritize improved performance over additional traction, featuring the special X-Mode, which allows different torque distribution and controlled wheelspin for challenging conditions like snow, dirt, or mud. Although it may not match the quickness of some electric vehicles, it does feel more lively than similarly sized gasoline powered SUVs.
The 2023 bZ4X model boasts a range of up to 252 miles, which puts it about in the middle of the class. It has more range than its cousin, the Subaru Solterra, but the Ford Mustang Mach-E, Hyundai Ioniq 5, Kia EV6 and VW ID.4 all offer longer driving ranges. There are differences in battery size between the two models, with front-wheel-drive versions equipped with a 71.4-kwh battery pack and all-wheel-drive versions rated at 72.8 kwh.
Safety is a paramount concern, and the bZ4X introduces advanced safety features. Built on the new "e" version of the Toyota TNGA platform, which it shares with the Subaru Solterra and Lexus RZ 450e, the bZ4X is equipped with Toyota's Safety System (TSS) 3.0. This system features an extended detection range and a new camera system, enhancing lane recognition and cyclist detection for pre-collision functions. Standard safety features include automatic emergency braking, active lane control, and blind-spot monitors, along with a system that alerts exiting occupants to vehicles approaching from behind. The top-tier Limited models also offer a surround-view camera system with a bird's-eye view.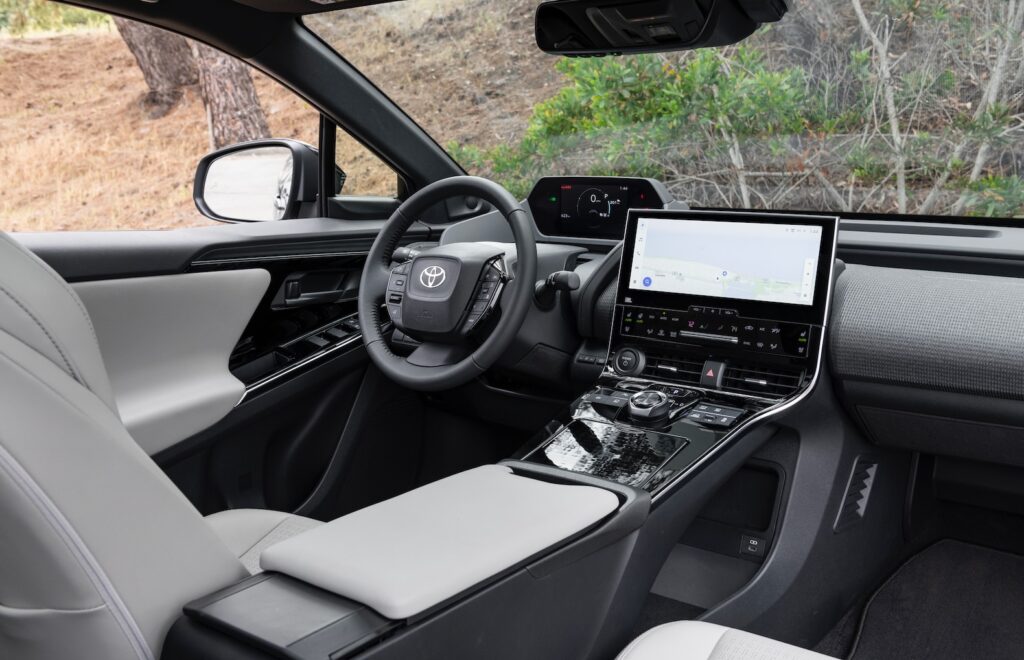 Inside the bZ4X, minimalistic, but modern cabin. The interior features a 7.0-inch digital gauge cluster that is similar to the Prius, which can easily be blocked by the steering wheel. At the center of the dashboard, there's a 12.3-inch touchscreen, which runs Toyota's latest infotainment system. Although the touchscreen's menu system may not be the simplest, it supports wireless Apple CarPlay, Android Auto, and Amazon Alexa. The bZ4X also addresses your phone's needs with a convenient storage compartment in the console, complete with wireless charging.
There's plenty of room in both rows, with much taller riders being able to easily fit in the back seat. The bZ4X offers ample front legroom (42.1 inches), rear legroom (35.3 inches), and cargo space (27.2 cubic feet), although there's no frunk.
The starting price for the base XLE with front-wheel-drive starts at $43,350. The top-tier bZ4X Limited with all-wheel drive has a starting price of $50,130.
At the end of the day the 2023 Toyota bZ4X emerges as a compelling choice for those entering the electric vehicle market. Its affordability, advanced safety features, and Toyota's reputation for reliability make it an excellent option among small crossover EVs. We do wish that it had a driving range over 300 miles, like many of its rivals.