Porsche is expanding the 911 lineup with the high-riding 2023 Porsche 911 Dakar, which is a more off-road ready version of the 911.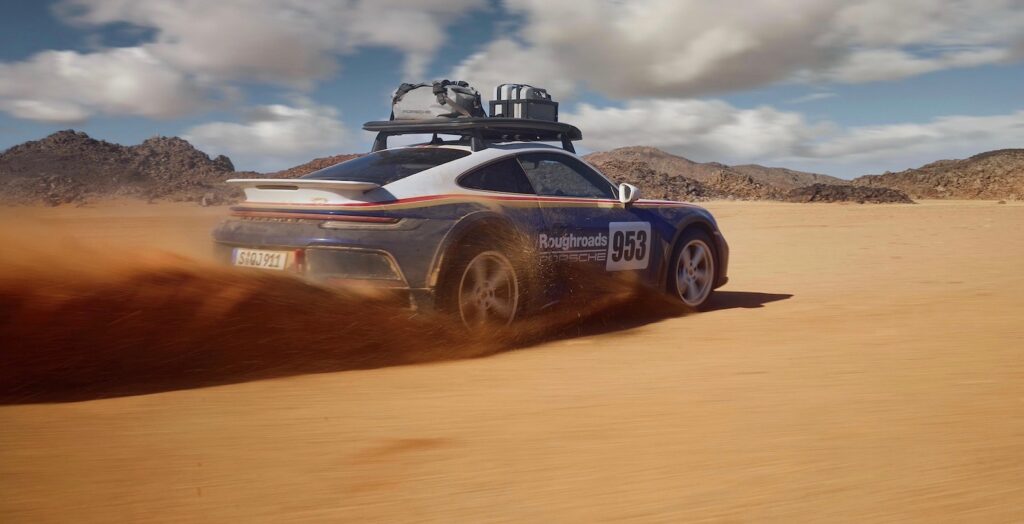 The 2023 Porsche 911 Dakar pays tribute to Porsche's first-place finish at the 1984 Paris-Dakar Rally. That 911 at the race was also the first 911 with an all-wheel drive system, which eventually made its way into the 911 road cars.
The 911 Dakar rides about 2 inches higher than a standard 911 with a ground clearance around 6.3 inches. Thanks to its hydraulic lift system an additional 1.1 inches of ground clearance can be added if needed. Porsche says that the approach angle is either 14.2 or 16.1 degrees, depending on the suspension's settings and it has a breakover angle of 19 degrees.
To help it tackle the trails, the 911 Dakar gets Pirelli Scorpion all-terrain tires and snow tires are available. The 911 Dakar is powered by a 3.0-liter twin-turbocharged flat-6 engine with 473 horsepower and 420 pound-feet of torque, that's mated to an eight-speed dual-clutch transmission. Rear-wheel steering has also been added. It can accelerate from 0-60 mph in 3.2 seconds, but its top speed is limited to 150 mph.
To get it ready for an off-roading adventure, the 911 Dakar also gets a revised intake housing with a new air filter and intercoolers from the 911 Turbo and Turbo S.
On the outside the 911 Dakar stands out with its fixed rear spoiler, beefier fenders, unique front fascia and forged aluminum tow hooks. A roof basket is optional, which can hold up to 92 pounds of your gear. Inside the rear seats have been deleted.
Porsche only plans to build 2,500 units of the 2023 Porsche 911 Dakar, which arrives with a $222,000 price tag. The first deliveries are slated for the spring.