The 2023 Hyundai Santa Fe competes in the hotly contested midsize SUV segment, but easily manages to stand out with its various powertrain options, spacious and modern interior and a stylish exterior.
The Santa Fe features a sculpted exterior design that makes it look far more upscale than some of its rivals.  At the front the large stylized grille is flanked by split headlights forming letter-T shapes. The dynamic design is further emphasized by cutlines encircling the wheel wells and substantial side sculpting.
The 2023 Santa Fe comes standard with a 191-hp 2.5-liter inline-4 and 8-speed automatic transmission, which provides adequate power to get around. The more powerful option is the 281-hp 2.5-liter turbo-4, which, with 311 lb-ft of torque and an 8-speed dual-clutch automatic, delivers quicker responses to throttle inputs than the base engine, though its shift quality can be less assured. While it's somewhat less smooth during low-speed gear changes, it remains enthusiastic, particularly in Sport mode.
Opting for the Santa Fe Hybrid introduces two electric motors, a 1.49-kwh battery pack, and a 1.6-liter turbo-4 engine, all linked to a 6-speed automatic transmission and standard all-wheel drive. While it may not be as dynamic as the turbo,  the hybrid version is a preferable choice over the base model due to comparable power output (226 hp) and equally smooth power delivery. The trade-off in speed seems worthwhile, considering the high 34-mpg combined rating for Blue models. The Santa Fe Hybrid boasts respectable acceleration, light yet effective steering, and a composed ride unaffected by the added weight.
The Plug-In Hybrid version enhances the already impressive fuel efficiency. It can silently initiate motion on battery power alone, offering up to 31 miles of electric-only driving range. Drivers also have the option to engage hybrid mode, blending battery and engine power continuously. The Santa Fe PHEV is equipped with drive modes and standard all-wheel drive.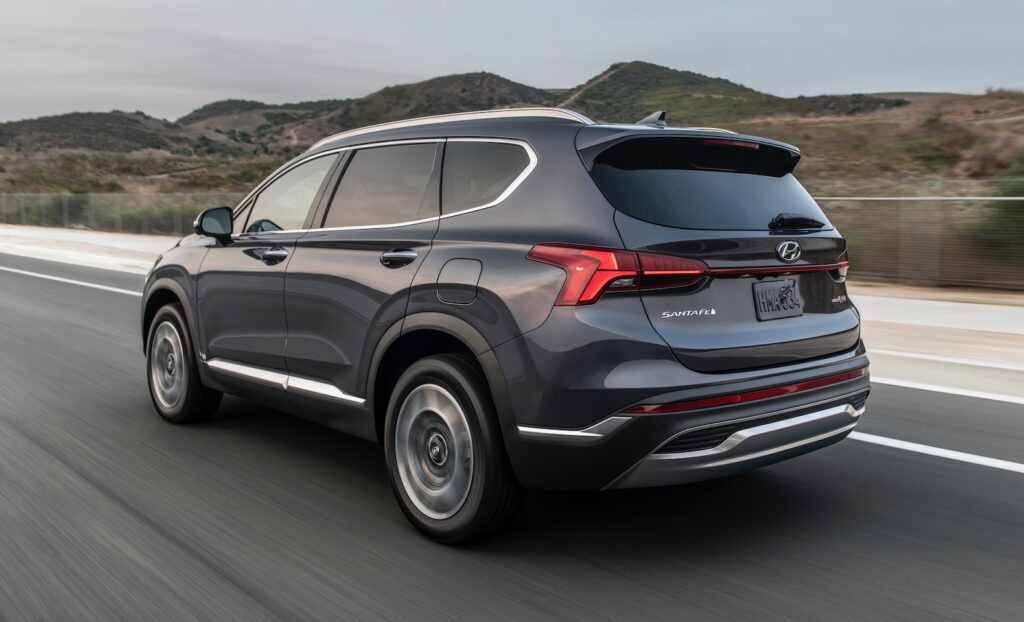 While the hybrid models stand out among the four powertrain options. The base inline-4 achieves EPA ratings of 25 mpg city, 28 highway, and 26 combined with front-wheel drive, with a slight drop to 22/25/24 mpg with all-wheel drive. The turbocharged four-cylinder achieves 22/28/25 mpg and 21/28/24 mpg with front- or all-wheel drive, respectively. The hybrids offer the most remarkable economy, with Hybrid Blue models achieving EPA ratings of 36/31/34 mpg, while higher-spec models earn 33/30/32 mpg. The plug-in hybrid's metrics include a score of 76 MPGe, 33 mpg combined, and a 30-mile electric range.
The Santa Fe has a max towing capacity of 3,500 lbs. Although it's not designed for extensive off-roading, the Santa Fe offers 8.2 inches of ground clearance to help it handle snowy road conditions and uneven terrain.
Equipped with a front strut and rear multi-link suspension paired with electric power steering, the Santa Fe delivers predictable, though unexceptional, handling. Its stability is evident even when fitted with 19-inch or 20-inch wheels in some versions. It adeptly manages deep ruts and road imperfections.
On the safety front, the Santa Fe comes equipped with standard features like automatic emergency braking, blind-spot monitoring, active lane control, automatic high beams, and adaptive cruise control. Optional additions include blind-spot steering assist, parking sensors, a surround-view camera system, and blind-spot cameras displaying visual data in the gauge cluster.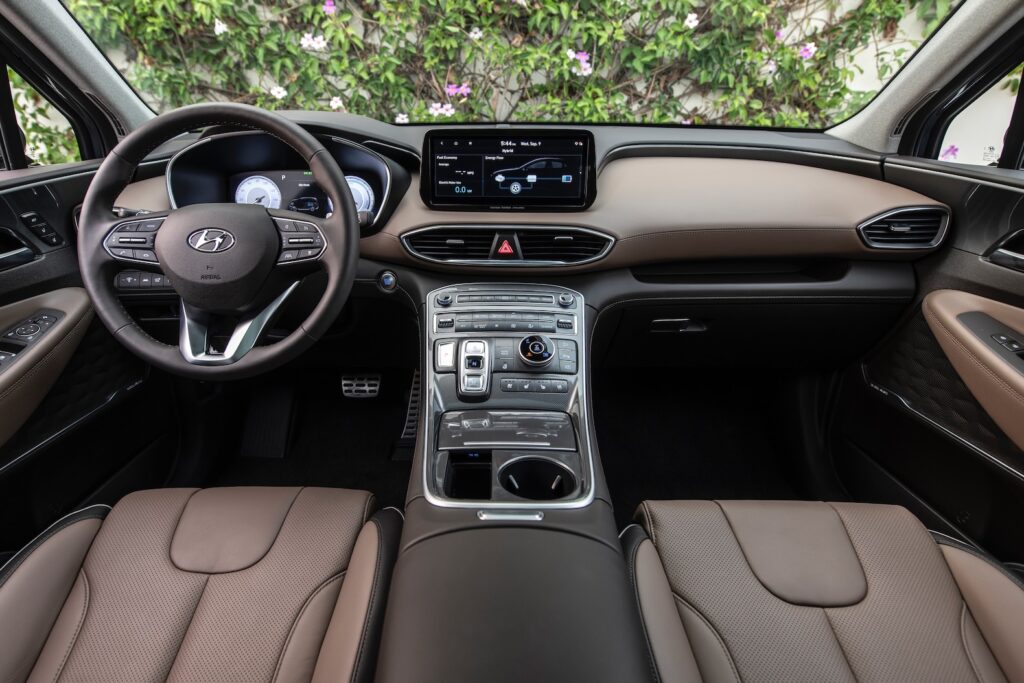 Inside, the Santa Fe's interior looks modern and stylish. It features a tiered dashboard crowned by an 8.0- or 10.3-inch touchscreen. The center console hosts an electronic gear shifter, while various switches and buttons are clustered within a control pad. With premium additions like a 12.3-inch digital cluster, ambient lighting, Nappa leather, and soft-touch trim, the Santa Fe feels more luxurious than you might expect. Although there are only two rows of seats, the Santa Fe has more than enough room for five passengers to ride comfortably. There's a nice 41.7 inches of rear legroom and 36.4 cubic feet of cargo space with the seats up. With the seats folded down, there's 72.1 cubic feet of space for all your gear.
Hyundai offers the Santa Fe in five trims: SE, SEL, XRT, Limited, and Calligraphy. Each version boasts a wealth of standard features. The entry-level Santa Fe SE, priced at $30,085. The Santa Fe hybrid starts at $37,545 and the Santa Fe PHEV starts at $43,745.
At the end of the day the 2023 Hyundai Santa Fe arrives with remarkable value, competitive and efficient powertrain options, and leading-edge technology. The Santa Fe ascends to the upper echelons of its class, surpassing its price point and establishing itself as a model well worth considering.