Sedans continue to lose market share due to the increasing demand for crossovers and SUVs. The good news is that not every automaker is ready to abandon the segment. Honda is one of those and now we have an all-new 2023 Accord, which has received a lot of improvements to help it compete with the Toyota Camry and Nissan Altima.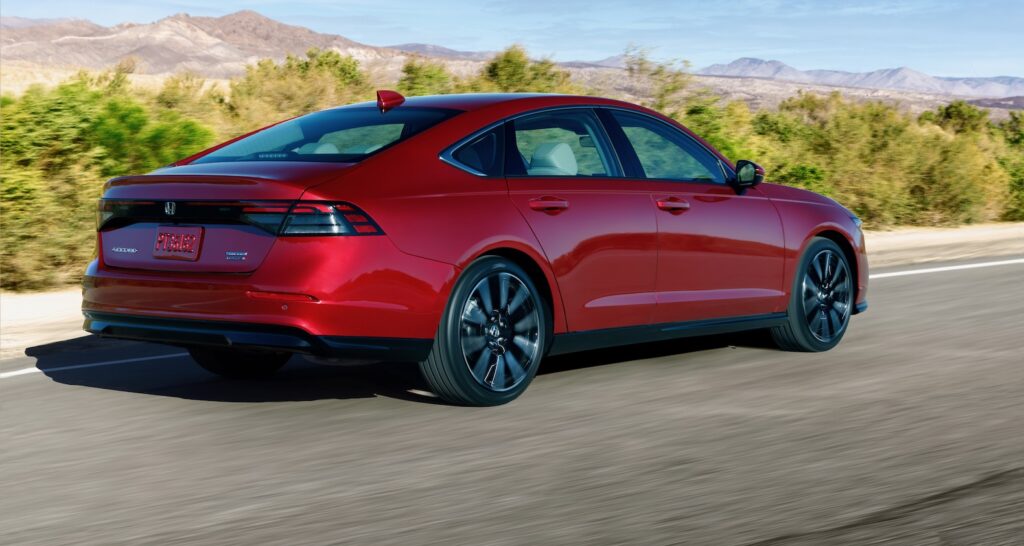 Just like the rest of Honda's latest introductions, the Accord's styling looks cleaner and more sophisticated than its predecessor. The new Accord is also bigger with its length growing 2.8 inches. A lot of the extra length has gone to a longer hood, while its fastback roofline gives it a sleek profile.
Inside the Accord's cabin looks and feels more upscale with its minimalistic styling and higher quality materials. The dashboard gets a metal mesh that spans the entire width of the dash and hides the air vents, like in the Civic, although the mesh pattern is different.
The tech has improved as well with a standard 10.2-inch digital instrument cluster, while a new 12.3-inch touchscreen is optional. A 7-inch touchscreen is standard on the LX and EX trim levels. The larger screen comes with wireless Apple CarPlay and Android Auto, and the top spec Touring trim adds Honda's first integration of Google built-in. It includes apps like Google Assistant, Google Maps and more on Google Play. The Accord Touring also comes standard with a 6-inch head-up display and a 12-speaker Bose audio system.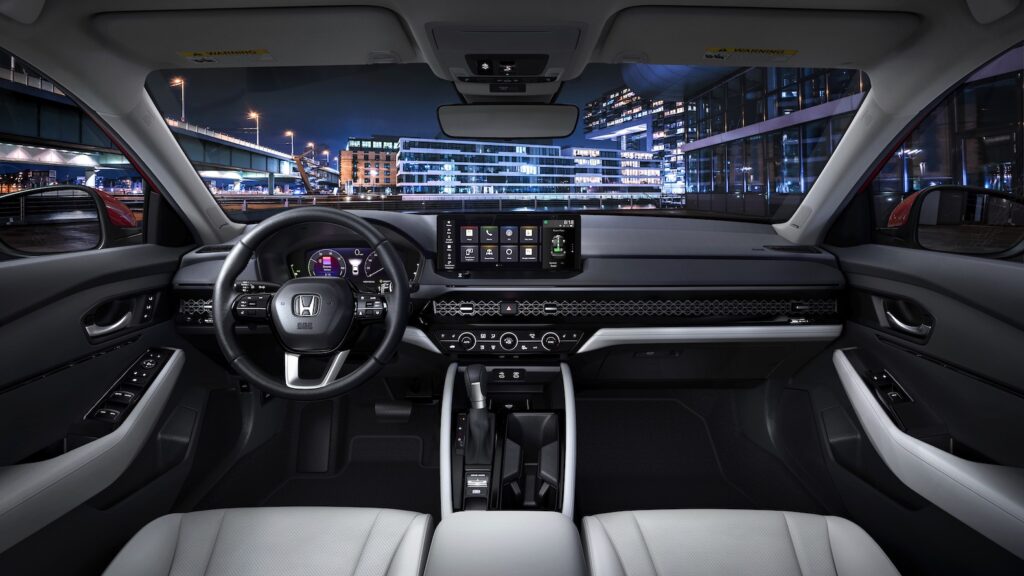 Under the hood, there are now only two powertrain options to choose from. Sadly the 2.0-liter turbo is gone, due to little demand. So that leaves the 1.5-liter turbo as the base engine and a new two-motor hybrid system is now the most powerful version. The 1.5-liter generates 192 horsepower and 192 pound-feet of torque and is mated to a CVT. The updated hybrid system features a 2.0-liter four-cylinder and a two-motor hybrid system to generate a combined 204 hp and 247 lb-ft. Honda says that the new hybrid system is more responsive and refined, which is good news, since Honda estimates that about 50 percent of Accord sales will be the hybrid version. This is further emphasized by the fact that the base engine is only available in two trim levels (LX and EX), while the hybrid gets four trims (Sport, EX-L, Sport-L and Touring).
On the safety front, the Accord comes standard with knee and rear passenger side airbags and new front airbags that are designed to reduce traumatic brain and neck injuries. The 2023 Accord also comes standard with the Honda Sensing suite, which automatic emergency braking, a blind-spot monitor, Traffic Jam Assist, adaptive cruise control and lane keeping assist. Low-Speed Braking Control is available on the Touring trim level.