The 2022 Mazda MX-30 puts the Japanese automaker in the battery-electric race, but it's already running behind. The MX-30 is Mazda's first battery-powered car to be sold in the U.S., but sales are limited to California and its limited range has limited appeal. The small five-seat hatchback compares to electric vehicles like the Kia Niro EV, Mini Cooper SE, and Hyundai Kona Electric.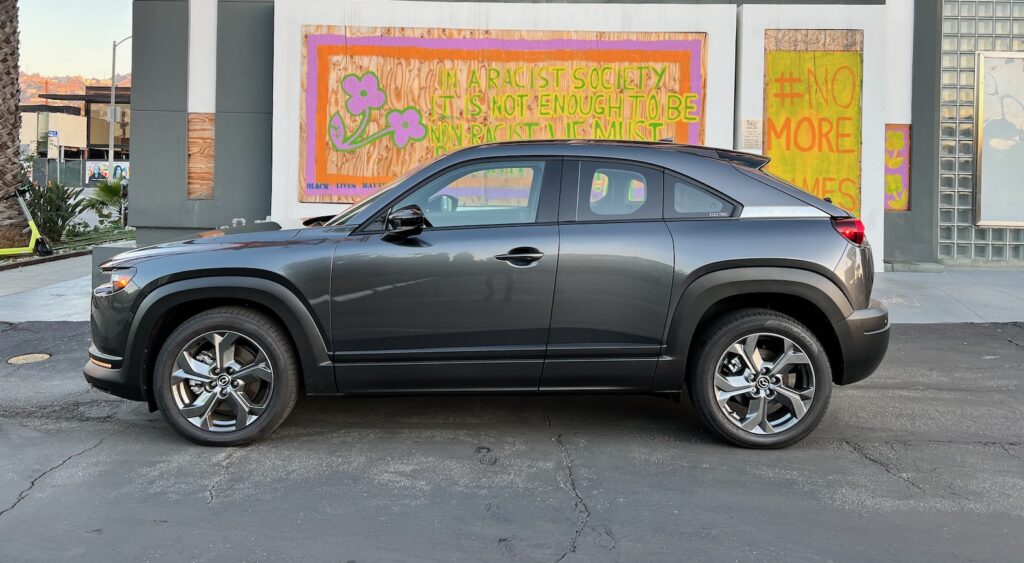 The MX-30 is based on Mazda's CX-30 crossover but goes in a different direction with its exterior styling. It's not a change for the better. A plain interior that belies the funkyness found outside. Front the beltline down, the MX-30 is rather conventional with prominent plastic cladding and Mazda's angular nose. But on top it deviates completely with a high-sided greenhouse and sharply sloping rear-roof line. The rear doors have also been flipped and open backwards like the old RX8. Premium Plus models also feature three-tone paint jobs that make the roof stand out.

A smooth, composed ride is the MX-30's best attribute. Though the MX-30 lacks the instant acceleration found in many of its counterparts, it offers well-tuned steering and good ride quality. The MX-30 only comes with a single 80.9-kw electric motor that drives the front wheels and produces 143 hp and 200 lb-ft of torque. Power comes from a 35.5-kwh battery pack, mounted beneath the passenger compartment floor.


By EV standards, not very fast at all. Mazda says that the accelerator pedal has been tuned to provide acceleration more like a gas engine, so it lacks the snappy off-the-line feel that many of its EV competitors provide. The MX-30 offers five different regenerative braking settings but none of them provide one-pedal driving and in the two highest regeneration levels the throttle takes too much pedal effort to get the MX-30 moving. Similarly, the brake pedal doesn't feel well tuned and it's hard to stop smoothly.

Luckily for the MX-30, its handling and comfort are impressive. It flips the CX-30's 60/40 front/rear weight distribution to 40/60 and the nose feels light and agile. The 683-pound battery pack stuck in the frame lowers the crossover's center of gravity, making it more stable at all speeds. There is an artificial engine noise that can't be turned off; fortunately it's inoffensive and fades into the background quickly.

Range anxiety will be a constant companion so the MX-30 is best used as a commuter car. The most disappointing part of the MX-30's arrival (apart from there only being 560 units available its first year of production) is its range. Its paltry 100 miles of EPA-estimated range is enough to earn the MX-30 a 9 on our scale, but that puts it far, far behind EVs such as the Volkswagen ID.4 and Kia Niro EV that both offer more than 200 miles of range. Mazda includes 10 days of loaner cars from a Mazda dealership for the first three years of ownership, in case you need to go on longer trips.

The MX-30 has yet to be crash tested by either the NHTSA or the IIHS so we can't give it a final rating, but the MX-30 comes with an impressive amount of standard safety equipment. Forward automatic emergency braking, active lane control, adaptive cruise control, and blind-spot monitors come standard. Front parking sensors and blind spot assist are also available.

Similar to the CX-30, the front seats are comfortable and the materials generally look and feel a touch above what you'll find in most mainstream vehicles. Cork trim pieces help to break up a mostly black interior and hint at the EV's green nature. Behind the rear seats is 20.4 cubic feet of cargo space, which puts it in similar standing with other small crossovers. The rear seats fold down for more space, but Mazda did not provide a larger cargo volume measurement.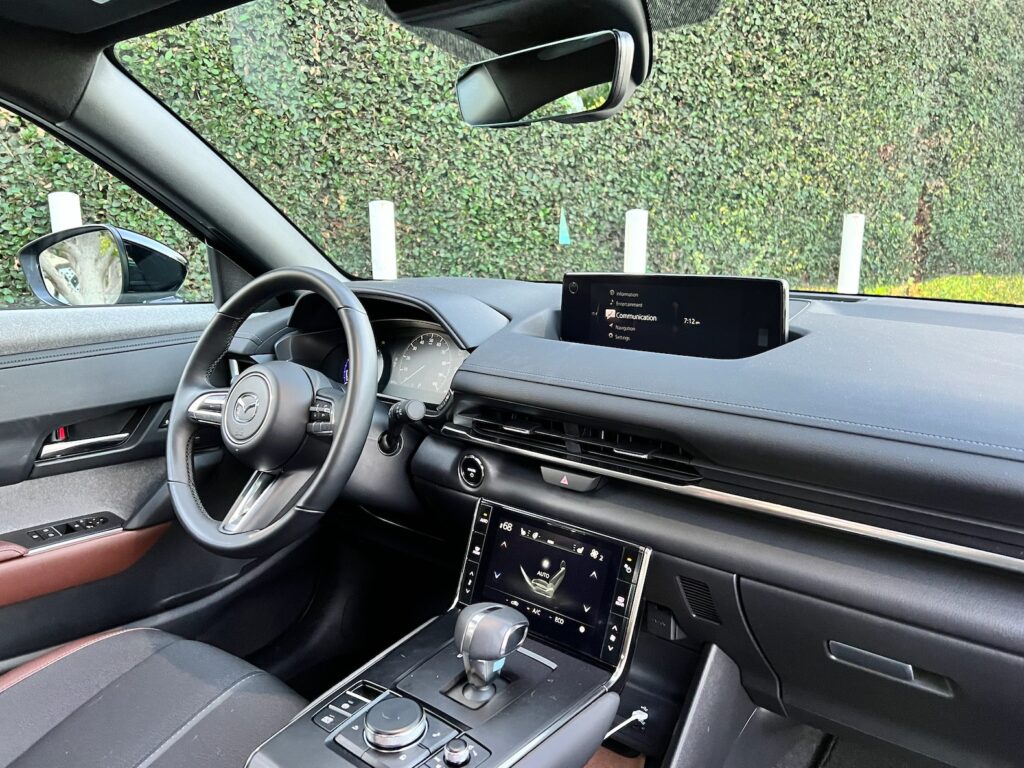 Where the MX-30 falls short is its rear seats. The rear-hinged doors make entering awkward and if you do make it back there it will be an extremely tight squeeze. Adults can't sit back to back, and there isn't enough leg room or a good place to put your feet. The official measurement is 30.1 inches of rear legroom but it feels more like 30.1 centimeters.

Both MX-30 models are well equipped and offer lots of value after tax credits. The MX-30 gets a leg up on value thanks to its tax credit eligibility and it earns additional points for excellent base content and a large infotainment screen. The base model is very well equipped and will be the right model for most buyers. It comes standard with an 8.8-inch center display, synthetic leather upholstery, heated front seats, a head-up display, and Android Auto/Apple CarPlay connectivity. The screen is not a touchscreen, a knob is used to navigate around the various menus and it takes some time to get accustomed to.

Loading up the MX-30 with the Premium Plus package adds $3,010 to bring the total price to $37,655 and for that you get a few more safety features, Bose audio, a heated steering wheel, and a surround view camera. If any of those are must-have features, take the leap but the base model will be just fine for most. The battery comes with an 8-year/100,000-mile warranty, but the rest of the vehicle is covered by a 3-year/36,000-miles basic warranty.

Mazda's new MX-30 is a unique choice in an ever growing field of EV's. That's not to say it's a bad choice, it just has a very specific mission one but suited for commuting and local errands. It's a smart small EV that we'd want to be driving on a daily basis since it can maneuver into just about any city spot. What the MX-30 lacks in range it more than makes up for in refinement and sophistication while providing a good value with decent driving manners.