The 2021 Toyota Supra marks year two of sports-car excellence. The Supra came back in 2020 after a 21-year hiatus; now based on BMW Z4 running gear, it's a fluent performer in turbo-6 or new turbo-4 form, with the usual two-seater concessions to space and price. Toyota sells the 2021 Supra in 2.0, 3.0, 3.0 Premium, and A91 versions.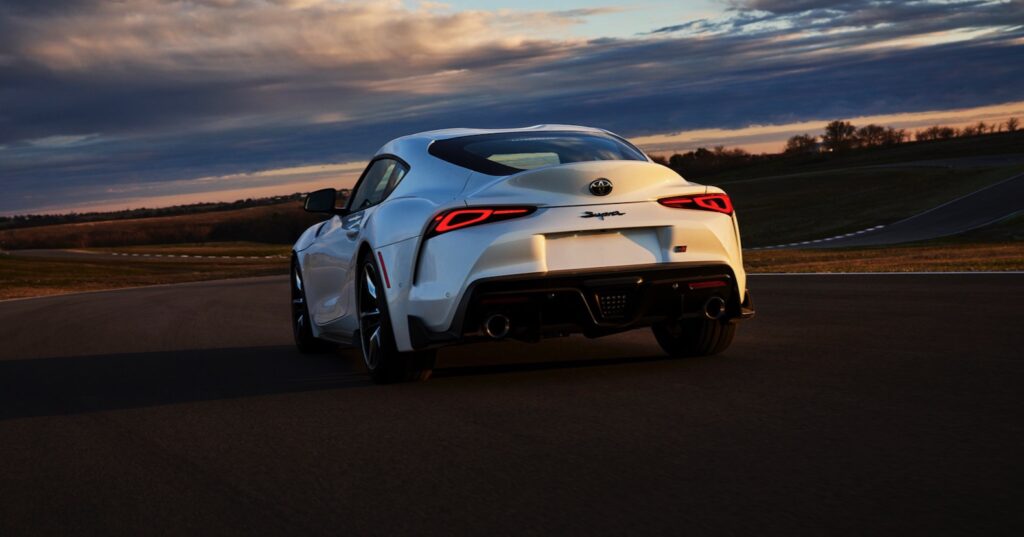 The Supra's borrowed-from-BMW running gear gets breathed on this year. Last year's 3.0-liter turbo-6 picks up 14 percent more horsepower, rising from 335 hp to 382 hp. Torque is up 3 pound-feet, to 386 lb-ft. The big boost in output drops the 0-60 mph times from 4.1 to 3.9 seconds, and boost seems to be available anytime, since peak torque shows up at 1,600 rpm. It's electronically limited to 155 mph. The turbo-6 has a lovely, sonorous sound, and flicks through its paddle-shifted, 8-speed-automatic gears with military swiftness.

It may be heresy, but the 255-hp 2.0-liter turbo-4 works well enough for us, thanks to its 295 lb-ft of torque, identical transmission and identical gearing. It rifles along and grunts out enough torque to hurl the Supra to 60 mph in 5.0 seconds or less. It lacks the epic soundtrack of the 6-cylinder, but it also lacks the more expensive Supra's high-tech adaptive dampers and electronically controlled limited-slip differential.


The turbo-6 Supra has a five-link rear suspension, double-jointed front strut suspension, and Comfort/Sport mode adjustable dampers. Shorter than an 86 but far more powerful, it proffered great grip, and exceptionally quick moves in and out of corners. Its electronically controlled differential would fidget as it shifted power across the rear axle on off-camber corners, and that made it difficult to press the Supra to its limit.

The Supra has the squat, coiled-spring look of a performance machine, with muscular rear haunches and a long hood that telegraph its intentions. It also has a wide-ranging palette of character lines, curves, and scoops which draw from its essentially handsome shape. The grille's horse-collar outline goes in one aesthetic direction, the front air ducts another, the lines that accentuate its stubby shape yet another. Exciting? Sure, but the Supra gets exhausting to study after a while.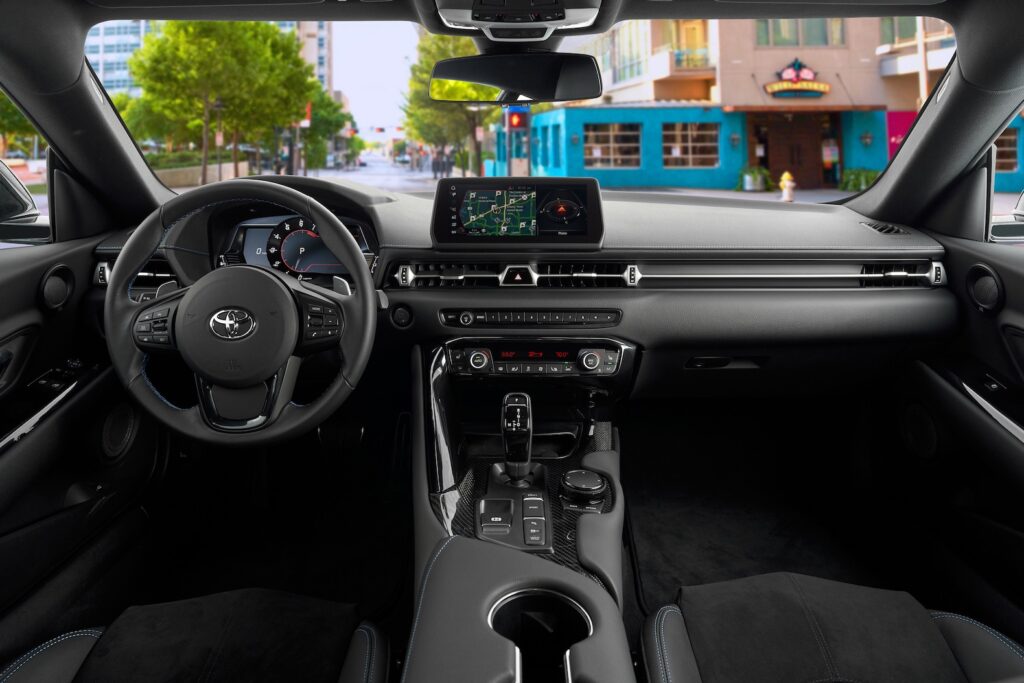 The Supra cockpit wants for little, once you get in it. The low roof and small doors mean big drivers must fold in half and lean back just to clamber behind the wheel. Even with the steering wheel and seat set just so the bolstering is snug and can be snugged in more tightly. Base seats offer 8-way adjustment, while others have 14-way adjustment. Tall drivers will wish for more leg room, and in any case, thedriver and passenger will find their knees pushed outboard, thanks to the wide transmission tunnel. As a hatchback, the Supra has just enough useful space for soft luggage. Its 10.2-cubic-foot cargo hold is long and shallow.

Starting at $43,000, the 2.0 has automatic emergency braking, LED headlights, 18-inch wheels, an 8.8-inch gauge cluster, Alcantara/leather seats, keyless start, and 4-speaker audio satellite radio with an 8.8-inch center display, but no Apple CarPlay or Android Auto. The only option package, which adds blind-spot monitors, front and rear parking sensors, navigation, 500-watt JBL audio, wireless Apple CarPlay, and adaptive cruise control.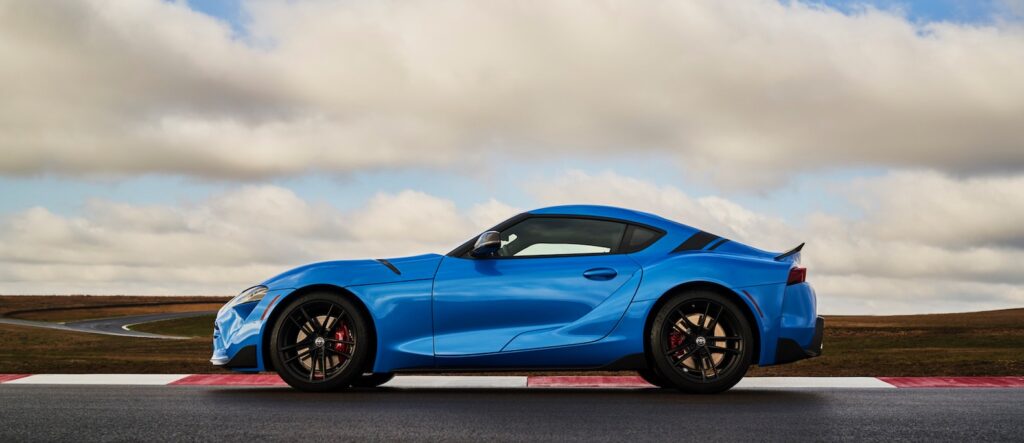 Six-cylinder Supra 3.0 coupes share the 2.0's features and options, but have 4-way power front seats and 10-speaker audio for $51,000. The 3.0 Premium model for $3,000 more gets an 8.8-inch touchscreen with navigation, a 500-watt JBL sound system with 12 speakers, wireless phone charging, wireless Apple CarPlay compatibility, a color head-up display, leather upholstery, heated seats, and larger rear brakes. A91 Edition Supras for $56,000 get blue seat stitching and two distinct paint colors. The latter two models can also be fitted with adaptive cruise control, blind-spot monitors, and parking sensors. The Supra's warranty is average, at 3 years/36,000 miles, including two years of free maintenance.

The 2021 Toyota Supra is a rare beast; one that we're grateful and privileged that made it through the bean-counters hands after a 21-year absence. Blending in BMW bits has only helped to improve the Supra's impressive pedigree. Razor-ready track performance is the forte of every Supra including strong power with either engine, predictable teeth-gritting handling, and technology nannies that actually let you have some fun. In the end, the BMW Toyota marriage is the best of both brands and we are all the wonderful beneficiaries.