The Jeep Wrangler just got a bit greener with the introduction of the 2021 Jeep Wrangler 4xe plug-in hybrid. The Wrangler 4xe looks nearly identical to the standard Wrangler, but under the hood, it's powered by a new electrified powertrain that gives it the ability to travel up to 25 miles in electric mode.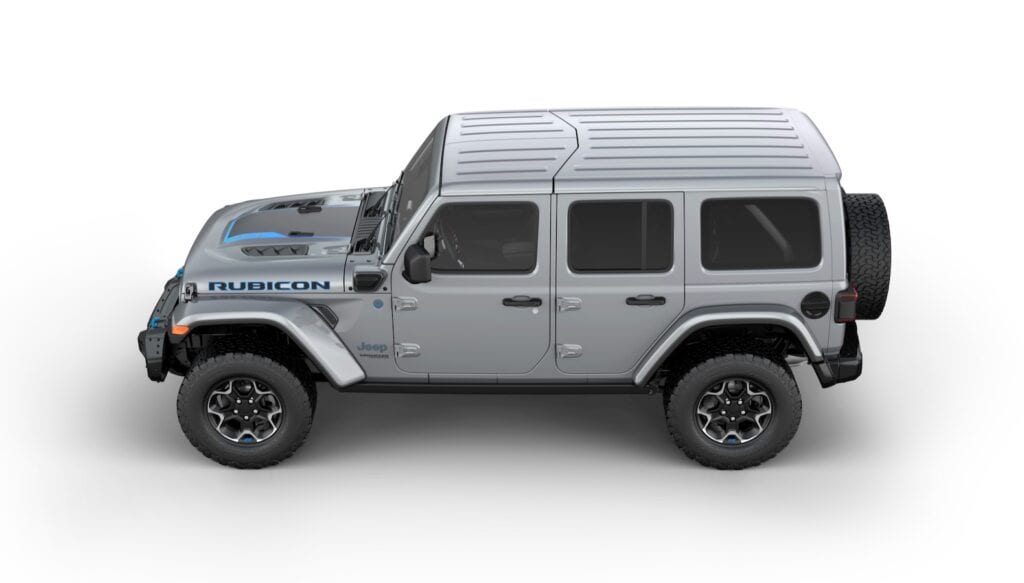 The Wrangler 4xe is powered by a 2.0-liter turbocharged four-cylinder engine and a 17 kWh battery. The engine generates 270 horsepower and 295 pound-feet of torque and the eTorque starter-generator adds 44 hp and 39 lb-ft. The electric motor has 134 hp and 181 lb-ft. All combined, the Wrangler 4xe has 375 hp and 470 lb-ft. of torque.
That means that the Wrangler 4xe is now the most powerful Wrangler with more torque than the Wrangler diesel and more horsepower than the 3.6-liter V6. Of course the the Wrangler 4xe weighs a lot more than the other Wrangler models from 694 to 804 pounds.
The Wrangler 4xe will be available in three versions: 4xe, Sahara 4xe and Rubicon 4xe. The base and Sahara models get a Selec-Trac transfer case, which enables full-time four-wheel drive with a 2.72:1 low-range gear ratio. The Rubicon 4xe has a Rock-Trac system with full-time four-wheel drive and a  4.0:1 low range.
The way you'll be able to tell the difference between the Wrangler 4xe and the other Wrangler models are the Electric Blue highlights on the PHEV.
Jeep hasn't released the pricing for the 2021 Jeep Wrangler 4xe, but it will arrive before the end of the year.