The 2021 Hyundai Sonata wears luxury threads in pricey models, but all versions get excellent safety and warranty coverage.The Sonata banks on fewer rivals competing for buyers of mid-size sedans. The way it's chosen to surface in the still-congested group: dramatic flair, along with lots of features and value. With the Sonata, Hyundai's shaped a silhouette with luxury overtones, crafted a cabin with the same, and stocked it all with some of the best warranty coverage and standard gear of any family four-door.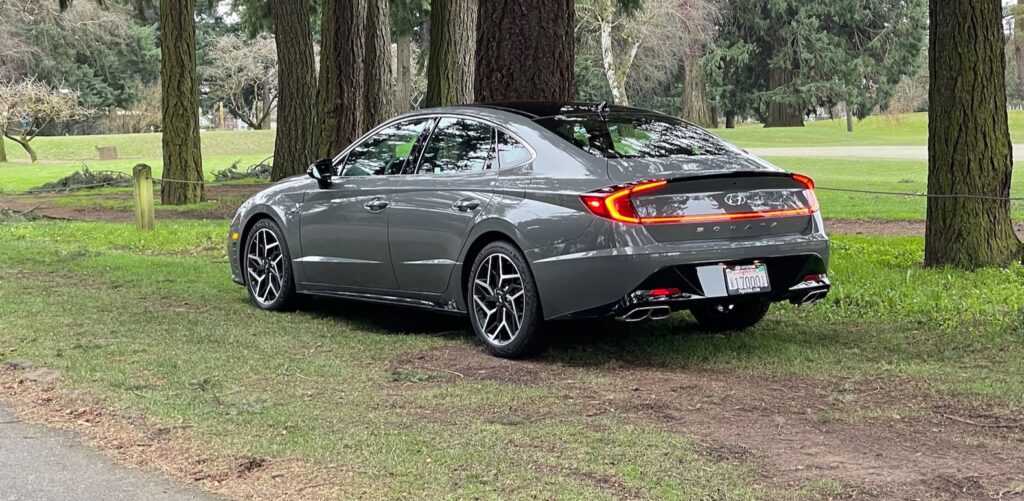 Hyundai sells the Sonata in a range of trim levels: SE, SEL, SEL Plus, Limited, and new for '21 N-Line, in gas-only models, and Blue, SEL, and Limited in Sonata Hybrid flavors. Among the former, the base 2.5-liter inline-4 has more power on the spec sheet than the turbo-4 (191 horsepower versus 180 hp), but the turbo's percolating performance at low speeds gives it a slight nod. Fuel economy of 52 mpg combined comes with the most efficient Sonata Hybrid Blue, and it's a stellar scrimper and saver, especially at its sub-$30,000 price. The new N Line borrow the 2.5-liter inline-4 Turbo from Genesis with 290 hp and 311 lb-ft. to make this one heck of a sleeper sport sedan.

The Sonata takes on very different personalities based on trim level, from comfort to sport sedan, but regardless they all still have incredible style. The exterior uses unique use of bright trim on the body, and on the frowning grille applied to an otherwise curvaceous and flowing body, but the Sonata's interior chalks up its win unanimously, despite some sportswear-knit fabric and black plastics on base models.


Sonata N Line's side skirts and 19-inch alloy wheels provide an aggressive stance that suggests that fun is just around any corner. The dynamic side styling carries over to the taut rear end where a sleek black lower bumper, dual twin exhausts and N Line rear diffuser amplify the sport sedan's ready and willing attitude.

Front-seat passengers can spread out with ample room to spare in the Sonata. The back seat's trimmed down but still can fit three adults—or can be folded down to boost trunk space from its 16.0 cubic feet. We're smitten with high-end Sonatas: They have more sound deadening, wider swaths of nicer finishes, even quilted leather. They have the ambiance of luxury cars minus the high-end badge and sticker.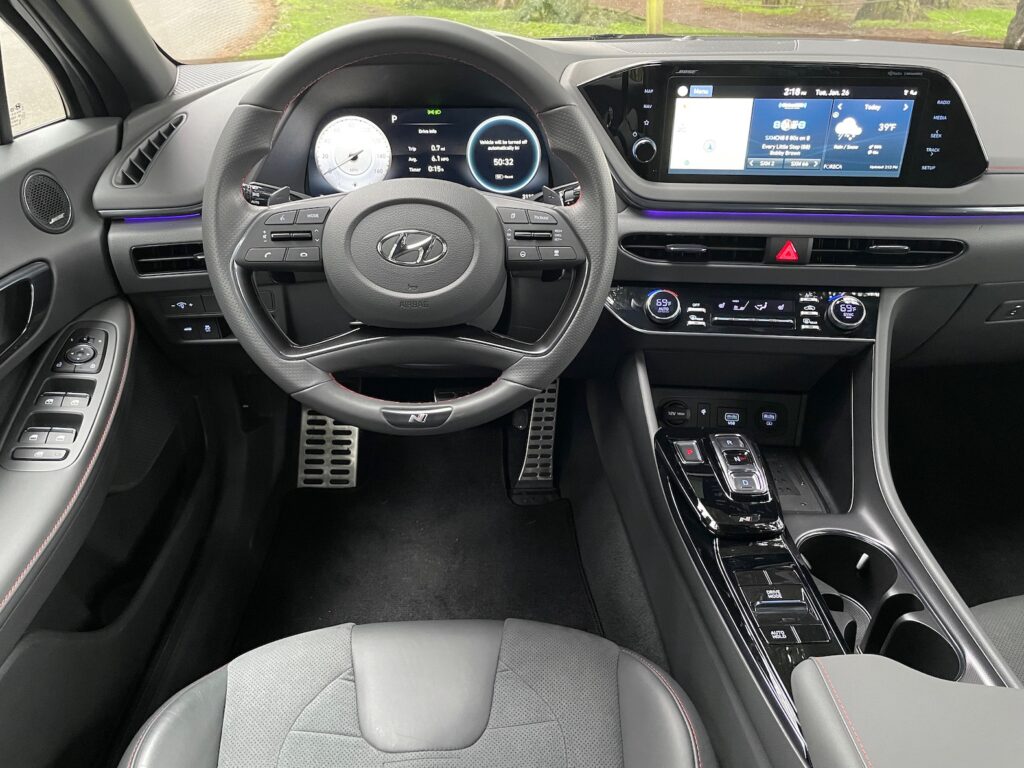 Every Sonata has automatic emergency braking, a touchscreen infotainment system with Apple CarPlay and Android Auto compatibility, and LED headlights. New for 2021 are 19-inch wheels on middle trim levels, a power front passenger seat on the top trim, and a safe-exit warning based on the car's blind-spot monitors. Pricey Limiteds can be fitted to use Android smartphones as car keys, can wear leather upholstery and can come with a panoramic roof—while Hybrids offer a solar roof panel that can increase fuel economy by collecting energy passively while they sit parked. The pretty, efficient 2021 Sonata Hybrid even makes sense when it's not moving.

The 2021 Hyundai Sonata is the most impressive Sonata ever. With elegant styling, leading edge technology, and fun-to-drive driving dynamics in the new for 2021; the Sonata is a tour-de-force to be reckoned with. The Sonata's broad range of trim choices for any lifestyle and an impressive warranty make it a true standout in the crowded midsize class. For all these reasons and more, the 2021 Hyundai Sonata deserves to be on everyone shopping list.