The 2021 Genesis G80 drops the mic with fastback style and fast-forward features. The G80 is a mid-size luxury sedan that shares much with the recently introduced 2021 Genesis GV80 crossover SUV, including a gorgeous interior loaded with all the latest technology. It comes in rear-drive or all-wheel-drive form, with a turbo-4 or a twin-turbo V-6. The G80 compares to cars such as the Audi A7, Cadillac CT5, Volvo S90, Mercedes E-Class, and BMW 5-Series.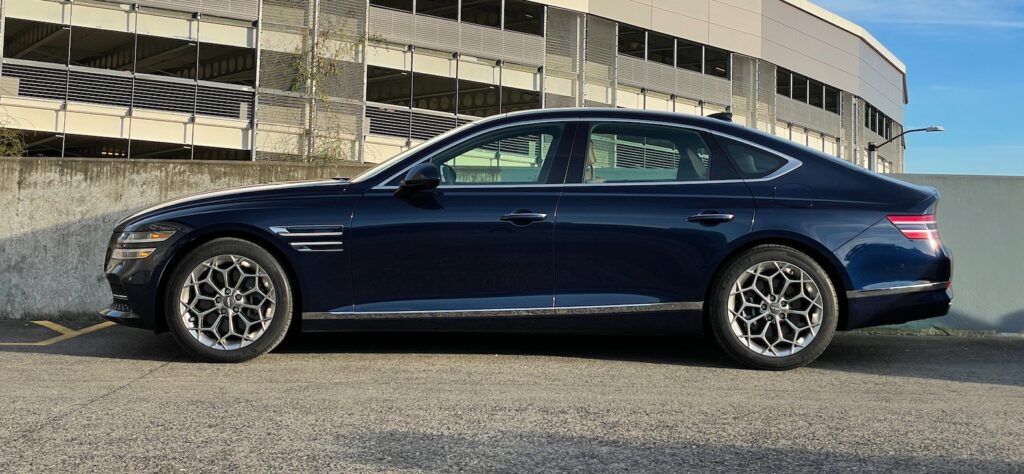 The G80 bristles with lithe looks, a stunning interior, performance-enhanced mechanicals, and the very latest in entertainment and safety technology. We're still bowled over by the G80's artful shape. Bearing a shield-shaped grille, the G80 pulls back through sculpted shoulders with the stance of an archer. There's some mild confusion—or, perhaps an ode to practicality—where the roof meets the trunk, and the bands of LED lighting on the nose and tail read a little '90s, but the G80 brandishes it all with brio. It sets phasers to stunning in the cockpit, where matte wood and lots of metallic trim elbow each other for space on a sweeping dash with a billboard of a high-resolution touchscreen on its cap.

The rear-drive G80 offers all-wheel drive, no matter whether it's fitted with a 300-horsepower turbo-4 or a 375-hp twin-turbo V-6. With 0-60 mph times of about five seconds, the latter 3.5T G80 doesn't scorch the road as it might, since it weighs 4,497 pounds—but it pulls Mustang-like acceleration all the same through an expertly tuned 8-speed automatic. Ride quality with the optional adaptive dampers alternates from cushy to jittery, depending on the drive mode selected, but the G80's steering has calmer feedback and oozes the same kind of panache as the G80's body.


Drivers and outboard passengers get insanely cozy seats in the spendy versions of the G80, with quilted leather and with heating and cooling in front. The trunk's on the small side but there are convenient cabin places to tuck away smartphones, Yeti cups and bottles, and a small fifth passenger who must sit on a narrow flat bench over a widely boxed transmission tunnel.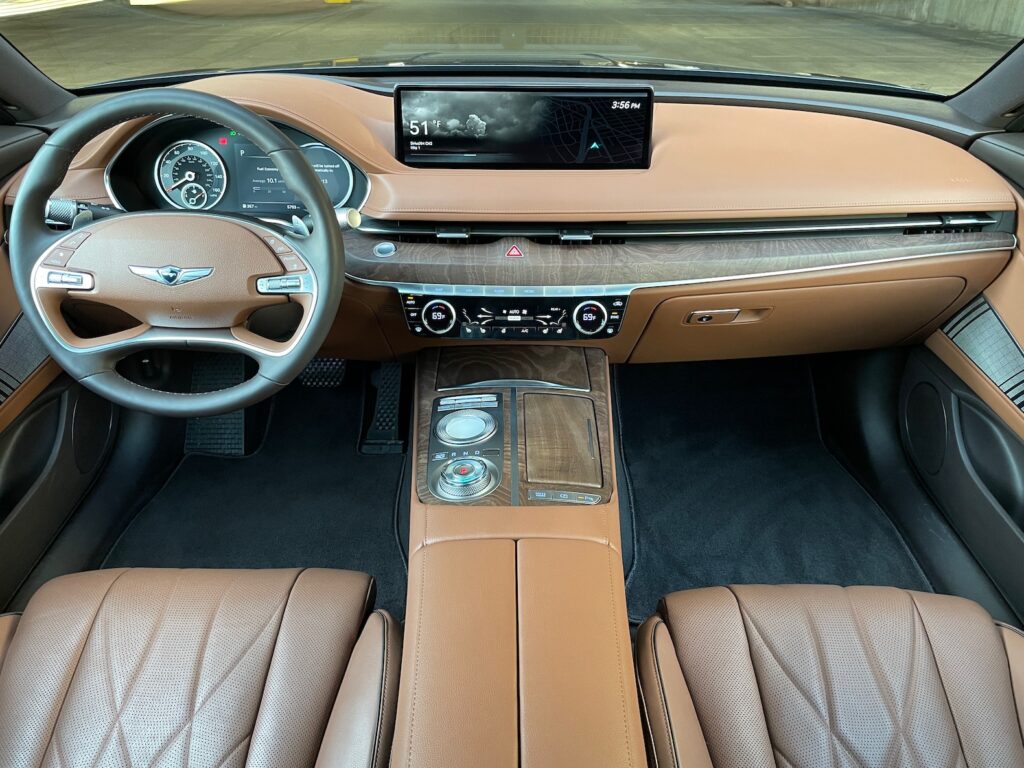 Safety scores aren't in, but Genesis cars have excelled in crash tests, and the new G80 has standard automatic emergency braking, blind-spot monitors, and adaptive cruise control, with options for a head-up display and a surround-view camera system. All models come with a 14.5-inch touchscreen, Apple CarPlay and Android Auto compatibility, power features, a power sunroof, and an infotainment controller with a unique clickwheel system that uses a concave control disc. Options range from 21-speaker Lexicon audio to Nappa leather. Base G80 sedans cost $48,725, while the most expensive version costs $63,275 without options.
Genesis is still the new kid on the block but with knockouts like the G80, has quickly become top dog in its class. With stunning looks, commendable driving manners, and topnotch technology with a great value proposition; it's easy to see how the new Genesis G80 is stellar. For those looking to try something new and step out of the current luxury flock, the G80 is definitely worth a look.