The redesigned 2021 BMW 4-Series has evolved into a technology tour de force with brilliantly responsive powertrains. The new 2021 4-Series is based on the same platform as the 3-Series but tweaked to make the two-door coupe longer, lower, and wider for some sleekness lacking in the 3-Series. BMW has been toying with larger sized versions of its signature kidney grille on a few other models, but the second-generation 4-Series takes it to the extreme. The grille feels at least doubled in size and covers up much of the front end. It stands in stark contrast to the rest of the car's smooth contours. The interior offers a modern design with metal and wood accents, and comes equipped with upgraded technology and an easy-to-use interface.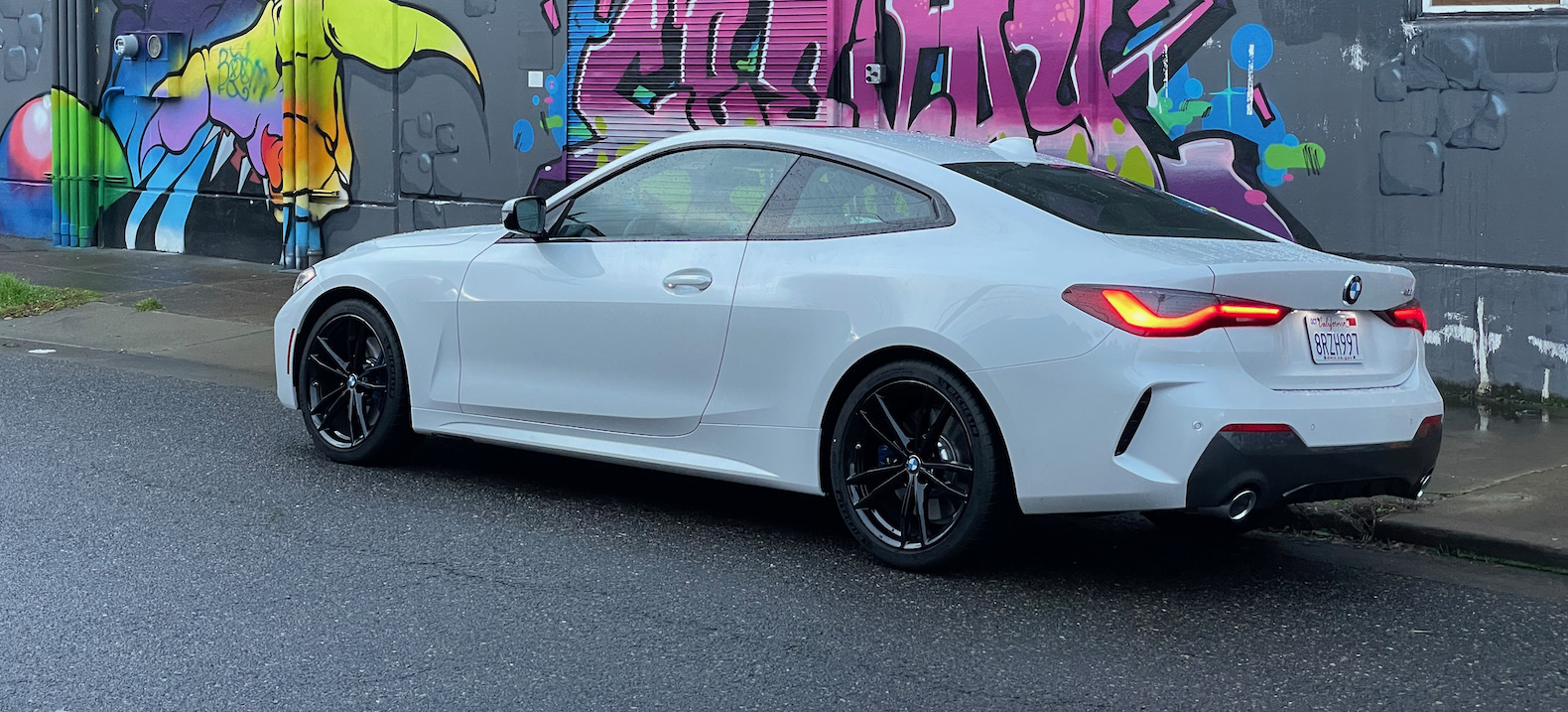 The convertible follows the coupe later in 2021 in either 430i or M440i models. The 430i uses a 235-hp 2.0-liter turbo-4 with standard rear-wheel drive or optional all-wheel drive, while the M440i has a 382-hp 3.0-liter turbo-6 with standard all-wheel drive. Both engines come with an 8-speed automatic transmission. Those who want a manual will have to wait for the M4 and its 473-hp 3.0-liter twin-turbo-6 to debut sometime later in 2021. Fuel economy ratings top out at an estimated 29 combined mpg for the 430i and 25 combined mpg for the M440i.
For the coupe, the 430i starts at $46,595 (including destination charges), while the jump to the M440i costs $59,495. Convertible models start at $54,095 (430i) and $64,995 (M440i). BMW 430i models start with wireless Apple CarPlay and Android Auto, real wood accents, and an 8.8-inch touchscreen. The M440i adds on performance upgrades, better brakes, and a rear spoiler. The 4-Series' standard safety features now include active lane control, automatic forward emergency braking with pedestrian detection, automatic high beams, and blind-spot monitors. The 4-Series has not yet been crash tested by the NHTSA or the IIHS. The 2021 BMW 4-Series is a compact coupe/convertible that competes with the Mercedes-Benz C-Class, Audi A5, and Genesis G70, among others.
Our 3-Series review spoke of that car's handsome nondescript styling, but the 4-Series has taken those strong styling roots and cranked up the volume. To call the 4-Series' new nose distinctive is underselling how much those giant kidneys catch the eye, with lots of debate on if that's a good or bad thing. The rest of the exterior is more appealing with classic long-hood, short-trunk proportions. The garish front end makes the 4-Series memorable, but its upmarket interior, with luxury-grade materials and an appealing modern design with metal accents, real wood, and large screens round out a very well thought out coupe. The M Sport Package adds some styling changes, like a more aggressive front bumper and some black trim pieces, but the overall effect is very subtle.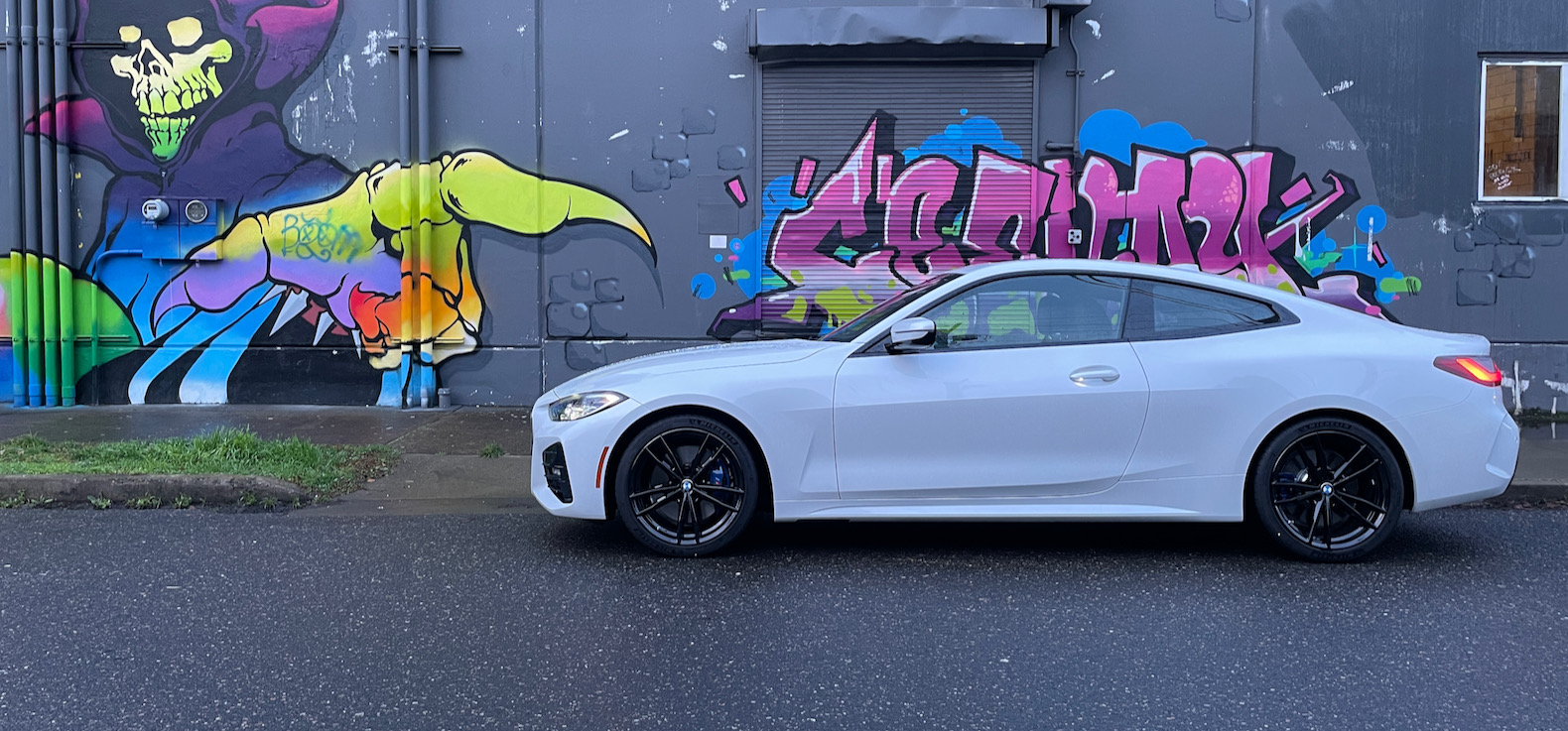 Plenty fast, both the 430i and M440i feature turbocharged engines that are eager to rev and easy to extract power from. The 430i serves as the base powertrain, with a 255-hp turbo-4 mated to an 8-speed automatic. The coupe sprints to 60 mph in just 5.5 seconds and that dips to 5.3 seconds with all-wheel drive. Those wanting even more speed can jump up to the M440i and its 3.0-liter turbo-6 that makes 382-hp and 360 lb-ft, which powers the car through the same 8-speed automatic and standard all-wheel drive. It goes 0-60 mph in just 4.3 seconds. The M4 will feature a 3.0-liter twin-turbo-6 that makes 473 hp or 503 hp in Competition grade. A 6-speed manual transmission is found on the regular M4, with Competition models featuring an 8-speed automatic and available all-wheel drive. The M4 hits 60 mph in 4.1 seconds while the M4 Competition does it in 3.8 seconds.

The 4-Series differentiates itself from the 3-Series with additional body reinforcements for more rigidity, sportier tuning of the suspension, steering, and brakes, and more negative camber on the wheels. These changes sharpen up the two-door, with quicker turn in that enhances the excellent handling of the 3-Series. It's a very neutral car in turns, with minimal body roll and good stability. We've largely driven cars with the optional adaptive dampers and the M440i comes with an M Sport differential and M Sport brakes standard as well. Though the M440i comes with variable sport steering, the steering remains the only weakness. It's still better than the vast majority of cars out there, but for a performance-oriented coupe it needs more feedback to give the driver confidence to push it harder.
The BMW 4-Series is fairly frugal with gas, especially with being such a potent sport coupe. The base 430i rates responsibly with an EPA-rated 26 mpg city, 34 highway, 29 combined. With all-wheel drive those numbers drop slightly to 24/33/27 mpg. M440i models with the larger 6-cylinder engine offer 25 combined mpg.The M4 is rated at 16/23/19 mpg for both base and Competition models. Premium fuel is mandatory for all models.
Official crash test results aren't in, but the 2021 BMW 4-Series offers a slew of advanced safety features. The NHTSA and the IIHS have not yet crash tested the 4-Series, but the 3-Series with which it has much in common earned an IIHS Top Safety Pick award. Standard safety features include active lane control, automatic emergency braking with pedestrian detection, automatic high beams, and blind-spot monitors. The 4-Series is available with hands-free driving technology in limited situations that will also change lanes for you with a bump of the turn signal. And the better headlights that helped the 3-Series earn its safety award are also only available with an option package on both 430i and M440i models.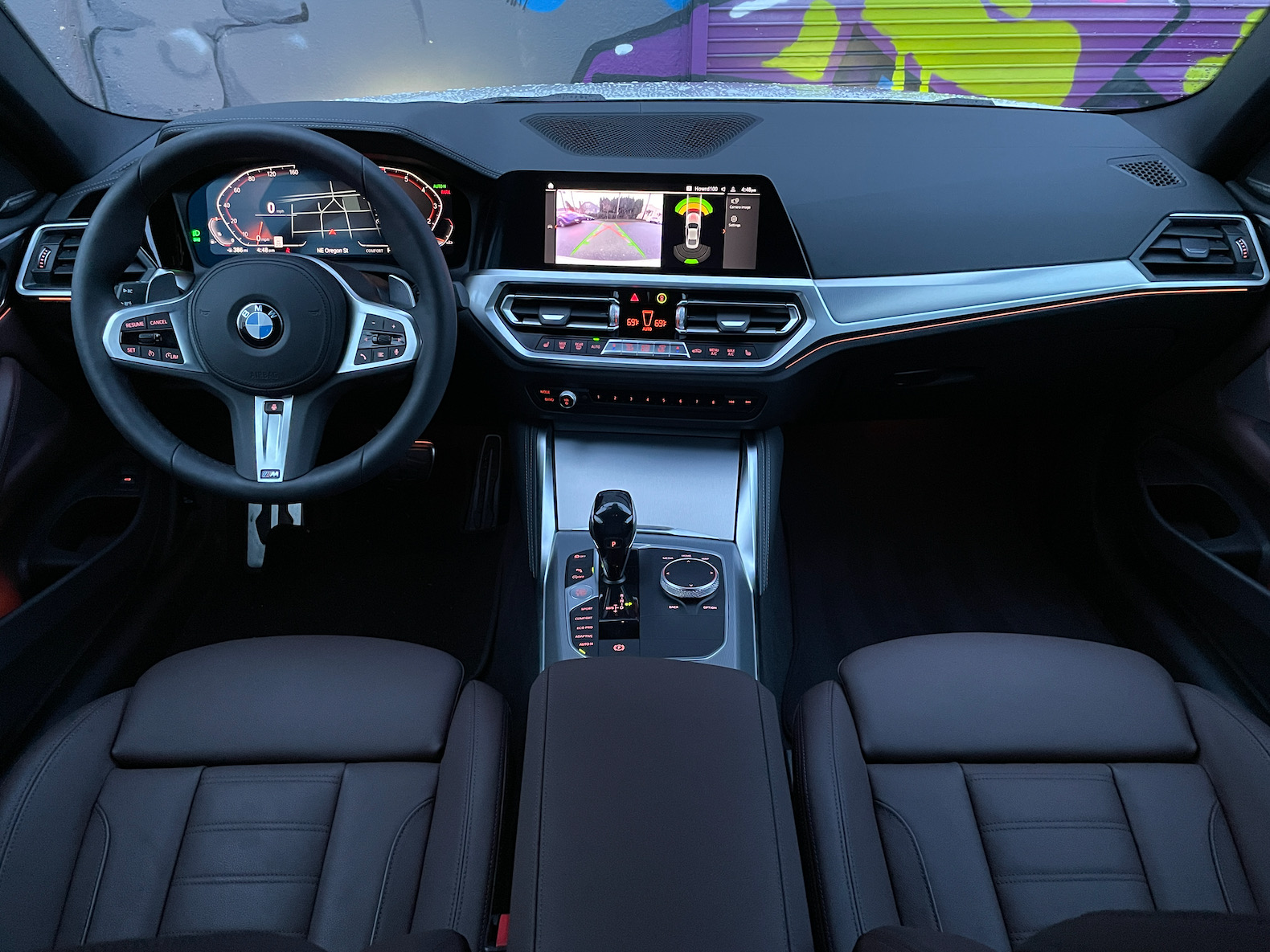 The 2021 BMW 4-Series has more space inside than would appear at first glance. The 4-Series has an excellent set of front seats, complete with a power-adjustable bolster to help with thigh support for longer drives. Though the coupe's shape suggests a cramped back seat, it's expansive with 34.5 inches of rear leg room and enough head room even for adults. Since there are only two seats in the back row, each passenger sits in a slight bucket. Synthetic leather is standard in gray or black, with real leather optional for about $1,500 in a wider range of color options. Powered front sport seats, real wood grain trim, and a leather steering wheel come standard. Compared to the 3-Series, the 4-Series gets a unique dash setup with a different center console layout and a distinct shifter. The 4-Series comes with BMW's iDrive 7 multimedia system which includes standard wireless Apple CarPlay and Android Auto compatibility with an 8.8-inch touchscreen that can be upgraded to a 10.3-inch touchscreen. The trunk does have less cargo space than the 3-Series, down to 12.0 cubic feet vs. 17.0 cubic feet. Convertible cargo volume is a meager 9.0 cubic feet, though that is an improvement over last year's model.
The 2021 BMW 4-Series comes with a good standard feature set that has plenty of potential for expansion. The addition of wireless Android Auto and Apple CarPlay compatibility as standard equipment is nice, and the rest of the base content is strong as well with an 8.8-inch touchscreen. The 4-Series that will make sense for most buyers will be the base 430i, which comes with standard synthetic leather seats, moonroof, automatic climate control, parking sensors, and LED headlights with automatic highbeams. It also comes standard with BMW's excellent iDrive 7 multimedia system, which is highly responsive and with the addition of wireless phone mirroring, making it easier to use than ever.

Both the 430i and M440i trims do get expensive quickly with the addition of options. The Driving Assistance Professional Package is required to get the most advanced safety technology and it costs $1,700, but it requires the addition of two other packages/features and that makes it in reality more like a $3,500 option. And if you want to add the M440i's performance upgrades to the 430i, it's the same situation. An M4 Competition can run its price all the way up to nearly $109,000 with features like carbon fiber seats, carbon ceramic brakes, a special metallic paint, and driver assistance/technology packages all added on.

Originally a BMW 3 Series coupe, the 4 Series has an enormous amount of expectation to live up to as the Ultimate Driving Machine, especially wearing the coveted M3/4 crown. Luckily the 2021 BMW 4 Series delivers on its hallmark attributes and more. The new 4 Series offers cutting edge technology, class leading driving dynamics, and debatable, if not Iconic, brash in your face styling. Luckily for the ultimate sports coupe there remains only one choice, BMW's new incredible 4 Series.

For all your new car shopping needs, check out: drivevise.com Vehicle shopping made simple!